99% of remote workers would love to continue telecommuting in the future, whereas there has been a substantial rise of 13% in employees' productivity when working from home. Work from home came as a surprise, but it is here to stay. Most organizations have accepted that the future of workplaces is going to be much more different than the pre-Covid world. And there is nothing wrong with it.
It is considering the rise in productivity of employees and employers' flexibility that has urged employees to opt for options that offer them remote work arrangements. So to answer the question: is work from home the future? Yes, it is in many ways. Work from home future is promising and beneficial in many ways. The future of working from home is good for the employees, but it is cost-saving for employers too.
Even though remote working and freelancing have been common, it is by all means that the remote work trend will be the future of the majority of workplaces. Even though the work from home challenges are huge, much help can make sure your organization runs smoothly. This is partly why so many employees are now looking for work from home jobs even if their previous organizations are going back to the office.
This article will cover five reasons why work from home is here to stay.
Is Work from Home the Future?
The numerous benefits of work from home have made many organizations double think about how they operate. From improved work-life balance to reduced pollution and transportation congestion during peak hours and a reduction in the need for huge, expensive offices are all reasons why work from home is here to stay. Not to mention the operational costs saved by the employers when they don't have to spend on office maintenance and keep up every day has benefited the workplace in many ways.
No More Long Commutes
We all hated a lot of things we had to do early in the morning, but for the majority of the people, long commutes were it. Long commutes to work are tiring, expensive, time-consuming and extremely stressful. On the other hand, especially if you have an important meeting to attend, a long commute could set your day off early in the morning.
And as per many studies, people spend an average of two days per week just on the commute and waiting at the signals. This shows how much time and effort is wasted in just reaching to work and returning on time. In addition, employees who are welcomed to problems with the commute early in the day have bad moods and lower motivation. Some employees may also feel angry enough about something unfortunate that happened while commuting and thus negatively impact their energy at work.
Impact on Productivity
Rationally, employees who work from home have to get up from their bed, wash their faces and have breakfast before sitting on the workstation. In some cases, you could have the morning coffee right on the table. Working from home is full of flexibility for employees with no need to wake up last hours before work and get dressed to reach on time.
Moreover, commutes are eliminated, which allows for more relaxed lifestyles and better quality of life. Second, working from home allowed employees to forgo the need to dress in formal, office attire, allowing them to save time that would have been spent preparing for the day's work.
Hiring Freelancers
With previous modes of working, you needed employees that had to work for fixed hours each day. This involved a detailed screening process followed by extensive interviews and advertisement costs. With remote workers and freelancers, there is no need to go through the extensive recruiting process. This ensures that you can hire part-time employees just for a project rather than hiring employees long term.
Improved Employee Retention
Employees are more likely to stay when they feel valued and have better flexibility in the workplace. In addition, remote work and work from home has reduced employee turnover to a substantial degree. People who had to leave their jobs because of their personal family issues can now work from home and manage the work-life balance easily.
This made it easy for parents who had little kids to look after or adults with old parents to care for at home. Moreover, with remote work, employees can also work part-time for different organizations to spare a few hours for each job. This gives the benefit of hiring required talent when needed based on increased project or teamwork demand.
Hiring Better Talent
Your talent in the organization makes or breaks the workplace. With the right talent, you can create better work quality. And hiring the right talent can be beneficial for your organization in many ways. Unfortunately, companies are facing increasing difficulties in attracting excellent talent as competition in all sectors of the industry increases. Personnel with high qualifications and skills are usually unwilling to relocate. Local hiring is difficult when a specific set of skills required by an organization is not available.
Companies can attract better talent in this situation by offering to telecommute or work-from-home jobs. In addition, organizations can source talent from any remote location within or outside the country using remote working.
Reasons for Working from Home
With the benefits above, you can answer the question of "is work from home the future" yourself. There are various reasons why an organization would want to continue working from home, or even an employee would prefer working from home now. However, in the starting days, the challenges made us all suffer. From the expense of buying the right office chair and a standing desk to finding the quiet corner in the home, but as time passed, work from home has been an improved way of working with better flexibility.
Employees are happier working from home as they don't have to commute for hours to reach the workplace. Nor do they need to dress up each day to reach the office on time. Employees also find it easy to spend more time with their families; hence they love the work from home concept. Although some employees would still love to return to the work environment, the negative impacts of work from home are lesser than the benefits of work from home.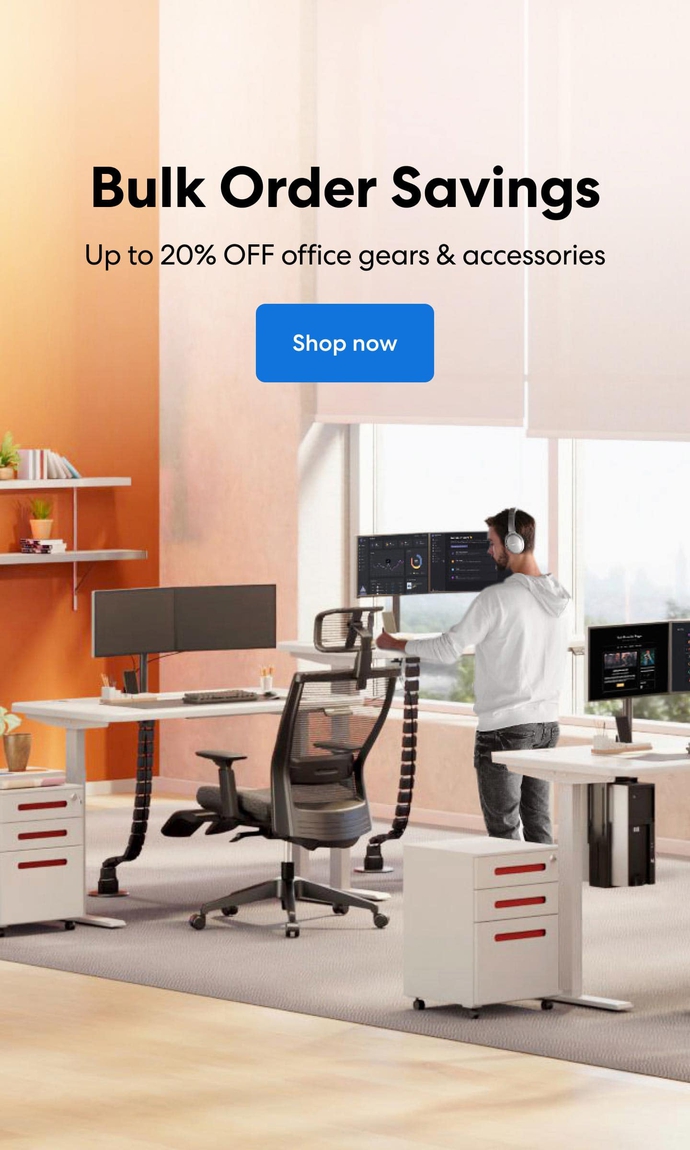 Subcribe newsletter and get $100 OFF.
Receive product updates, special offers, ergo tips, and inspiration form our team.