Workplace Inspiration
Latest Bedroom Furniture Trends And Decorating Ideas

Autonomous
|
Dec 21, 2022
723 Views
Would you like to decorate your bedroom but don't know where to start? We got you covered. Let's explore together some bedroom furniture trends and some ideas you can use to get the best of your creativity and build a cozy and relaxing space.
It's important to make your bedroom a welcoming space where you can take a break from the bustle of your everyday life. For that, you'll need to find the best furniture for you based on what you need for your bedroom. For instance, if all you want is to sleep, taking a look at the latest bedroom furniture trends may help. However, if what you want is to build a bedroom office, perhaps you can consider bedroom layout ideas with a desk for better space management.
Here we have some unique bedroom furniture ideas you can take into account if you want to make this room as best as possible for your comfort and tranquility. Here are 7 current bedroom furniture trends you don't want to miss!
1. Natural
Natural furniture has become quite popular in recent years, especially because many people are looking forward to having a more sustainable way of life. This way, you can choose from different options for your bedroom furniture. For instance, for bedding, you can choose linen and cotton. You can also include objects like a wicker chair or perhaps hardwood furniture to complete the whole set.
Natural bedrooms are an excellent choice if you'd like to make the space as relaxing as possible. After all, you'd be using earthy, neutral, and calming tones, such as beige and coral. Of course, if you add some plants into the mix, you'll have the coziest bedroom ever!
2. Lighting
Lighting can make a huge difference in any space when applied correctly. For example, one of the current bedroom furniture trends emphasizes illumination as a way of bringing "warmth" to the room. This trend gives you a lot of space when it comes to decoration and layout. Plus, if you work from your bedroom, you may also be able to include some office bedroom ideas and make it more suitable for you to work. 
You can play around with the lamps and their placement. If you want to welcome more illumination in the room, you can choose neutral and light colors like white or gray for that purpose.
3. Bold Colors
Most people would think that bold colors aren't the right choice for a bedroom, but a great part of the population seems to believe the opposite at the moment.
The use of bold colors leaves you with a ton of options for your space. You can play around with different combinations to create aesthetically-pleasing and relaxing areas. For instance, combining yellow and indigo can seem a bit too odd, but you would be surprised by the beautiful results you can achieve if you want to make your bedroom a bit more "interesting." You can combine unusual colors that go well together to build cozy spaces.
4. Curves and Scalloped Edges
While this combination has been around for several decades, we've seen more of it in recent years. Many designers have been focusing on building pieces with curves and scallop decorations. While it may not seem like that much, the variation in shapes can bring a different atmosphere to your spaces, making them seem more welcoming and cozier.
Similarly, you can play around with curved furniture to make different variations of your rooms. For instance, if you intend to make a bedroom gaming room, you can try including a desk with rounded edges instead of the typical desk with sharp edges that we're used to seeing.
5. Maximum Comfort
There are multiple ways to ensure that a particular space will be comfortable. One of them is included in this design decision, which is intended to maximize comfort with the inclusion of certain fabrics and pieces of furniture.
Some of the most common options include velvet and silk. However, plush and suede can also bring a similar sensation. It all comes down to your preferences. This design option can help you make your space more comfortable than it actually is.
Plus, it can be helpful for people looking forward to including a home office desk in their rooms, as it'll help them make the space more ergonomic. You can take a look at some bedroom desk ideas to find out some of the best ways to include a desk in your bedroom. If you're considering gray bedroom ideas, you can take into account this aesthetic to make it more interesting.
6. Boho-Chic
The last bedroom furniture trend and setup idea on the list is a modern "twist" on the traditional boho aesthetic. You can play around with different colors, textures, lighting, and many other things to make it appeal to your tastes. Boho-chic makes an excellent choice for a bedroom design style as it has several variations, and all of them can work equally well.
The boho style includes light and warm tones instead of cool colors. Although bright colors may seem like they would work here, the truth is that they don't resonate that well with what "boho" is. Interestingly enough, natural furniture can work pretty well with boho-chic. Hence, you can play around with the textures, colors, and lighting to make yourself a comfy and cozy boho-chic bedroom where you can spend every night feeling as relaxed as possible.
7. Peace and Harmony
Another good bedroom furniture trend you can choose to build a cozy space is the "peace and harmony" aesthetic. It consists of organic colors and textures, allowing you to bring that sensation of tranquility of balance that we all look for at the end of the day. If you're looking for no-bed bedroom ideas, this one can do the trick for you, as it grants more flexibility than other design options.
You can combine earthy with neutral colors and include natural elements like plants or rocks in your room to enhance the effect even further.
Video ads for product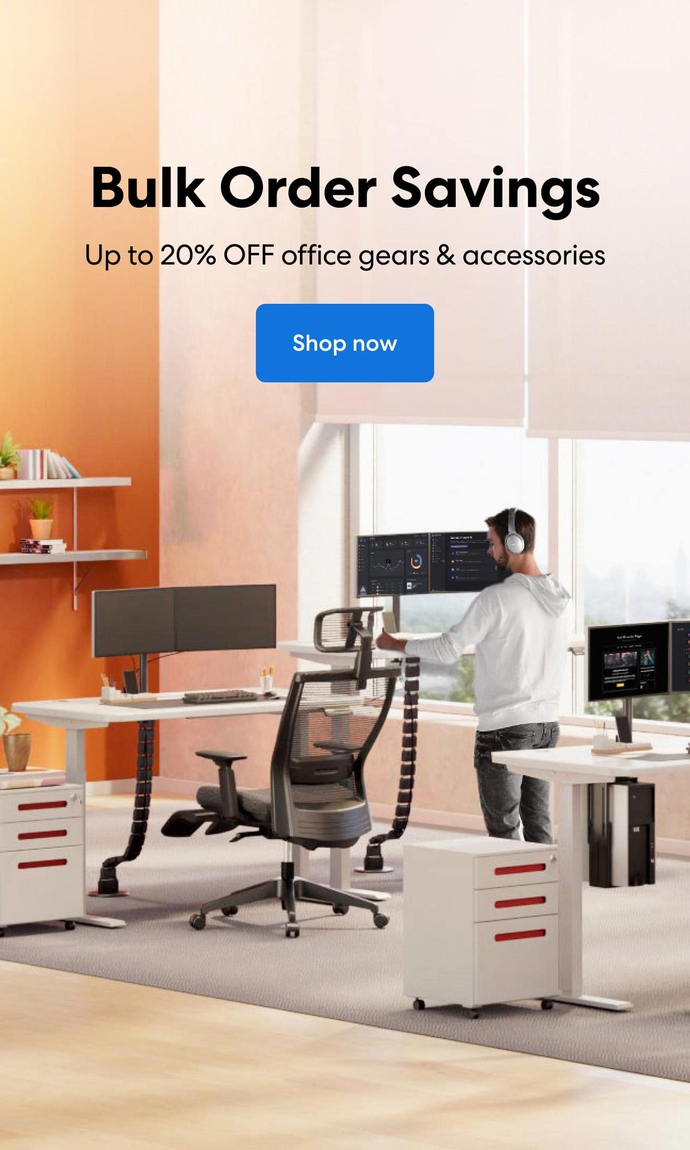 Subcribe newsletter and get $100 OFF.
Receive product updates, special offers, ergo tips, and inspiration form our team.