Smart Products
Looking for a Mini Desk Because Space Is an Issue? 25 Options

Autonomous
|
Oct 29, 2022
836 Views
With the price of accommodation skyrocketing in the past few years, a lot of people can't afford the luxury of having a big apartment close to where they work. This means, for most of us, having limited space is a normal way of life. If that is the case, then you need to invest in a mini desk. 
The industry has responded to the need of having smaller-sized furniture that is still able to perform the tasks it was meant to. This is why the market is full of desks for small spaces, specifically designed to help you fit all the things you require in your small apartment. 
With the right choice and a little bit of creativity, you will be surprised just how much work you can get done even when using a very small desk. It is not an easy thing to achieve, which is why Autonomous is here to guide you on how to balance good creativity with having a small office desk.
25 Awesome Mini Desks for 2022
Here are some great options for a very small desk from Autonomous to get you started: 
1. SmartDesk Core
With a home standing desk such as the SmartDesk Core, there is a lot you can do in the limited space available. With a dual electric motor for a quick and quiet transition from sitting to standing, this is the right desk for you. 
2. SmartDesk Pro
Do you need a place to charge all your gadgets, store your accessories and get some work done on your computer all at the same time? A smart desk is the right solution. Get the SmartDesk Pro right now from Autonomous and enjoy the multi-functionality that only comes with top-of-the-range mini desks. 
3. Mount-It! Rolling Desk: Tiltable Desktop
If you are dealing with limited space, then the rolling desk from Mount-It! will help you switch from one side of the room to the other. It's also a tiltable desk which allows you to work in the most comfortable position possible. 
4. Wistopht CompactDesk: Touch Screen Control & Wireless Charge Pad
From the cutting edge of technology comes this charging desk with a touch screen for easy control of its various features. If you are looking for an all-in-one solution to all your home office needs, try the Wistopht CompactDesk. 
5. Wistopht CompactDesk Starter: Anti-collision & USB Ports
With so many gadgets that we need to get through our day-to-day, you need a standing desk with USB ports to keep them fully charged while you work. You can choose to sit or stand at the touch of a button. 
6. Fenge Ultrawide CompactDesk + Free Monitor Stand
A standing desk with drawer compartments for hiding away your office accessories is the best way to avoid making your limited space feel cluttered. When you buy this great desk from Feng, you also get a free monitor stand as a bonus! Now that is real value for money.
7.  Mount-It! Rolling Computer Work Station with Monitor Mount
When not in use the tray used on this standing desk is retractable, meaning that you can easily push it out of the way and allow yourself a lot more room to move around. 
8.  Mount-It! Height Adjustable Rolling Stand up Desk
Most rolling desks come with a fixed height, meaning you are forced to work in a particular position for a long time. However, with this Mount-it! product, you have the freedom to choose the best height and adjust it any time you wish. 
9.  Modernsolid Rolling Computer Cart with CPU Holder
This desk has so much shelf space that it can actually double as a cart for storing and moving around your office accessories. The ability to adjust its height is just a bonus on an already perfectly designed mini desk for small spaces.
10.  Northread CompactDesk: Programmable Keypad
Do you have many different desk settings that you like to use on your desk to make it more comfortable? The Northread CompactDesk has a programmable keypad that will allow you to switch to the setting of your choice at the touch of a button. 
11.  ApexDesk CompactDesk: Touch Screen Control & USB Charging Port
The tempered glass that is used on the top of the Apexdesk is the perfect addition for your small space because glass has a way of making the room feel less cramped. With touchscreen controls and a USB port, what more could you ask for in a mini desk. 
12.  Eureka Ergonomic Standing Desk: Double Drawers and Hutch
Drawers are the best storage solution in such spaces. Get the Eureka ergonomic desk and organize all your office accessories easily. 
13.  Techni Mobili Compact Computer Cart
Techni Mobili is well-known for its quality desks and office furniture, and in this case, they did not disappoint. This desk is made of the best quality material that you could wish for at such an affordable price.
14.  InMovement Unsit Treadmill Desk: Treadmill and Desk
Last narrow desk on our list is something very different from what you normally find in a home office. It's a small desk that comes with its own treadmill! Take the standing desk notion to another level by doing a bit of on-the-spot exercising while you work. 
15.  Bontec Mobile Standing Desk
A great way to save space is to substitute the traditional four-legged design used in most desks for a single central column, such as the one used on the Bontec Mobile standing desk. This mini desk also has wheels to make it easy to move around. 
16.  SIDUCAL Mobile Stand-up Desk
This narrow desk has three platforms that you can use to place your laptop and computer accessories. Not only that, but the middle platform also has a tilt function, which allows you to adjust the keyboard to the most comfortable angle.
17. Vivo Electrical Dual Platform Standing Desk
If you are looking for a portable standing desk that you can easily move around from one side of the room to another, the Vivo Electrical Dual Platform is a great choice. Not only does it double as a standing desk, but it also has an extra platform for added storage space. 
18. Ergotron WorkFit-T
The rolling standing desk from Ergotron WorkFit-T was designed to be portable and at the same time ergonomically structured to allow you to work in the best posture without straining your muscles even after extended periods of office work. 
19. Tangkula Standing Desk
Just because a desk is small does not mean that it can't be stylish. The Tangkula is the best of both worlds if you want to make your limited workspace at home look and feel just as great as your office does. 
20.  Dripex Sit-stand Desk
Having a standing desk is pretty much the standard these days. However, not all standing desks are made for the high-quality material that you find on the Dripex Sit-stand desk. If you want a narrow desk that will last you a lifetime, try this one and you will not regret it. 
21.  Dlandhome Laptop Stand
When you know that you have limited space to work in, getting a laptop instead of a regular desktop is a wise choice. However, you will also need a desk that is well-suited for laptop users, such as the Dlandhome laptop stand. 
22.  Songmics Bamboo Standing Desk
Our world is slowly moving towards using more sustainable materials for manufacturing to save the environment. You can play your part as well by opting for the Songmics standing desk made from bamboo. 
23.  Zinus MollySmart Adjustable Desk Converter
The X-pattern lift design used on the adjustable desk converter from Zinus MollySmart makes it one of the best options when it comes to saving space. It is also the perfect size for you to place your laptop and computer accessories. 
24.  Trip Lite Height Adjustable Desk
Trip Lite has done it again with another quality product! This time, its height-adjustable desk is made of very small dimensions making it suitable for any available space that you have for a home office. 
25.  S Stand Up Adjustable Mobile Desk
Mobility and standing desk functions are all combined beautifully in the S Stand Up Adjustable mobile desk. You can easily adjust it to the best height for you to work in comfort in any area of the room that has some space. 
What Is the Ideal Desk Size?
When we say "mini desk," do you know what we mean? You first need to understand what the standard desk size is. In most cases, a standard desk is what you would typically find in a modern office where space is not an issue. 
However, when working from home, the situation is different because you don't want to dedicate too much of your living space to work. This means the ideal desk size for you might be a bit smaller than what we would call a standard size. 
A standard desk is usually 48, 60, or 72 inches wide and 24, 30, or 36 inches deep. A small office desk is what you will be looking for if you have limited space. 
How Do You Make the Best of Small Spaces?
Be very creative when decorating a small room. Simply buying a narrow desk is not good enough if you do not pay attention to the rest of your furniture choices. Remember the following tips: 
Make Use Of Awkward Spaces
Certain areas of the room remain unused because it's difficult to find the right kind of furniture, such as in the corners or beneath a window sill. If you can find a stand-up desk small enough to fit those areas, you will open up a lot of space in your room. 
Keep It Simple
Simplicity goes a long way when making the best of the space available to you, which is why the minimalist way of decorating a room is becoming very popular these days. If you do not absolutely need it on a daily basis it should not be there in the first place. 
Use Dual Functioning Furniture
Think of how a couch can double as a bed to save space in your living room. The same concept can be applied to buying the clever selection of a cabinet or dressing table that can also function as a mini desk when necessary. 
Shapes and Materials Are Important
The shape of your furniture and the type of material that it is made of affects the overall look and feel of the room. By selecting, for example, a curved small office desk made of glass, your room will immediately feel less cramped than it is. 
Hide Things Away
Try to get your hands on furniture that has a lot of cubby holes and drawers where you can hide the majority of your desk accessories to prevent generating a lot of clutter in your room. 
What Desk Designs Work Best in a Small Bedroom?
There are many mini desks for small spaces that are designed to take up as little room as possible, as well as to appear to be smaller than they are due to clever use of lines and material. 
The following are the designs you should aim for when looking for a mini desk: 
Foldable bureaus and secretary desks that can be neatly put away when not in use

Curved desks that look smaller than they actually are

Floating desks than can be mounted right into the wall

A very small desk with thin legs that don't take up a lot of floor space
Final Word
Buying the right type of furniture is essential when you are dealing with a limited amount of space. With such small office desk options available, there is no need for your room to look cramped and untidy because a huge desk is taking up all the available space.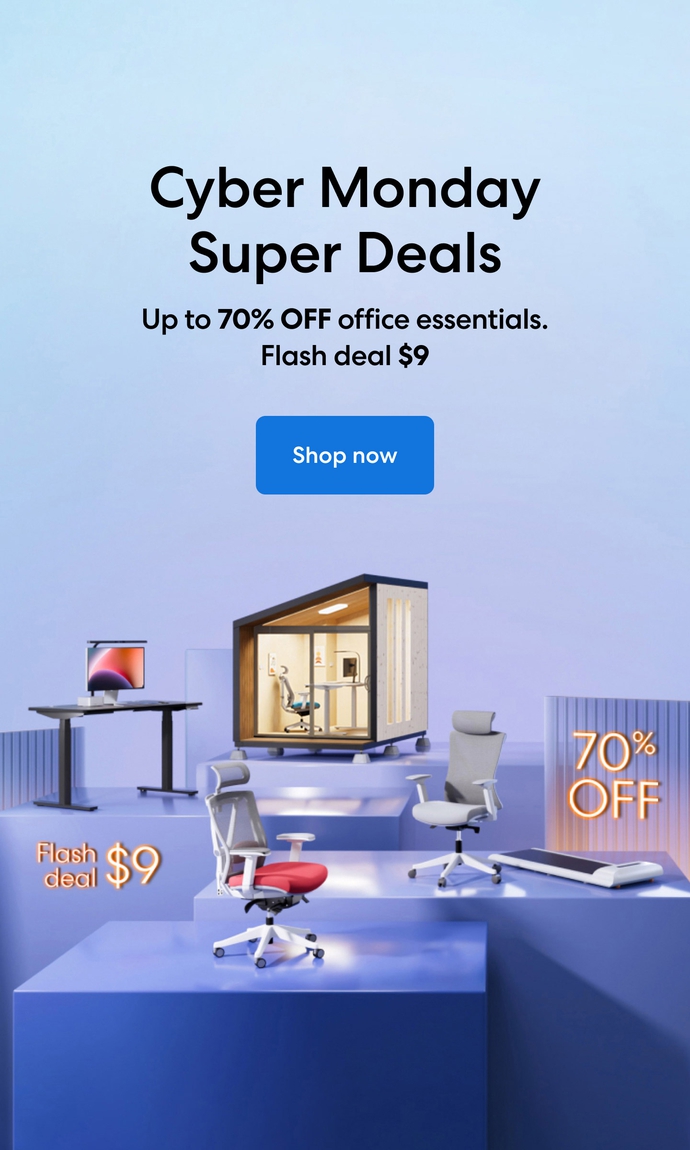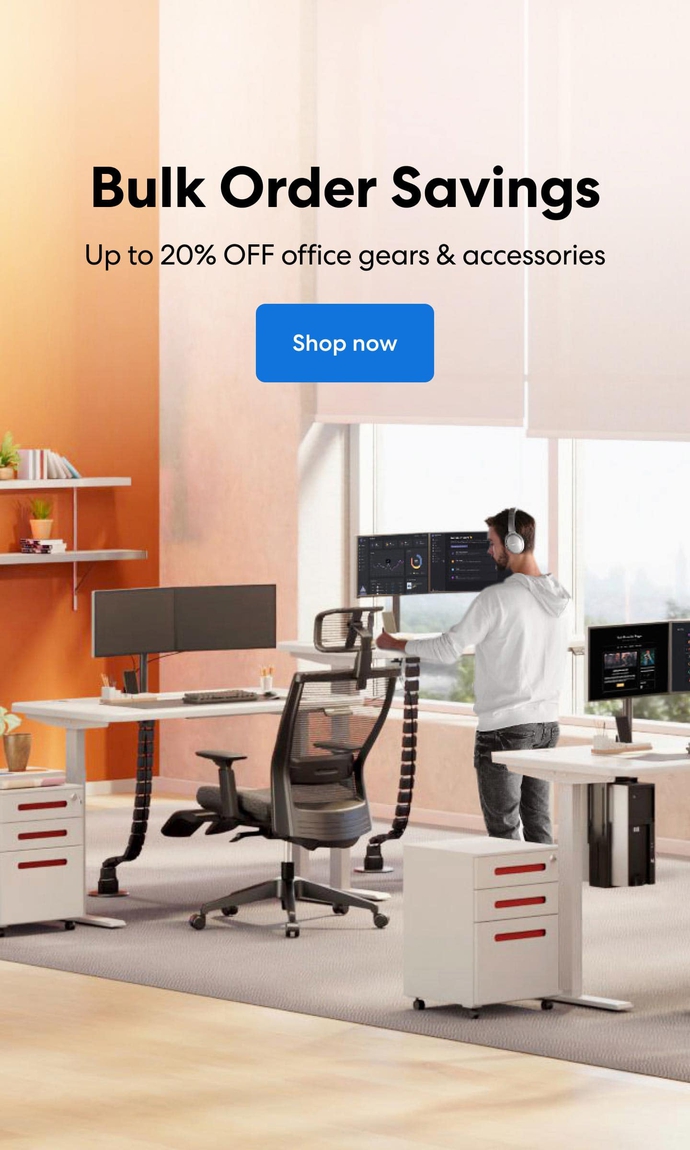 Subcribe newsletter and get $100 OFF.
Receive product updates, special offers, ergo tips, and inspiration form our team.