Whether you're new to working from home and have only been doing it for parts of 2020, or you've been working from home full-time for longer than that, you know how important it is to have the best desk for the job you do.
If you work from a laptop, you probably know all about the different laptop desks that are available on the market today. Laptops are so versatile in the locations that they can be used that it only makes sense that the surfaces designed to support your laptop are just as diverse.
Laptop desks can range from a simple surface with padding on the bottom to comfortably rest on your knees to full-sized carts that can be wheeled to any location you choose and then adjusted for either sitting or standing based on what the user needs at the time.
If you don't have a laptop desk already or you're looking to upgrade from the one you have, how do you choose?
Autonomous Can Help
Here at Autonomous, we help take some of the guesswork out of purchasing a new desk. Out of all of our outstanding products, like our standing desks, in particular, there is sure to be one to catch your eye and be perfect for you.
Our classic model, the SmartDesk 2- Home Office, is a perfect choice for someone looking to keep things simple and efficient while boosting their mood and productivity. This desk can go from sitting to standing as easy as pushing a button.
Set on an anti-rust frame, with almost silent dual motors, this desk is built to last. The SmartDesk 2- Home office can support up to 300 pounds, so that it can hold all your work supplies and technology. It also comes with a five-year warranty, so if anything goes wrong, you can rest easy knowing it can be fixed.
Do It Yourself
Did you know there's a DIY standing desk for laptops? For those who like options upon options, this may be the route for you.
Our DIY SmartDesk Kit enables you to have the exact standing desk that you want on an Autonomous frame with Autonomous motors. Why compromise style or quality materials when you can have both?
If you're feeling creative and want to design your own desktop to put on an Autonomous frame, or you just don't see the exact Autonomous desktop you need and want to custom tailor one to your needs, the DIY SmartDesk kit is for you.
You don't have to be a professional furniture builder to install your desktop onto our base; our kit comes with simple instructions for you to build stand up desk for laptop yourself!
DIY SmartDesk Kit from Autonomous
When you make your own laptop desk, the world becomes your oyster. You are free to pick a desktop that's made out of the exact material you want, and that is made to your exact specifications.
You can choose a desktop to fit the Autonomous base for the SmartDesk 2- Home Office, the L-Shaped frame, or the SmartDesk 2- Premium, and you can pick it in three different colors; black, white, and grey.
With options like these, you are sure to be able to build a standup desk for your laptop that blends into your existing space or matches your plan to change up your home office space.
It Looks so Good!
Once you have finished putting together your DIY laptop standing desk, you make your own laptop standing desk, it's time to show it off!
Why not participate in our setup challenge?
Now that a true office setting is not currently available to most of us, there is no way to show off our amazing workspaces in person.
That doesn't mean we can't brag about our awesome setups, though.
If you want to be part of our setup challenge but don't know how to get started with the design of your DIY laptop desk, you can use some of our inspiration to get you started.
We're excited to see all the amazing things you can do with our DIY SmartDesk kits!
Once you have the desk in order, it's time to think about your workspace as a whole.
Just like in a traditional office, it's important to surround yourself with things that make you happy or feel less stressed to maximize productivity.
We want to see what you do with this too! Working from home doesn't have to be boring! You can prove that with the setup challenge, just like some of these remote employees have done.
Autonomous Is Here for You
Working from home full-time has been a big transition for some of us, especially given the circumstances surrounding why a lot of people are doing it right now.
In these trying times, it's nice to know that someone has your back.
Autonomous is here for you to make sure that your work from home experience is simple as it can possibly be, and maybe even a little fun!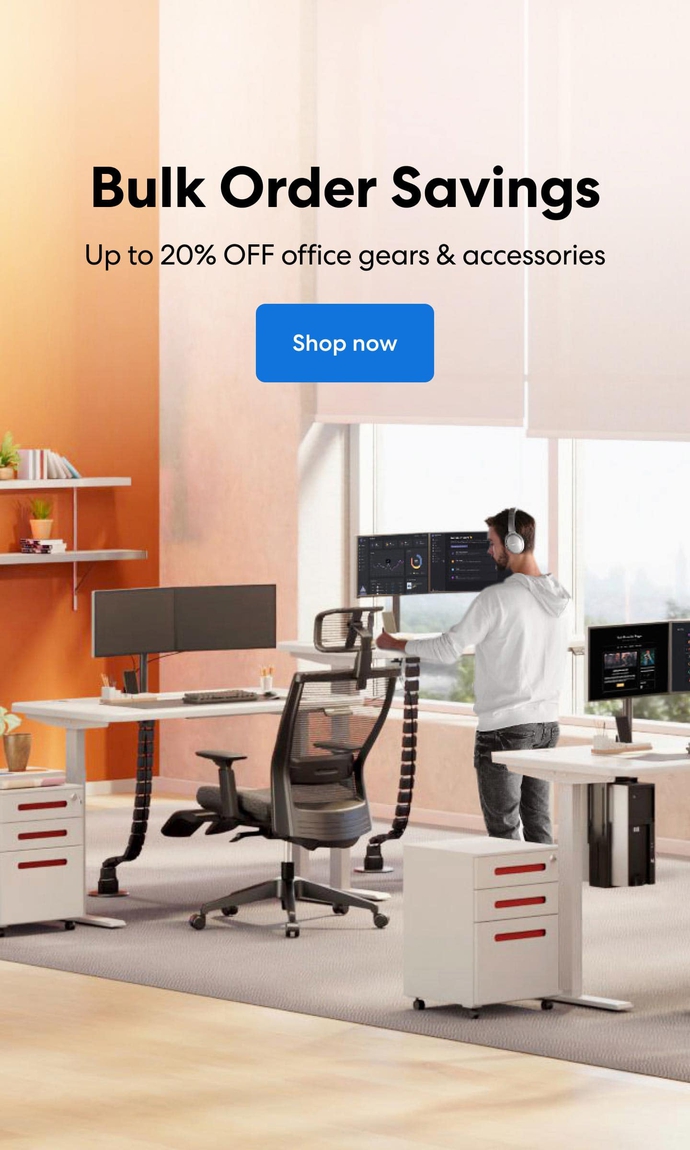 Subcribe newsletter and get $100 OFF.
Receive product updates, special offers, ergo tips, and inspiration form our team.