Even the smallest elements may have a major important role in home decor. The floors, cabinets, color scheme, and furnishings may be thought of as the basic components of interior decoration, but illumination is what ties this all together by transforming a plain space into a pleasant den or an opulent lounge area. All you must do to complement the appearance of your residence if you want to establish a certain ambience is to invest in a few varieties of lamps.
This is where the brand LumiCharge comes into play. If you have recently moved into your new place or would like to revamp the appearance of your existing place, you may consider investing in LumiCharge smart lamps and other smart products offered by the brand. They mostly sell cordless phone charging stations and led desk lights under the hardware & home maintenance section. If you're looking for any of these items, going through a comprehensive list of products from this brand could be a good option.
List of the Six Must-Have Products by LumiCharge
For example, the costs of the various kinds of bulbs and other products on the market range from four to five. LumiCharge lamps may be divided into several groups based on their performance, design, and characteristics. Therefore, we have separated these lighting fixtures into side table lamps and platform lights for ease of use and clarity.
We aim to give you one most current, unbiased information on LumiCharge goods so you can make better purchasing decisions. To save effort and time and help you make smarter purchasing decisions, we propose the best LumiCharge label products. Although LumiCharge only offers six available items, including the LumiCharge LED smart lamp, we thoroughly review each one and provide our users with our recommendations.
1. LumiCharge LED Lamp with Cordless Charger
Combining fast charge, a tethered adapter at the front, and a built-in USB connector on the rear, this lamp creates an extremely efficient and adaptable charging station for any three devices. This LED Light offers unmatched customization for every home or workplace environment with its three customizable colors and over ten brightness settings. To avoid reconfiguring the wireless charging lamp every time you turn it on, it is intelligent enough to memorize your most current settings. You can give your eyes the best lighting possible at whatever time of day thanks to this lamp. This lamp's nighttime Light of this lamp is instantly turned on when it senses movement with its built-in motion sensor.
2. LumiCharge LED Lamp with Cordless Charger & Speaker
This table lamp illuminates your room and comes with a fast 10W ubiquitous cordless charger that can charge your smartphones. You may connect to the USB cable and power two devices simultaneously if you have a separate device that requires charging. While working and concurrently charging your smartphone, enjoy your favorite songs on the built-in stereo system. With the constructed mic, you may take phone conversations and use your phone to view videos with crisp audio. Alexa and Google Home are both also supported by this LED lamp with speakers.
3. LumiCharge LED Table Lamp with Smartphone Control
This device offers more than simply lighting; it also includes a motion detection light source, a cordless charge mat, an USB C adapter, a cup/pen handle, a headphone attachment, a smart wristwatch charging clip, and a calendar/clock screen that shows the date, time, and temperatures. You can change your surroundings from anywhere in the world with the LumiCharge LED Desk Lamp. You need to install the application to turn your Light on and off, control its intensity, and switch color settings from your phone. You may set the brightness and tone to fit your temperament, even if you're putting together a speech, going through a book, or putting in a lot of effort on a homework assignment.
4. LumiCharge Magnetic Cordless Charger & LED Light
With three separate Qi-enabled gadgets at once, this magnetized wireless charging gadget offers quick charging, up to 18w. Additionally, you may charge the 4th device via the additional built-in USB outlet connector. Qi, CE, FCC, and ROHS approval are all given to the fast wireless charging station. The LumiCharge Magnetic Wireless Charger and LED Light use a smart chip that is integrated into the device and has short-circuit, excessive current, high voltage, and high-temperature protection. It's been custom-made with magnets to recharge your smartphones and wristwatches that are suitable with the MagSafe.
5. LumiCharge Universal Charging Station
Good things supposedly come in little boxes. This powerful, QI Accredited 10W cordless fast charging dock ensures adherence to secure, industry-leading inductive charging for any mobile devices and tablets. Only the best thermoplastics ABS substance, which has been mixed with priceless silver, should indeed be utilized for optimal longevity. The adapter is incredibly portable and provides excellent efficiency. It is bigger than comparable-sized wireless power mats. The times of attempting to locate the perfect spot or awakening to a dead battery have long been due to the LumiCharge Universal Charging Dock.
6. LumiCharge-Mini-7in1 LED Lamp Phone Charging Dock
This sleek, all-in-one reading LED desk light illuminates your desktop while wirelessly recharging your phone, headpieces, and smartwatch keeping your gadgets charged and ready to be used. It has adjustable Light lowering with three color degrees which can be changed using a capacitive screen, and a constant speed intensity level allows you to adjust the intensity to your preferred level. The LumiCharge-Mini-7in1 LED Lamp Phone Charging Stand is excellent for reading, working, and learning. With a lifetime of almost 50,000 hours and at least 10 years of usage, this office light is durable, earth-friendly, and power efficient.
Conclusion
If you are now wondering where to find all of these LumiCharge products online, you should go to the LumiCharge Store's online web page. After that, you can choose the item from the LumiCharge shopping guide or view it from the webpage. For instance, you may preview and later add to your shopping basket their top-ranked item, LumiCharge Desk Lamp with Phone Charging, from their website.
Video ads for product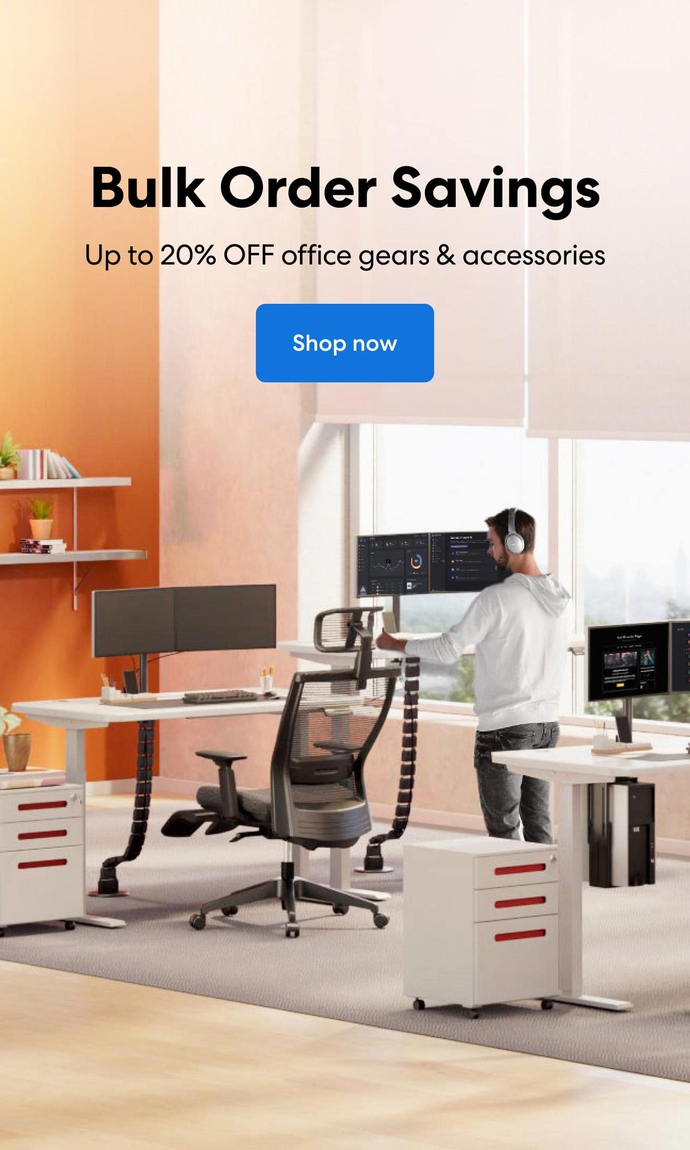 Subcribe newsletter and get $100 OFF.
Receive product updates, special offers, ergo tips, and inspiration form our team.