Every room is different and has a unique shape. Additionally, when you have your furniture in it, you might be low on space for a DIY project, or you might want to customize your room with everything of your choice. It is important that the furniture you pick or build is perfect for you and your space. That is why many people are opting for DIY furniture like DIY corner desks. 
With so many individuals working from home, having a desk that you like and enjoy is key for you to be productive and to keep your health in check. That is why having a standing desk has become so popular since the health benefits are incredible. It can help with keeping your blood circulation moving, and it also gets you up and out of your seat. 
However, many people opt for creating a desk that is perfect for their space. A DIY project brings real pride and joy to your space because you have made a piece of furniture yourself. A good option for most people is an L-shaped desk idea because it can fit right in the corner of your room. This corner desk is a great option for most individuals and can be affordable as well. 
Keep reading to learn more about building your L-shaped desk that can fit perfectly in your space. Let's learn how to make an L-shaped desk with us!
Why an L-Shaped Standing Desk?
Why should you build L-shaped desks? One of the most popular reasons why people buy an L-shaped standing desk is because they can fit in spaces that are otherwise left empty. Their shape allows them to comfortably slide into any corner of an office while still allowing the user to sit comfortably and snug. They are also great for small spaces because you can use your desk for space management purposes. This gives you the ability to add multiple desk organizers that can tidy up your clutter, so you can work in a space that helps you to be focused. 
Moreover, having an L-shaped standing desk is like having two desks right at your fingertips. Your desk also has a lot of storage space in the front and on the side. Think about it, if you have any stacks of paper or magazines, just put them on the other end of your desk. You do not need to have it near you cluttering up your workspace. When getting an L-shaped desk plan, the right side tends to be longer than the left, so you may use the right space for your working needs unless you need to place a lot of office desk accessories on your desk.
With the left side of the desk, you can comfortably place your monitors, keyboard, and mouse. Also, you may add in any other decorative pieces that are going to help you with your work. The right side can then be used to store the remainder of your belongings. Let's say you have a project that you can't work on right away, so you need to get it out of your site. Move it to the right side, and then don't worry about it. Just remember that it's there before the end of the day!
Lastly, if you are working in a space that you have to share, two L-shaped standing desks are perfect because they can slide together nicely. Your partner and yourself are going to have plenty of space while still being able to work collaboratively too. The added distance between you two can also bring more peace into the room because you might not be creating any friction with each other since you have your own spaces. 
With all of this, it's no wonder why DIY L-shaped desks are a great piece to add to your working from home experience! 
Measurements
Before you create your own DIY L-shaped standing desk, you need to check your current working space. Measurements are a requirement when you are completing any DIY project, so making sure you have them when creating a large piece of furniture is even more important. If you do not take your measurements properly, you can expect a desk that is wobbly, too short, too long, or not straight. You do not want a desk like that! 
When you're measuring, measure where your v is going to be when you're sitting, and measure where the desk is going to be when you're standing. Additionally, think about what kind of ergonomic desk chair you're going to buy; how much legroom are you going to need for your chair to comfortably slide in and out? 
All of these questions are great for you to ask yourself before you start building and when you begin measuring. 
Materials
Once you have figured out your measurements, you are ready to move on to your materials. You want to make sure your desk is sturdy and that the materials you use are of good quality. That is why the SmartDesk Frame is a good choice. 
The SmartDesk Frame comes in three colors: white, black, and grey. There are also three core frames for you to choose one, so you still get the customization of creating your desk without worrying about the technicalities when it comes to the frame. The frame is adjustable to the perfect height and length for you. If you are worried that you might be too tall for this frame, there is no need to worry, because you can also go for the Pro frame instead. 
Instead of spending hours and days with a hammer and drill trying to build the perfect desk for you, the SmartDesk Comes in an already engineered and simple form. You can easily assemble it because all of the tools are also included in your package. Don't worry about not building the whole desk from scratch. When you buy this frame, you are still building it, but it is made at a high standard, so it is going to fit perfectly in its new home. 
Also, the frame has been checked for safety and durability, so you know that this frame is going to hold up all of your personal belongings with ease. This is the perfect choice when it comes to frames.
After picking your frame, you're going to want to think about the surface area. Well, Autonomous gives you the option to add anything onto your surface area. Yes, anything! That means you can place a slogan, pictures, or any other thing you consider appropriate. This is perfect for your customization because you can make this desk perfect for you and your needs. 
Do not worry about the quality either because the quality is high-end and affordable. By picking your cover for your surface area, you are further customizing your DIY project and bringing your personality to the room. 
The base color of the top is white, so regardless of what you choose to put on your surface, it's going to pop and stand out. Have a look at the blog post talking about white L-shaped desks, so you can get a little bit of inspiration. Remember, you don't have to put a design on the surface, if you want to leave it white then do just that. 
Decorating Your Space
Once you've designed and received your DIY L-shaped standing desk, you can start to think about how you want to decorate your space. There are a few key items that you are going to want on your new desk, so you can utilize them to the fullest. 
Desk Lamp
The first thing you're going to want is an office desk lamp for your L-shape desk ideas. Even if you have a light in your room, desk lamps are great at giving you that little extra light. This is also extremely useful when you're reading off of paper because it almost feels like the print is getting smaller and smaller by the day. A desk lamp can relieve the strain on your eyes when reading, so you can read with ease. 
Filing Cabinet
Another great accessory is a filing cabinet to go with your L-shape desk ideas. You want to keep your DIY L-shaped desk clear of clutter so that you have a nice workspace. One way to do that is to use a filing cabinet to hold all of your documents. Also, other belongings like stationery, files, and important pieces of ID can be kept in your filing cabinet, so you know where everything is at all times. 
Your DIY corner desk is going to have the ability to move from a sitting position height to a standing position height. That is another reason to keep as many things off of your desk as possible, because then, you don't have to worry about anything moving. Adjustable standing desks are phenomenal because of the benefits they offer, so one way to keep them in prime condition is to keep them relatively clear. 
Ergonomic Chair
A good way to improve your time when sitting at your DIY L-shaped desk is to get an ergonomic chair. Ergonomic chairs are fantastic because they help keep your back straight while you're sitting. They also relieve pressure in the most delicate and important parts of your back with their design, so you can sit a little longer and not feel any back pain. Moreover, you can rest your head on the headrest to allow your neck to relax. 
We look at the computer screen for long hours in the day, and this ruins our neck, posture, and back, so having a chair to help combat this can be very useful. You can stretch your legs out as well with the leg rest, so they do not feel as stiff when you stand up from your seat. An ergonomic chair is fantastic for many reasons, so buying one is recommended. 
Desk Pad
A desk pad is useful, because when you are using your mouse very often, you can lose your grip on it. The tops of DIY L-shaped desks can be slippery, so making sure that you have something to help stop your mouse and keyboard from sliding around is important. They are also great for protecting your desk. 
You have just spent money on buying your DIY standing desk, so you should make sure that the surface does not get damaged or any ring stains are left by your drink. By placing your glass on your mat, it can stay in place, and the mat can soak up any of the excess water from your glass. Also, your wrists can sit comfortably on it, so they can have a break as well. Otherwise, they are strained throughout your day. 
Decorative Pieces
Don't feel like you only need practical objects on your DIY L-shaped desk. At the end of the day, it is your desk, so you can place anything on it. A lot of people opt for adding some greenery to their desks because it adds a bit of nature to their space. 
You may even print off a photo and frame it, so you can place it near your monitor. Speakers are also very popular because listening to music, podcasts, or videos helps people work better. Find the right pieces that best suit you and your style so that you enjoy looking at your DIY L-shaped desk while working at it. 
Conclusion
Creating your DIY L-shaped desk is an easy process with Autonomous. You can choose your frame, so it's perfect for you. Moreover, you can create what the surface of your desk is going to look like. This is a desk that you can keep and enjoy for a very long time. 
Lastly, when you get your DIY corner desk, you can decorate it in any way you want. Grab a lamp, a chair, and maybe even a nice plant to then place it on your desk. This is your space, so make it enjoyable for you to sit at, otherwise, there's no point in having it. Grab some inspiration for your décor ideas because the possibilities are endless. 
Enjoy your new desk because it has been built and customized for you!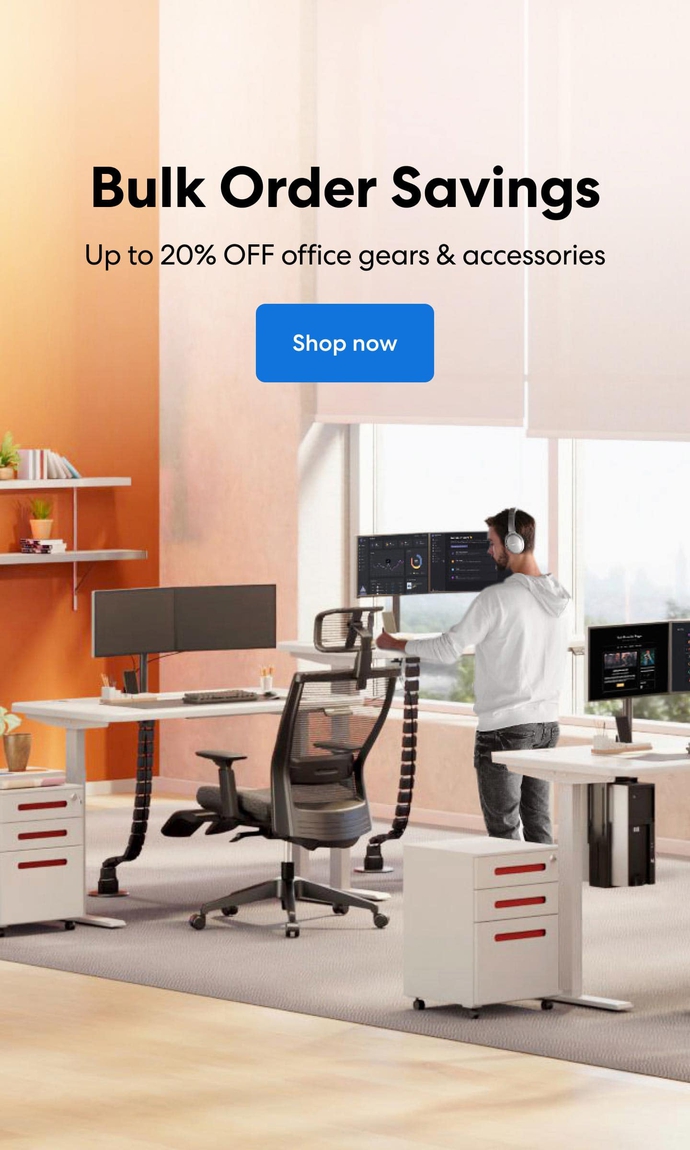 Subcribe newsletter and get $100 OFF.
Receive product updates, special offers, ergo tips, and inspiration form our team.