Workplace Inspiration
Difference Between a Meeting Room and a Conference Room

Autonomous
|
Feb 6, 2023
1,128 Views
People often have many questions for us since we offer several gadgets that make their work lives much easier. One of them is whether there is a difference between a conference vs. meeting. In the following article, we will go through this question and show you how to make the best out of your conference rooms and meeting rooms. 
What Is a Conference Room?
The general definition of "conference" explains that it is commonly referred to as a larger meeting in which its whole attendance can fit within a single room. 
While not all conference rooms can accommodate hundreds of people, they often allow a dozen or more people to be in it and include a table similar to those seen in a boardroom.
What Is a Meeting Room?
Meanwhile, "meeting rooms" are sometimes barely big enough for four individuals. Additionally, these smaller spaces frequently have seats and no tables. However, the term "meeting rooms" and "conference rooms" are often used interchangeably without considering this slight change in their meaning. 
2023 Trends for Meeting Rooms and Conference Rooms
1. Booths and ADUs
Office booths and modular accessories dwelling units are the next big thing regarding office technology. These spaces allow its users to work and have meetings in complete silence, so they don't get distracted by the outside world. They are also great for dividing spaces and creating an office or boardroom for meeting if your home doesn't have a room designated for it.
2. Smart Boards
The use of interactive smart boards and whiteboards is one of the technological developments in conference rooms that have been most fruitful. 
Interactive smart boards, which have replaced the time-consuming marker pen and eraser model, are intended to keep you creative and make documentation easier in the conference room. 
3. Immersive Technology
Modern companies' internal and external interactions have transformed due to digital transformation. Therefore, the collaboration experience in the modern office is being enhanced by many immersive conference room innovations. 
Smart developments, such as touchscreen tablets and pads, allow organizations to change the conference room experience with only a swipe or button press. The modern office meeting room is built to optimize cooperation, communication, and transparency. It includes interactive smart boards and improved audio technology. 
4. Remote Possibilities
The focus of the conference room in today's workplace is the idea of generating a productive experience. Organizations are using hybrid office meeting room solutions to combine virtual and in-person meetings since 79% of working professionals believe video conferencing to be just as effective as face-to-face meetings. 
Tools for video conferences are evolving. Various cutting-edge technologies are currently available, and they provide unrestricted mobility and organic interactions during meetings without sacrificing visual or audio quality.
5. Customization Features
Greater personalization inside the meeting area is another essential conference room technology development in the modern workplace. 
Traditional conference meeting rooms tend to be uninspired, uninteresting, and drab. Around 31% of working professionals believe their current conference area is boring, and 25% think adding technology would significantly enhance it. 
The fact that some traditional conference meeting rooms take a one-size-fits-all approach to the collaborative experience is one of the key reasons these spaces are often uninspiring. 
Top 19 Best ADUs and Booths for Meeting Rooms
1. Autonomous WorkPod
Reduce your commuting time and leave the office when your workday is over. Your WorkPod has everything you require to finish your work or be creative and have fun.
Pods are a quick, flexible, and affordable way to create housing that can be set up and used in under a day. Create a versatile workplace in your backyard for business or leisure. 
The WorkPod offers extra space without incurring the high cost of home upgrades by creating a place for whatever you need most. 
This portable office pod is completely wired and set up to operate all your gadgets and toys. You can start a project, finish a book, start a new pastime, or simply unwind while hosting guests in your new hangout space. 
Dimension
103"W x 142.5"L x 92" - 125.5"H
Material
Exterior: Composite wood
Interior: Plywood wooden frame
Frame: Steel, M300 cement
Include
SmartDesk Pro, ErgoChair Plus, Cable tray, Filing Cabinet, Dual Monitor Arm, Anti-fatigue Mat
Minimum wattage
100W
Weight capacity
2.9 tons
Color
Black, White
Warranty
1 year
2. Autonomous StudioPod
This prefab studio is perfect for living, work, and recreation. When not in use, use it as an Airbnb, a second living space, or a home office. It will make your backyard into a personal space that is all yours. 
The StudioPod is equipped with all the necessary HVAC and electrical connections, as well as mood lighting with three color choices. 
Dimension
106" W - 155"L x 106.3"H
Material
Exterior: Vinyl layer
Interior: Eco-friendly honeycomb paper
Frame: Steel
Include
A closet, desk, bookshelf, TV stand, a foldable coffee table and convertible sofa bed
Minimum wattage
150W
Lighting
3 color modes
Warranty
1 year
3. Thinktanks Four Person Pod
This compact privacy pod is perfect for meetings or brainstorming sessions. You can cooperate and focus in a quiet environment with this option. 
It can accommodate up to four people and is a great place for phone calls, video conferences, or quiet work. The four-person pod comes in a variety of colors. Choose the one that best compliments your space. 
| | |
| --- | --- |
| Dimension | 87"W x 61"D x 91"H |
| Product weight | 860 lbs |
| Power supply | 1100-240V/50 - 60HZ |
| Natural lighting system | 4000K/421LM |
| Color | Black, White |
| Warranty | 3 years |
4. Thinktanks One Person Pod
The precise size of this little studio shed makes it the perfect place to work. There won't be any outside noise when using this Pod in your office. Additionally, it raises productivity and focus. 
Moreover, it has enough room for a desk and chair. It offers an excellent environment for phone calls, video conferences, or solitary work. The workspace can be customized to your needs and is portable. 
Additionally, our cutting-edge soundproof glass's Sound Insulation Tempered Glass will astound you. The noise level will be reduced by 35 decibels. 
Dimension
External size: 40"W x 37"D x 91"H
Internal size: 33"W x 35"D x 84"H
Product weight
Gross weight: 279kg
Net weight: 235kg
Power supply
100-240V/50 - 60HZ
Natural lighting system
4000K/421LM
Color
Black, White
Include
Motion sensor and switch control
Multiple region electric sockets
Emergency safety hammer
Furniture as shown in pictures
Warranty
3 years
5. Thinktanks Compact Office Pod
There is enough space in this backyard studio shed for a desk and chair set, a bookcase, and plants to keep things lush and green. There is no need to install an AC or fan because it is pre-installed in the compact office pod.
Carbon plastic composite panels, which offer outstanding resistance to external high and low temperatures, are used as the main structural material for the booth. Its panels are water and corrosion-resistant. This booth meets standards for Grade III waterproofness.
| | |
| --- | --- |
| Dimension | 7 x 7 x 7.5 ft |
| Material | Double laminated tempered glass, R200 aluminum |
| Color | Black, Green |
| Interior | Washable PET Felt |
| Standard outlet | 110-220V |
| Lighting | LED 140W |
| Warranty | 3 years |
6. Silent Room Pod
The Silent Room Pod is affordable and a perfect alternative to traditional meeting spaces. Meeting rooms are unquestionably vital in every business setting since they are required for private team meetings and privileged one-on-one conversations. 
This meeting pod is a clever device with a metal frame and solid MFC panels that can easily blend in with any current décor or stand out and invigorate any delicate workplace. 
7. The Bunkie Premium Deluxe
The design of this soundproof meeting pod is one of its most appealing features since it was made to look like a piece of architecture that would go well with the rest of your yard. Its adaptability is also commendable since, although it was first designed as a dwelling area, many individuals now use it as a posh work pod. 
Moreover, The Bunkie was created to assist you in overcoming screen fatigue. It accomplishes this by consistently providing just the perfect quantity of light. Additionally, you may enjoy the back-to-back windows, which give it a feeling of flair that is uncommon among pods. 
8. Quality Shed Studio
These prefabricated office pod models are offered for far less than you might anticipate, given their upscale and opulent style. It is available in several sizes, making it as versatile as you need for whatever yard or piece of land you possess. 
However, you must also factor in the around $6,000 cost of their installation and delivery. It is still a great offer for anyone seeking to put up an office pod of this kind.
9. Yard Pods
These contemporary office sheds are constructed in the San Francisco Bay Area and are available in various pod configurations tailored to meet your specific requirements. Because of their simplistic appearance, they are in high demand. Nevertheless, you must carefully choose where to put them to preserve their aesthetic appeal. Choose the type that you believe would best complement the look of your yard. 
However, these Yard Pods typically cost roughly $28,000, making them rather pricey. 
10. Office POD
Thanks to this office pod, you may now find the ideal work-life balance you've been looking for. This makes it easier for you to relax while you're at work and even become more creative and productive. You can even contact their moving service if you want to relocate soon. 
It is a lovely and compact choice. The Office POD is ideal for yards or locations that aren't too big. Additionally, once you put it in its place, you can immediately start using it without additional preparation. Because of its modular construction, it can be used in even tricky environments, such as gardens.
11. ArchiPod
The ArchiPod has a design that is both contemporary and classic. It resembles something out of a fairy tale, giving your house a unique and slightly odd appeal that can be frightening to visitors. 
We all adore working from home and its advantages, including cost savings, more family time, and a lack of morning drive. The ArchiPod makes setting up a nice office pod simpler than it would typically be, saving you money and space. 
12. Leggo Pods
These prefabricated office pods from Leggo were designed to fit into your house and provide everyone who utilizes it a comfortable feeling. It features an attractive and natural workstation thanks to the smooth laminated floors. The outside of the pod is covered with Garapa hardwood. 
It is appropriate for all seasons since the temperature is controlled to prevent severe heat and cold. Additionally, it has several large, transparent windows that let in a lot of natural light. Also, there is space for as many decorations and interior accents as you like. 
13. Kanga Room Systems
This well-known Texas-based business has been constructing backyard offices for the United States for more than 10 years. Professional office spaces like this one were designed for today's remote employees. 
It is a practical solution that includes flooring, lighting, and electricity.
14. Woodtex
You can get an accessible work pod from this company, which is fantastic if you're working on a budget. It also offers a variety of financing choices, one of which is a rent-to-own program. 
This office pod's outside is expertly designed, and you can personalize it using a few settings on the business' website. Moreover, this work pod is a favorite of ours because of its practical size and simple setup. 
15. Calmo Two-person Pod
Your attention and concentration will be improved during your workday by using this two-person office pod. 
The Calmo Pod doesn't have as fancy of a design as others on this list, as it only features a simple white outside and black doors, but the experience inside is unmatched. It has USB ports, LED lighting, data points, and ventilation fans. Any dull office can be upgraded with this pod's extraordinary experience. 
16. Lohko Meeting Pod
All sizes of the Lohko Meeting Pod are fully furnished with an air-circulation system, lighting system, power outlets, and USB ports. In addition to supporting and boosting its users' productivity, the exquisite design of this meeting pod generates a serene setting that contributes to improving your well-being.
17. Hush Meet S Pod
The Hush Meet S Pod can be disassembled and moved around the office or even to new locations. This compact conference pod is portable and adaptable to the changing requirements of any company. 
It serves various purposes, including modern conference rooms, employee leisure areas, and private workspaces. 
18. Hush Meet Pod
The modular meeting pod Hush Meet comes equipped with everything needed to have effective meetings. 
It has fully functional, motion-sensitive lighting, ventilation systems, and power and USB ports.
19. Silent Room Pod Large
The challenge of locating areas for team meetings in crowded office buildings or open-plan workspaces is solved with the Silent Room Pod Large. It offers a completely enclosed space that may accommodate up to four people. 
Collaboration and teamwork are greatly valued and promoted in any office, and Silent Room Pod Large enables this. The Silent Room Pod Large is an excellent option for adding meeting rooms to locations with limited space and strict financial constraints.
Bottom Line
Meeting pods are here to stay, making life much easier in unconventional workspaces. If you're a home office worker or your office doesn't have enough space for a conference room, we recommend you check out our store and learn about the great work pod deals we have for you.
Video ads for product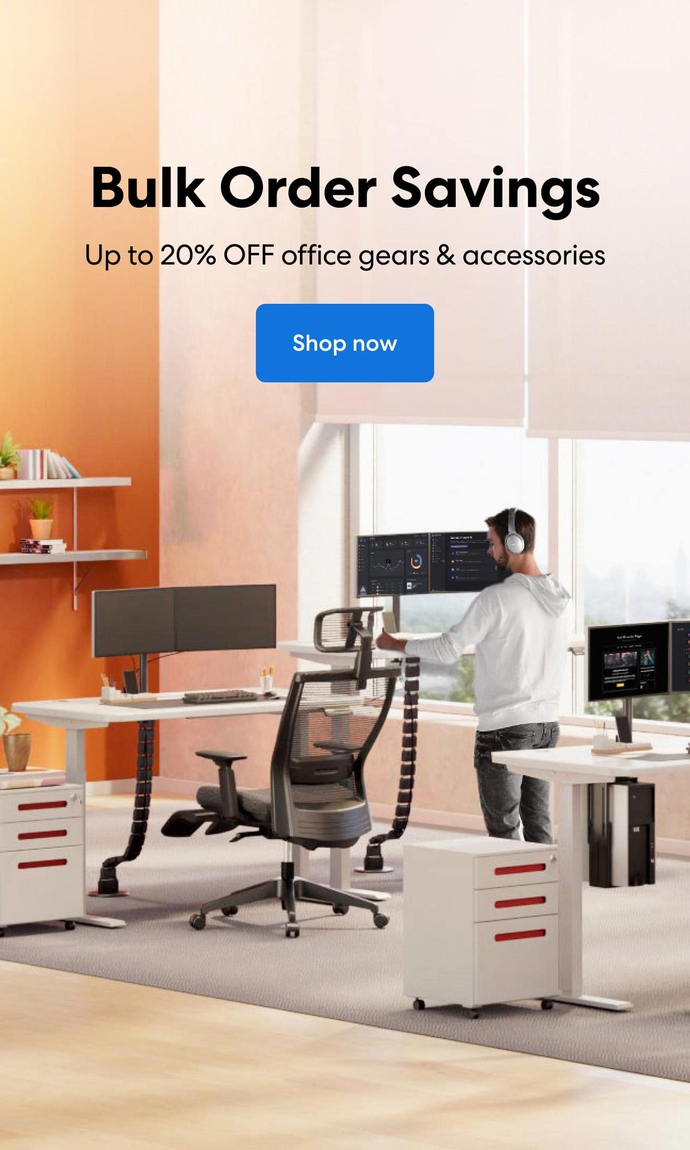 Subcribe newsletter and get $100 OFF.
Receive product updates, special offers, ergo tips, and inspiration form our team.