Smart Products
9 Mesh Office Chair Myths Debunked: Separating Fact From Fiction

Robert Johnson
|
Oct 3, 2023
839 Views
When it comes to working long hours in the office on one of the hottest days of summer, nothing beats the comfort and cooling features of a mesh office chair. Having breathable material is one of the most important features of an ergonomic chair, and one that is not always easy to find. 
It is difficult to feel comfortable when you are sweating through your clothes, which is one of the things considered in the never-ending battle of mesh vs. leather chair options. While leather might be favored for its looks and comfort, it does not come close to mesh chairs when it comes to breathability.
However, allowing maximum airflow to the body is not the only reason for you to consider buying a mesh office chair. Also, having a mesh back on your chair does not mean that you will have to sacrifice other important features. 
These are just two of the many misconceptions about mesh office chairs. This article will set the record straight once and for all, allowing you to make an informed decision next time you go shopping for a good-quality office chair.
Nine Common Misconceptions or Myths About Mesh Office Chairs
When you buy a mesh task chair, it does not always mean you have to sacrifice any of the features you need in an ergonomic chair. Here are nine myths about mesh office chairs that need to be debunked once and for all: 
1. Mesh Chairs Lack Durability.
A mesh computer chair can be just as durable as any other chair you buy for your office, as long as you choose the right material. Consider a chair that is made from environmentally friendly TPE, and it will last you a long time.
2. Mesh Chairs Are Only for Warm Climates.
Even in the coldest of climates, you can still find plenty of use for a mesh office chair. When these chairs are designed, the manufacturer is concerned about a lot more than just how to stop bum sweat on chairs. As such, you get many features, such as lumbar support, recline functions, and adjustable headrests. 
3. Mesh Chairs Lack Style.
By simply visiting the Autonomous page and taking a look at some of the impressive mesh chairs that are available, you will realize just how stylish a good mesh office chair can be. As long as you have the budget for it, a mesh chair can be as stylish as the best executive leather chair you can find. 
4. They're "Uncomfortable".
With the right combination of material, design, and adjustability, a mesh task chair is just as comfortable as any other chair you can think of. Usually, the uncomfortable ones are those that are made by manufacturers who only care about cutting production costs. If you take your time shopping for the right one, you will find a good-quality mesh chair that is very comfortable. 
5. Mesh Material Might Damage Clothes.
While some types of mesh upholstery may damage clothes, this is not true for every mesh desk chair. You have to understand which types of mesh to avoid. A high-quality mesh office chair is made of smooth materials that will not damage your clothes. Consider chairs made from smooth TPE next time you go shopping.
6. Easily Gets Dirty.
As long as you know how to take good care of your mesh office chair, you will not have to worry about it getting too dirty to clean. You can consider vacuuming your mesh chair regularly, which will prevent dirt from building up in the open spaces of your mesh fabric. 
7. Mesh Chairs Are Not Eco-friendly.
If you want, you can buy a mesh computer chair from Autonomous that is made from TPE, which is 100% eco-friendly. If you take the same care when selecting your mesh chair as you do other furniture items, you can find plenty of environmentally friendly options to choose from.
8. Mesh Chairs Are Not for Executive Offices.
While many office chairs with mesh back features may look out of place in an executive office, this is not always the case. Some of the best office chairs for long hours are made from mesh material, and have a design that is suitable for any kind of office. If you choose your colors well, you will find that your mesh chair can be the crown jewel of your executive office. 
9. Mesh Chairs Have Limited Features.
The amount of features you want for your mesh task chair is entirely up to you. If you visit Autonomous, you will be amazed at the number of features its mesh chair furniture items have. Whatever features you need, from lumbar support to leg rests, you can find a mesh chair that has them. All you need is the willingness to search.
The Top 10 Best Mesh Office Chairs in 2023
When shopping for a mesh office chair, you need to find one that has as many features as possible while also being within your budget. This is not always an easy task. At times, you may find great chairs with footrests, only to find that they do not come with a mesh back, or are made from poor-quality material. 
To make your shopping experience easier, consider the following list of 10 awesome mesh office chairs to buy in 2023: 
1. Autonomous ErgoChair Pro
A true pioneer of the mesh computer chair movement, the Autonomous ErgoChair Pro has a wealth of exciting features that make this ergonomic office chair a must-have item in 2023. The most obvious quality is its mesh back, which allows you to sit comfortably for long hours, without worrying about sweating through your clothes.
The chair is fully adjustable and supportive, meaning no matter your body shape or size, you can find great comfort in using this chair. When you feel your body needs to stretch for a few minutes, you will love the recline feature that comes with five lockable positions. That way, you can stretch your sore muscles without having to get out of your seat. 
In terms of ergonomics, the ErgoChair Pro delivers flexible lumbar support that will help you avoid the common lower back problems that office workers sometimes experience. The chair can handle up to 300 pounds in weight, making it ideal for any office activities to require.
2. Branch Verve Chair
If you are looking for a mesh desk chair that does more than simply provide you with a place to sit, consider the Branch Verve Chair. This mesh office chair promises instant relief from discomfort the moment you sit in it. Its high-performance design not only ensures comfort but also stands out with a striking silhouette and a playful color palette. This combination of aesthetics and ergonomics makes it an appealing addition to any workspace.
The chair features a 3D knit back that's not only visually appealing but also soft to the touch. This unique material choice offers breathability, promoting cool comfort during extended periods of sitting. The breathable back ensures that you won't feel sweaty or uncomfortable, even on hot days.
3. Steelcase Gesture
One of the best things about the Steelcase Gesture is its elastic mesh. The hallmark feature of the Steelcase Gesture s its 3D LiveBack® technology. This innovative design conforms seamlessly to the natural S-shape of your spine, ensuring continuous lower back support. Whether you're sitting upright for a meeting or reclining while typing, the chair adapts to your posture, reducing the risk of discomfort or strain during extended use.
The flexible seat edge at the front of the chair is a thoughtful addition. It effectively relieves pressure points under your thighs, enhancing comfort during prolonged sitting. Additionally, the soft edge around the perimeter accommodates various sitting styles, ensuring that you can maintain a comfortable and relaxed posture.
4. Autonomous ErgoChair Plus
Sometimes called the best ergonomic chair in the industry, the Autonomous ErgoChair Plus is a perfect choice for anyone looking for a mesh office chair that is loaded with exciting features. The ergonomic design itself is top-notch, with a spine designed tailor-made to support your lower back while allowing freedom of movement. 
This chair features a frameless design, which means you can sit comfortably and move around without any restrictions. The mesh back and other parts of the chair are made from earth-friendly TPE, which has impressive durability, ensuring that your chai will last a long time.
Its good quality material and excellent workmanship are highlighted by the awesome two-year warranty, which shows the level of confidence Autonomous has in this product. If you are looking for a chair with a cooling and breathable mesh back, look no further than the Autonomous ErgoChair Plus.
5. Autonomous ErgoChair Recline
A complete mesh desk chair has to provide the breathability features it promises, as well as take care of the other needs of the user. One important feature that you need if you are going to be spending many hours in the office is a recline function. 
The Autonomous ErgoChair Recline was made for office workers who work so long that their body needs to recline and relax now and then. This recliner desk chair is made of high-quality material that will likely last much longer than its awesome warranty. It can carry up to 250 pounds with ease, making it the perfect desk companion for your office. 
With adjustable height, armrests, lumbar support, and recline features, this is an all-rounder that will fulfill all your office chair needs. It also comes with an adjustable headrest and legrest, making it one of the most comfortable chairs you will find.
6. Herman Miller Embody Chair
A good mesh task chair has to be suitable for a wide range of activities. This is why the Embody Chair works well as either an office chair or a gaming chair. The Embody Chair features a seat with four support layers, which work together to provide a comfortable and supportive sitting experience. The breathable design helps regulate temperature and moisture, keeping you cool and comfortable, even during extended periods of use. The multi-layered construction adds to the overall durability and comfort of the chair.
What's more? The chair sets itself apart with its pixelated support system, which is designed to conform to your micro-movements. This technology ensures that the chair adapts to your body's subtle shifts and changes in posture throughout the day. By doing so, it effectively eliminates pressure buildup, preventing discomfort and fatigue during long periods of sitting.
7. IKEA Markus
Very few office chairs with a mesh back have the wide selection of impressive features that the IKEA Markus has. The mesh material used for the backrest is a smart design choice. It allows air to circulate through the backrest, which is particularly beneficial during extended periods of sitting. This ventilation helps regulate temperature and prevents discomfort from sweat and heat buildup, keeping you cool and comfortable.
The ability to adjust the seat height in the MARKUS chair is a practical feature that allows users to customize the chair's fit to their individual needs. The goal is to achieve a 90-degree angle between your back and legs when seated, promoting proper posture. This adjustment is crucial for reducing strain on your back and legs during long work sessions.
8. Autonomous ErgoChair Core
Some office chairs with a mesh back have a lack of comfort and a reduced number of features. However, that is not the case when it comes to the Autonomous ErgoChair Core. This computer office chair is packed with awesome features and provides excellent comfort. 
If you are concerned about what those long hours in the office are doing to your health, maybe now is the time to do something about it. you can get your hands on this awesome mesh office chair and enjoy maximum lumbar support and comfort. 
The ErgoChair Core comes with a one-year warranty, but the high-quality material will last much longer than that. If you are on the heavy side, you will be glad to know that this chair can carry up to 250 pounds with ease.
9. Logicfox Ergonomic Office Chair: Double Lumbar Support
As the name suggests, the Logicfox Ergonomic office chair was made to deliver unparalleled lumbar support to workers who need it the most. If you already suffer from back pain or are concerned about the long hours you spend behind a desk, this mesh office chair is the right choice for you. 
The polyester sofa fabric comes in a wide range of colors, ensuring that you can find one that suits your needs perfectly. With an impressive three-year warranty and a maximum weight capacity of over 300 pounds, this is a heavy-duty chair that will last you a long time.
10. HON Ignition 2.0 Ergonomic Office Chair
Finishing up the list is a mesh office chair with the durability and design to fit in almost any kind of office. The HON Ignition 2.0 is the kind of chair you buy when you need something that will go well with any kind of décor.
The chair's contoured 4-way stretch performance mesh back is a standout feature. Not only does it provide a comfortable and supportive surface for your back, but it is also highly breathable. This design promotes increased airflow, helping to keep you cool and comfortable during long periods of sitting. Moreover, the mesh material is touted as being twice as strong as traditional mesh, ensuring durability and longevity.
The chair's advanced synchro-tilt mechanism is a key feature that adds to its ergonomic appeal. This mechanism allows for synchronized movement between the seat and the backrest.
Final Word 
As you can see, mesh office chairs are a lot more than meets the eye. They are not just for hot environments, nor do they lack any of the ergonomic features that are popular these days. You can get your hands on a great mesh back office chair from Autonomous today.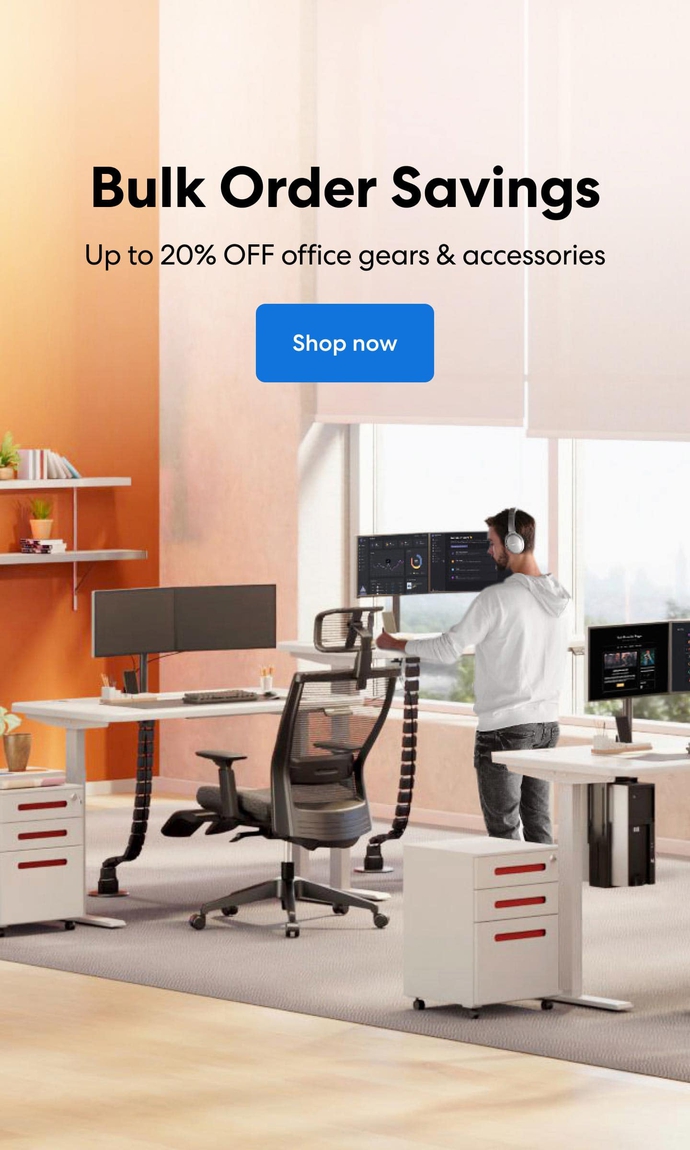 Subcribe newsletter and get $100 OFF.
Receive product updates, special offers, ergo tips, and inspiration form our team.