Many office workers don't know why a mesh swivel chair could help them in their workspace. However, it's one of the essential items you should buy for your office. 
Without the best mesh office chair with ergonomic properties, you can't ensure your posture is correct. Thus, you might start suffering from back and neck pain, and cramps. 
Take a look at the top 18 choices of 2022, and find the mesh swivel sitting spot that fits your needs! 
Why You Need a Swivel and Mesh Office Chair
A mesh swivel task chair is necessary if you spend hours completing all your daily tasks. However, not everyone understands the importance of having one. 
If you have an ergonomic swivel chair, you can ensure your back stays healthy. Forget about pain and neck discomfort – you can feel completely comfortable each time you sit down to work. 
With a swivel office chair, you also save money. Since the materials used are so durable, you don't have to worry about buying a new sitting spot. It should last for a few years. 
Lastly, a good chair can embellish your surroundings, increase productivity at work, and even make you feel better. Everyone enjoys working in a beautiful place and having a fantastic sitting spot can help you with that. 
List of Best Mesh Swivel Office Chairs
Now that you understand the importance of having a good mesh swivel chair, examine the following 18 models, and choose your favorite. Remember to evaluate each model's features, price, and payment options, so you can decide which one fits your needs.
1. ErgoChair Pro by Autonomous
Many people know Autonomous is one of the top brands to offer high-quality mesh office chair models. The products are innovative, beautiful, and have unmatching features! 
The ErgoChair Pro is one of the best models you should examine if you want to get an ergonomic computer chair.  Additionally, the swivel office chair is one of the best options if you're looking to buy an ergonomic chair. The sitting spot has many adjustable features, so you can completely customize it to fit your needs. 
You can personalize all the features, so you never need to worry about the sitting spot being uncomfortable. On the contrary, it protects your back, neck, and shoulders! 
The ErgoChair Pro is one of the few chairs that offers comfort, beauty, and flexible payment options. You can do monthly payments if that's what you want!
2.  ErgoChair Recline by Autonomous
The ErgoChair Pro by Autonomous is a wonderful option, but the ErgoChair Recline is also an incredible ergonomic computer chair.
With the ErgoChair Recline, you get a top mesh swivel chair with an adjustable armrest and headrest. You can also tilt your seat to ensure maximum comfort. 
Additionally, the ErgoChair Recline can support up to 250 pounds and offers flexible payment options. You can make monthly payments if you can't afford to pay everything at once, so it's very convenient if you're on a budget. 
Lastly, if you buy the ErgChair Core, you can choose between an all-black design and a cool gray one. Both models look amazing and offer you an incredible swivel chair with armrests, and you can combine the piece of furniture with different decoration styles.
3. Nightingale CXO Chair
The CXO Chair is a fantastic mesh swivel chair you can find. If you take a look at different reviews, you might notice that it's on top of many lists. 
When you sit on the CXO, your body sinks on the mesh swivel task chair. However, it also enjoys top ergonomic properties.  
Furthermore, the swivel office chair gives you an adjustable headrest. Forget about neck pain because all you need to do is customize the chair's features and enjoy!
4. Black Mesh Office Chair by Modway Articulate
Finding a good mesh computer chair is not easy, but if you want a good mid back rest, the Black Mesh Chair by Modway Articulate might be a convenient option for you. 
The Modway Articulate model has a firm backrest, which gives you strong mesh to support your weight but also ensures breathability. 
The ergonomic swivel chair has a unique design with a waterfall edge. It guarantees maximum comfort, while also giving you a beautiful sitting spot to put in your office space. 
5. Diffrient World's Humanscale Chair
Not everyone wants a black chair for their office. A white sitting spot can be immensely beautiful, and make your surroundings have a different style. 
Fortunately, Diffrient World's Humanscale is a top choice if you're looking for a white chair with wonderful ergonomic properties.  
Its back has a tri-panel design and the mesh lets you sink, so you can always feel comfortable when you work.  
Many chairs have a problem: pronounced frames around the front. Nonetheless, Diffrient World fixed that by eliminating the front edge in the Humanscale model. 
6. Herman Miller Aeron
The Aeron came out in 1994, and it revolutionized the world of chairs. It's a famous mesh model, and many people love it because it has become a classic high-quality option. 
If you compare it to other mesh swivel chairs, the Aeron is made with excellent materials. It offers a beautiful design, but it's also very durable.  
Additionally, the Aeron has great functions. You can adjust the chair and recline it, so it's an incredible model. Your arms can rest while you take a break and unwind from stress.
7. Mesh Task Office Chair
Another fantastic mesh swivel chair is Technomobili's option, which is ideal for compact spaces. Its features are adjustable, and it provides great back support. 
The ergonomic swivel chair by Technomobili (also known as Mesh Task Office Chair) has one feature that stands out above the rest: it offers fantastic office chair lumbar support. 
Therefore, if you're constantly suffering from low-back pain, the mesh swivel task chair by Technomobili might be a phenomenal model for you. 
8. Back Mesh Chair by Raynor Ergohuman
One of the most recognizable chairs of Raynor Ergohuman is the Back Mesh Chair, which has been on the market for more than 10 years. 
You can adjust the height of the headrest and the backrest, so the ergonomic swivel chair is ideal if you want something you can personalize. 
Moreover, customers always praise the lumbar support of the Back Mesh Chair because it's fantastic. It's immensely firm, durable, and comfortable. You never need to feel the tension in your back – the chair can help make that disappear!
9. Mesh Task Chair by Staples Hyen
Long days at work can be very challenging, especially if you don't have a good ergonomic chair. Fortunately, Staples Hyen has a model you should evaluate because it may fit your needs. 
Few brands offer Staples Hyen's quality. The expert chair designers want to make sure every customer is content with their purchase, and that is why they created a specific curved pattern to support your upper body while you sit on the Mesh Task Chair. 
If you buy the Mesh Task Chair, you get a wonderful mesh swivel chair design, specifically created to support your back and guarantee the proper blood flow in your body while you're working. Thus, you can avoid unnecessary pain and muscle cramps! 
10.  Akir Chair by BTOD
The Akir swivel office chair is available for workers like you, who are looking for both beauty and comfort when they're going to sit down and complete their to-do list. 
BTOD is another very famous brand when it comes to making incredible mesh swivel task chair options. One of the most important features the Akir has is its adjustability – you can easily customize it.  
Additionally, another wonderful characteristic of the Akir is its comfy seat. It's ideal if you want a soft place to sink in because its padding is very supportive. 
11.  Mid-Back Chair by Alera Elusion
When you're looking for a good chair, you must ensure the brands you're examining are trustworthy. At the same time, you need to determine if the chairs are what you want and if you can afford them. 
The Alera Elusion series offers you a Mid-Back ergonomic swivel chair that gives you the best support you could need. 
If you want a good mesh swivel chair, the Mid-Back model gives you two easy-to-use buttons. Plus, its design ensures the durability of the sitting spot, so you don't need to worry about replacing the fabric.
12.  Eurotech iOO
Here is another modern ergonomic executive chair for your office. The iOO is very popular among customers because it offers many adjustable features. People often say it has everything they're looking for in terms of customizable characteristics!
Therefore, if adjustability is one of the most important things for you, the iOO might be a strong alternative. You can even customize the headrest if that's what you want! 
You can choose between a black frame and a white one. Whichever option you go for, it can embellish your office, and accompany you during your long work hours! 
13.  Mid-Back Mesh Chair by AmazonBasics
AmazonBasics offers very good products, and the Mid-Back Mesh Chair is one of them. The sitting spot can give you fantastic ergonomic features and a classic design. 
Buying the Mid-Back Mesh Chair is to have a durable and trustworthy sitting place. Even though it doesn't have a built-in lumbar support system, it has the basics of a simple ergonomic mesh swivel chair.
14. Executive Ergonomic Office Chair by Office Factor
There are many good mesh swivel chair chairs out there, but not all of them offer the mid-back support that the Executive Ergonomic Chair can give you. 
Office Factor is famous for providing top-of-the-notch products, but the Executive is one of the brand's best chairs.  
The chair can effectively hold your weight, and it's immensely fresh because the mesh and design allow air to circulate while you're sitting down. Additionally, you get padded armrests, so your body can rest when you feel tired. 
15.  Liberty by Humanscale
Humanscale's Liberty has a minimalist look, which is why you might love it from the first moment you lay your eyes on it. Plus, its great features ensure you're comfortable while you're working. 
The Liberty is one of the most customizable mesh swivel chair models, and it's also very beautiful. Many workers love it because it can make your surroundings look luxurious and elegant. 
With the Liberty, you get an easy-to-customize chair, and you can choose between having arms with adjustable height or going armless. It's up to you! 
16.  Vera by Eurotech
Eurotech's Vera has a lower price than the iOO. Thus, many customers go for this ergonomic swivel chair since it fits their budget. 
If you buy the Vera, the swivel office chair gives you good adjustability features, a padded back, and a seat slider. You can even add more things if you want, for example, a headrest! 
17.  100MC by BTOD
Another good mesh swivel chair option for people who are on a budget is the 100MC chair by BTOD, which is very affordable. 
The mesh swivel task chair has lumbar support, and it's completely adjustable. At the same time, it offers customizable arms. It is an incredible swivel chair with armrests.
Finding a chair that gives you a good writing posture is very hard, but it's essential if you're an office worker. Luckily, the 100MC allows you to sit at 90°, so you never have to worry about your posture. 
Overall, the 100MC gives people features you usually find in very expensive chairs. Although it may not be as durable, its low price might be convenient for you. 
18.  GO-99-3-GG by BTOD
Big and tall people need good and durable ergonomic swivel chair models, especially if they're office workers. If you fit into that category, it may be hard to find a sitting spot that fits your needs. However, it's not impossible, and BTOD has a good alternative for you. 
The GO-99-3-GG is a swivel office chair, and it's an ideal option of an office chair for big and tall people because it can support up to 500 pounds. Furthermore, it's very comfortable. 
You might find the mesh swivel task chair's design very appealing because it's beautiful even though it's very big and heavy. Additionally, you can adjust many features, such as the lumbar support. 
Keynote Takeaways
Finding a good mesh swivel chair is very hard, but now you have a list to get started. Examine all the models and try to determine which one adapts to your needs!
Video ads for product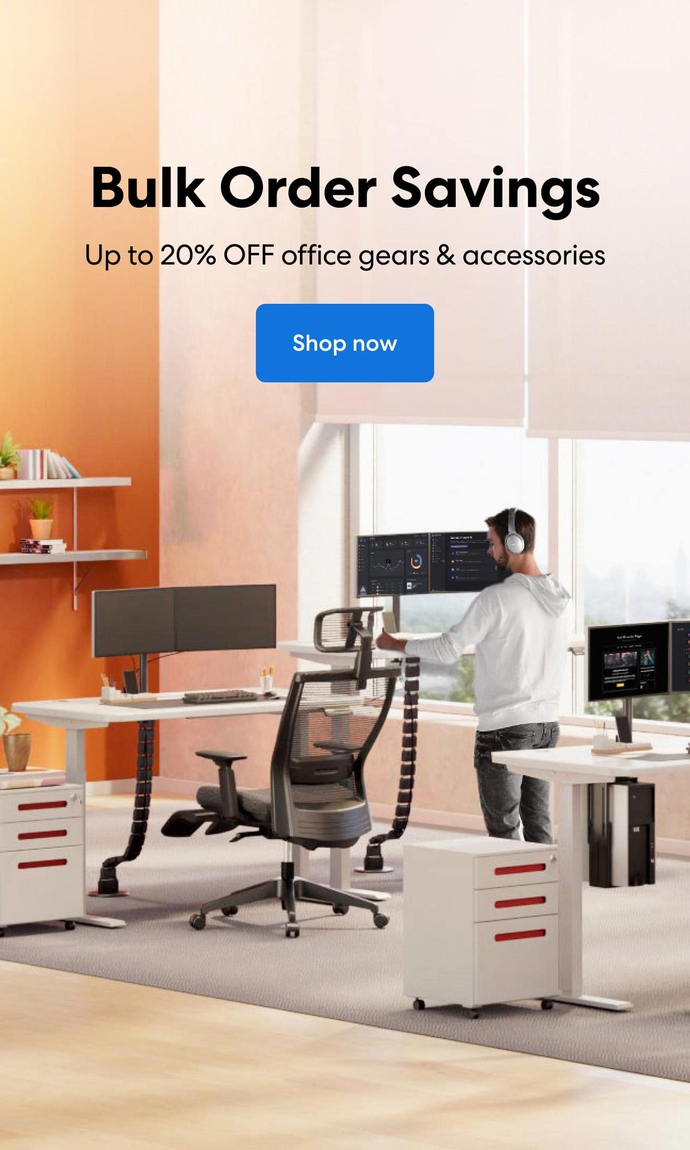 Subcribe newsletter and get $100 OFF.
Receive product updates, special offers, ergo tips, and inspiration form our team.