Latest Updates
Microsoft Employee Discount Program by Autonomous
1,827 Views
Many organizations across the globe have relied on Autonomous to maximize the potential of their employees, remote workers, and business owners. Our mission is to provide every employee with the means to lead a healthier lifestyle, and we know that employees within an organization often struggle to stay motivated and maintain a peak performance level. Workspaces can be made more comfortable by placing Autonomous Smart Products Microsoft employee discounts in communal areas, promoting better work efficiency and improved focus.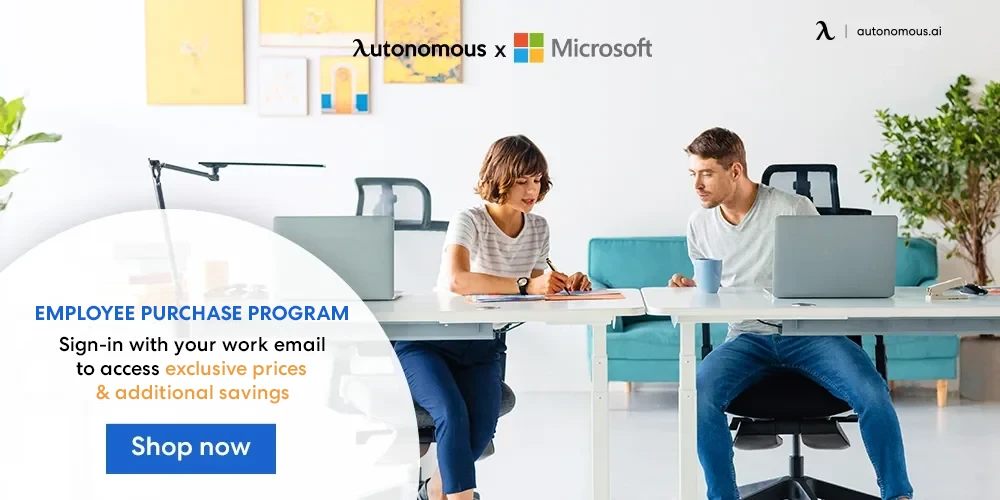 Introducing the Programs for B2B From Autonomous
Keeping inspired and maintaining the highest level of work performance can be difficult, but we understand the struggles of living a healthier lifestyle, especially in an age when many people work remotely.
As of right now, you can enjoy huge Microsoft employee benefits of up to 10% when purchasing Autonomous products through this Microsoft employee referral program. Get more for your money with our Work-From-Home Kits, including the SmartDesk Core + ErgoChair Pro. While supplies last, get your hands on our WFH Kits. Autonomous employee perks program products aren't available anywhere else for this much savings through this Microsoft employee purchase program. 
Buy now (discount according to the company level)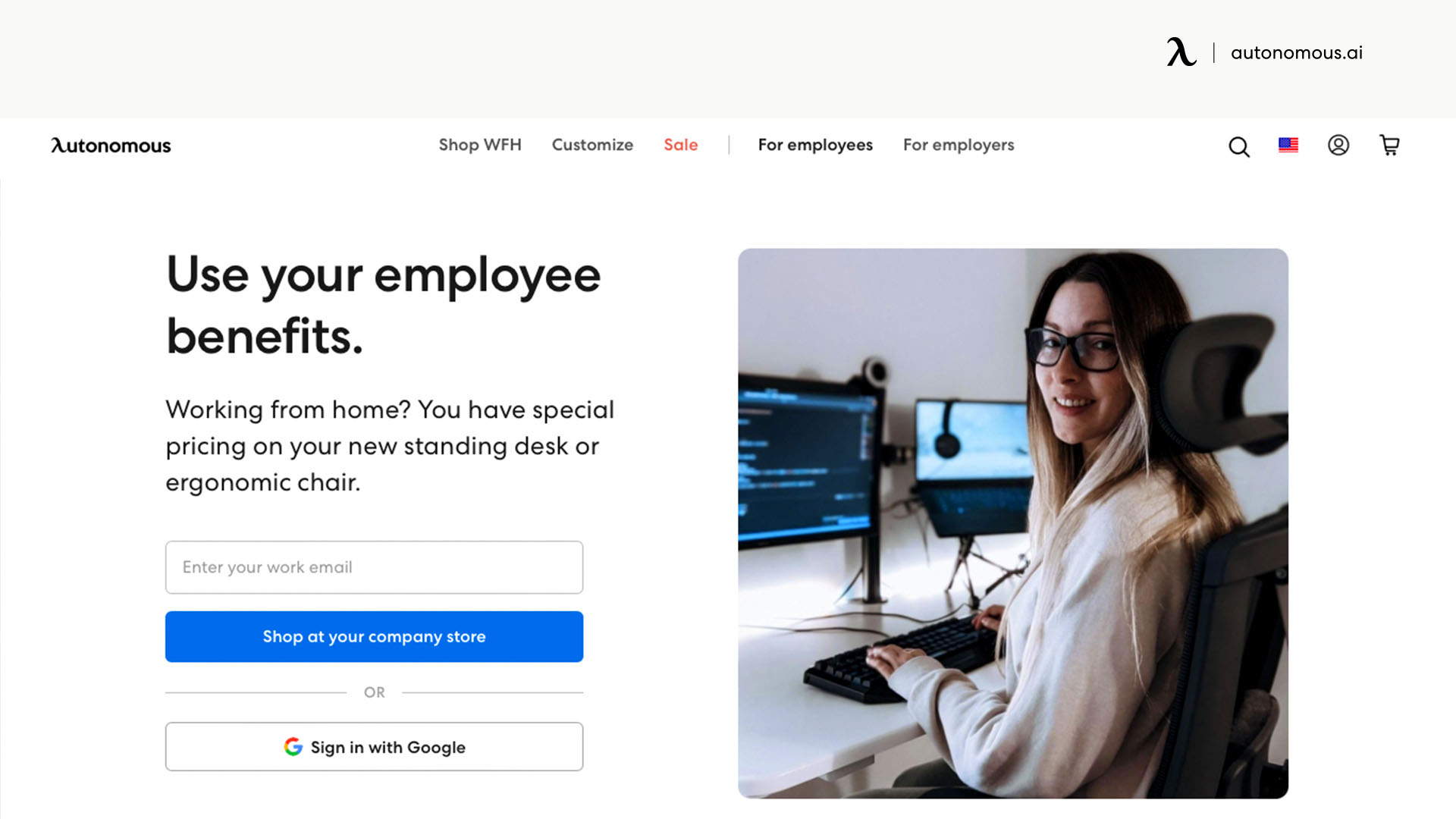 You can take advantage of the Autonomous Employee Purchase Program to get yourself and your colleagues the most suitable products and essentials for working from home. The program provides a completely streamlined way for employees to purchase company products and services.
We made it simple for your entire organization to immediately access company benefits via an online Autonomous employer purchase program e-store that is customized to fit your organization. All members of your organization can choose from our most popular height adjustable standing desks, ergonomic office chairs, and office tools.
As an employee of Microsoft you can easily shop hereby:
Email your office email ID to the special Autonomous email address given

The sign-up process can be completed by clicking the "magic link" in your inbox.
Buy more save more (bulk order/ wholesale)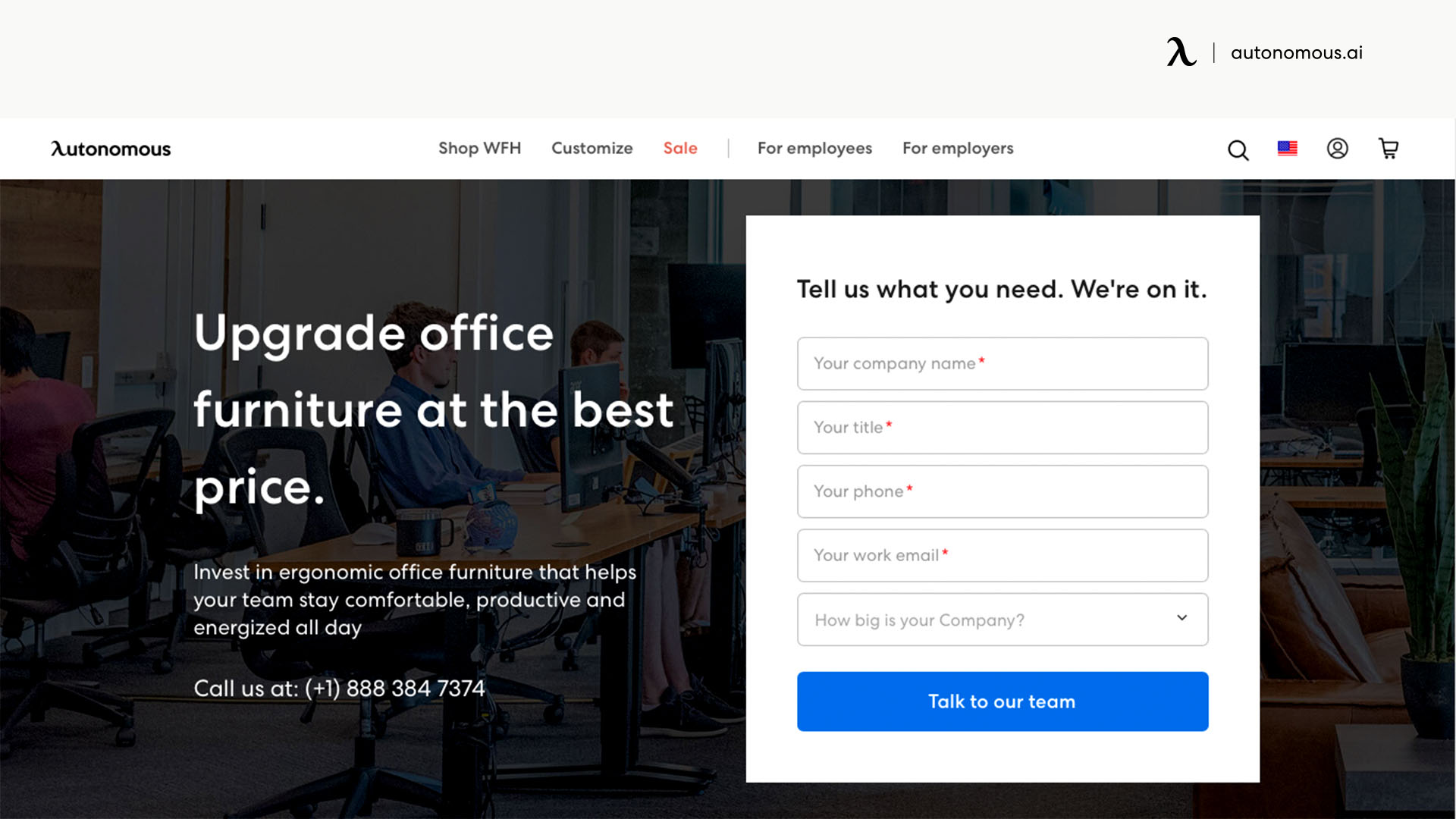 How does your company benefit from portal work? You can see how to use Autonomous EPP this way. Your company discount will be applied storewide once you are logged in. You will notice that the company discount progressively grows over time when you participate in the Employee Purchase Program. If your team accumulates more home standing desk purchases, your benefits will increase!
Our ergonomic office chair volume pricing plan is easy to use, with clear savings for anyone looking to purchase multiple units or work from home equipment in one transaction - it may be an employee buying for their family or friends, or management planning to upgrade the company office. Buying more means more savings when you bulk office furniture.
Pay for me (charge to the company)
Think about eliminating the headache of staff reimbursements, expense approvals, and receipts. We automate the entire purchase process with our Employee Purchase Program. You can enable your employees to choose products that best fit their unique work from home setup and request company approval for the order directly through your website. A company employee who selects a product from the autonomous store of their company can then charge the product to the company by following these steps.
Click on the 'pay for me' tab

Fill in the request form and click on 'submit.'
Some Popular Autonomous Products for Microsoft Employee Discount
1. SmartDesk
They offer the Autonomous SmartDesk Core as a low-end option from their selection of standing desks. The model in question is part of a larger series that also includes customizable desktops, DIY stand-alone frames, and collaborative desks. A variety of colors are available for SmartDesk Junior.
With our Connect Pro, Pro Biz, and SmartDesk Pro systems, we also offer the SmartDesk Corner and SmartDesk Core. There are a lot of products that you can use for collaboration, such as the SmartDesk Tread by Autonomous x Treadly, the Compact Desk by Timotion: Basic Keypad, and other home standing desk solutions.     
2. ErgoChair
Over five models are available in the ErgoChair collection, made with premium materials and offering multiple adjustments. For instance, you can recline the backrest from 18 inches up to 25 inches. Chairs have very strong bases capable of supporting weights of up to 300 lbs. In addition to a mesh back and lumbar cushion, all backrests are lockable anywhere between three and five different positions.
Choose from seven different colors for your favorite ErgoChair. The height and angle can both be adjusted so that you won't strain your neck. You can choose between 45° of support and the comfort you need - whether you're writing, looking at a monitor, or relaxing.
3. Smart accessories
Desk Lamp
A variety of desk lamps is available for illuminating your desk. An ultra-wide LED desk lamp, our Light Bar has an adjustable 35-inch stem and a 31.5-inch LED strip. Sleek and flexible, it clips onto any desk. A stylish desk lamp that lets you adjust its angle to meet your needs. This lamp also comes in commercial-grade versions for businesses.
Standing Desk Mat
It will help you maintain a balanced position while relieving back pain using this anti-fatigue mat. Improved posture and an energy boost at the office are two of the benefits of exercising at the office. Since its sloped, ridged surface gently massages your inner feet while you wear heels to work, this mat provides relief from foot pain when you wear heels.
4. Other Brand Products
What's next in Microsoft employee discount program? Some of our favorite and most innovative picks are the Lexon wireless charger cup, Pixio monitor RAMs, and desk pads. The HiBoost Signal Boosting Tools, filing cabinets, cable trays, power docks and privacy panels are some of the products that meet almost every demand in an office setting. You can go for these products without any second thought. All these products have come up with all the essential features and benefits to provide you with an overwhelming experience. So, wait no more and grab these amazing products now.
Keep up with Autonomous news
Stay informed, stay inspired with our new blogs.
WRITTEN BYAutonomous
We build office products to help you work smarter.