Hybrid Working
Moving Your Business to a Post-Pandemic Hybrid Work Model

Autonomous
|
Jul 7, 2021
1,698 Views
Post pandemic, offices are preparing to welcome employees back to the office. Companies are contemplating a balanced mix of remote working and that from a central office. The year 2020 shows that companies are now better prepared for full remote working, should such a situation arise again. 
Impact of Covid-19
Covid impacted most industries and upset the 'business as usual' routines for most. Governments across the world rushed to isolate themselves from other countries to reduce the impact. As restrictions kept wavering as the impact of Covid-19 reduced or increased, industry bore the brunt as the economy took a hit across the globe. Business leaders rushed to equip employees to work from home, but this was not possible for all industries. 
Companies and employees both have seen the benefit of remote working and hybrid work model. However, it is clear that given the nature of some industries such as manufacturing, emergency services, and more, a high number of employees will need to get to the workplace for business needs.  From an industry perspective and learning from recent experiences, it is important to be prepared for any restrictions that may arise again. A hybrid working model post Covid is the solution.
Rise of Hybrid office
Companies that are leading the path have learned from their recent experiences.  To avoid any impact on the business, they have kept themselves and employees prepared to get back to work from home, should the need arise.  A Boston Consulting Group report mentions that many employees feel their productivity did not reduce when working from home. This is when compared to work from the office before Covid-19.
Companies and employees have found solace in a hybrid office. What is hybrid remote work? A hybrid working model meaning is linked to a workplace where most folks work remotely and come to the office as and when needed, which may be as low as one or two days a week.  Others continue to work from an office, as per business requirements.
Some companies have created smaller satellite offices for employees' convenience and to retain company culture. These set-ups provide easier and speedier network connectivity, social connect, and more for a hybrid workforce. This works well for employees who did not have much space at home for an independent home office; or those who need to collaborate on a project.  There are quite a few options of hybrid remote working that could be considered.
Companies That Have Adopted a Hybrid Office
Here are some companies that have transitioned to a hybrid work model after covid and what they have done.
1. Citi Group
Citi Group has announced employees will need to come to work for at least three days a week under the hybrid work model. All internal meetings on Fridays (or another day in the Middle East) are audio calls-only meetings to battle the Zoom fatigue.  The group also announced a Citi Reset day on May 28, 2021, where employees were given a paid holiday to rest. Amazing move, isn't it?
2. Google
Google CEO Sundar Pichai discusses the need for a hybrid work office with two days of work from home policy. Elaborating on the need for flexibility, Google is promoting transfers within the company to manage employee flexibility. Announcing 'work-from-anywhere-in-the-world' aims to give employees the flexibility to work from any remote location up to four weeks a year. There are, of course, many more options, increasing the hybrid work model best practice.
3. Adobe
Fortune reports Adobe's Chief People Officer Gloria Chen has announced a flexible, digital-first mindset, hybrid working model.
4. Tata Consultancy Services (TCS)
TCS is transitioning to a hybrid office with a goal of 25-25-25.  What is this? 25% of the workforce will work for 25% of their time in office by 2025; the rest will be working from home/remotely. 
Major Hurdles for Companies Transitioning to a Hybrid Office
Business leaders are faced with challenges in balancing between company policies and management practices. 
Company policies
It must be updated using technology for a hybrid work model that measures productive work instead of clocking to an office for regular work hours. Compliance (for example, labor laws) to local rules and regulations requires redefining the definition of workplace.   
Performance evaluation and compensation will need to be redefined to include those who work from home.  The challenges of work from home employees include low visibility with leadership compared to those working from an office. Perhaps, not see is being forgotten? 
Management practices
Business leaders need to think through who can work remotely and those who need to be in office. Parameters will include nature or type of work, level of employee experience, employees' preferences, amongst others.
Don't miss our review of flexible work arrangements that a company can consider.
Hybrid Office Software and Solutions
As companies look to transition to a hybrid work model office, they need hybrid office solutions. Here are some of the latest ones.
1. Autonomous hybrid work
Want to manage your company workforce better? For compliance and other reasons, you need to plan who is going to work from where? Want to know the real-time availability of each employee? All your solutions can be met by hybrid working software.  A one-stop shop that offers easy-to-use solutions, the Autonomous hybrid working software has got it all.  It helps you connect with team members working remotely or in offices instantly.
Gartner's report discusses the benefits of moving early to a hybrid office. Other solution providers like Google, Microsoft, Atlassian, Slack, Yammer, Adobe, Salesforce, Zoho, Huddle, and more, have assisted companies in setting up hybrid offices.
2. Jam
When you want to catch up instantly and for a short 'hello' or seek a quick minute with a team member when adopting the hybrid work model, no need to set up a video call; or send an email. With Jam, locate your colleague and buzz them directly when online. Jam is productive office software that allows you to connect without setting up meetings and passcodes.  Beneficial, isn't it?
3. The SmartDesk Hybrid
Many companies have adopted the SmartDesk Hybrid as they look to set up hybrid offices. The SmartDesk Hybrid is an integral component of Hybrid Office solutions. This electric standing work desk increases employee productivity as they choose to stand or sit and work. It offers great health benefits as an employee can lower or raise the desk's height, as per their choice. All the employee needs to do is flick a button!
Summary
To wrap up, transitioning your business to a hybrid office can be met easily with  Autonomous working software. Plan for your company's success by moving early to a hybrid office model.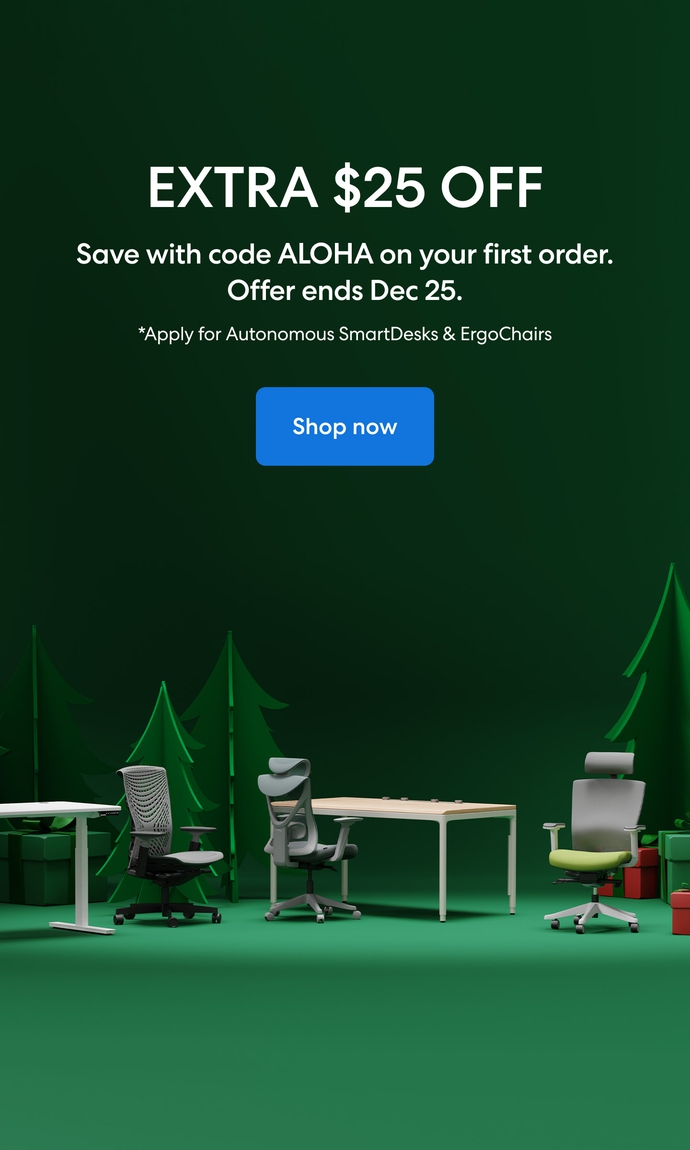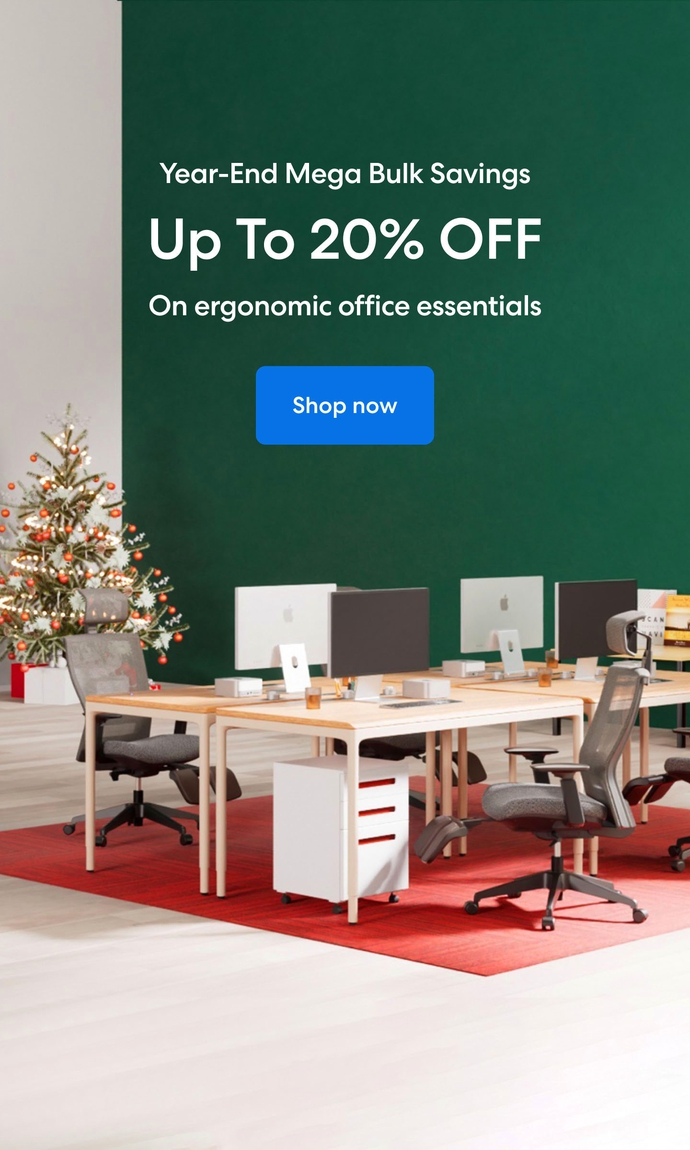 Subcribe newsletter and get $100 OFF.
Receive product updates, special offers, ergo tips, and inspiration form our team.