Industrialization has set the pace with employees coming to the workplace in factories and industries over the last few centuries. This traditional model was perhaps best adapted for industries where the production on the floor required workers to be present in a different shift.
As the service industry picked up, it was identified that not all employees need to be in office. Various opportunities entailed that people work from home.
With the traditional model being questioned, 2020 saw workforces working from home due to the pandemic.  In 2021, as workforces prepare to return to normal, companies have prepared themselves to transition to the 'new normal.
Companies and industries are working to optimize the benefits of employees working from home where possible. Why? Employee satisfaction evolving from no/low commute time, reduced commute costs, a better work-life balance and more, have kept companies on their toes. On their part, companies have tasted success by saving on infrastructure costs; additionally, now that they have invested heavily into remote working, the question is, why do we need to run back to a central office model?
What is a Hybrid Workforce?
Forced by the pandemic, companies had prepped their employees to meet their business targets by transitioning to software and hardware for remote working.
A hybrid workforce enables employees to work remotely (satellite offices) or from a home office and get to the central office when required. This paradigm shift of getting all workers to offices has forced companies to rethink should the business contingency planning be executed as governments open or close offices to manage the pandemic and its spread.
Not all industries can afford to manage this for a hundred percent of their workforce. Emergency services like power, electricity, gas, and healthcare, are required to come to the workplace. Yet the pandemic has created the question, "Is this employee required to get to".
Types of Workforces
1. All employees work from a central office.
Typical to a manufacturing organization, all employees would be required to punch in their arrival and departure times for a day present at work. The pro-covid era saw this model rapidly accepted in most industries.
2. All Remote – no office
You do not need the basic infrastructure of an office, as all employees are equipped to work from home as per the schedules planned. A Dropbox internal employee survey showed that 90% of folks stated that their productivity at the home office had not lowered. They did not want to do the typical 9 to 5 work schedule or more. Twitter, too, has tagged its employees and said they are moving to mandatory work from home globally while supporting our employees.
3. Hybrid model
As Spotify announced Distributed-First Is the Future of Work at Spotify, Sike Insights has confirmed that only EQ & Remote Managers Report to work. 
Making the best of both sides, companies have also realized the challenges of work from home, and many countries and cultures do not have large home space. Other challenges include inconsistent infrastructure at each employee's home, feeling left out, and more.
Hybrid office is here to stay!  Research found that some employees are ready to take a pay cut by 50% if they were allowed to work from home. A hybrid workforce is the success of the future.
Learn more about a hybrid work environment.
Workforce Office Furniture Ideas
As companies look to adapt to a hybrid workforce with many smart hybrid office furniture, what are some key designs that are being incorporated for future central offices?  How will employee policies change for companies to take care of their employee's health?
Will we need cubicle seating any longer? Will cabins and meeting rooms reduce in size as the virtual meetings are optimized? Here are upcoming hybrid office furniture designs and hybrid work furniture.
A. Hybrid Office
As hybrid work offices are being planned, Autonomous hybrid work app enables you to get your new PHYGITAL office in place. How does it do this?
The hybrid work technology can do anything; from defining your work location, enabling team members to know when you are online, giving you a-quick-to-chat and easy-to-call communication channels [see (B) below], the Autonomous hybrid work has it all. The software is a one-stop-shop as a tool for hybrid work. It allows employees to book their hot desks, manage the location they are operating from, seeking and granting approvals, and more.
This hybrid office furniture is set to change with minimalistic designs, lesser cubicles, increasingly common and open seating, more team huddle spaces, and more.
B. Jam
Communication? No challenges at all! With the Autonomous hybrid work, you have the provision of Jam, a remote work tool.
Want to call another colleague? No worries, as you click his name, check if they're online and just place a call from your computer system! And pronto – you are connected.
Instant meetings, no need to set up Zoom or Webex calls, reduced operating costs, and missing passwords – all are soon going to be history.
Quick connects for a faster turnaround as you seek clarity from another colleague sitting in a remote location miles away.  The Jam will ease all your communication woes in a way that will make your employees happy.
C. The SmartDesk Hybrid
With companies anxious about employee well-being, increased productivity, and more, the SmartDesk Hybrid, an electric standing desk from Autonomous, isn't far behind. Companies will have to consider a holistic view to check employee compensation and benefits to ensure they have the best furniture at the home office or in the central office.
As you are aware of the benefits of a sit-stand desk as your hybrid office furniture, you can easily get to the office or order one for yourself.  Making space for your office and home office, these sit-stand hybrid office desks save you space as they can be easily assembled and put away for safe storage unless required. The sturdy steel frames offer you a fast setup as the electric motors adjust the desk's height at an amazing 2.3 inches per second speed.
The SmartDesk Hybrid is a part of the Hybrid Office solutions offering you workforce planning with a hybrid work schedule.  So now your employees can request hot desks and get confirmation instantly.
Make your hybrid office function smoothly with a hybrid workplace model work.
Summary
There are no options left as a wrap-up but to be prepared for the rapidly changing hybrid office furniture designs and spaces for your hybrid office setup. A Hybrid Office is your go-to solution for your company's hybrid office furniture needs.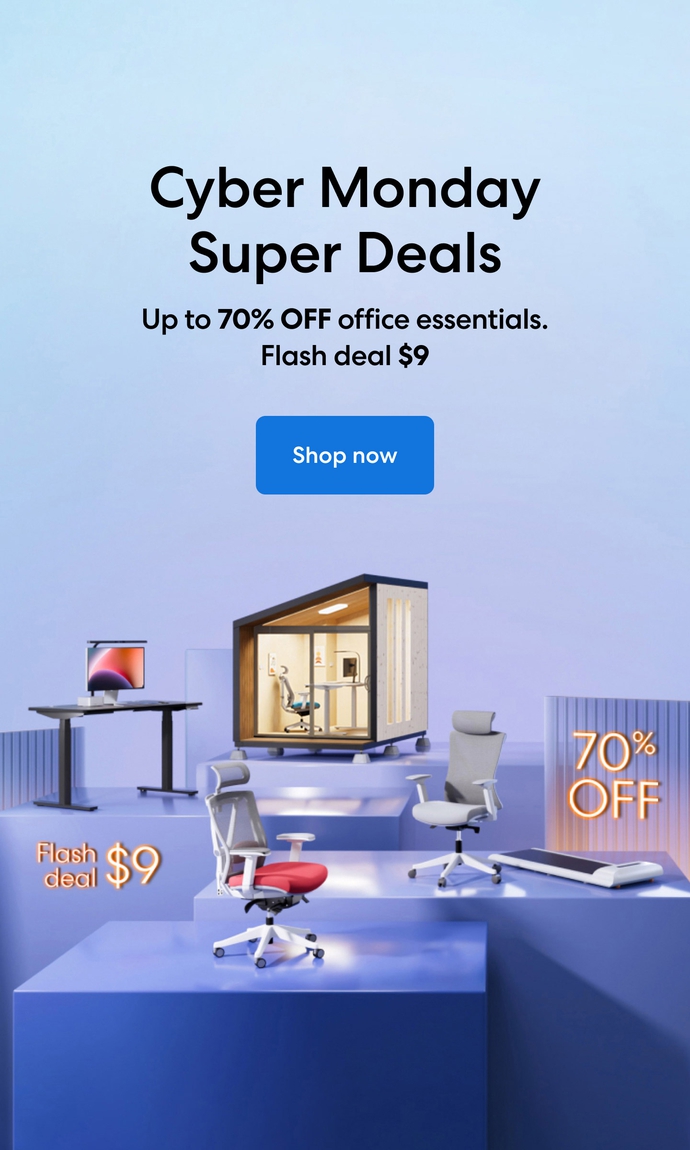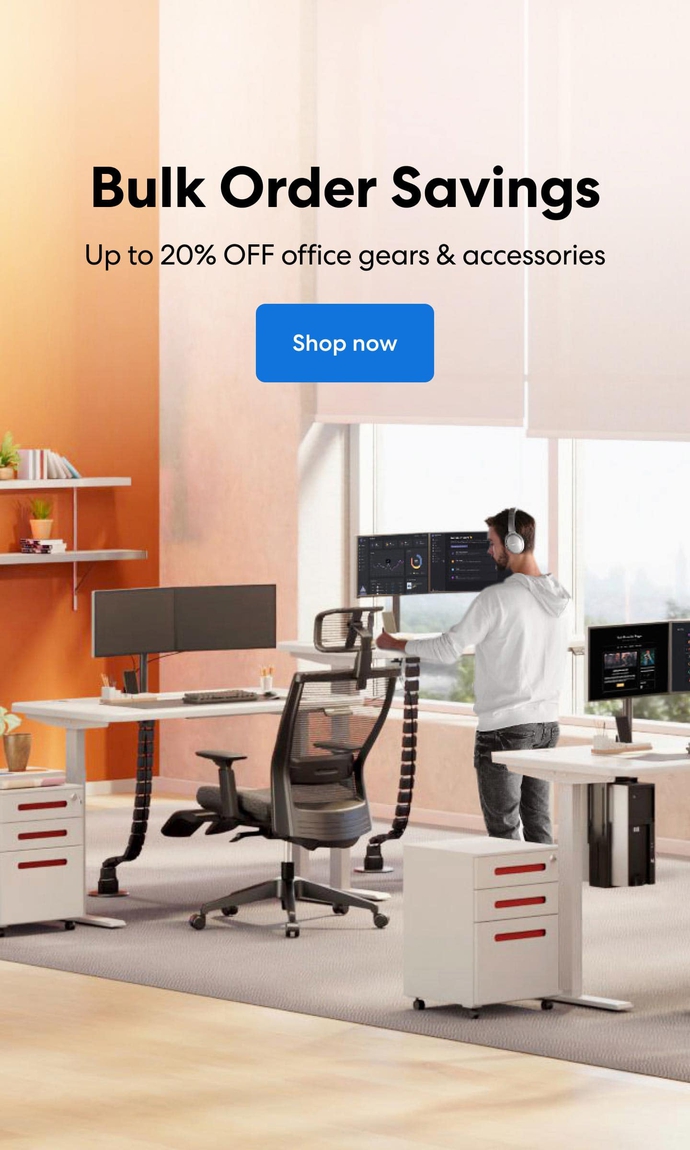 Subcribe newsletter and get $100 OFF.
Receive product updates, special offers, ergo tips, and inspiration form our team.