Smart Products
Office Furniture Outlet: A Treasure Trove for Budget-Conscious Buyers

Autonomous
|
Sep 15, 2023
1,109 Views
Furnishing office space takes a lot of work and investment in time and money. Office furniture is no longer just a means to fill space but is an important factor in promoting the productivity and efficiency of employees in the workplace. It also impacts the health of the workforce and aids in keeping your team active throughout the day. While office furniture selection comes in a huge variety, you can find many modern office furniture options that offer comfort and looks.
These ergonomic high-end office furniture stores offer many options for various budgets. Hence one huge benefit of office furniture outlet stores is that you can choose the right product for you in front of your eyes. Other than that, home office furniture outlets have many pros for budget-conscious buyers.
This article will teach you about purchasing directly from office furniture outlet stores rather than other independent retailers. So read on and find out more about them.
What is an Office Furniture Outlet?
An office furniture outlet is a physical store where you can visit, stroll and choose the best furniture items. Most of their products are on display, and some outlets even offer customizable options. This lets you view furniture in person, understand the layout, know about the space occupied by the furniture, and simply find it easier to trust a brand because of its physical presence.
Why Should You Buy From Office Furniture and Supply Outlets?
In a world of shopping online, we all have become accustomed to picking up our phones and ordering everything directly at home. This includes office furniture too. With many online office furniture stores in action, people rarely visit furniture supply outlets. Still, buying from an office furniture outlet has many benefits you might need to be aware of. This article will cover some of the top reasons you should buy from office furniture stores.
You Get Assembled Furniture
Furniture outlets are great at customer service and take every chance to make your purchase comfortable. Usually, furniture outlets have a team they send in which assembles and puts furniture for you. Whether buying used furniture from an outlet or selling office furniture wholesale, you will never regret saving yourself from the long assembly process. Purchasing furniture that has already been put together saves you time and frustration! There will be no chaos and cramming that comes with putting unassembled furniture. Consequently, you'll have more time and energy to focus on your company.
It Helps Local Businesses
You can order online anywhere from a well-known global furniture retailer, but many furniture stores are waiting to be discovered. These stores offer ergonomic, versatile furniture options while maintaining the image of an affordable office furniture store. Businesses that support their local economy by using local products are doing their part. Consider purchasing from a local office furniture manufacturer to support the economic vitality of your city, state, or even entire region.
Affordable
Office furniture outlets deal in a wide variety of furniture options. This offers the benefit of affordability too. Also, because of their local manufacturing and local shipping, these stores do not cost you a hefty amount for their purchases. You can also find furniture options in bulk, wholesale prices, and also choose used furniture options to save even more.
Fast Shipping
The new office furniture customers have bought usually takes many weeks or months to arrive. However, a lot of the locally produced or second hand office furniture is available for immediate delivery. Additionally, unlike new furniture, items from outlet stores do not need to be assembled when delivered. Your possibilities are typically wider because it occasionally originates from several sources.
How to Choose the Best Office Furniture from an Outlet?
Picking the right furniture for your office is a significant step. Hence you want to get this one right. Besides the benefits of buying from an office furniture outlet, the big advantage is seeing the product in front of you rather than just visualizing it from a picture. Below are some factors to consider when purchasing industrial office furniture from a furniture store.
Space Availability
What's the point of visiting a store and seeing all the products yourself if you need help visualizing them in your office? Before purchasing furniture for the office, you need to consider the space available in your office. Opt for furniture items suitable for your work routine and office layout. For instance, many discussion tables or large desks are helpful in places where teamwork happens. Compact desks or folding desks are the best choice for restricted office space.
Comfort
When choosing office furniture, it's crucial to put your personal comfort and your employees first. Choose workplace furnishings that will make workers happy since this will improve job performance and productivity.
Aesthetics
Aesthetics are equally as important as comfort for a piece of office furniture. Make sure the piece of furniture you pick not only feels lavish and soft but also elevates the look of your space effortlessly. Invest in unique pieces dedicated to keeping up with the theme of your office. One idea is to create a matching space with chairs, desks, storage cabinets, couches, and conference tables that complement each other. 
Budget
The big point of buying local and from outlet stores is that you can get a reasonable price compared to delivering elsewhere. Hence price plays a big role in office furniture. You can also get a cost estimate of the entire furnishing directly from an outlet after they visit your office space. You can also negotiate the price, which is impossible with an online purchase, and even customize the furniture to play with the features and reduce the overall cost.
The Right Chair
This one deserves separate consideration. When purchasing office furniture, you should carefully choose the appropriate chairs. You and your employees spend a lot of time sitting down each day. To endure this tiresome daily exercise, you need the right seats that provide the required support and comfort.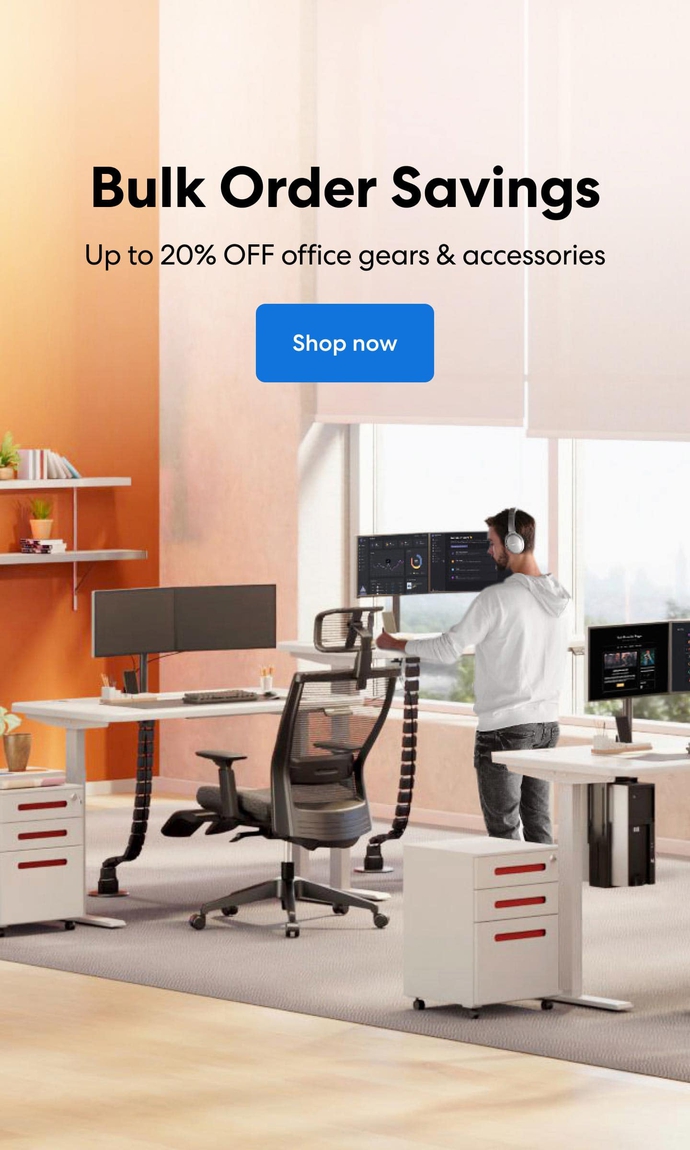 Subcribe newsletter and get $100 OFF.
Receive product updates, special offers, ergo tips, and inspiration form our team.