Smart Products
Where to Buy Office Furniture in Bulk with The Best Price?

Autonomous
|
Apr 6, 2023
4,280 Views
Are you a business owner who wants to get the most out of your employees? Perhaps you want to see an increase in the productivity, creativity, and morale of your workforce? An effective method for getting the most out of your employees in terms of productivity, creativity, work ethic, and motivation is by upgrading how they work. When we say upgrade how they work, we mean considering the work environment and features such as desk set up, office furniture, workplace inspiration, and workplace wellness.
If you are a manager that is pondering over the layout of your work environment and you are considering investing in bulk office furniture for your staff, then you have come to the right company. Autonomous wholesale office furniture is offered from office standing desks to ergonomic chairs and other office accessories.
Perhaps you are an office designer who has the creative freedom to redesign and restructure a work environment and you are looking for ideas? Autonomous is an innovative company with a distinctive design philosophy and an abundance of ideas for office designers to survey.
Getting to Know Autonomous
Autonomous has been an organization driven by technological creativity and innovation. Founded in 2015, what started as a small group of visionaries, is now a unique company that is working and adding value to over 130 000 businesses worldwide. At Autonomous, we have a distinctive design philosophy that is built around core features such as practicality, customer experience, and functional minimalism.
When you purchase any product or bulk office furniture from Autonomous you can expect great value and cutting-edge design. However, it is not the excellent value or innovative product designs that set us apart from the competition. It is a fact that we are never afraid to pursue new ventures and innovations. To our company, each part of the production process is equally essential.
The Reasons Businesses Should Bulk Order Office Furniture
As we previously mentioned, one of the most effective ways to get the best out of your employees is through investing in ergonomic office furniture. Autonomous has taken it a step further and offers business owners the chance to buy office furniture in bulk. Why should you buy bulk office furniture? We have list five reasons why bulking is best:
1. Economically Beneficial Option
Buying a large amount of furniture from a department store or mall would put a big dent in your wallet. This is where bulk office furniture differs. Autonomous supplies its goods directly to customers in the wholesale industry. Therefore, taking out the middleman in the process. Between the department and retail stores' markup price, and ordering directly from Autonomous, there is a world of difference.
2. Access to Premium Quality Furniture
For many business owners, the quality of the furniture is a key primary feature. It is not every day that you are going to invest in bulk office furniture for the organization and staff. Carelessness when shopping for wholesale office furniture can lead to a poor standard of quality of the furniture you end up buying. Many retailers vouch for the quality of their products, however, they are not accountable to the clients once the deal is closed. Low-quality furniture breaks or chips-off after some time.
Fortunately, this is not the case when buying wholesale office furniture at Autonomous.
When you buy office furniture from us, you can expect premium-quality furniture. We build all our office furniture from high-quality materials that fulfil strict criteria. When manufacturing any Autonomous product we consider three things: durability, affordability, and customer experience.
3. Massive Quantities
If you are wondering where to order office furniture for your workforce and office design layout, then Autonomous is the best company to call. We offer and can accommodate large quantities for large teams. Autonomous has a large inventory of various styles of furniture ranging from ergonomic standing desks and chairs to office accessories. No matter how massive the quantity is we can supply the furniture.
Furthermore, the process of ordering bulk quantities of office furniture has never been so easy for our customers. Customers simply need to go onto the Autonomous website and submit a form with their details and the size of their team, and an Autonomous consultant is going to get back to you. Additionally, since you are purchasing wholesale office furniture, there can always be additional discounts too.
4. Wide Range of Options
Here at Autonomous, it is part of our creed to be innovative and try new things. This directly translates into our product offering. We release a new product every year and ensure our customers always have a wide range of options to choose from. This is why we are the ideal company for creative office designers or inspired business owners. Our product range includes ergonomic standing desks, ergonomic office chairs, and many unique and cool office accessories that are going to ensure both you and your employees are efficient and engaged while at work.
If you are asking where to buy office furniture in bulk for your offices or work environment, now is the time to contact Autonomous. We are mindful of current market conditions. As a result, we have further increased our wide range of products.
5. Delivery and Shipping Service that is Hassle-Free and Proficient
The majority of furniture stores do not provide delivery and shipping services. For most customers, it becomes a hassle when they order bulk office furniture online. Sometimes clients must make their plans for safely transporting the furniture to its final destination. And if the store owners have delivery services, customers would have to pay a hefty fee for it. The size of commercial consignments is enormous. As a result, transportation costs are going to be high. It is inconvenient and stressful for the customers.
This is why it is always best to work with a wholesale furniture retailer to resolve these problems such as Autonomous. At Autonomous, we provide shipping services to countries all over the globe. Not only are we responsible for transporting the goods, but we also ensure that the items are correctly packaged to avoid damage on the way to the final destination. Furthermore, all Autonomous products directly purchased from the Autonomous website have FREE shipping applied.
What Factors to Consider When Ordering Office Furniture?
With the continuous innovations and advancements in the dynamics of work environments, we have seen a major shift in the designs and layout of a modern workspace. There was a time where an office consisted of a couple of chairs and tables. However, now when business owners are deciding to order office furniture, there are some essential considerations to take into consideration before making a purchase – especially when buying office furniture in bulk. Here are five factors to consider when ordering office furniture:
Affordability

Quality

Design

Functionality

Size
Autonomous Ergonomic Office Chair
Autonomous offer a stunning range of ergonomic office chairs for bulk office furniture including:
1. ErgoChair Pro
The Autonomous ErgoChair Pro is a completely adjustable ergonomic office chair that provides back support, prevents back pain, and improves sitting posture. When you pair this ergonomic chair with our SmartDesk, you are guaranteed to have the most versatility, energy, and convenience when working. It's great for those trying to complete their ideal workspace system with an ergonomic chair.
2. ErgoChair Plus
The ErgoChair Plus corrects your sitting posture and enhances back protection with optimum support thanks to its unique fishbone shape and advanced TPE content. Sit back and relax in our most comfortable ergonomic office chair.
3. ErgoChair Recline
The ErgoChair Recline supports your back, provides complete relaxation from head to foot and is completely adjustable - all at an affordable price.
4. ErgoStool
With ErgoStool, you are going to say goodbye to being sedentary and hello to being productive in the workspace. This ergonomic office stool encourages you to be busy in the office and improves circulation with active sitting.
Autonomous Smart Office Standing Desks
Standing desks have become a revolutionary and innovative work feature in office spaces worldwide in recent times. They boost productivity, enhance energy levels, and improve employee morale. In short, the inclusion of a standing desk is everything a manager is looking for if they want to upgrade and get the most out of their workers. Here is the range of office standing desks that are offered by Autonomous:
1. SmartDesk Commercial
The ultimate standing desk - Autonomous SmartDesk Commercial designed for healthier workplace is offered at bulk deals now. Experience the perfect blend of functionality and convenience with this exceptional standing desk. Enjoy its whisper-quiet operation, making it ideal for any office environment. With its effortless usability and straightforward assembly process, you can set up your workspace in no time. Stay worry-free with the built-in anti-collision technology, ensuring a safe and smooth transition between sitting and standing. Plus, you'll have peace of mind with the impressive 10-year warranty.
2. SmartDesk Core
The SmartDesk Core - Autonomous Standing Desk can raise you effortlessly and reliably, thanks to its heavy-duty steel frame and robust lifting dual-motor. With just one press, this SmartDesk can improve your energy and productivity.
3. SmartDesk Pro
The SmartDesk Pro is ideal for both home and workplace use, thanks to its increased height range. This Smart standing desk's strong motorized foundation raises you silently in seconds. Experience a stable, durable standing desk that is designed to help you concentrate and be more productive.
4. SmartDesk Corner
SmartDesk Corner is going to inspire you at work every day with its beautiful and functional design.  The powerful triple motor system can carry up to 440 pounds while gliding up and down in near silence. With the SmartDesk, you can build the ultimate work setup.
5. SmartDesk Frame
You have complete freedom to design your height-adjustable workstation that levels your workspace with the Autonomous Smart Standing Desk Frame. The motorized desk frame is solid, stable, and long-lasting.
Autonomous Smart Office Accessories
Having office accessories as part of your workstation can make all the difference to your creativity and workplace inspiration. Here are some of the smart office accessories for bulk office furniture you can find on the Autonomous website:
1. Filing Cabinet
The file cabinet is going to help you organize the reports and paperwork. The anti-rust steel cabinet features a modern, minimalist style that is going to last for years and looks perfect in every office environment.
2. Ultra-Wide LED Desk Lamp
The Ultra-Wide Led Desk Lamp brightens up your desk with its LED lighting. To suit every time of day, switch between several light temperatures.
3. Privacy Panel
With our Privacy Panel, you can build your own private space. Through these mini walls, you can block out sounds and other unwelcome noises. Use the whole collection to get complete focus in your work environment or use either one or two panels to find a balance between privacy and accessibility.
4. Anti-Fatigue Mat
The Autonomous Anti-fatigue mat comes with an inclined pattern that relieves back pressure and massages your insteps while you stand. This standing mat, made of PU, PVC leather, and an SBR anti-slip layer, ensures that the whole body receives the support and protection it requires.
5. Swivel Desk Drawer
If you want more space on your workstation to keep the smaller items such as pens and staplers, then the best solution is the Swivel Desk Drawer.
The Bottom Line
If you were wondering where to buy office furniture in bulk, we are sure that you now know the best place to purchase bulk office furniture is Autonomous. We ensure that each Autonomous product is made from high-quality materials, is durable, considers the customer's experience, offers functionality, and is affordable. Autonomous offers whole office furniture from office standing desks to ergonomic chairs and other office accessories. If you have any questions or comments, please do not hesitate to contact us via email or call. If you want to get the best from your workforce, try upgrading their work environment with some new Autonomous products.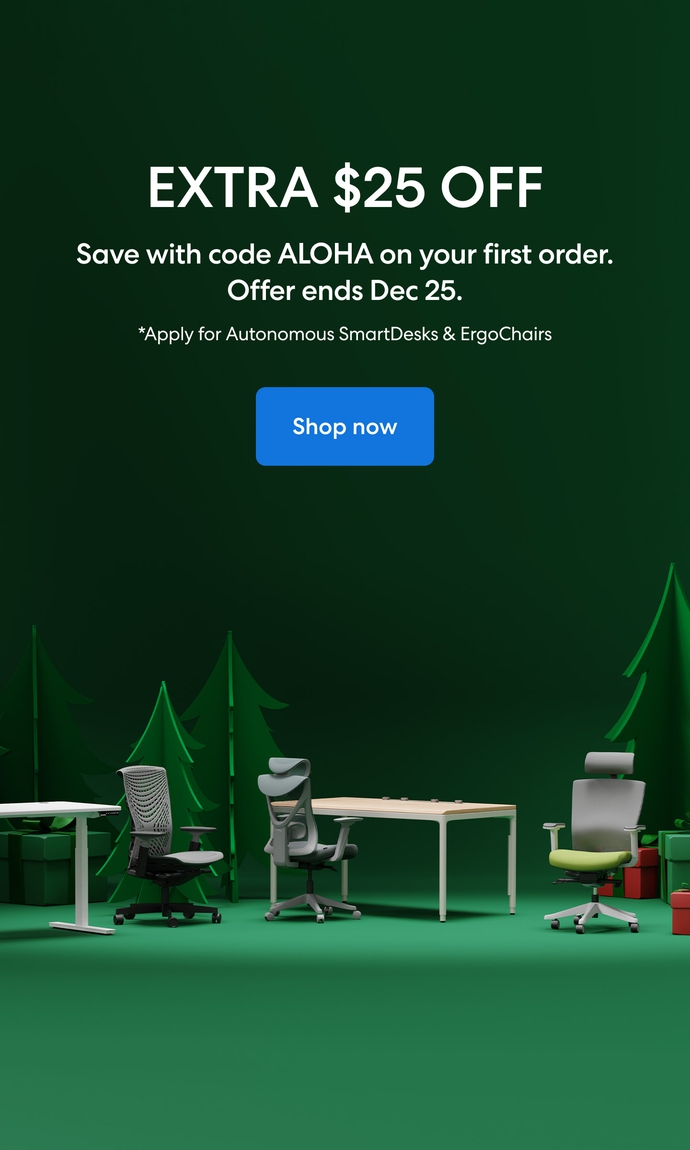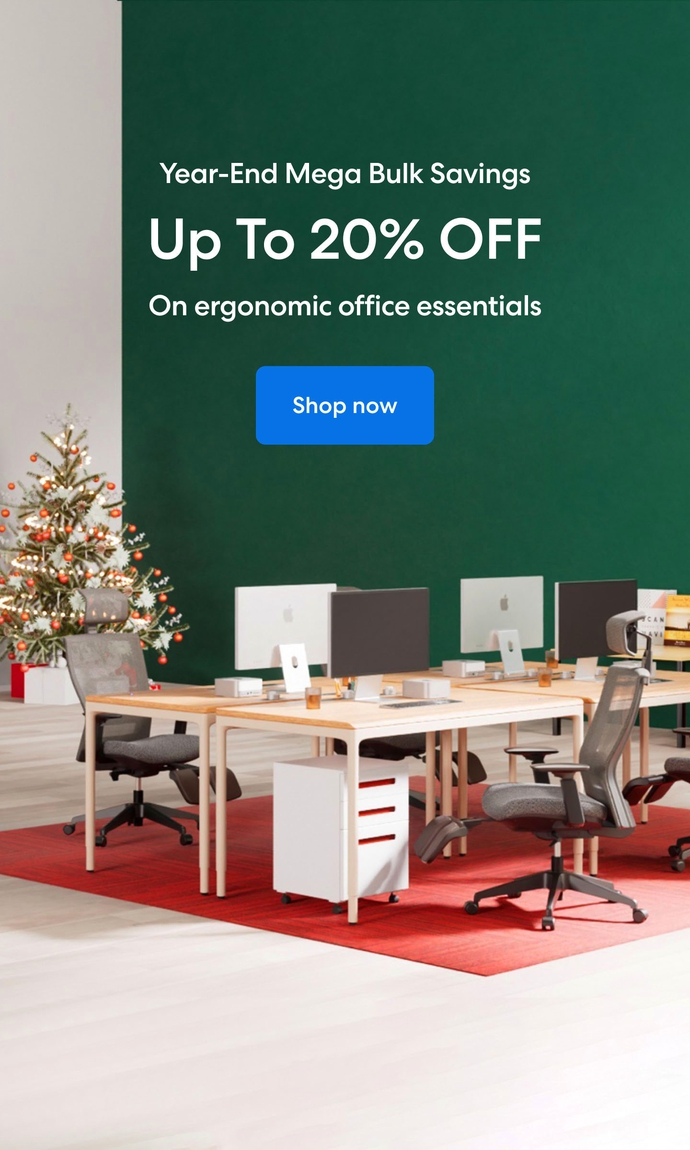 Subcribe newsletter and get $100 OFF.
Receive product updates, special offers, ergo tips, and inspiration form our team.