Workplace Inspiration
Pink and Blue Gaming Setup for PC Gamers
2,345 Views
Many people consider their video gaming room to be their haven, a fortress, and a getaway from the outside world, so a little preparation and organization to make it perfect may go a long way. People who like violet hues should think of creating a pink and blue gaming setup by weighing something they already have and breaking down what they need.
If you have a limited budget, start small and gradually expand your gameplay setup until your vision becomes a reality. A desk, armchair, monitor, and gaming PC are all necessary components of a gaming area setup. The remaining details, such as ambient lighting graphics, including multi-monitor projections, are all post-production.
List of the Best Pink and Blue Gaming Room Ideas
To begin, let's examine some very important components of gaming equipment you'll need to put together your pink and blue setup.
PC or console for gaming: The PC or a console is, of course, the focal point of any gameplay setup. If you're a Windows user, there are indeed a plethora of fantastic pink PC cases to select from. Many console manufacturers have introduced special pink gamepad alternatives for PlayStation and Xbox, correspondingly, for gamers that prefer consoles.
Gaming keyboard along with a mouse: It's time to think about gadgets once you've figured out your consoles or PC. And anyway, any competent player needs a good gameplay mouse or keyboard. Users can get the best gaming keyboard or mouse from a well-known manufacturer, Razer, who creates amazing RGB computer setups and provides the users with an optimal experience.
Chair for gaming: Another crucial piece of equipment is a decent gaming seat, especially if you're going to be spending hours on your favorite games. Pink gaming armchairs are plentiful on the markets, and indeed, they outshine the appearance of a pink and blue PC setup. 
Monitor for gaming area: When it concerns screens, there are many amazing alternatives in every shade possible. If you wish to remain with pink and blue, a monitor covering can turn out to be a good choice. You may either redecorate your existing RGB computer setup monitor or use a pink adhesive sticker layer to wrap it.
Pad for the mouse: Never hesitate to purchase a quality wireless mouse along with an RGB Bluetooth speaker to complement your setup. A pink and sparkling mouse pad is the ideal way to give your gaming station a little more kawaii feel. 
Cute wall art and accessories: After you've covered all of the essentials, it's time to create a comprehensive desk decor surrounding your computer. Figurines and some desk RGB lighting, can all be used to give your setting a cutesy atmosphere. You can also use decorative wall art of your own choice to adorn your space.
Learn How to Make a Gaming Setup Look Cool
A visually beautiful pink and blue gaming setup not just to look nice and it also gives the gamer a wonderful experience. Because gaming is mostly about having fun and being entertained, your gaming arrangement should reflect these feelings. It's no joy to have a completely uninteresting setting. So, here are a few pointers to help you improve the appearance of your gaming set - up:
Keep your setup tidy
A bedroom gaming setup that is cluttered with unneeded bottles, wires, PC components, or other stuff is unattractive. It is important to clean out your entire gaming space of superfluous objects and useless technology to make your gameplay arrangement appear a lot better in only a few moments. That will drastically transform the appearance of your workplace and will undoubtedly create a fantastic first appearance if some of your colleagues drop by for a stay.
Keep your cords hidden
Having a bunch of wires on your best gaming PC build not just looks horrible, but then again it also makes it hard to move your cursor. All know that a power cord is troublesome, but spotting strings becomes approximately impossible when executed properly. An arrangement that is at liberty of extra cords looks ideal as well as tidy.
Install RGB and ornamental lighting
Proper lighting creates a great impact compared to absolutely no light. Installing RGB bars underneath your custom gaming PC build produces a different environment. That's why so many individuals take the effort to do so. Insert RGB into your complete pink and blue PC setup and then attach it to Alexa to manage all illumination with your speech if you would like to take things to the next level.
Put up some posters
Posters are a great way to give your pink and blue gaming setup some individuality. Picking up various Star Wars images might look fantastic if you're running a single theme. Rather than just one or two strong posters, you might use several tinier ones according to your topic. You may also buy aluminum posters on the internet, far more lasting than conventional posters.
Stick to a color scheme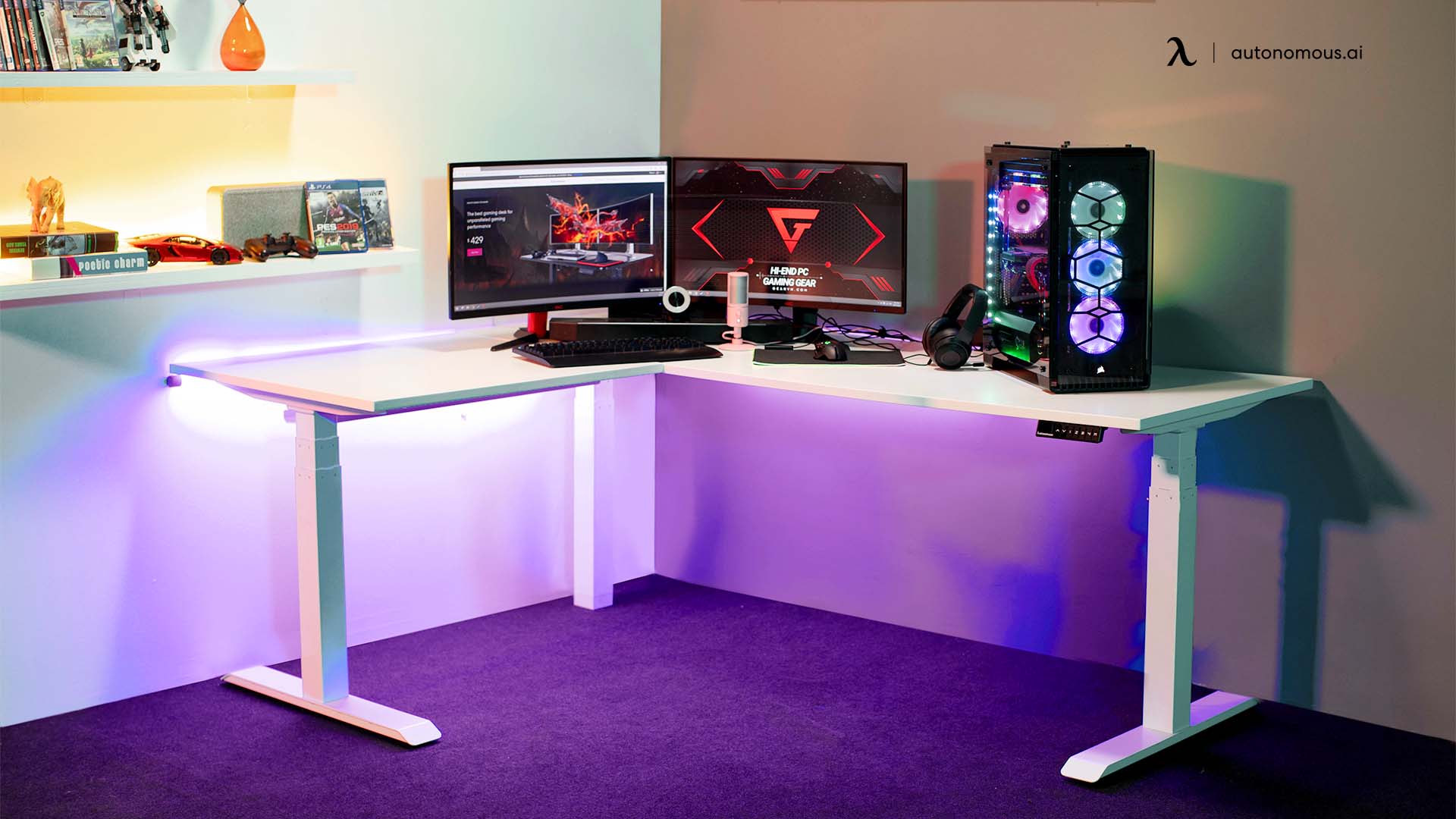 By selecting and adhering to a color scheme, you can ensure that everything appears to be in order. If there are several mismatched colors, the whole thing looks jumbled. You can choose any colors you like for the design, but I recommend sticking to 1-3 colors, such as a pink and blue gaming setup. If you always have had a gaming arrangement with a thought in mind, ensure that any new technology or things you buy go in somewhere with it. You can modify the color of your surroundings in addition to the game consoles as well as other stuff on/near your desk.
Please bring a few house plants to the arrangement
Incorporating several young plants into the arrangement is a common way of adding vitality. Real house plants look fantastic on a tidy build, but they aren't required. Fake houseplants are a common pick because they don't require water or maintenance. Wipe away the dirt now and then. Tiny terrariums with something like a small artificial plant too are appealing, but if you only get a few hours each week, real houseplants are advised.
Subcribe newsletter and get $100 OFF.
Receive product updates, special offers, ergo tips, and inspiration form our team.
WRITTEN BYAutonomous
We build office products to help you work smarter.