Workplace Inspiration
Set Up a Productive Home Office in a Small Apartment

Autonomous
|
Nov 15, 2021
1,605 Views
Setting up a home office in an apartment doesn't take much.  If your business is being run from home, you probably don't need much more than a working space and a phone. 
Now get out of bed and jump into work as you sit in your pajamas if you don't have any client-facing meetings. Working from home, though it seemed a challenge, has been welcomed by many folks, both employees and employers alike!
For the employers, reduced rentals, savings from utilities, nearly zero commute time, and more have been the lure while keeping employees healthy during the pandemic. For employees, reduced commute time, having more time on hand to manage a work-life balance, and more have been the main benefits.
So what do you need to be productive in a small apartment?
Needs of a Home Office in a Small Apartment
If you have a small apartment, you do not need to be concerned. You can easily set up an efficient home office using a minimalist design. You can explore more on home office design ideas.
Here are the top seven things you will need.
A Work Desk
Setting up a small apartment home office requires a work desk.  With limited space, you can always look for a standing desk that can be raised or lowered in height. Why would you need this? Well, a standing desk offers you a change in height as you work standing or sitting.  
The main benefits are a change in your working position so that your body has some movement. Avoiding a sedentary work position benefits you as you do not sit in one position for long. With body movements, your muscles are worked. With this, you avoid pressure in body positions for long. 
So say goodbye to all pains and aches as you use a standing desk in a small apartment.
Here are the top two choices for a standing desk for your home office in apartments.
1. SmartDesk Pro
With the SmartDesk Pro from Autonomous, bring home good health and cheer to your apartment office. Raise or lower your desk by the flick of a switch. No more bending or going under the table. Raise or lower the desk between 26.2" to 52". You even get four programmable settings to manage the height settings you often use. Save them for your ease.  
Load up your desk to take a load capacity of up to 310 lbs.  With the natural wood tops and classic finishes, you just cannot look away from your work desk. In addition, the solid steel frame gives you the much-desired stability as you work long hours.
Read on our expertise on home office desk layouts as you decide the best option for your small office apartment. 
2. SmartDesk Core
Here is another smart work desk for you. Ergonomically designed, the SmartDesk Core can go up against the wall to save you space.  Powered by dual and nearly silent electric motors, this desk can be raised or lowered between 29.4" to 48" for your convenience.  Don't miss the solid steel frame that can easily lift payloads to 265 lbs. 
An Ergonomic Chair
A work desk setup isn't complete without a chair, especially if you have something to manage your health. After all, that's what you work for, isn't it?
Choose from a set of ergonomic chairs that give you maximum comfort. How is that?  Well, ergonomic chairs are designed on the premise that each user has a definitive body shape. Therefore, no two users can have the same needs. Follow the OSHA guidelines laid down by the Department of Labor, USA, and you will soon realize the benefits of adjustability.
With adjustable height, armrests, headrests, seat tilt, and more, ergonomic chairs adapt well for each user.  Here are some of the best options.
1. ErgoChair Plus
Consider the ErgoChair Plus for a healthy life.  Sit at this chair for the most important decisions. Lean back into your seat as you relax or think over a tough decision with a seat tilt of up to one hundred and twenty degrees. Lock your seat into any one of the five-seat tilt positions for regular use.  Made from earth-friendly TPE material, it offers you great firmness and is flexible for your home office setup. Don't miss the offer of a TPE material that offers you a cool back and seat or a breathable mesh option that allows natural air to circulate.
2. ErgoChair Recline
This is an excellent computer chair that occupies minimal space. It has great mobility with strong castors that give you easy access to all areas of your work desk. In addition, you can choose from a chair with or without a headrest and leg rest at your convenience.
Offering adjustable height, armrests, lumbar support, and recline, the ErgoChair Recline, is your perfect companion.  Don't miss the super comfy foam seat that allows you to rest your tush for long hours. The mesh back offers you good air circulation for your comfort. This chair is built strongly to carry a weight of up to 250 lbs, a good option for your home office in apartments. 
Office Accessories
You can enhance your apartment office setup with some basic accessories. So basic they may seem, but offer great convenience. No need to set your foot into another store online or in person. Now gather the best and basic office accessories right here.
1. Filing Cabinets
Get yourself ample storage for all your files with a filing cabinet. Choose from convenient options that can go under your work desk. No need for extra floor space in your small apartment home office. Made from metal, these filing cabinets are finished with anti-rust paint to give you longevity. Finally, lock those confidential files with a built-in lock for an extra layer of security.
2. Desk Light
Focus on your work with an extra powerful LED Desk Lamp.  Easy to clamp to any work desk, this LED desk lamp is available in four different color lighting for your apartment home office. Manage the brightness levels to suit the work at hand. Sit back and relax as you work for long hours poring over files with this desk lamp. It gives you nearly 50,000 hours of light. No need to keep changing the light.
Here are more details on home office lighting for your reading. 
3. Monitor Arm
If your work requires the usage of more than one monitor, don't crowd your work desk. Simply get yourself a monitor arm for one monitor or a dual monitor. Turn, twist or manage the monitor arm to suit the best adjustment for your height.  Made from a premium aluminum alloy, this monitor arm is sturdy for any monitor.
Wrap-up
Setting up a productive home office in apartments doesn't have to be a bother for you any longer. Choose from various minimalist designs, and you are ready in no time. Trade-in good health and cheer as you choose from the best options that offer you ergonomically designed furniture for your small apartment set-up.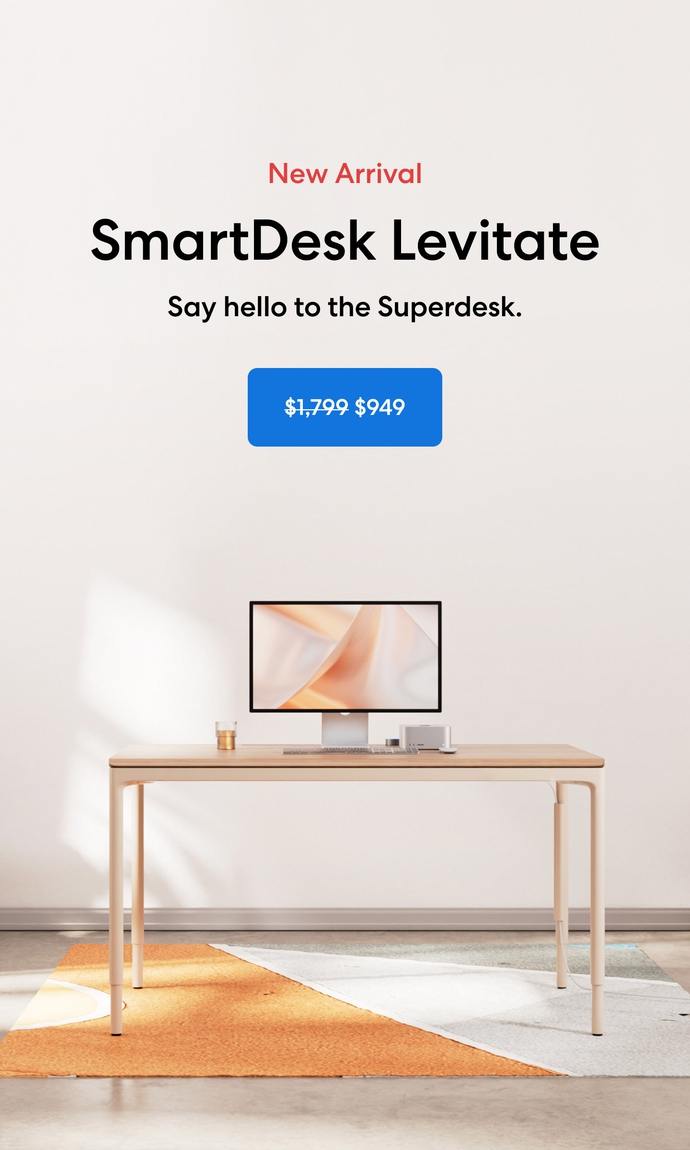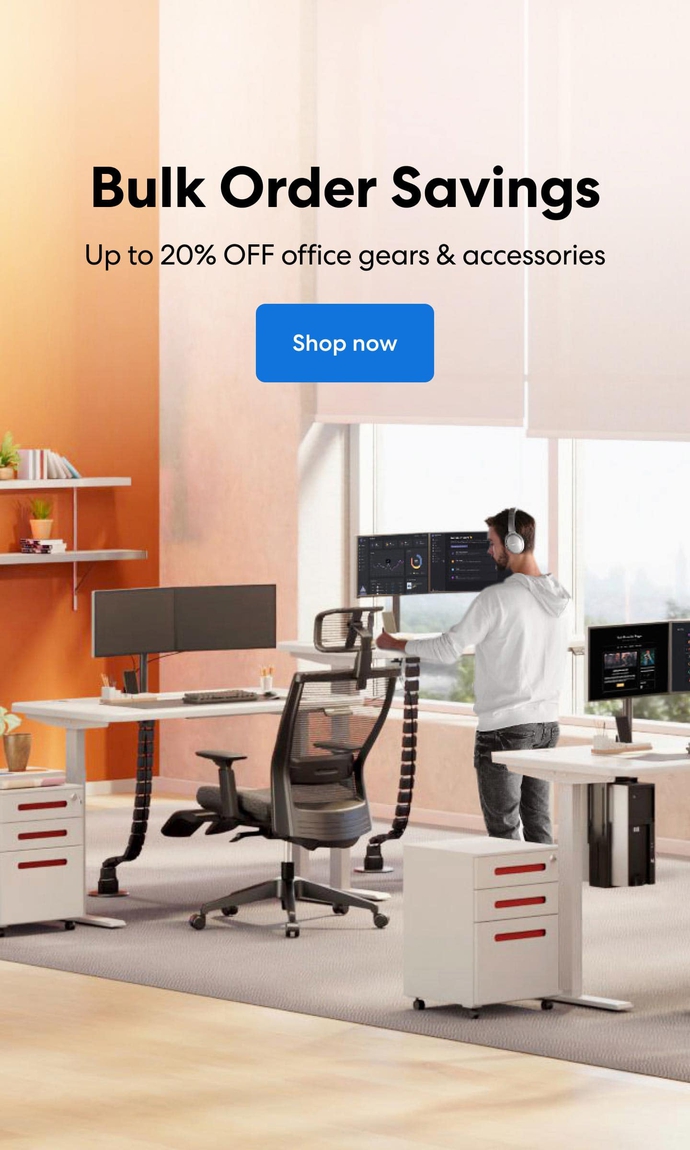 Subcribe newsletter and get $100 OFF.
Receive product updates, special offers, ergo tips, and inspiration form our team.