Every company needs to organize meetings to discuss and solve company issues and problems. But in the generation of new normal, it becomes problematic to hold productive days with productive meetings. A chunk of employees who work from home needs to collaborate with the in-office team members to conduct meetings efficiently.
This article discusses some of the tips to make your virtual meetings more professional.
The trend of the shift
Even though meetings are important in a company, most online and virtual meetings are unproductive. Companies held meetings to discuss the company's social, economic, and political issues and to increase productivity at work. Previously the companies held it physically, but now you will have to organize your productive meetings on online platforms.
In a broader context, to make decisions, you have to maintain the practice of regular meetings. With the hybrid work model, it becomes complicated with the involvement of constraints.
Before we proceed with the meeting tips, let us delve deeper into the work from home culture and find out the ways to improve productivity.
Maintain work routine
Are you wondering how to increase productivity? You are the sole person responsible for your job. With work from home culture and no time constraints, there will be no one around you to give you reminders. Maintaining and implementing a proper work routine can bring out the maximum of you. It allows the employees to work and reach their deadlines.
Unique workspace
Your home will have certain corners where you can show that inborn capabilities of yours. Designating that particular space as your workspace can enhance your motivation to work avidly. To increase productivity, one also places ergonomic office furniture orders, including office standing desks and ergonomic office chairs.
Moreover, in stressful work-life, maintenance of mental and emotional peace is essential. Thus, having a peaceful and maintained surrounding becomes vital while you have the autonomy of flexible work.
Avoid multitasking
Doing all the tasks with perfection, including a high concentration of mind, is a myth. Moreover, the study says that it takes as long as 15 minutes to get yourself back on time if you get distracted. Therefore if you think that multitasking can bring up your product level, then you must stop now!
Communicate
Communication is one of the significant pillars that a remote employee must keep in mind. When you are distant from your manager, leader, or team members, it becomes essential that you communicate with them to upgrade your work. You must communicate with your manager or leaders about all the moves you make in terms of business.
Set work schedules
Completing a task comes with the risk of exhaustion. Therefore, setting productive work schedules ensures you work uninterruptedly without distracting you.
Make your meetings more productive
Work from home comes with flexibility, but how to have a productive meeting, this
question goes unanswered. Thus, here are some productive meeting tips:
Have a goal
The company set up meetings to achieve a goal. Having a schedule ensures that the company can perform the discussion within the stipulated time. If the meetings start without a plan, there might be a more significant risk of ending it without any action times or tangible outcomes. It would lead to other discussions down the line. Before setting up meetings, you must ensure whether the goal can be accomplished or not (with panels). Most of the time, managers organize meetings to discuss or to give effective feedback. To make it productive, you must have a goal that fulfills the meeting criteria. Also, if a session does not have any plan, the employees can decline the meeting without any hesitation.
Create agenda
By having a proper agenda, you can decrease the time of the meeting by 70%. Despite this fact, most of the time, managers organize meetings that don't have any goals or agenda. Every productive meeting has a plan. It sets the expectations of the employees in the organization. Besides, with the introduction of the agenda, it becomes easier for the employees to prepare.
Maintain decision log
It is crucial for every manager or supervisor to explicitly write down all the vital decisions in a logbook to have more professional meetings. Enumerating all the critical decisions in bullet form can help you to re-evaluate and revisit them if needed. Keeping a trail of these decisions will avoid all the 'wh' questions situations.
Explicit actions
After every productive meeting session, a company must take explicit actions to avoid ambiguous situations. It is said to be a good practice to ensure the need to have other meetings.
Have a facilitator
If the meetings don't have a facilitator, then it is going to become challenging to handle. Depending upon the meeting, the host's responsibility is to maintain attendees, create invites, or send out pre-reads in making meetings more productive.
Invite the right ones
The employer should invite specific employees in the meeting. Besides, the employer must not call for unnecessary attendees only to increase the number of employees in a given virtual meeting platform. One should keep in mind that it is unnecessary to have more people in a meeting to make it look professional.
Welcome the right context
The employer should write the pre-read well. It attracts the right crowd. But for smaller meetings, they can go for a short chat with the employees to not overkill the time.
Preparation
In every productive meeting, the general trend is that two to three people dominate the whole discussion. But if the facilitator gives the pre-read with the topic, they will give everyone a chance to discuss.
It doesn't take a lot of time to ask if anyone has anything to say.
Create to-do list
Having too many productive things to discuss in a meeting might jam up your mind. It would skip all the essential points that you have to discuss in your meeting. When you are at home, you will experience endless distractions. Keeping a to-do list handy can help you with your priorities at work or meetings. Clean working spaces can also provide you with peace at work by keeping all distractions at bay.
Final Thought
Now in the present time, a lot of us here are working from home. Therefore, the number of virtual meetings has scaled up. The employer or manager must incorporate professional panels to conduct productive meetings in order to lift the profit outcome.
A virtual approach towards the meetings has never been more accessible. But with these tips, one can reach its height of professionalism.
Video ads for product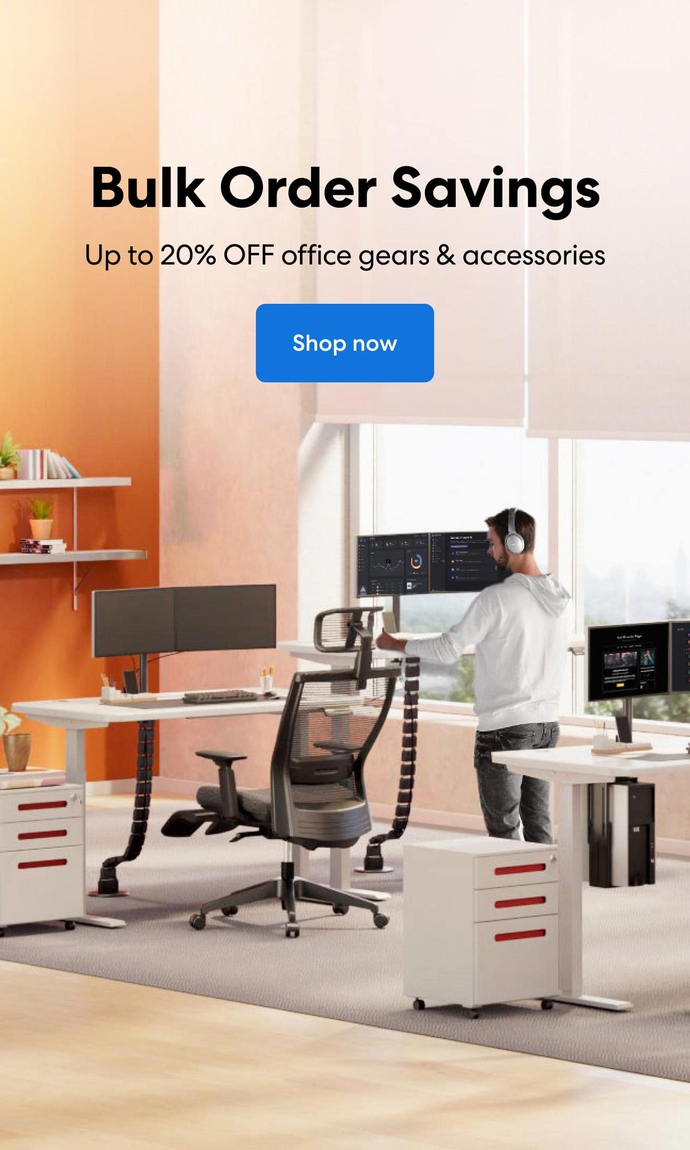 Subcribe newsletter and get $100 OFF.
Receive product updates, special offers, ergo tips, and inspiration form our team.