Smart Products
Pros & Cons of Modern Farmhouse Office Desk - DIY Guide

Autonomous
|
Feb 20, 2022
1,380 Views
If you have a spare part of the house, you may wish to convert it to an office or workplace. A decent desk is essential for any workstation, and vintage, modern farmhouse desks are particularly popular right now. Nonetheless, these desks may be expensive, so making your own is a fantastic way to cut costs. Furthermore, there's a feeling of satisfaction and pride that only arises from creating something yourself!
We've compiled a selection of DIY ideas that would show you how to create a modern farmhouse office desk in a variety of styles at a low cost. The benefits and drawbacks of a modern farmhouse office desk are also discussed in this article, which again will allow you to determine whether or not to purchase one.
There's bound to be a style that suits your needs, ranging from compact modern farmhouse computer desks to huge, roomy desks with cabinets. There are indeed a variety of materials available, like reclaimed pallets, barstools, as well as polished wood slabs, so you may use all that you have on board! Gather your materials and construct furniture pieces you will love for many years.
Pros and Cons of Modern Farmhouse Office Desks
Modern farmhouse executive desks and other hardwood furniture are often considered attractive, ageless, and of great quality. Once it comes to utilizing wood for furnishings, there are many more options made out of oak, pine, or Maplewood. Here we will be discussing some pros and cons attached to getting a modern farmhouse standing desk.
Pros of Modern Farmhouse Desk
The major benefit of this

modern home office desk is that it saves space, which is essential in a tiny home office. Add however many drawers or under-desk storage boxes as you would like, and use the entire surface area for working and storing items. You could also put various storage containers on top of the desk, even if they are closed and open.

The sturdiness of the

home office sit-stand desk is its greatest practical asset. Tabletops, desks, and shelves made of hardwood will not droop overages like those made out of wood, chipboard, or hardboard. It can last for generations, as evidenced by the fact that you can find century-old furniture in usable shape in attics and basements, and it can be renovated as a modern farmhouse office desk.

However, the key advantage of farmhouse style best home office chairs and other furniture is their long-lasting appearance and appeal. Legitimate hardwood's texture and tones provide warmth and charm to any space. Hardwood, when treated properly, has a brilliance that no laminate can equal. Even if the finish on wooden furniture pieces isn't kept up to date, it still looks good. It's why faded vintage furniture is a component of the modern earthy aesthetic, becoming increasingly fashionable.
Cons of Modern Farmhouse Desk
Water can wreak havoc on wood. Dampness can wreak havoc on wood finishes and leach into the wood itself, prompting it to splinter and expand.

Ultraviolet radiation may alter the color of the wood and cause harm to its surface. Sunlight may tear up chemical links in wood and enable the exterior to change colors in a comparable pattern to skin. If you're not a fan of this type of deterioration on wood furniture, a professional artisan may restore an old paint to bring the color back to its original tone. Over the term, laminate wood with a strong and resistant topcoat over finish is less discolored.

Sharp items might scrape or harm the finish. Whereas its topcoat could protect your furniture from regular wear and tear, sharp or hefty things may chip the surface, exposing the wood beneath.

Patience and expertise are required while making repairs. A woodworker touch is required to repair scrapes on a wood surface, while sanding or eradicating stains requires time, care, and attention to detail.
DIY Your Own Modern Farmhouse Office Desks
1. Chisel & Fork Farmhouse Table
Because of the different drawers, we advise this design for keeping all of your office materials organized without overwhelming your space. For various reasons, the drawers come in various sizes. The uppermost drawer is shallower and holds tiny items like keys, pencils, and crayons, while the lower drawer holds letter-size documents. Keep in mind to use substantially bigger planks for the cabinet heads to completely cover the compartments.
The remainder of the technique is similar to that of a traditional farmhouse desk, with two interesting parts: two X-shaped pieces on 2 sections of the platform and V-shaped bracing on the back. They're made up of 15 to 25 pieces of hardwood that are precisely fitted into the legs to boost their strength. You can also add a monitor arms desk mount to this table.
2. Contemporary Farmhouse Desk with Spacious Front Storage Cupboard
The workstation is basic and compact since it lacks drawers. It may save a lot more space in your space and can also be utilized as a school desk to help your kids concentrate on their studies. Even so, there is also an open-front compartment where your children may store their textbooks, pencil cases, office supplies, and other items and easily reach them.
The cupboard is built easily by bonding one 8-foot 24 wood piece with two 4/5x8x21-inch MDF panels and another 4/5x8x96-inch MDF panel. Make the interior framework and punch the holes for screwing it to the cupboard and attaching the desktop. Put a vegan leather desk pad on top of this customized farmhouse-style desk.
3. DIY Farmhouse PC L-Shaped Desk
Why not check an L-shaped farmhouse workstation if you have a limited area but still need a larger surface area for your system and its reference? It will create the most out of your working area by having two pieces on the side.
Although you may wish to put several textbooks and a PC on the desk, the strength of the structural support is crucial. Three intersecting boards of 25 wood pieces are arranged around the perimeter, with two 14 crossing clamps in the center. Poke a hole on the top layer to allow the PC's wires to pass through. The rustic workstation will then be ready for use. Add a magnetic desk organizer on this desktop.
Video ads for product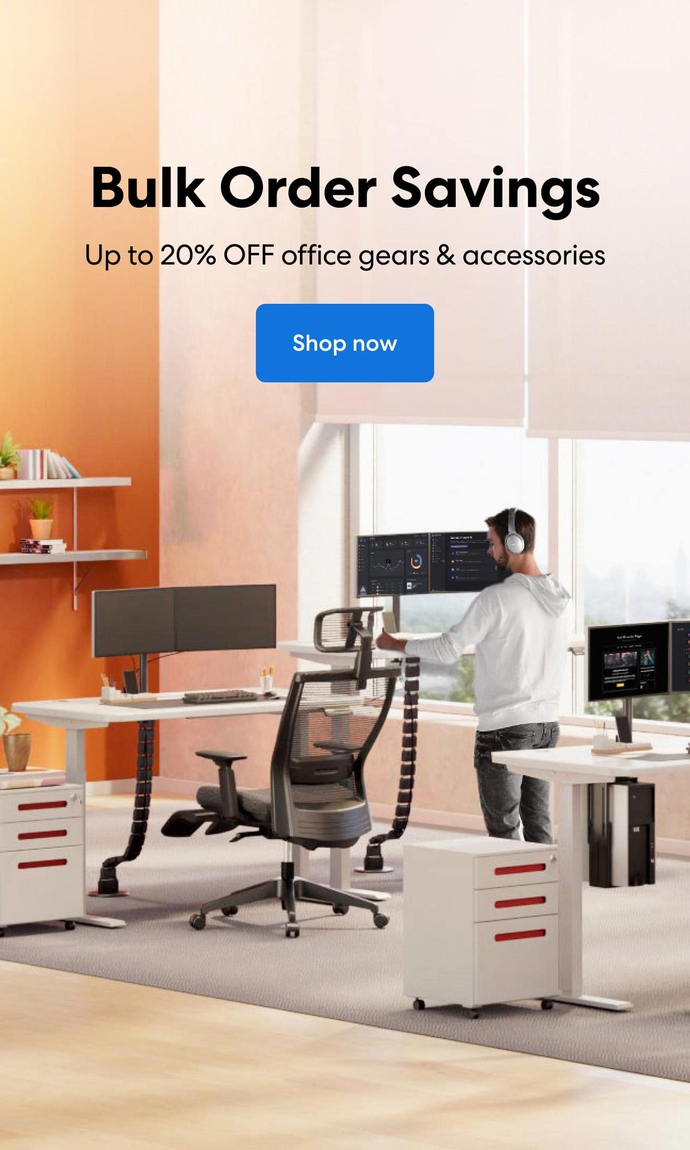 Subcribe newsletter and get $100 OFF.
Receive product updates, special offers, ergo tips, and inspiration form our team.