Smart Products
Right Return Desk for Right-Handed Users: 5 Best Options
2,242 Views
You should select an office desk that will give you the space you need, but don't choose one that will occupy too much capacity. The presence of a massive right return desk can appear overwhelming, and it takes up valuable space that could be used for chairs or other furniture.
What is Desk Return & Right-Handed Return?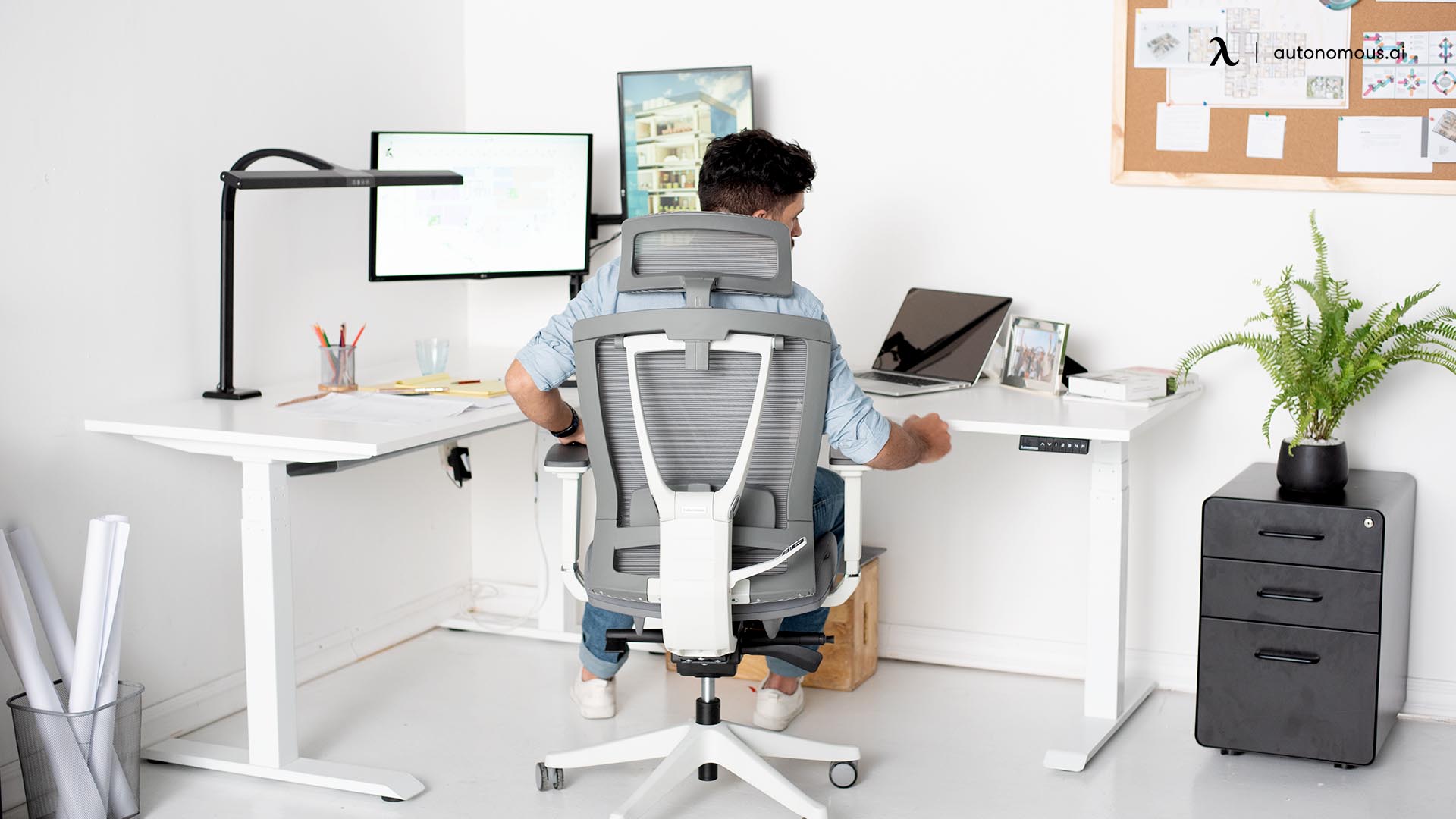 Choose a U-shaped or L-shaped right return desk based on what you need. A U-shaped executive desk with return can offer more depth in some cases but may take up more space than a rectangular office desk with right return. You may want your return to have space for chairs across from it if you and your colleagues want to hold small meetings there.
A corner or a wall may be required for your right-hand L-shaped desk. To make the most of your office space, you'll need to plan it out and discuss your options. Your office layout will also play a part in determining whether you choose a right or left desk return. People often prefer to return on the same side as their dominant hand, but space constraints make this impractical. A U-shaped or L-shaped desk should be ordered after determining your office layout and dimensions.  
A left-handed, a right-handed, or a reversible return will come with an L-shaped or U-shaped office desk. Returns are classified as right or left depending on how close they are to your body while seated at the main L-shaped desk right return. If you sit at the main desk, the left-hand return will be on the left side and the right return on the right side.
A reversible L-shaped standing desk can either be positioned on the left side of the main desk or on the right side, depending on your preference. Always consider the intended assembly and use of the desk carefully before selecting, as the return may only be attached one way or another.
How to Choose a Desk Return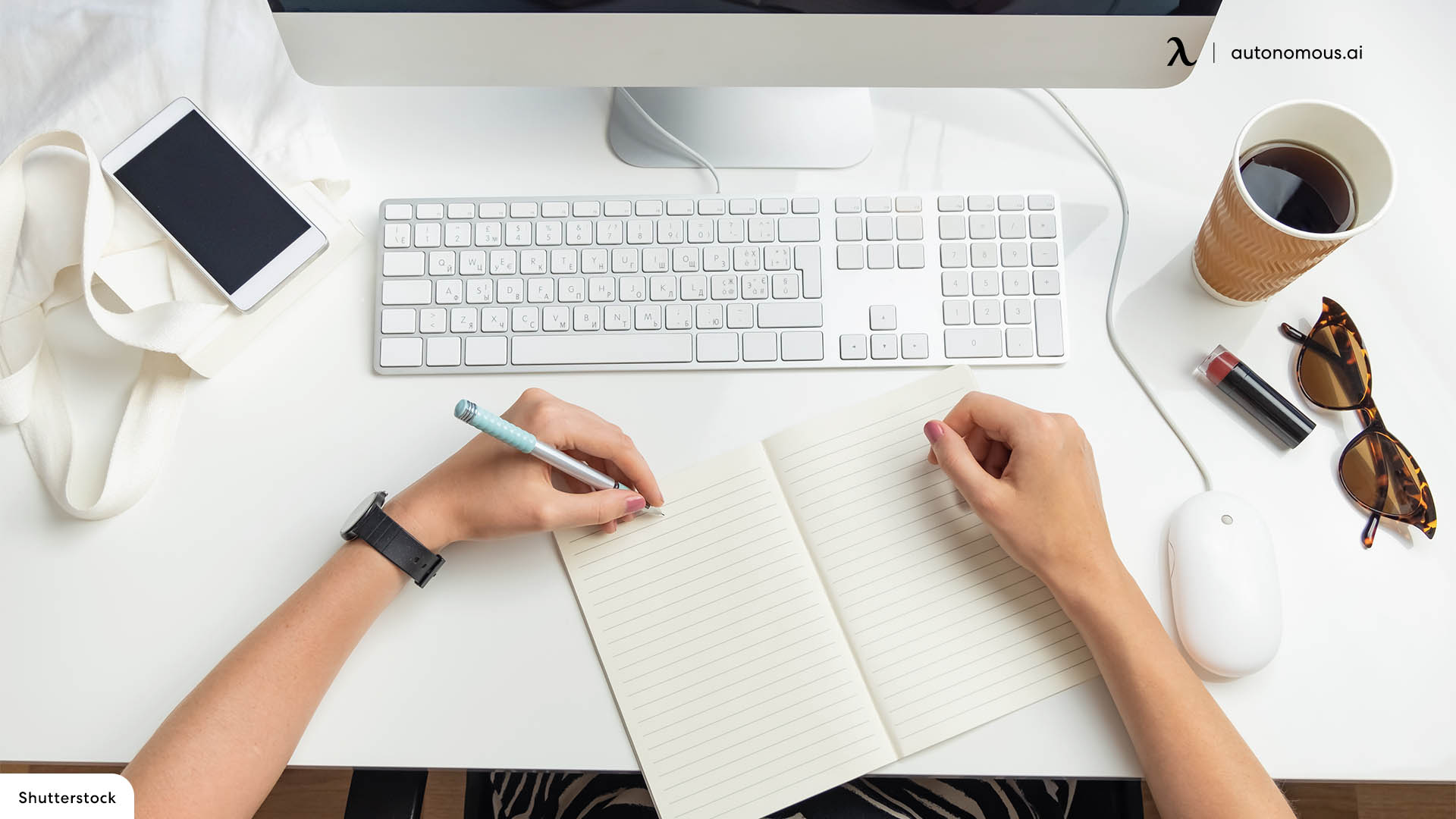 If your home or office has space constraints, you may choose one specific corner desk return type over another. However, the type of return you choose is largely about your personal preference. Take into account the dimensions of the desk when choosing your return.
L-shaped desks and U-shaped desks have a total width equal to the main desk surface width. Most desks that feature a u-shaped design have a depth of the main desk plus the depth of the credenza. A large L-shaped desk has a total depth of the length of the return plus the depth of the main desk.
A desk return should also be considered for its utility in your daily work life. A user's dominant hand is typically the return they prefer. Additionally, you may need to create an area for guests or a computer station in your workspace.
List of Right-Handed Desks
1. Autonomous SmartDesk Corner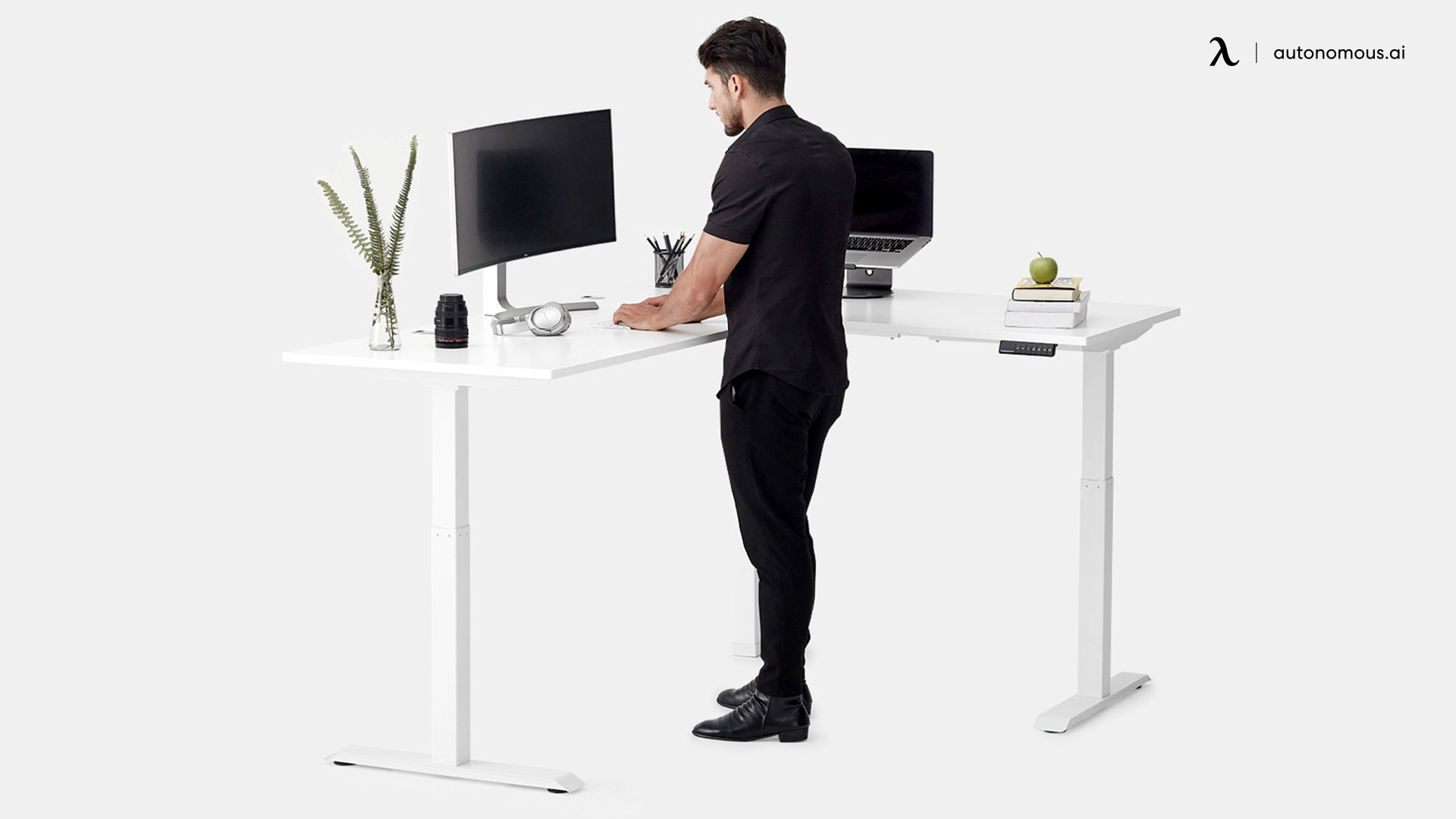 Despite its heavy and large size, this is one of the best value-for-money right return desks. Besides being spacious, you can place your devices in the room and find a place to work. In addition to the width and depth of the corner white L-shape desk, this desk would be ideal for those who prefer to have plenty of space between themselves and their computer screens. It offers a right-hand side for those who prefer working with their left hand. Placing it in the right position will allow you to work or play comfortably.
2. IKEA Skarsta sit-stand desk
When working at the IKEA Skarsta we can't tell you what it's like to be able to shift from sitting to standing. IKEA added a manual crank as an affordable solution to offer this kind of flexibility in place of a motorized lever. The cranking mechanism of this right return desk is smooth and easy to use, lifting the desktop from 70 centimeters to 120 centimeters in height. Also, the design is excellent because the desk looks great. Although the higher elevations wobble slightly, it does not detract from the overall adventure. 
3. Bestier Breahnna L-shaped desk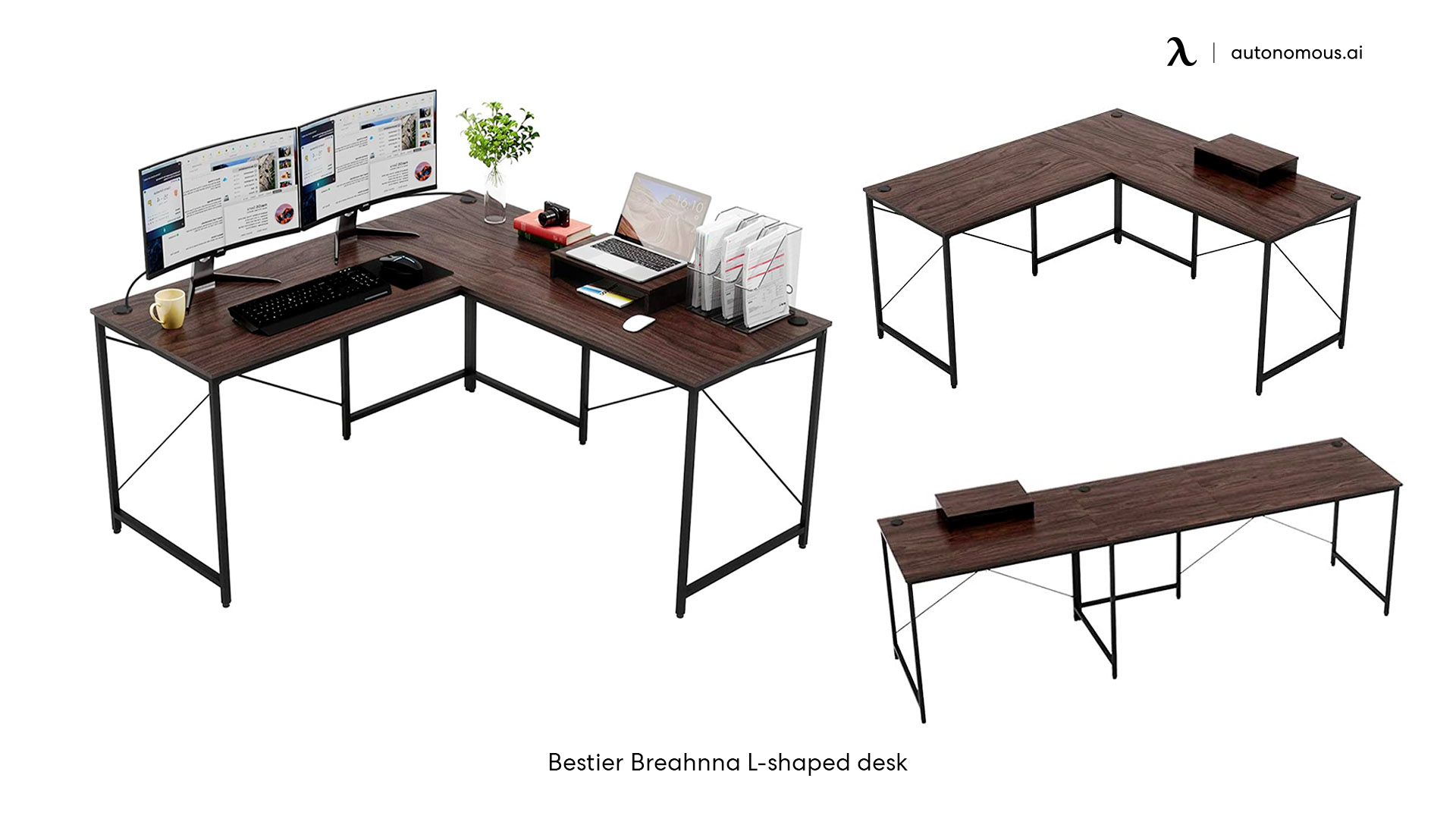 The L-shaped gaming desk has a modern and elegant arched design that maximizes the workspace in your home office. Both the table sides have the same length so that you can switch them according to your needs, so you can study, work on the computer, play on the PC, and do any other home office activity. A U-shaped desk can be made with two desks.
This sturdy X-shaped right return desk frame has metal board frames to ensure maximum stability and durability. An eco-friendly P2 particle thickens panel, and a carbon fiber texture desktop is used to create this desktop. It can support more than 100 pounds. Due to its round corner in the middle, this shelf can be placed at the corner of the wall and prevents occasional scratches.
4. Deskio Home Office PC desk with Shelves
The wide right return desk surface is suitable for monitors, laptops, or other office supplies on the left, with a large table area to the left and two shelves available. This product is sturdy and durable with a thicker steel frame and P2 particle board with perfect edge technology.
It stays stable on uneven surfaces and carpeted floors, thanks to the adjustable leg pads. You may remove the top shelf or adjust the height for a tower computer for some extra space. The desk's simple style makes it a great computer desk.
This black and brown desk matches the black metal steel frame, which matches the decor of small spaces, matching the black-brown desk to a black metal steel frame, and you can choose whether or not to install the tower shelf. This computer office desk comes with a tower shelf or 2-tier shelf for easy installation.
5. EE EUREKA ERGONOMIC Wooden L desk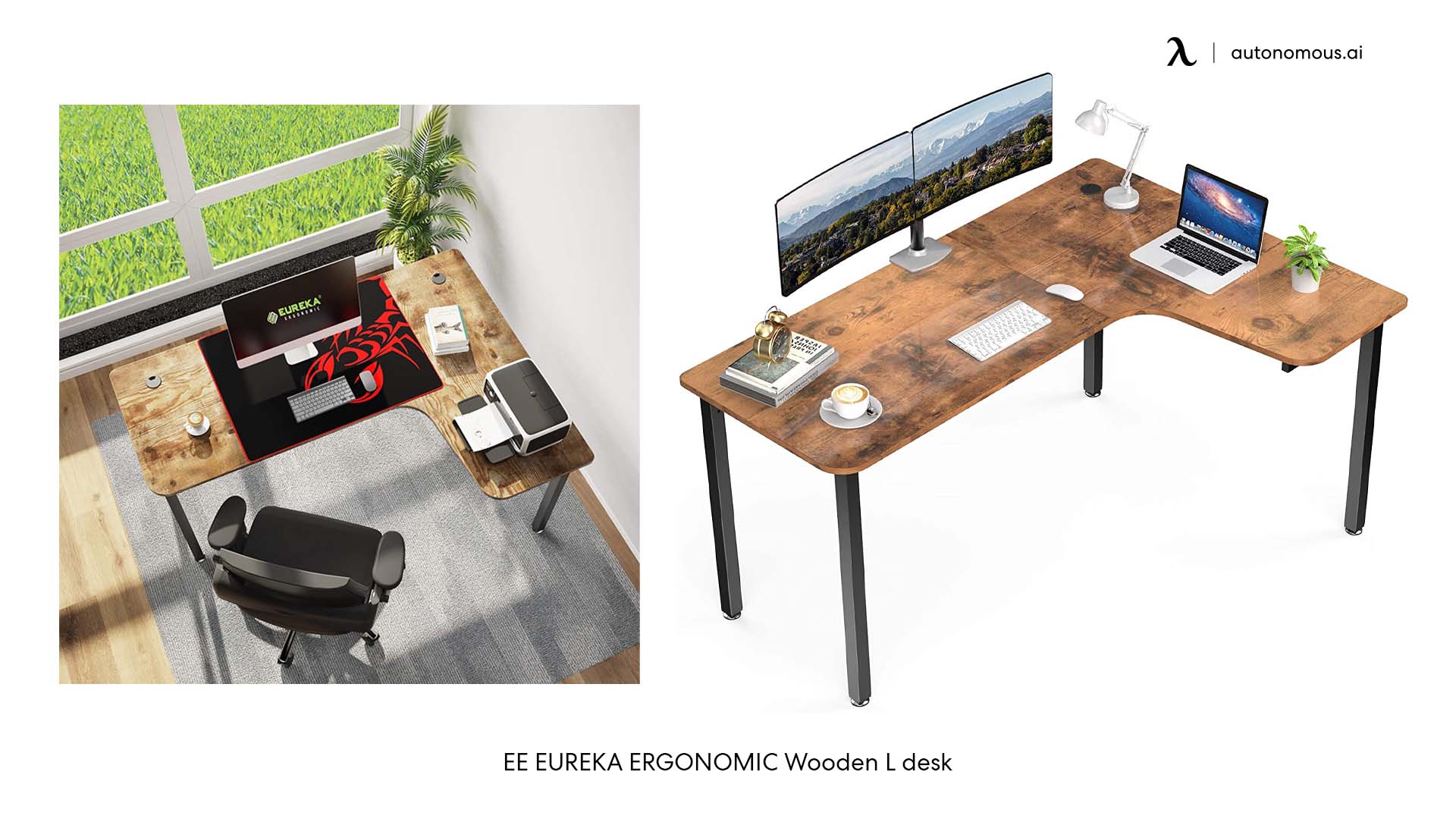 An L-shape right return desk design allows you to utilize the workspace on one side and the gaming setup on the other! When you write, play games, work on your computer and perform other home office activities on this 61" L-shaped desk, you will be able to take advantage of your room's corners. CARB Phase 2 & TSCA Title VI compliant particleboard is used for the desktop, emitting significantly less formaldehyde than other commonly used boards.
Subcribe newsletter and get $100 OFF.
Receive product updates, special offers, ergo tips, and inspiration form our team.
WRITTEN BYAutonomous
We build office products to help you work smarter.