Workplace Inspiration
Why Are Businesses Increasingly Opting for Second-hand Office Furniture?

Autonomous
|
Jul 24, 2023
174 Views
The high cost of buying quality office furniture can be crippling for a small business that is trying to get on its feet. This is why buying second-hand office furniture is becoming a favored option among many businesses looking for ways to save some extra cash. 
Many people consider buying used office furniture as a kind of step-down because they assume the furniture will be shabby or out of date. However, that is not always the case. Lots of second-hand furniture for office environments are still in great condition and very much in style. 
The trick, of course, is to find the right supplier to help you get your hands on some of the best office furniture second-hand. Autonomous is well-known for its extensive range of high-quality brand-new furniture. The low cost of Autonomous products means buying from this supplier is just as good as buying second-hand furniture in terms of savings. 
If you are on a tight budget and looking for ways to save a few extra dollars, buying used office furniture from a reliable supplier is a great idea. With a bit of research, you can find some of the best-looking office furniture second-hand. 
Advantages of Buying Second-hand Office Furniture
Why would you consider buying second-hand office furniture, when there are so many awesome brand-new products available on the market? If this is something you have never tried before, it may seem unusual to go this route. 
However, buying used office furniture has some benefits. Consider the following: 
Cost-effective
You will save a lot of money when you buy used office furniture rather than brand-new items. Do you know that some pieces of second-hand office furniture can cost as low as half the amount you would pay if they were new?
If you have a large workforce, and you need to buy lots of office furniture, second-hand products can be the key to making everything fit your budget.
Unique Furniture
Lots of people frequent second-hand furniture shops in search of unique pieces that may no longer be available on the open market. If you want your office to look unique, finding a rare hand-made desk, for example, might be the perfect thing to set your workstation apart. 
Sustainability and Environmental Benefits
The more people buy used office furniture, the less waste will make it to our already overflowing landfills. Reusing and recycling are both very important aspects of sustainability and if you want to do your part for the environment, consider buying second-hand furniture for office use today. 
Flexibility in Design
The range of furniture that is available in second-hand shops is unbelievable. You can find any design that you can think of. Second-hand items can give you a lot of flexibility when it comes to designing your office.
High-quality Pieces
Unlike what most people may believe, second-hand furniture does not always equate to poor quality. A lot of businesses replace their office furniture long before the warranty even expires. These items are still in great condition! 
Do you know that even furniture that has been used for just a few weeks will qualify as second-hand furniture? If you can get your hands on these items, no one will be able to tell that they come from a second-hand furniture store. 
Depreciation
The downside of buying new office furniture is that it will begin to depreciate as soon as you buy it. Those first few months of use will see your furniture depreciate very quickly in terms of value, even though the quality will remain the same. 
When you buy second-hand furniture that is still in good shape, you will bypass that initial period of high depreciation, and save yourself a lot of money in the process. 
Autonomous Is Your One-stop Shop for Office Furniture
One thing you have to be wary of is the supplier you put your trust in when buying used office furniture. Not all suppliers are trustworthy and, unfortunately, second-hand furniture outlets are plagued by lots of scammers. 
You have to understand that if you get any warranty at all for second-hand office furniture, it is not likely to be a lot. This means you have to rely mostly on your judgment and on what the supplier tells you. 
If you choose the wrong supplier, you may end up with a lot of furniture that you will only have to replace again in a few months, which will be a huge loss to your business. Put your faith in furniture suppliers with a good reputation for providing quality furniture. 
One such outlet is Autonomous. This one-stop supplier for all the furniture and accessories you can think of has been one of the top online shops for some time because of the following: 
Awesome New Furniture 
There is no denying that the furniture you get from Autonomous is of the highest quality. Just take a look at the products available on our website, and you will see why so many customers are quick to recommend us. 
Whether you are looking for a home standing desk or an ergonomic chair, Autonomous will have what you need. All the products are made from high-quality materials and have the latest design elements. 
The great warranty alone is enough to tell you that the supplier believes a lot in its products and is willing to back them up by offering you many years of peace of mind. You can check out the website today and pick a few items for your office.
Cost Savings As Good As Buying Second-hand Furniture
The fact that Autonomous has such low prices on its products means that when you buy from us, the money you save will be just as if you were buying from a second-hand office furniture store. 
Next time you need an ergonomic desk chair, take a look at what Autonomous has to offer before going to a used furniture store. You will be surprised at how similar the cost savings are. If you can get brand-new furniture at prices as low as second-hand furniture, this is an opportunity that is not to be missed. 
As a bonus, when you buy, for example, a smart desk from Autonomous, you can enjoy a much better warranty deal than what any used office furniture will be willing to offer you. Some of the items also come with free accessories, such as buying an office desk and getting a free keyboard tray as part of the deal.
Option to Buy in Bulk
Buying wholesale office furniture is the way to go if you really want to save a lot of money. Businesses love customers who make wholesale purchases, and are always willing to offer them great deals.
At Autonomous, there is a whole page dedicated to helping you buy wholesale furniture as easily as possible. Here, you will be able to see the price discounts you will get when you buy multiple pieces of the same product.
If you plan your purchases well, you can take full advantage of Autonomous wholesale promotions and pay a lot less for your office furniture than you ever hoped for. The process is very easy, from start to finish. All you have to do is choose your items and wait for the delivery.
Why Should You Buy Autonomous Products?
Many shops provide good-quality furniture across the US. Some of them are even used office furniture shops that have extremely low prices for their items. As such, when furnishing your office, the options are limitless. 
What makes Autonomous stand out from the crowd and be considered one of the best home/office furniture suppliers in the country? Consider the following advantages of buying from Autonomous: 
Affordable Furniture
One of the biggest factors to consider when choosing office furniture is the price. While everyone wants great-looking furniture, it's the budget that usually determines where you will end up buying from. 
At Autonomous, you will find some of the lowest prices on the market. Some prices are so low that you will feel as if you are buying second-hand items. Also, you can get excellent deals when you do your shopping during the supplier's many holiday promotions, which will help you save even more!
Top-tier Quality Products
You can never compromise on quality when buying your office furniture, especially if you plan on entertaining some of your clients in your office. The type of furniture you choose will say a lot about your business. 
At Autonomous, you are guaranteed to get some of the best-quality furniture on the market. There is no better place to get all the items on your office supplies list than at Autonomous.
Sustainability
Lately, there has been a lot of talk about sustainability and environmental protection. At Autonomous, you will find a wide range of office furniture that has been manufactured in environmentally friendly ways. 
One of the reasons some people end up buying second-hand items is to do their part in protecting the environment. Well, at Autonomous, you can do just that even when you buy brand-new office furniture. 
Awesome Warranty
The warranty offered on furniture items is the biggest indicator of what the manufacturer thinks of the quality of its product. A very short warranty should serve as a warning sign that such furniture is not likely to last long. 
On the other hand, long warranties of two or more years, such as those offered at Autonomous, usually mean you can rest assured that you are buying some of the best-quality furniture on the market. This is one area where second-hand furniture shops cannot compete with Autonomous.
Convenience
When you do your shopping online at Autonomous, one of the things you will immediately appreciate is the convenience. The website is beautifully designed, with all products clearly displayed. If you want an immersive and interactive shopping experience, visit the Autonomous website.
Once you select your furniture items, it will be just a matter of a few clicks. You can complete your purchase and have your order ready to be delivered right to your doorstep anywhere in the US. 
Autonomous Bulk Order Program
One thing you should consider when looking for massive savings is buying your office supplies in bulk. Not all furniture suppliers offer this, but at Autonomous, you can get it done easily. 
There is a bulk order program specifically designed to help you buy your office furniture in the most convenient way possible, while taking full advantage of the cost savings. When you go to the bulk order page, you will see all the products that are available to buy wholesale. 
As an added incentive, Autonomous offers flexible shipping for its bulk orders. Some of the items even come with gifts. If you have never bought furniture for an office before, and are worried about how you will handle the desk setup, Autonomous will help you with that as well!
Some of the Best-seller Products at Autonomous
If you are ready to furnish your office, you can start with some of the following best-seller products at Autonomous: 
SmartDesk
Take great care of your health and well-being by getting your hands on an adjustable smart standing desk from Autonomous. You can easily adjust the height whenever you feel the need to work while standing. 
There are lots of desks to choose from, such as the SmartDesk Core, SmartDesk Pro, SmartDesk Corner, and many more. Get a few essential standing desk accessories while you are at it, and create the perfect workstation.
SmartDesk Core
SmartDesk Pro
SmartDesk Corner
ErgoChair 
The perfect pairing for your SmartDesk is an Autonomous ErgoChair. Designed for maximum comfort and great lumbar support, the ErgoChair is the right choice if you plan on spending long hours in the office. Choose from the many options available, such as ErgoChair Pro, ErgoChair Core, and ErgoChair Plus.
ErgoChair Pro
ErgoChair Core
ErgoChair Plus
Consider Autonomous Furniture Next Time You Go Shopping
Buying second-hand office furniture is a great way to save money, but it is not the only option. If you shop at Autonomous, you can take advantage of the great prices and bulk order program to make sure your furniture purchases are well within budget. 
There are many products available, so no matter what furniture you require, you will be sure to get it at Autonomous.
Video ads for product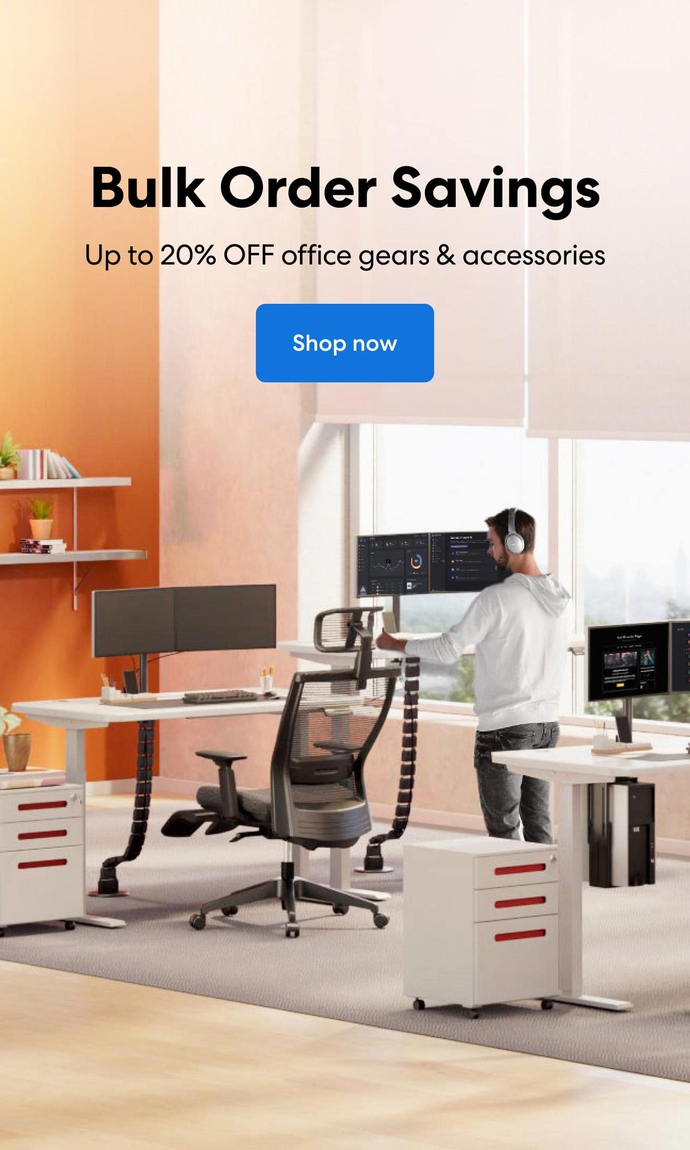 Subcribe newsletter and get $100 OFF.
Receive product updates, special offers, ergo tips, and inspiration form our team.