If you have a rose gold desk organizer, perhaps you're looking for accessories that can help you keep your desk uncluttered and aesthetically pleasing.
Rose gold is an excellent color choice, especially if you're looking forward to adding charm to your workspace. While it may not be the best idea to put it on the walls or the flooring, perhaps you can add it to your home office setup as part of your accessories.
This article will help you find the best rose gold desk accessories for your desk so you can be comfortable throughout the duration of your work sessions.
Top 15 Rose Gold Desk Organizer & Accessories for Women
1. Rose Gold Desk Organizer
This rose gold desk organizer can help you have easy access to your most-used office accessories while also adding a bit more style to your office. It is equipped with compartments for your notebooks, pens, and other office stationery you may want to keep around while you're working. The non slip protective grip will maintain your rose gold organizer set steady and where you want it throughout the time.
2. Binder Clips
If you want to enhance the aesthetic of your workplace, perhaps a few binder clips in the same color can be an excellent option. Plus, they can help you maintain your papers together, so you don't lose them by accident. These clips can be the perfect companions for your rose gold desk organizer, especially if you tend to handle separate pages from time to time.
3. City Pen Cup by Lexon
This golden pen cup will fit easily in your rose gold desk décor. It has an Art Deco European design, which gives it a unique aesthetic along with the brushed finish. Additionally, the solid aluminum structure the City Pen Cup has will maintain it as well as new throughout the time. It'll fit perfectly with the rest of your rose gold desk accessories.
4. Tape Dispenser
You never know when you'll need tape. Hence, a tape dispenser with a rose gold finish can be a nice addition to your workspace – it doesn't occupy that much space and can also serve as another piece of decoration in the room.
5. Gold Triangle File Holder
The Gold Triangle File Holder will help you maintain your documents organized in the same place with a lot of styles. It can be the perfect fit for your office space if you tend to use physical documents now and then. It includes nine compartments and is built on a durable steel wire, which ensures its preservation in the long term.
6. Notebook
There are tons of rose gold notebooks available in the market. However, this option by Studio Oh! It can be an excellent addition. It has a hardcover and is a nice size to fit most bags. It is durable, good-looking and quite affordable, too!
7. City Energy by Lexon
The "City Energy" by Lexon is a wireless charging station that also includes a speaker and a microphone. Besides forming part of your rose gold desk décor, it will comply with three other functions as well, including charging your Qi-compatible phone wirelessly, listening to your favorite music, and talking with your loved ones or co-workers without necessarily having your phone in your hand.
8. Rose Gold Ball Pens
Every office accessory can be part of your office décor if you're creative enough. These rose gold ball pens can be a nice addition to your office as part of your office stationery and also as accessories. They have a beautiful finish, and the best part is that they are available at a very affordable price!
9. Oblio Charger by Lexon
The Oblio Charger by Lexon is another good option if you'd like to keep your phone as clean as possible. Besides being a wireless charger in the form of a very luxurious vase, it is also a UV cleaner that can help you keep your phone as free of germs as possible throughout the day. It has been equipped with technology that detects potential obstructions, making sure it remains functional most of the time.
10. Minimalist Artwork
You have diverse ways of bringing the rose gold aesthetic to your workplace. You can get custom rose gold artwork, such as motivational quotes written in fancy typography and filled with this beautiful color, among many other creative options. It is possible to fill your workspace with rose gold if you're creative enough!
11. Staples
It is possible to add more style to your documents. Hence, these stapler refills colored in rose gold can help you keep your workspace in harmony from all angles.
12. Stapler
If you want to make sure that everything fits the rose gold aesthetic in your room, perhaps this rose gold stapler can help you achieve that. Plus, it can work pretty well with the rose gold staples we've previously mentioned.
13. Office Tray
This rose gold office tray can help you sort out your important documents while you're working. It can be a nice addition to your list of ergonomic office accessories while also contributing to the organization of your workspace.
14. Office Trash Can
It's inevitable to get rid of certain stuff while you're working. Hence, this rose gold office trash can be an excellent choice if you would like to maintain the rose gold desk décor in the whole room.
15. Stationery Set
This stationery set colored in a beautiful rose gold finish is the perfect option for your rose gold desk organizer. It has different items available, including clips, tape, a pen, and even an eraser. You will be able to bring the whole aesthetic to all your items!
The Bottom Line
There are different ways to make your office as aesthetically pleasing as possible. If you're decided that rose gold is your signature color, the cool office accessories listed here can help you take some inspiration and keep your workspace as a harmonious, comfortable, and elegant place for you to work in throughout the day.
Video ads for product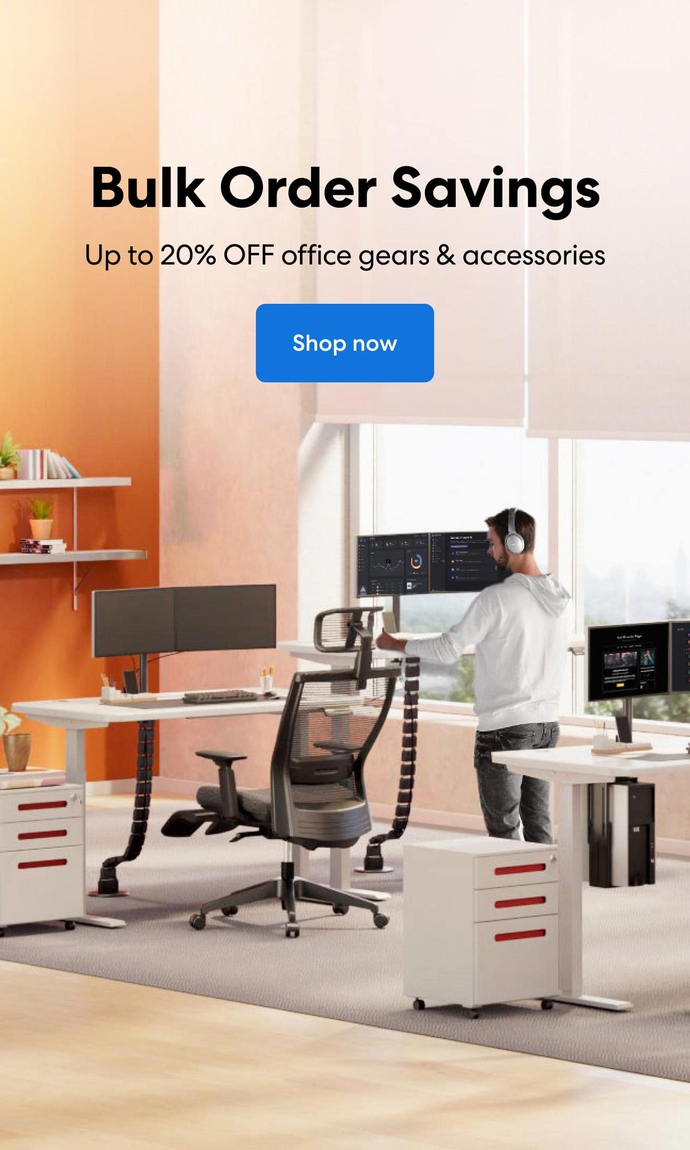 Subcribe newsletter and get $100 OFF.
Receive product updates, special offers, ergo tips, and inspiration form our team.