Did it ever occur to you the impact your workplace setup has on your productivity? Especially when it comes to working from home, we all realize how tough it has been managing the new challenge of balancing work-life balance and securing a quiet, focused corner in our homes. A successful home office is one of the most integral parts of a productive workspace, whether we are talking about a home office setup or a professional workspace.
From office layout to an office desk, the right office chair to choosing the perfect location for your desk, you can make many tiny modifications to improve home office setup and get a productive work corner for your home. Hence, this article will cover some basic and creative best home office tips to modify your workspace into a better and more productive version of your office space.
How to Set Up a Productive Home Office
Personalize your space
As you will research and realize that modern home office ideas are not just based on a simple layout with a certain set of rules, you will realize that modern spaces are all about comfort, flexibility, and finding what motivates you.
This means that to achieve a successful home office, you must find what motivates you to work and how you can incorporate your likings into a home office. For instance, adding some family photos, some wonderful (your favorite) quotes, or a little personalized desk décor can help you achieve that sense of belonging, which is a secret ingredient to productivity.
Adding Some Greenery
Adding green into your home office setup is the best thing you could do for yourself. The power of green in any office space is directly related to employees' wellness, energy levels, and mood. By adding a plant or two or adding some accents of green, you can achieve that close to nature vibe, which is proven to do wonders for your mind and mood levels.
Keeping it Organized
When it comes to a home office, there are two types of organizations you should focus on. The physical one and the mental one. The physical organization involves all of your things in the right place, so you don't have to worry about losing your stationery or home office essentials.
Secondly, you should also focus on organizing your mental office space, which means organizing your thoughts for the day, planning your tasks, dividing and conquering your duties and keeping a positive approach about the day ahead.
Choose the Right Location
If you work from an office, you likely don't have the freedom to choose your location or even where your office is located. But when opting for work from home, we get the freedom to choose where to set up your office desk and chair. This means you should give the location of your home office a serious thought.
Start by planning your office desk layout in a quiet, productive manner and away from any distractions. If you are limited to a space in your bedroom, opt for a corner space away from your desk. The best bet is to place your desk and successful home office near a window, so you get that benefit of natural light and natural fresh air.
Get Ergonomic Furniture
We all have heard how office furniture holds the secret to productivity, and it is true, as proven by many studies over the years. Unlike the old times when office productivity was associated with mental activity and motivation to work, modern spaces are more focused on covering all the factors which impact efficiency, including the importance of comfortable furniture.
Hence, you should invest in ergonomic furniture that allows you to work without exhausting yourself and help you rest when needed. A reclining chair is the best bet for home offices because it allows you to stretch and relax at the end of a tiring day.
Avoid the Mess
Here is one of the notices to create a successful home office. Most occupations necessitate using some sort of equipment, whether it's large printers and copiers or small notepads and pens. However, it's unlikely that you'll need all of that gear all of the time.
This means that the downtime for such equipment will cause you to come across items you don't need. Hence you might consider it a mess for a few days. Having storage options in your home office is a great way to avoid the mess and remain organized. Thankfully there are small to large home office equipment solutions you can try and practice in your office space.
If you have larger items to store, go for shelves and similar options. A desk organizer or a filing cabinet will do the job just right for people who need an assortment of tiny everyday use accessories.
Don't Forget the View
When you look up from your computer, place the desk so you can look at something other than a blank wall (even if you like the color). Placing your desk in front of the window is both an effective and affordable option for some motivation but if you don't have a large window, hang some wall art or motivational quote to motivate you while working. You can also hang a notice board over the desk with your to-do list for the days, so every time you glance over it, you feel productive and accomplished.
Focus on Lighting
Without proper lighting, you can feel your productivity levels falling by a huge percentage and push your mind into snooze mode. Because seeing is so important for getting work done, you'll want to ensure your home office lighting is set up properly.
Lighting is a crucial component of any home office design. To add purpose and versatility to your space and a little style, the ideal way is to mix and match different fixtures. Pair your most practical job lamps with a few statement lamps if you want a touch of that luxury flair.
Conclusion
When you are done with the first step of choosing your successful home office corner, the next step is to modify and decorate the place to get a perfect and cozy workspace. A productive home office doesn't have to be expensive, huge or an entirely separate room. But by following a few successful home office tips above, you can easily create a space that will motivate you to work better.
Video ads for product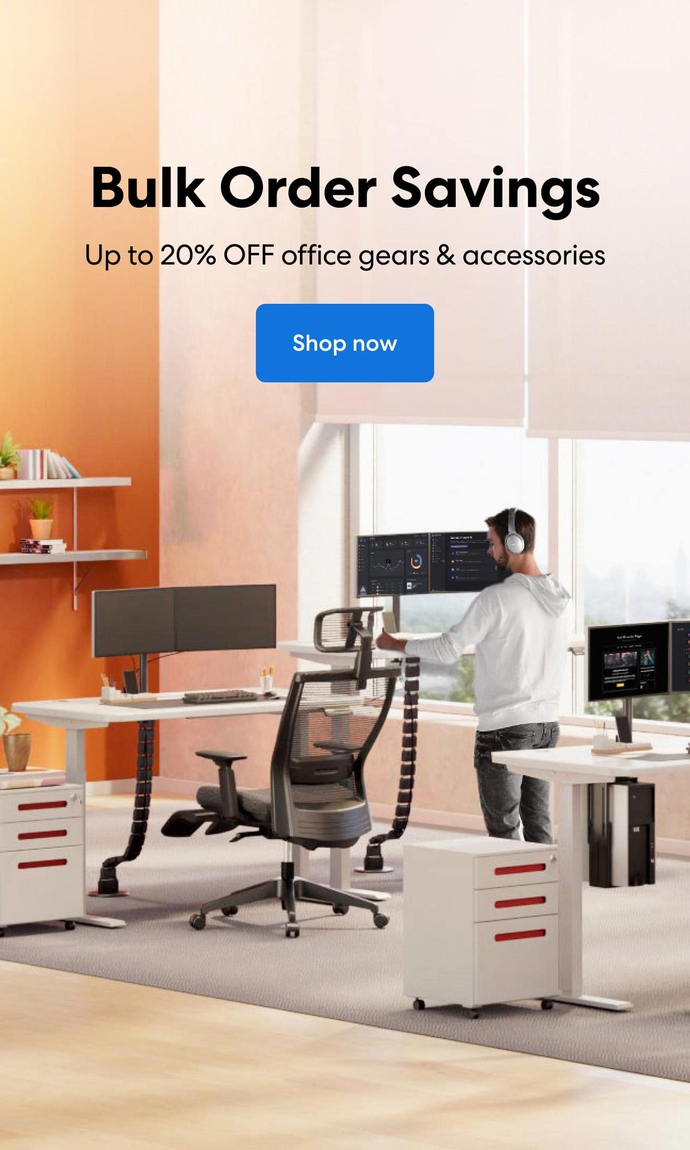 Subcribe newsletter and get $100 OFF.
Receive product updates, special offers, ergo tips, and inspiration form our team.