Smart Products
Shop 20+ Cheap L-Shaped Desks for Gaming and Working

Ryan Tanaka
|
Sep 9, 2023
1,703 Views
There are a lot of amazing desks out there, with one of the best being cheap L-shaped desks. They aren't your typical desk shape and have several key differences when compared to normal desks that might make them perfect for you. Make sure to not rule out a good L-shaped adjustable desk whenever you are out looking. They can provide some real benefits for you if you give the odd shape a chance.
It's no surprise that L-shaped standing desks have become increasingly popular. These workstations have a bigger surface area, allowing you to multitask relatively efficiently. These workstations' ergonomic design would allow you to move more easily. As a result, work efficiency improves.
There are fewer possibilities for L-shaped adjustable desks than conventional standing workstations. However, this does not imply that you must accept whatever is offered on the market.
Top New L-shaped Adjustable Height Desks on Budget
It features two perpendicular ends as in the letter "L" form, as the name implies, and therefore it can simply fit towards any nook and wall in your home or commercial building. These space-saving desks are contemporary and unusual types of furniture that may assist you in storing all of your necessary records, electronics, and other items within easy reach.
However, because there are so many cheap L-shaped desks available on the web, it might be difficult to choose the ideal one for your requirements. Therefore, we have listed a few of the best corner adjustable desks for your workspaces below.
1. EUREKA ERGONOMIC L60 L-shaped Standing Desk: Key board tray, Rustic
The EUREKA ERGONOMIC L60 L-shaped standing desk offers a perfect blend of functionality and rustic charm. It features a spacious desktop with a keyboard tray, providing ample space for your work essentials. The adjustable height mechanism makes you effortlessly switch between sitting and standing positions, promoting a healthier daily posture.
Moreover, this amazing sit-stand l-shaped desk is made of solid steel and particle board, providing additional structural integrity. It comes with a 5-year warranty.
2. EUREKA 60" L-shaped Standing Desk: Programmable Keypad, Left-handed
If you're left-handed, the EUREKA 60" L-shaped standing desk is an excellent choice. It has a programmable keypad to save your preferred height settings for easy adjustment. The desk's sturdy construction ensures stability, while the spacious surface provides plenty of room for your monitors, laptop, and other accessories.
The desk is available in sleek black carbon fiber, which gives it a great look and is greatly durable. The desk has a weight capacity of 220 pounds.
3. EUREKA L60 L-shaped Standing Desk: Programmable Keypad, Right-handed
The EUREKA L60 L-shaped standing desk is the perfect option for those who prefer a right-handed configuration. This desk offers the same features as its left-handed counterpart, including a programmable keypad and a spacious work surface. Its sleek design and adjustable height settings seamlessly blend into any modern office or home environment.
It also comes with a mouse pad, which allows gamers and editors alike to use this desk to its full potential. It has a weight capacity of 220 pounds and comes with a 5-year super warranty.
4. EUREKA L-shaped TechDesk: Monitor Stand & Dual Headphone Hook
The EUREKA L-shaped TechDesk is a standout choice for tech enthusiasts. It not only provides ample workspace but also comes with a built-in monitor stand and dual headphone hook. This desk accommodates multiple monitors, making it ideal for gamers, designers, and professionals who require a high-tech setup.
It comes in a unique and unconventional desert sand color, providing this cheap L-shaped desk with an appealing look. It has a solid 5-year warranty that offers you complete peace of mind.
5. EUREKA ERGONOMIC L60 L-shaped Standing Desk: Key board tray
Another notable option from EUREKA ERGONOMIC is the L60 L-shaped standing desk with a keyboard tray. This desk offers a sleek and minimalistic design while providing all the essential features you need in a workspace. The keyboard tray adds convenience and ergonomics to your daily routine, allowing you to work comfortably for extended periods.
It is available in various colors, such as walnut, maple, and complete black. Style is not the only thing this inexpensive L shaped desk excels in. The desk is made of solid steel and particle board, giving it optimal durability.
6. Techni Mobili Rotating Multi-Positional Modern Desk
If you're looking for a modern and versatile inexpensive L shaped desk, the Techni Mobili Rotating Multi-Positional desk is worth considering. It features a unique rotating design that allows you to customize the shape and configuration of the desk to suit your preferences. With its sleek lines and contemporary style, this desk will make a statement in any office or home.
The special customizable cheap L-shaped desk with drawers is 360° rotatable and reversible. It also comes with a solid 5-year warranty.
7. Techni Mobili L-Shape Industrial Desk with storage
The Techni Mobili L-Shape Industrial Desk with storage shelves in Walnut (model RTA-733DL-WAL) combines modern functionality with an industrial-style design. This versatile desk offers the option to assemble it in either an L-shape or a straight in-line shape, providing flexibility to suit your workspace needs.
The desk is constructed using engineered wood and features a walnut surface veneer texture, adding a touch of elegance to its overall aesthetic.
8. Techni Mobili L-Shaped Glass Top Computer Desk - White
The Techni Mobili L-Shaped Tempered Glass Top Computer Desk with Pull Out Keyboard Panel (model RTA-3802-GLS) brings a sleek and professional look to any workspace. With its tempered glass top, this desk adds a touch of modern elegance while maintaining its functionality.
The L-shaped design provides ample space for additional equipment, making it suitable for a dual monitor setup or other accessories. The pull-out keyboard panel offers convenience and helps keep the desktop clutter-free. Whether for work or personal use, this desk offers a stylish and practical solution for any computer setup.
9. Techni Mobili L-Shaped Glass Computer Desk - Black
The Techni Mobili L-Shaped Glass Computer Desk in Black (model RTA-3805L-BK) combines style and functionality in one sleek package. Featuring a black tempered glass top, this desk offers a contemporary and sophisticated look for any workspace. The cross frame design, with a black powder-coated frame, adds a modern appeal to the overall aesthetic.
Additionally, the desk is equipped with floor glides, ensuring stability and easy movement. Whether for professional or personal use, this L-shaped glass computer desk provides a stylish and functional workspace solution.
10. Flash Furniture Glass Computer Desk
This desk is perfect if you are a bit of a minimalist at heart. It's a simple glass-topped steel desk that measures 48 inches across and 83.5 inches wide, with a 29-inch height. The L-shaped sit-stand desk can easily fit a few computer monitors with room to spare, and the glass top makes it look very elegant. It also comes with self-leveling floor guides to ensure that it does not wobble during use.
Unlike some of the other offerings on this L-shaped standing desk list, it does not come with any external storage, but there's enough space to place a small storage cabinet underneath the desk if you find things getting too cluttered for you.
11. TribeDesigns Modern L-shaped Desk
Modern is certainly one way to describe this desk because it has everything you could ever want. It comes with a swivel that allows you to make the desk straight, perfect if you want to have everything in front of you or just want to change things up a little. It can also be easily rotated and measures 55.12 inches on both sides. Along with all the ample space for your items on the desk tables themselves, the modern desk also comes with a 900-pound weight capacity thanks to its steel frame. This L-shaped standing desk is suitable for multi-monitor desk setup.
Finally, if that wasn't enough storage for all your needs, there's a two-tiered storage shelf underneath the desk to further provide storage options, allowing you to have a space for seldom used papers, electronics, and office supplies. This L-shaped standing desk is one of the most versatile on the market and can work with any office space.
12. Walker Edison Furniture Company Desk
This cheap L shaped gaming desk has a few extra goodies in store if you really want a customizable experience. It is 51 1inches long and made from a mixture of tempered glass and steel, giving it the perfect weight limit to hold multiple monitors comfortably, along with anything else your job requires.
The keyboard tray is completely adjustable, allowing for you to find the perfect ergonomic position for your ergonomic keyboard without putting undue strain on your wrists or causing you to have to hunch over. You have a lot of options with this L-shaped adjustable desk, and you can easily customize it to fit all of your needs. That customizability is why it is on this list!
13. Uplift Curved L-shaped Stand-up Desk
This corner adjustable desk is fairly large, which is one of the biggest on this list! It also comes curved, so rather than sitting at a straight edge while working, you fit comfortability into a small semi-circle that is curved into the front of the desk. It isn't the most customizable desk, and we aren't sure what benefit the curves are supposed to offer aside from looking cook, but it is built on a three legged base and really does look unique. If you want your office to have something that no one else does, this might be the perfect desk for you.
14. Eureka Ergonomic L-shaped Standing Desk for Corner Configurations
The first Chinese, non-made in America product on this list, don't be afraid by where it is assembled. Unlike a majority of poorly made and designed foreign desks, this one actually is pretty good and provides a lot of benefits if you are looking for an amazing L-shaped adjustable desk. This L-shaped electric standing desk only comes in 60 inches by 42 inches size, so it is a lot smaller than some of the other showings, but sometimes smaller is better if your office space calls for it.
It has a very high quality two-legged design that can still support a computer, monitor, and other items without too much trouble. It might be suited more as a personal desk since the L-shaped arm is very short compared to the main desk, but if you need a wide working space and want a good quality small desk, this one is for you.
15. VertDesk V3 L-shaped Adjustable Desk
This adjustable L-shaped standing desk allows you to have total customizability over where you sit and stand throughout the workday. The desk is motorized with a traditional push button start like all the other adjustable desks out there, but it also comes with Siri support for your hands-free needs.
All you need to do is say 'hey Siri' and say that you would like to stand up or sit down, and the desk can automatically move to one of 22 different preselected size configurations! How cool is that!
It is very customizable with over 11 finishes and 2 colors to pick from, and like the other desks on this list, it has the weight to carry anything you might need in a corporate environment. The corner adjustable desk also has a solid construction with only the best outer steel and the best internal components to make sure that it lasts through dozens of uses.
This L-shaped sit-stand desk also comes with a 10 year warranty on the frame, seven years on the electronics, and five years on the surface parts. Not many desks offer a warranty like that!
It also comes with a 30-day money back guarantee, where you can easily return it if you don't like the desk. With all that risk is taken from the equation, there's no reason not to give this L-shaped electric standing desk a try!
16. L-shaped Standing Workstation by Multitable
Another economical but functional DIY L-shaped desk on our list is this one. This L-shaped adjustable desk is well-liked due to its reasonable pricing and durable motors. It is a rather simple L-shaped desk, in our opinion. The simple design is perfect for people making the switch to a standing computer workstation for the first time.
17. Hanover L-shaped Sit-stand Desk
This corner standing desk costs less than 800 USD. It's an excellent choice for people on a strict budget who want a larger workspace. With a 74 × 74 inches size, you'll have a maximum of 2 monitors and a few extra office equipment.
18. Teraves Convertible L-Shaped Gaming Desk
This reversible cheap L shaped gaming desk features enough room for your gaming supplies. This workstation has two different shelves and plenty of additional room. It also has the benefit of being reversible. You may adjust the frame positions to meet your needs. This wooden desk exudes a welcoming atmosphere. It may serve as your gameplay desk without appearing too barren.
19. Christeena 63'' Desk
This is the best L-shaped gaming desk that allows you to bring beautiful scenery into your workspace. Surprisingly, this desk is also among the most affordable in the industry. But, interestingly, for the price, it's pretty robust. There is no wavering or trembling at any moment. It can lift to 330 pounds. Furthermore, the structure's legs are a little broader than other desks. This gives greater stability and complete support.
20. Hardwood Top Lander L Desk
This is a desk that has made it into our checklist of the best L-shaped desks. This Lander L-shaped adjustable desk is built entirely in the United States. Its hardwood tabletop distinguishes it all from its counterparts. Moreover, this product features many of the same unique features as other Lander workstations. It also has a control which you can link with your phone.
21. Hammam L Shaped Gaming Desk with LED Lights and Power Outlets
This L-shaped desk setup features a distinctive design that makes it among the industry's most popular L-shaped gameplay desks. This L-shaped sit-stand workstation appears to be a standard desk. However, there is more to it than strikes the eye. It comes with more sophisticated features at an inexpensive price, making it one of the best L-shaped desks for home offices. This model has a computerized LED display. It may resemble the conventional readings found on most electric standing workstations. However, this workstation offers a little much more than the basics.
22. RSP 2010 Respawn
This cheap L shaped gaming desk provides enough room for the gaming enthusiast with a great deal of equipment lying around. It is a well-built and long-lasting desk if your setup update includes plenty of extra gameplay accessories.
This beautiful L-shaped desk does indeed have a great additional pace. This one from our L-shaped desk ideas has all of the benefits of a traditional gaming desk, but it's better. For your convenience, you receive a cup holder and a headset hanger.
23. SHW Vista Corner Desk
This L-shaped sit-stand desk is perfectly modular, dividing into three sections for easy assembly and coming in with a beautiful smoked glass top. It does take more time to screw together and assemble than some of the other desks on this list, but it also takes advantage of limited space to really bring your room together.
It also comes with a very handy footrest to help you sit comfortably during those long office hours, and it looks nice. Plus, you can detach and rearrange each of the three sections if you want a bit more customizability. It's like having one of those DIY standing desk frame.
Conclusion
In conclusion, when it comes to selecting the perfect desk for your workspace, it's important not to overlook the remarkable benefits of L-shaped standing desks. These unconventional desk shapes have been gaining popularity for good reason. With their larger surface area and ergonomic design, L-shaped sit-stand desks enable efficient multitasking and effortless movement, ultimately enhancing your overall work efficiency.
While there may be fewer options available in the realm of L-shaped adjustable desks compared to traditional standing workstations, it's essential to remember that you don't have to settle for whatever is readily available on the market. Exploring the unique advantages of L-shaped desks can lead to a more productive and comfortable work environment, making them a worthwhile consideration in your quest for the ideal workspace solution.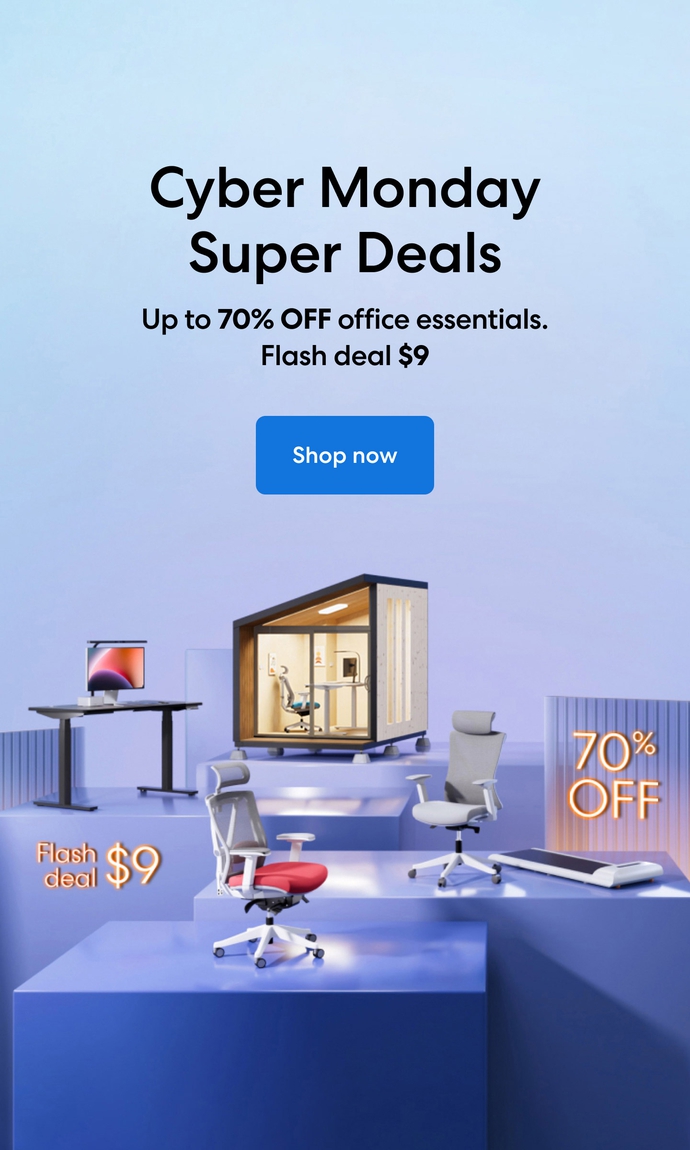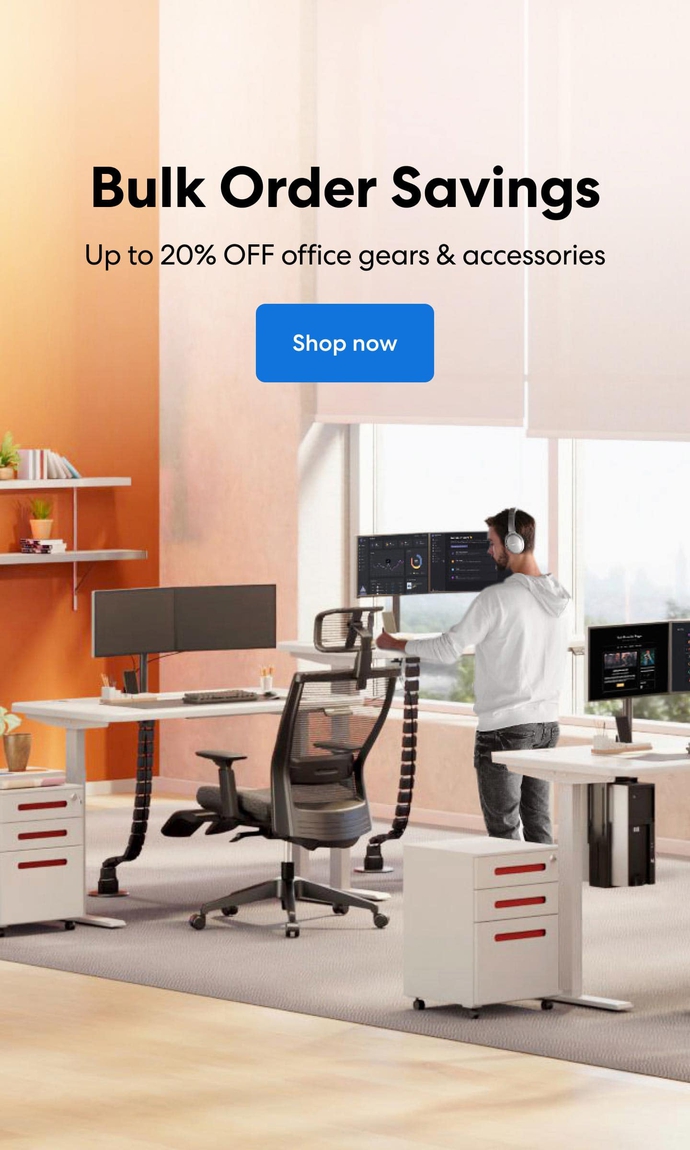 Subcribe newsletter and get $100 OFF.
Receive product updates, special offers, ergo tips, and inspiration form our team.