One of the most significant disadvantages of an open-plan office is the continual noise. There is nothing more distracting than your coworkers on call or the faint hum of folks talking away around while you're working on anything that demands your full concentration. That is where work pods for office come in as essential. 
A work pod offers employees a much-needed quiet space where they can sit and work without being bothered. They frequently mimic upgraded phone booths, having all walls (often glass), a roof, solitary chairs, and required equipment to get work done. They give a peaceful, personal space for all types of employees, regardless of department.
So, since you're searching for a solution to improve individual attention and job performance in your workplace, installing a work pod for office is a great way to begin!
Reason Why You Must Invest In a Work Pod for Your Office
To be in the zone while working, you will feel the need to have a place all to yourself. A sound-resistant, distraction-free area is a plus for all open-plan office layouts when private rooms are few and far between. Here are a few good reasons to acquire an office pod:
It's fantastic to use a sophisticated furniture option that boosts staff efficiency. The booths feature a simple, timeless design, and you may customize them to match the end user's brand colors and materials. Customizing a work pod is also highly recommended. 
Work booths are far more convenient to set up than erecting a conference room, which can take months or even years. It takes a few weeks from the purchase date to the construction time, and this covers production, customization, and placement. They also include seats, lights, electricity, connections, and airflow. Then, all you'll have to do is turn up and get going!
Capital expenditures are lower.
Office work pods are a premium option to developing a place from the ground up, saving you 45 percent on operational expenses compared to a regular alignment while still performing much of the same duties.
Workstation pods are available in a range of form factors to meet your specific operating requirements. The options are (nearly) endless, whether you want a four-person conference room, a single-person office, or even a nap pod! Which are notably well-suited to businesses with limited space and a need for greater flexibility when scaling up.
Noise occlusion booths provide a safe facility for workers to have the seclusion they want while also avoiding disturbing the rest of the company. It's a major boon!
Different Types of Office Work Pods to Choose From
Modern workplaces as we perceive them are being transformed by workstation pods, which provide individuals with a stress-free space from their workstations and thus the hectic pace of an office setting. However, employers continually recognize that workforce composition layouts are unsuitable for improved productivity or enhanced cognitive wellness.
Here are a few work pod options for a comprehensive office setup:
1. Equipped Work Pods:
Like a home office pod, a fully outfitted work pod includes a desk, seat, workstation, and a variety of other goods. An outfitted office pod is more expensive than a bare work pod, but it comes with everything you need to get started. Wood pods are consequently easy to assemble.
2. Naked Work Pods:
These pods are empty boxes that do not have any furniture or equipment put to them. When compared to a fully equipped work pod, naked work pods are less expensive. It also offers the chance to personalize your workspace. A type of naked work pod is a wooden pod for the garden that you can personalize.
3. Meeting Booths: 
Meeting pods are a terrific way to improve the running of your office by providing an appealing area for meetings, discussion, or merely turning away from the desk for 2 hours to change things up.
4. Office booths:
These are also called office anonymity work pods and are an excellent choice for a personal workplace. Because they resemble a phone booth, these work pods are sometimes known as phone booths. In complete privacy, you may research, interact, make calls, and have teleconferences.
5. Autonomous Work Pods: 
Soundproofing is a great way to create a designated area. Acoustic pods are designed using audio absorbing materials to provide a noise removal threshold of up to 30 decibels. Other options for office work pods include outdoor work pods where you can work freely.
The goal is to create a workplace environment that accommodates various types and styles of work, allowing team members to pick the location that best suits their needs. However, even little changes to your company's work area may have a big detrimental to productivity, wellness, efficiency, enjoyment, and participation.
Work pods increase productivity while still permitting the workplace to function as a flexible, collaborative environment. They give peace when required without isolating individuals. In a busy, growing office, they minimize distraction and noise pollution. Without a significant workplace remodel, this enhances focus and attention.
To Purchase or to not Purchase a Workplace Pod?
Greater concentration and seclusion are perhaps the most prevalent reasons for purchasing work pods for office. Confidentiality is crucial in the office, and those working on difficult assignments can't afford to sacrifice their creativity simply because there are a few distractions around them. Furthermore, office pods have been empirically demonstrated to benefit employees who are already neuro-divergent.
Work pods aren't going soon. Top businesses and remote employees have brought revolution, which even the largest corporations can't deny. Couches and work pods are being installed in the replacement of desks. Although many have acquired the typical open workspaces that swept the workplace interior design world in the 1950s, it doesn't mean we couldn't build quiet alcoves where employees can get more work done.
Businesses have recently tried to integrate persons with diverse neurological requirements, although neurodiversity has always been a problem in organizations. For you, an autonomous pod would be ideal since it is well-known for its meticulous production methods. You will set yourself up for a successful future by purchasing a workplace pod. Don't hesitate to take it as it comes while you're on the go!
Video ads for product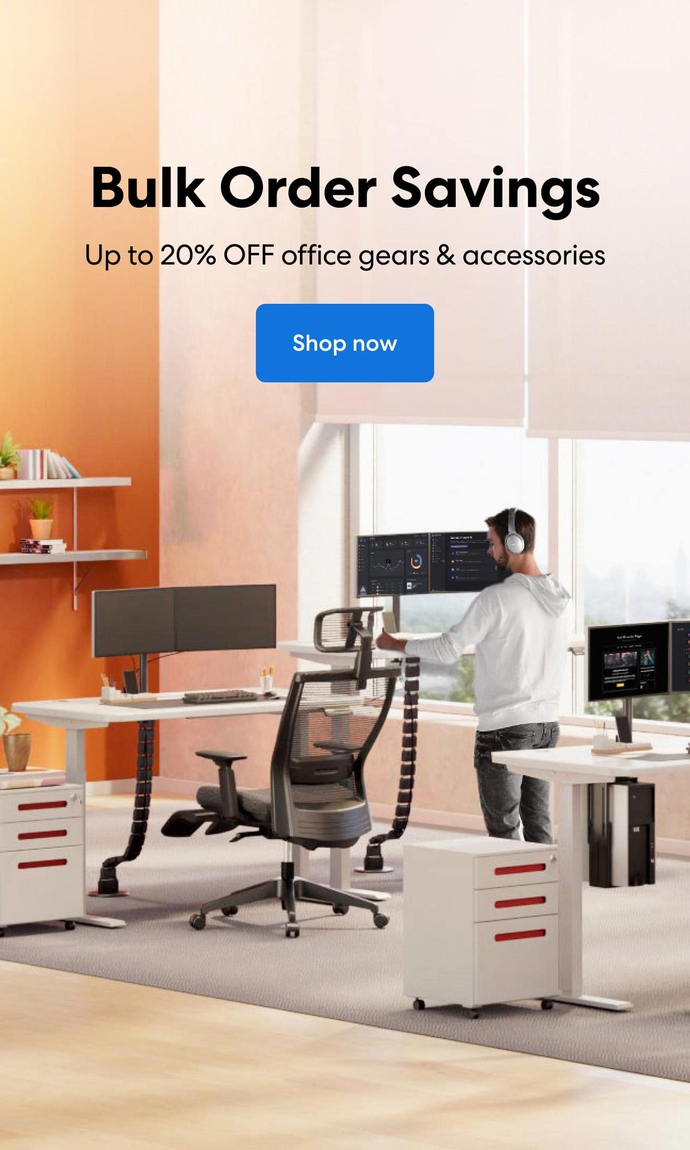 Subcribe newsletter and get $100 OFF.
Receive product updates, special offers, ergo tips, and inspiration form our team.