Smart Products
Startup Office Furniture: The Essentials Setup for 2023

Autonomous
|
Feb 14, 2022
2,192 Views
If you're looking forward to starting a business, you should know that one of the key elements in the startup office furniture you decide to use. After all, the furniture we use plays an important role in our productivity. If someone doesn't feel comfortable in their workstation, they're likely to feel more stress in less time.
As a leader, it is your duty to provide your employees with a comfortable work environment. You can achieve this by promoting a healthy work culture and also by equipping the workspace with appropriate startup office furniture. Where can you start, though?
Building a cool startup office takes time and effort, but it will be worth it in the end. This post will guide you through the best office furniture for startup you can choose during 2022.
Startup Office Furniture – Choosing the Best Pieces for Your Employees
If you've already decided what layout you'll use for your office, the next step is to find the best office furniture for startup. This way, you can ensure that each member of the team is comfortable while working on their duties.
Office chairs for startup
Chairs are one of the most important items in a workstation, along with a desk. While "office chairs" are the most common and cheapest option available in the market, they do not contain the right features for prolonged office work. These chairs will produce discomfort and pain in little time, especially in the lower back area.
That's why you need to invest in good ergonomic chairs.
Ergonomic chairs come with diverse adjustability features that make them appropriate for all users. Thus, you can be sure that everyone within the workplace will feel comfortable, regardless of their work style.
Some of the best choices in this regard are the following:
ErgoChair Pro

– This chair comes with all the necessary adjustability features and makes emphasis on the lower back area. Plus, its breathability features will ensure optimum airflow throughout the day.

ErgoChair Core

– Similar to the previous option, the ErgoChair Core compiles some of the best ergonomic features at an affordable price.
Choosing the right chair for your employees can make an enormous difference. They'll be less prone to feeling uncomfortable and in pain while working, which will result in productivity, energy and mood boost.
Office desks for startup
Ergonomic chairs and office desks always go together. While tons of desks are available in the market, not all of them have ergonomic features available. In fact, most desks have heights that range between 29 and 31 inches, which is not suitable for people below or above the height average.
If you want to prevent these problems, we highly recommend you to opt for standing desks. Also known as height-adjustable desks, these surface solutions allow you to personalize your workstation, allowing you to work based on your unique body proportions.
Some of the best choices for office desks for startup include the following options:
Standing Desk Connect

– This standing desk connect is one of the most advanced standing desks available in the market at the moment. It compiles several features that make it quite useful for the modern worker, including anti-collision features and an app for fine-tuned controls.

SmartDesk Core

– The SmartDesk Core is another good option, as it is affordable and comes with four programmable settings. The solid steel frame makes it quite suitable for office work.
Standing desks have become more common in office environments due to the many benefits associated with them. Studies have demonstrated that standing desk users experience the following benefits in the long term:
Reduced blood sugar levels

Better concentration, energy and mood

Diminished overweight risks
Thus, if you'd like to provide your workforce with different and modern items to ensure their comfort, standing desks and ergonomic chairs should be the options you choose. A standing desk is an excellent option as it allows you to fit each workstation to people of different heights. Plus, people will be able to alternate between sitting and standing as they find it convenient.
Office accessories
Startup office furniture is necessary, but you'll need other things if you want your workforce to work effectively. Here we present you with some of the essential office accessories you'll need if you're looking forward to building a cool startup office.
Cable trays
Visible cables are not only aesthetically unpleasing, but they're also quite hazardous and may end up being damaged. Thus, cable trays can come in handy. Not only will they keep all the cables protected, but they will also make sure they're not visible and completely away from the work surface.
Filing cabinets
If your business tends to manage considerable amounts of paperwork, filing cabinets can help you keep everything organized and in the same place. It's a must-have in any office environment, allowing you to store different items securely.
Keyboards and mice
It's also worth it to invest in ergonomic keyboards and mice. Doing so will allow you to reduce the risk of injuries while typing, as your employees will have all the equipment necessary for their needs.
There are many other office accessories you can take into account to build a fully-equipped ergonomic workstation for each employee. Investing in these items is necessary, as it will contribute to your employees' efficiency and productivity.
Employee purchase program
If you'd like to give your employees access to these pieces of furniture at accessible prices, you can also opt for implementing an employee purchase program in your business. This way, they will be able to obtain determined items at special pricing.
You can learn more about how to implement an employee purchase program and how to use Autonomous EPP.
Conclusion
The startup office furniture needs vary from one business to another. It is important to evaluate the state of your company to figure out what your employees need to work effectively. So, the options mentioned above are an excellent starting point.
Each business has a unique work style, which means that the office furniture you choose should appeal to those needs. This way, you can ensure your employees' productivity and efficiency throughout the day.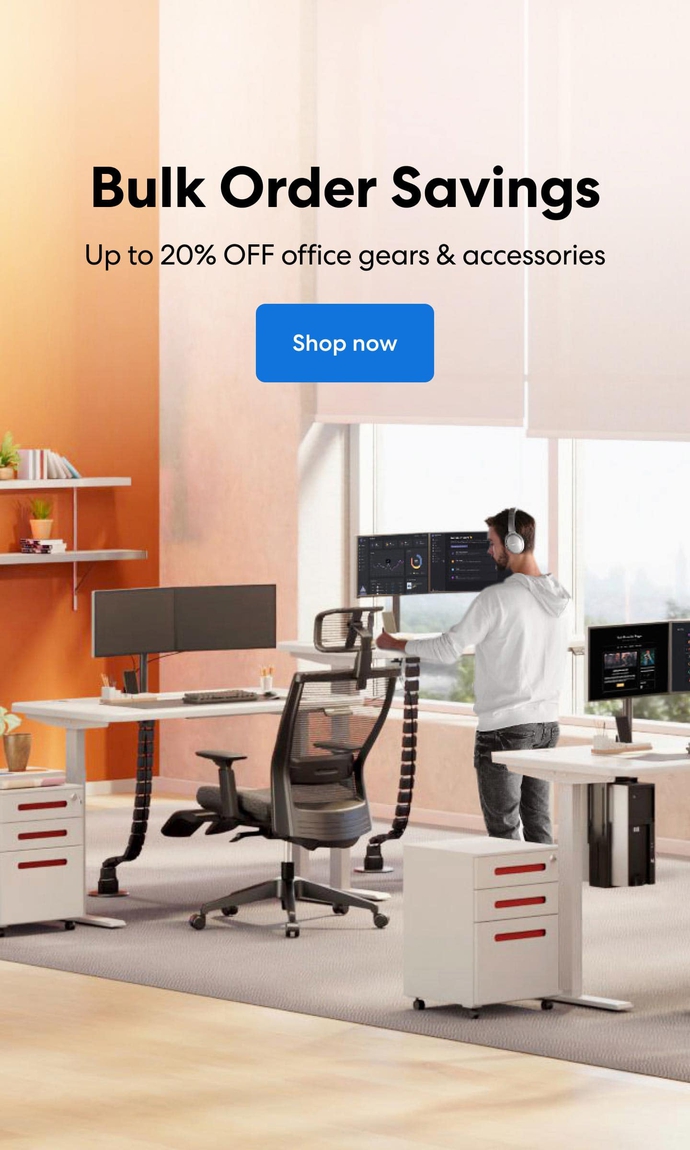 Subcribe newsletter and get $100 OFF.
Receive product updates, special offers, ergo tips, and inspiration form our team.