Workplace Inspiration
Awesome Study Room Design Ideas with Bed for Two Kids

Autonomous
|
Sep 9, 2021
2,361 Views
A kid's life is not complete without homework, so it's up to them how much they like it! Is there anything we can do to encourage those little darlings with their studies? Here is some creative study room design with bed ideas, including various workspaces, storage solutions, and shelving designs.
Through the use of effective furniture solutions, it's easy to transform even a tiny bedroom into a kid's study space. Additionally, we've provided these ideas on setting up two workspaces so that siblings can enjoy their own space without limitations. You don't need to worry about navigating through this school term; we've got you covered.
Kids Study Room Styles Ideas
One can modify a small bedroom study area with an existing style with the right décor and spatial solutions to complement the existing style of the bedroom. A desk setup with an industrial vibe is essential in this modern study room design with bed solutions.
To make sure it blends with the rest of the room, pick one in white with a traditional design if you don't want to go on this route. If your home has a shabby chic theme, a similar desk will look great in a pure white or pink bedroom, and a touch of luxury would look good in a princess bedroom.
Fusing in colors
A neutral backdrop for the workstation is like a blank canvas where you can experiment with seasonal accents. This room styling suggestion offers greater ease in implementing any study room bed design.  Consider adding orange or navy blue colors this fall to give the workstation its own identity.
Study space in a kids' room can benefit from color schemes repeated elsewhere in the setting. So if their style varies slightly from the rest of the room, you could utilize a common color scheme to connect the newly added study area with the rest of the room.
Limited or smaller spaces
In this idea of a study room ideas with a bed,the loft beds with storage underneath help you solve the space crunch in a small kid's room. Additionally, corner beds allow the room to be transformed into the perfect study space when not in use, while custom desks that fold are also highly space-efficient options. Also, keep in mind the kid's desk height so you can factor in the right amount of space around that desk. An ideal solution would be a standing desk for kids, which raises or lowers to maximize minimal spaces.
Under the bed storage
Some of the best bedroom study table ideas involve a smart available space, like this one. It's hard to imagine having children without enough storage. We know how difficult it can be to keep your children's bedroom tidy when they are running around the house. Add extra storage to their room to make things easier.
Storage options can be added to a room in various ways, regardless of how small the space may be. Providing sufficient drawers and shelves in a child's bedroom can solve the problem of too many toys and books.
A sliding wardrobe on a wall painted the same color would be an excellent example of bedroom study nook ideas. Thanks to the mirrored paneling and etched names displayed on the wardrobes, there's an adventurous feel to the room!
Books can be kept in the study area, whereas toys can go under the bed's drawers. If space permits, set up an elaborate study in your kids' room, and they won't be able to complain about the lack of space.
Furniture & Accessories That Suit All Rooms
Your home should always be a place where children are welcome. Kids may use their study room for schoolwork, projects, and arts, or for reading or working on the computer. In your kids' study room design with bed, consider how you could make these tools more effective by incorporating them.
AutonomousSmartDesk Junior
Our Autonomous SmartDesk Junior is an ergonomic standing desk for home and office environments that promote the best posture for studying. SmartDesk Jr. is a fully height-adjustable children's desk that encourages a child's natural tendency to become involved by facilitating a focus on their needs.
This kids chair is made with the same sturdy frame and dual motor as Autonomous adult tables; you can be sure it will help your children study comfortably in their study room design with bed zone. In addition to being at a convenient height to accommodate growing bodies, this product has plenty of space for any activity. Children can try out composition, take online lessons, or get creative through SmartDesk Junior.
Autonomous ErgoChair Junior
Seven ergonomic options allow children to discover the most comfortable seated position as they grow. From the age of 4 to the age of 12, the unique design of this ergonomic chair for kids encourages healthy spinal development.
The chair can be adjusted in height, back, arms, seat, and footrest, making it suitable for just about anyone between 3'2 and 5'2 inches tall. This polymer shell is incredibly robust, can support up to 275 lbs of weight, and does not appear damaged after any knocks.
Autonomous LED Desk Lamp
Flexibility, usability, and adaptability are the benefits of the slim design of the LED desk light. It is a perfect choice for kid's study room design with bed. Anyone looking for a versatile, effective, and affordable option for their home or office will be delighted with this Autonomous Ultra-Wide LED Desk Lamp.
The desk lamp has a super wide LED light bar of 31.5 inches and is sleek and minimalist. You can angle the spotlight at just the right level with a swiveling neck and wider bar that provides full desk coverage. A temperature mode and brightness setting are included.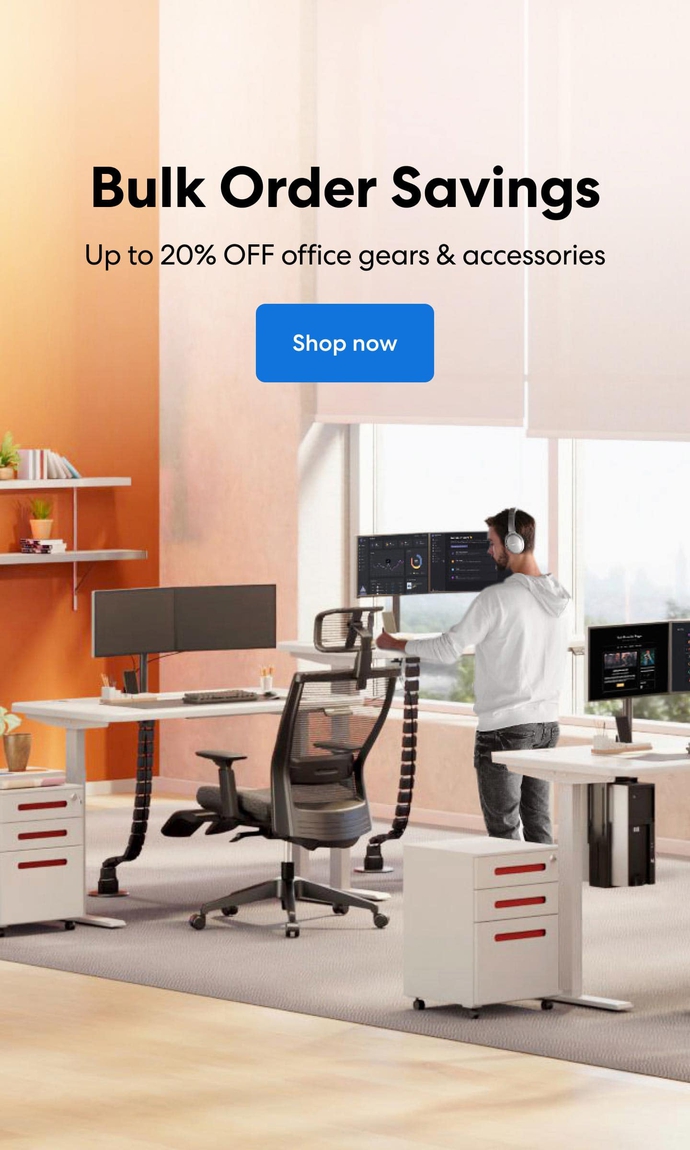 Subcribe newsletter and get $100 OFF.
Receive product updates, special offers, ergo tips, and inspiration form our team.