Workplace Inspiration
Achieving Sustainable Independence with Off-Grid Homes

Autonomous
|
Jun 30, 2023
535 Views
In the world today, greener living is a major priority- or at least, it should be. Off-grid homes are amongst the ways to live more sustainably in 2023 and are helping to begin the change. More people are looking for ways to protect the planet and save money on energy bills at the same time.  
Off-the-grid houses are a type of housing that does not require massive construction or a lot of land- and are especially beneficial when people build them on the space they already have. Luckily, there are plenty of prefabricated additional dwelling units and shed house ideas that make sustainable off-grid living more realistic for the general population. 
Below, we explore the idea of sustainable off-grid homes. We also discuss the pros and cons and share some of the best off-grid prefab homes for sale right now. This introduction to a big idea aims to show people that it is possible to find budget-friendly and eco-friendly solutions to limited living space- and to inspire people to do their part in making a difference. 
What Is a Sustainable Off-Grid Home?
In short, a sustainable off-grid home or unit is a living space that does not rely on public services and institutions to function. It may be completely self-sufficient through solar panels- or draw from an existing power source such as a house. 
Most of these designs tend to be built with smart insulation and air circulation systems that limit the need for energy, fuel, and electricity to heat and cool them. They also use low-energy light systems that work with very little energy- or none at all if they are using an alternative power source. 
Off-the-grid houses come in many shapes and sizes- from full-family cabins to modular units designed for guests, recreation, or to add space to an existing home. Some of the best off-grid designs are ADUs (additional dwelling units), which are installed on the available land owned by the homeowner. They are often used as studios in multi-generational households to provide a private living space for a loved one- or as a rental property for additional income. 
Other possibilities include: 
An extra bedroom for a growing family

Remote office space for people who work from home

Entertainment space

Additional storage when the house gets too full

An alternative way of extending a home without opting for building construction
Pros and Cons of Off-Grid Living
Whether or not you have considered off-grid living on any scale before, you are probably wondering what the pros and cons are- and how easy it is to achieve in reality. Let us help by laying out some of the key ups and downs. 
Pros of Off-Grid Homes or Additional Dwelling Units
Make the most of your current property.

Use the existing urban space- rather than contributing to its expansion.

Reduce the destruction and disturbance of green areas.

Keep your loved ones close- and provide them with more space to enjoy.

Create effective home working space to reduce your commute and expenses.

Cut down the greenhouse gas emissions associated with traveling to work and visiting family by keeping both things close.

Provide affordable housing in a difficult economy.

Protect wildlife numbers.

Save money by adding an off-grid unit rather than building an extension. 
Cons of Off-Grid Homes or Additional Dwelling Units
The initial purchase and installation costs can be quite high.

You need to consider the best energy efficiency techniques to really get the most out of your off-grid homes and units.

They require at least some land space.

Some prefab off-grid homes do not offer smart energy solutions.

There is usually a need for professional help to get things set up- although it costs less than building an extension. 

It is not every property that has space for an ADU on its land.

Living completely sustainably is much harder in extreme weather climates.
Taking the First Step with Autonomous ADUs
If you are considering installing a prefab ADU in your yard, Autonomous is the place to search. One of the major misconceptions about sustainable off-grid living is the belief that only major changes have an impact. That is not true- small choices go a long way- and opting for an Autonomous ADU instead of an extension or bigger property makes a huge difference. 
What Are Autonomous ADUs?
Before we look at how Autonomous ADUs are helping to change the future of sustainable off-grid living, let's take a closer look at what they actually are. With years of research and engineering behind every product, this range of standalone pods has everything you need to get inspired and begin the journey toward sustainable living. 
Each one is a prefabricated, weatherproof unit designed for outdoor installation on a range of terrains. The idea is to achieve maximum versatility- both in where you put it and what you use it for.  
Autonomous additional dwelling units simply plug into your home's main power supply- and run energy efficiently to keep costs to a minimum. They also use smart engineering and design to make the most of natural light and heat- as well as cleverly-chosen materials that provide optimal insulation and durability. 
These miniature prefab off-grid homes and home additions give people the opportunity to expand their livable space, create more comfort and enjoyment for their loved ones, and reduce their impact on the environment.
How Are They Changing the Future of Sustainable Off-Grid Living?
Most people are not in the position to go all the way toward completely off-grid living- but ADUs are an excellent way to do your part and improve your quality of home living at the same time. 
By changing the way people expand their living space- a.k.a. installing ADUs rather than building extensions or moving to bigger houses- they make off-grid living more accessible to more people. This, in turn, saves money, energy, and green space by reducing construction and housing consumption. 
Demand drives supply- and the more people looking for larger houses there are, the more fuel is thrown on the construction fire. It uses up valuable natural resources, tears away the dwindling green areas left in the country, and dramatically increases the carbon footprint on the world. People deciding to go down the route of multi-dwelling housing - a.k.a. more than one housing unit on the same patch of land- can curb the demand- and if enough people do it, it will start to make a big difference. 
Families who have outgrown their current homes but have space in their yards can install off-grid modular homes to create more space- instead of buying larger properties that take up more space and use more energy.  
If more people can make a small change by using Autonomous ADUs, the future of sustainable off-grid living becomes brighter- and the goals become far more achievable.
Great Examples of Accessory Dwelling Units by Autonomous
Here are three top-quality examples of sustainable ADUs that can enhance your property without having a negative impact on the environment. 
Autonomous WorkPod
Of all the office pods for sale today, the Autonomous Work Pod is one of the most versatile, sustainable, and beautiful. Designed primarily with remote workers in mind, this 98-square-foot sustainable ADU makes the perfect home office- but that is not all it does. 
Quick to assemble, ultra-strong, and visually stunning, the Work Pod can become whatever you need it to be- a game room, reading nook, additional living space, or guest bedroom. These are just some of the possibilities- the list goes on. 
Dimension
8'6''W x  11'9''L x 11'H
Ceiling height
6'10'' to 9'4''
Window material
Wooden frame, 5/16" tempered glass
Door material
Anodized aluminum frame,  5/16" tempered glass
Material
Siding: bitumen, housewrap, vinyl silding
Roof: bitumen, housewrap, shingles roof
Floor: plywood
Balcony: composite wood
Include
Optional: SmartDesk Connect, ErgoChair Pro+, Dual Monitor Arm, Cable Tray, Steel Cabinet, Anti-Fatigue Mat. Always included: Electrical Cabinet & Bookshelf
Floorspace
98 square feet
Capacity
2.9 tons
Key Features
Insulated to maintain a comfortable indoor temperature in all weather conditions from 45 to 100 degrees Fahrenheit

Weight capacity of almost three tons

Comes with a base that can stand on any terrain

Sound insulation

Floor-to-ceiling windows for maximum natural light

Has a built-in air duct and exhaust fan to keep air quality high 
It is powered by plugging it into your home's electricity- so it doesn't require gas or fuel. The Work Pod is also designed to run energy-efficiently to limit power consumption. You can buy it complete with all the essential home-working equipment- including the coveted SmartDesk Connect- or kit it out with your choice of essentials. 
Autonomous StudioPod
Create a luxurious additional living area in your backyard with StudioPod - a prefab studio big enough to use as a completely separate sleeping and living zone. With 105 square feet of floor space, this unit comfortably houses a sofa or small bed to create a modern summer house - and can be renovated to install basic shelving, storage, and other simple fixtures.
If your growing family requires a little more room- but you don't want to move- putting StudioPod in your yard opens up a lot of options. Whether you need a new workspace so your home office can become an additional bedroom, you need more space to escape and relax, or are looking for an eco-friendly way to house guests- this robust ADU is the way to go.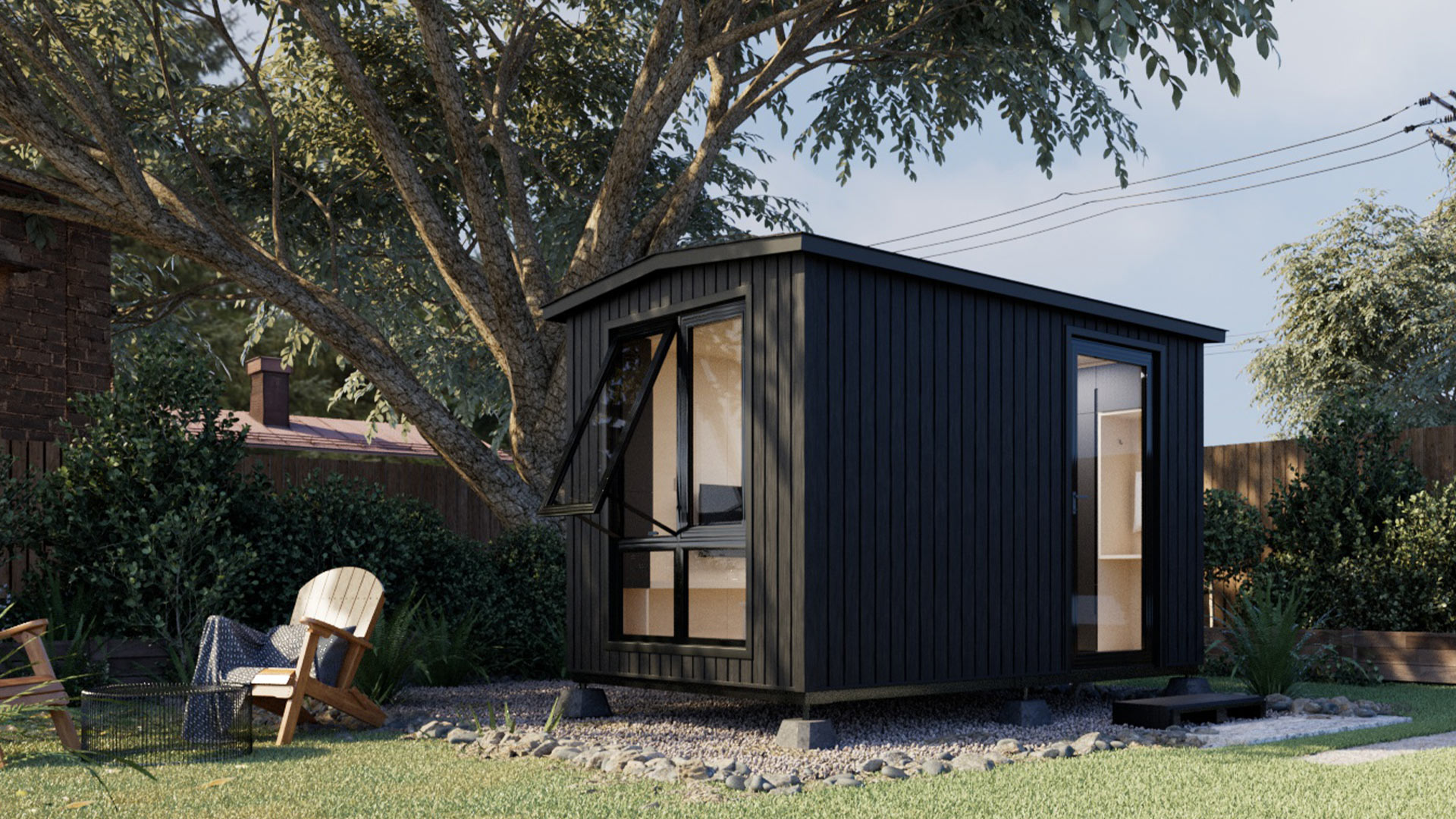 Dimension
8'4"W x 12'6"L x 9'10"H
Floorspace
105 square feet
Ceiling height
7'3"
Weight capacity
2.9 tons
Pedestal
18"W x 43"L x 7"
Window & door material
Powder-coated aluminum,  5/16" tempered glass
Material
Siding: plywood 1/2", steel frame, honeycomb paper, plywood 3/8", bitume, housewrap, vinyl siding
Roof: roof shingles
Floor: plywood
Pedestal: steel frame & wood plastic composite
Electrical devices
RCB, Wall outlet, Ceiling light switch, Ceiling light, Ventilator switch, Ventilator, Ethernet wall port, 66ft power cable with 2 connectors
Include
Optional: Cabinet, Desk, Small & Big Bookshelf, TV Shelf, Foldable Sofa Table, Convertible Sofa Bed. Always included: Electrical Cabinet
Power input
Maximum voltage : 110V AC (US standard)
Maximum current : 25A
Maximum power dissipation : 2750W
Key Features
Insulated to keep you comfortable through outdoor temperatures of 40 to 105 degrees Fahrenheit

Weight capacity of almost three tons

Fast and easy assembly 

A versatile base that works with any terrain and slight slopes

Sound-insulated tempered glass

Modern wooden privacy paneling with full-length windows cut in

Energy-efficient running
You can choose to buy the pod fully kitted out for studio living- or start with a clean slate and transform it into your dream additional dwelling unit. Another way to make your ADU StudioPod more livable is installing a smart heating system that offers a more controlled temperature through efficient energy usage. 
Autonomous WorkPod Lite
Keen to join in the ADU movement but don't have quite as much outdoor space available? Enter the WorkPod Lite: the ultimate dinky dwelling unit that does it all. This affordable prefab ADU offers all the same sustainable additional living benefits as its larger counterparts- just on a compact scale, with 80 square feet of floor space. 
It was also originally designed for use as a home office- and is the perfect size for this very purpose- but it is easy to transform into a kid's playroom (or a big kid's gaming room), a relaxing retreat space, an art studio, or a cozy exterior socializing space. It can even become a small guest bedroom.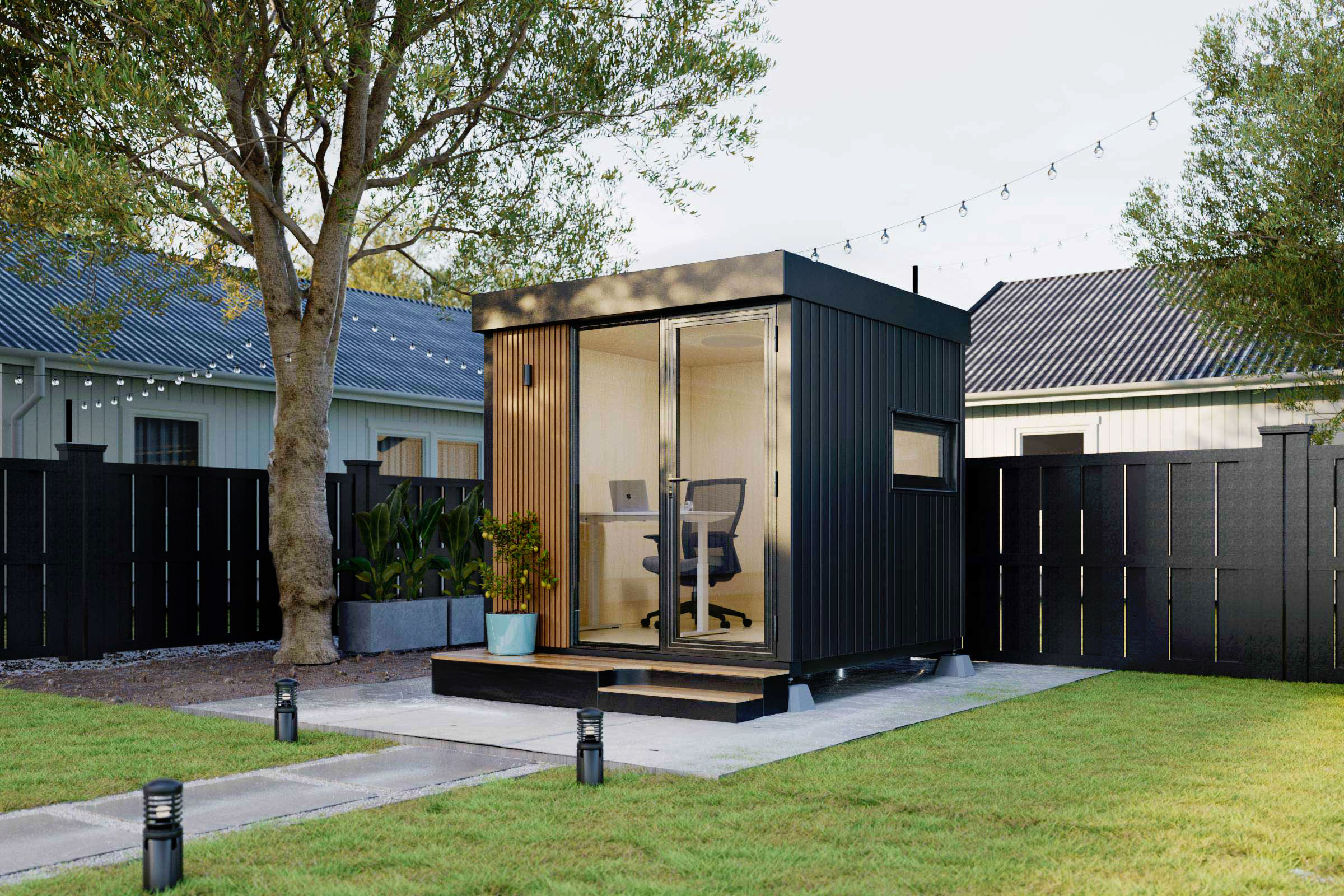 Dimension
8.7"W x 8.12"L x 9.3"H
Material
Window and door: powder-coated aluminum, 5/16-inch tempered glass
Siding: plywood 1/2-inch, steel frame, honeycomb paper, plywood 3/8-inch, bitume, housewrap, vinyl siding
Roof: metal roofing
Floor: plywood
Balcony and Pedestal: steel frame and wood plastic composite
Pedestal
24"W x 103"L x 9"H
Electrical devices
RCB, Wall outlet, Ceiling light switch, Ceiling light, Wall light, Ethernet wall port, 66ft power cable with 2 connectors
Weight capacity
2.3 tons (including Pod body)
Floorspace
80 square feet
Ceiling height
7.3-inch
Key Features
Insulated to cope with temperatures between 65 and 90 degrees Fahrenheit

Weight capacity of 2.3 tons

Set up and ready to go in just two days

Weatherproof and sound insulated

Installable on a range of terrains

Compact and budget-friendly 
The WorkPod Lite comes fully wired and ready to plug in and go- operating with impressive energy efficiency for an excellent, sustainable mini modular guest house, office, or lounge space. 
The Future of Off-Grid Home Design Technology
Moving forward, sustainability is likely to become an even greater focus in developing home design technologies- and it should hopefully move more toward mainstream housing. As it stands, off-grid houses are not all that common- although additional dwelling units have seen a major increase in popularity since the pandemic, when more people began working from home. 
Home affordability is down- between lack of housing and high-interest rates, so moving to larger properties may not be an option for many families. The solution: off-grid housing additions such as the Autonomous ADUs. 
These designs show a great leap forward in prefab ADU design- taking energy efficiency into account and creating smarter, cleaner, and more effective ways to improve people's home living quality without causing harm to the environment.
Final Thoughts
If living more sustainably is one of your goals, an off-griding home addition could be a beneficial solution. You can use an Autonomous ADU to adapt to remote working and cut down your emissions- or help curb the expansion of construction and destruction of nature by utilizing the space you already have rather than taking up more.  
Keep your loved ones close and provide them with a comfortable, multi-purpose living space that is better for the world around them.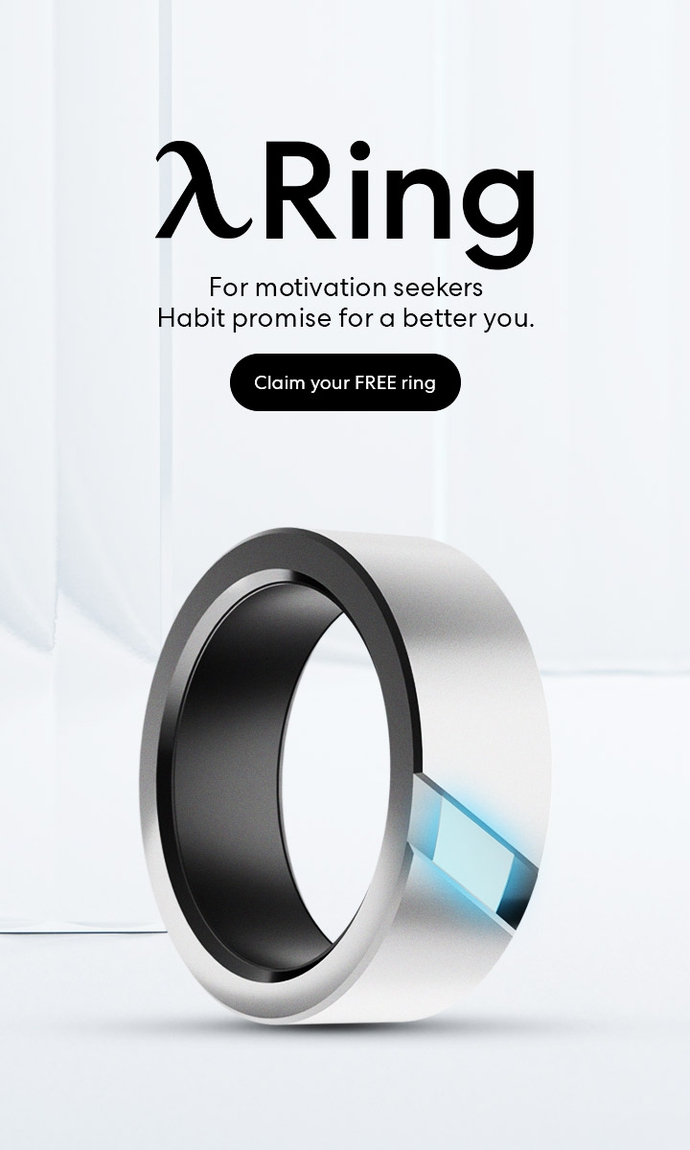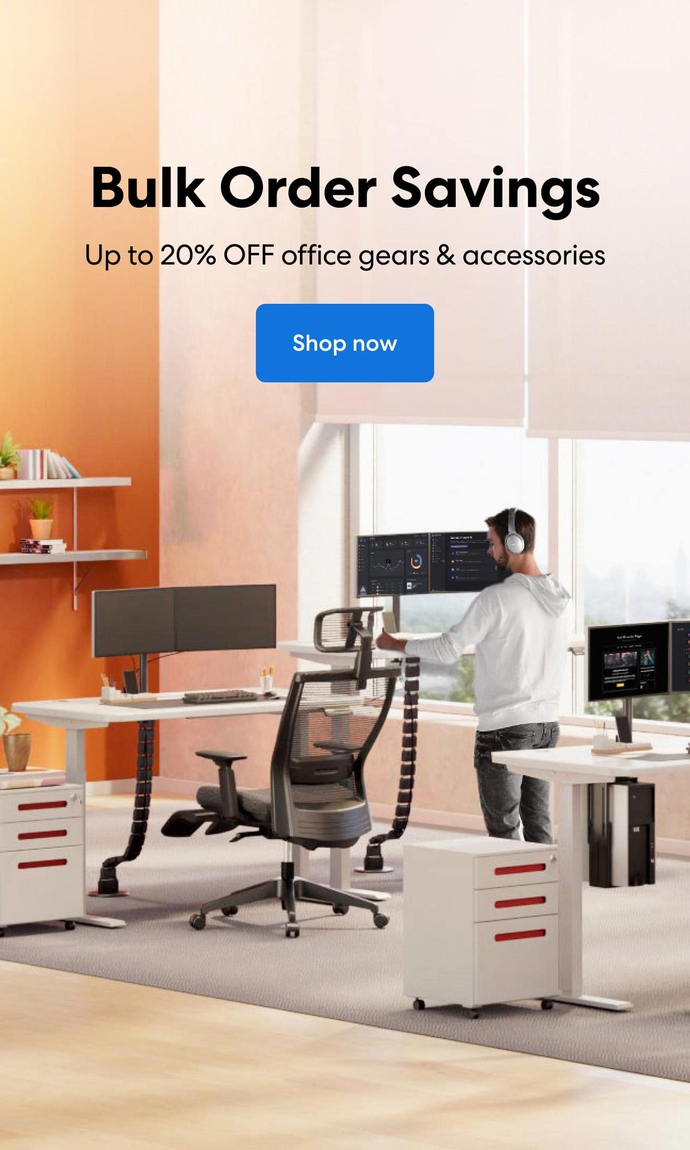 Subcribe newsletter and get $100 OFF.
Receive product updates, special offers, ergo tips, and inspiration form our team.