Ergonomic chairs are essential for office workers since they help them work all the time they need without suffering from physical health problems related to posture issues. Therefore, getting a swivel office chair for your office is a more than profitable investment in the long run.  
It's important you choose the right chair for you if you want to take the most advantage you can of its features. All workers are different from each other, and that means they have a different taste in office furniture.  
Nonetheless, the benefits sitting on a swivel task chair give you are not something you should ignore. There are tons of chairs available for you on the market, but that means not all of them are as good as one would think.  
You don't want to buy an ergonomic office chair blindfolded and then receive a low-quality product. Fortunately, you don't have to worry about that matter since here you can find 20 of the best swivel chairs of 2022! 
All the chairs in this article are of excellent quality, so you can choose the one that best fits your needs.  
Swivel Chairs Vs. Chairs Without Wheels

While buying a rotating office chair is more common for office workers, some ergonomic chairs don't have wheels or casters, and that can be a problem for you if you are used to using swivel chairs.  
People, though, often ask themselves: "what's the difference between a spinning office chair and a chair without wheels?" 
Well, the main difference between both is that swivel chairs have wheels, and the others don't. However, everyone should know when to get a swivel office chair and when to buy an ergonomic chair without casters.  
If you have a corner desk or need to do a lot of things at the office you are working at, it's best to get a swivel computer chair. The main benefit of these products is they allow you to move to other places without standing up, which saves a lot of time and keeps you from losing focus.  
Office workers who often need to speak to other employees can also benefit from swivel chairs since they can quickly move to where they are and back to their computers in a few seconds. 
As for chairs without wheels, people working on a budget would benefit more from one of them since they are often less expensive than swivel chairs. The reason for that is that swivel chairs often have more features than regular office products.  
There are many budget-friendly swivel chairs on the market, but you can go for one without chairs if you don't need to move that much from your computer or laptop. 
What Are the Top 20 Swivel Chairs of 2022?
1. Autonomous ErgoChair Plus
Autonomous is popular for offering some of the best ergonomic products you can find online, and the ErgoChair Plus is the perfect example of that. The ErgoChair lineup includes wonderful products, but this one has the most features you can find in the series.  
This chair's adaptative spinal support ensures your back's comfort and an ideal working position for your body. As for its casters, you can find a frameless construction on this swivel office chair to allow its user to move unhindered whenever they want. Back breathability and weight capacity are also decent on this rotating office chair.
2. Autonomous ErgoChair Pro
Do you need a swivel desk chair that is available in more than one color? Then, the Autonomous ErgoChair Pro is the one for you. People who care about office aesthetics can choose between the green, white, black, gray, red, and blue versions Autonomous offers.   
Color variety is not the only feature this chair has, though. You can adjust this swivel task chair as much as you want to fit your taste and needs, and its five lockable recline positions allow you to comfortably take breaks and calls without standing up from your chair.  
Breathability and durability are not a problem for this product, either. The chair's material and design encourage natural micromovements, which are excellent for keeping your body cool regardless of how much time you work.
Although many people take it for granted, working comfortably improves your comfort and productivity since it keeps you from getting distracted by stress or back pain.  
3. Autonomous ErgoChair Recline
While getting an office chair with caster wheels is good, it's also important to try getting more features than the standard each ergonomic product offers us. The Autonomous ErgoChair Recline, for example, is perfect for people who love reclining in their offices, and as its name suggests, that is this swivel desk chair's strongest feature.  
Like other Autonomous chairs, the Autonomous ErgoChair Recline can carry up to 250lbs, so people can sit on it regardless of their weight.
Fully-adjustable swivel chairs are excellent for office workers since they can customize their swivel office chairs as much as they want. The ErgoChair Recline is not an exception to that, and you can adjust its headrest and leg rest to feel more comfortable while reclining.  
4. Autonomous ErgoChair Core
While all the chairs in the ErgoChair lineup share some features, each of them focuses on addressing specific problems or giving you unique benefits. When it comes to the ErgoChair Core, it's easy to notice its developers wanted it to be an office chair for back pain.  
Go for this option if you are suffering from back pain or need a posture correction chair since you can take advantage of the chair's lumbar support pad and adjust it anytime you need.
5. Autonomous AvoChair
The Autonomous AvoChair is one of the most inexpensive chairs in the Autonomous roster, so it's perfect if you don't want to spend that much money on a modern swivel chair.  
Being budget-friendly doesn't make this chair of bad quality, and you can still expect it to be one of the sturdiest on the list. Apart from that, all the materials used for the AvoChair are recycled.  
As you could see, there are five different Autonomous products on this list. If you are planning on buying any of them, you can check the Autonomous Employee Purchase Program, which helps office workers find better deals for products from this company.
6. Herman Miller Aeron
Aeron is most likely the best Herman Miller product at the time, and that's due to its durability, breathability, and top-tier back support. Naturally, this swivel desk chair is fully-adjustable, too. You can notice its quality by reading all the positive reviews it has on ergonomics review websites.  
7. Steelcase Leap
Just like Aeron's Herman Miller's best product, Leap is Steelcase's flagship chair. Some chairs focus on preventing back pain from happening, but this Steelcase product eases the pain you already have, and it shifts as you use it to encourage micro-movements while working.
8. Hon Exposure Chair
We also have a room for minimalist designs on this list, and the Hon Exposure Chair proves that. Although it looks like a standard swivel computer chair, this product allows you to adjust its arms, height, and lumbar support. 
One of this chair's best features is its mesh back keeps you cool and reduces sweating.  
9. Furmax Office Mesh Chair
Following up with an inexpensive and lumbar supportive chair, we have the Furmax Mesh Chair. Comfort is not an issue for this chair due to its padded seat and breathability. Apart from that, its height-adjustability range is one of the widest on the list.   
10. Steelcase Gesture
Since Steelcase mostly focuses on designing ergonomic and standard office chairs, its designs are more modern and comfortable than the ones from other companies that don't care that much about the matter.  
You are going to feel comfortable on this chair regardless of the position you have while sitting on it or how much time you sit. The reason for that is its adaptive back that makes sure your back is supported at all times.  
11. Humanscale Freedom
If you are someone who loves reclining while working but doesn't like to take a lot of time assembling your ergonomic products, the Humanscale Freedom is the swivel office chair for you. Workers can also adjust this chair's headrest, lumbar support, height, armrest, and seat depth any time they feel like it.  
12. Herman Miller Embody
The only downside about Herman Miller products is that they are some of the most expensive chairs on the list, which makes them difficult to get for people working on a budget.  
If you can afford it, though, you are going to get a pillowy spinning office chair with an upright position that stays firm at all times while supporting your back.  
13. X-Chair X2 K-Sport Chair
Whereas some ergonomic developers focus on comfort and posture correction, others address those features and also care about adding new features to their products. Airflow is something people often take for granted, but the X-Chair's developers are not that kind of people.  
This chair's airflow is off-the-charts, so you can forget about sweating while sitting on your new chair.  
14. Flash Mid-Back Chair
All workers are different from each other, and that means they have different tastes when speaking about ergonomics. Some people love adjusting their swivel office chairs for hours, but others prefer a chair that is already ready for them to use. If you belong to the latter, the Flash Chair is an ideal fit for you.  
15. FlexFit Hyken Chair
The FlexFit Hyken chair is one of the most affordable office chairs on the list, so this is one of your best options if you don't want to spend that much money on a swivel task chair. You can find all the mainstream features of an ergonomic swivel office chair in the FlexFit Hyken, but what people like the most about it is its durability.  
16. Branch Ergonomic Chair
One of the issues people have with ergonomic chairs and desks is they don't like to spend a lot of time assembling them. Not everyone likes DIY activities, and products that are easy to assemble, such as the Branch Ergonomic Chair, are ideal for people who want a fast experience when buying ergonomic products. 
17. AmazonBasics Mesh
The AmazonBasics Mesh chair is for office workers who need ergonomic office features with only the basic ergonomic features you need on an ergonomic rotating office chair. This product's casters are smooth, and the swivel office chair is comfortable to a decent level, so you don't have to worry about that.  
18. IKEA Markus
IKEA doesn't stand out from its competitors by having the most stylish designs on the market, but it makes up for that by offering sturdy products you can rely on for a long time. The IKEA Markus, though, has a decent and sophisticated design, and it's perfect for small offices.   
19. Fully Alani
It's sometimes difficult to find high-back ergonomic chairs since not all of them are that good, and many ergonomic developers focus on mid-back products. Fortunately, the Fully Alani is a decent high-back chair that is also available in a wide variety of colors.   
20. Secretlab Titan Evo
Gamers and office workers often go for the same swivel office chairs since they both benefit from lumbar support and posture correction. Although it's a gaming chair, the Secretlab Titan Evo is not that flashy and looks professional, so office workers can enjoy its benefits with no problem.  
Conclusion
Ergonomic products are more popular each year due to how comfortable they make office workers and how they improve their productivity. However, some people are still hesitant to get them due to their price.  
While it's true ergonomic products are often more expensive than average office furniture, you can see the profits in your investment after a time sitting on ergonomic chairs. The productivity boost ergonomic features give you helps you work faster and improve your work performance.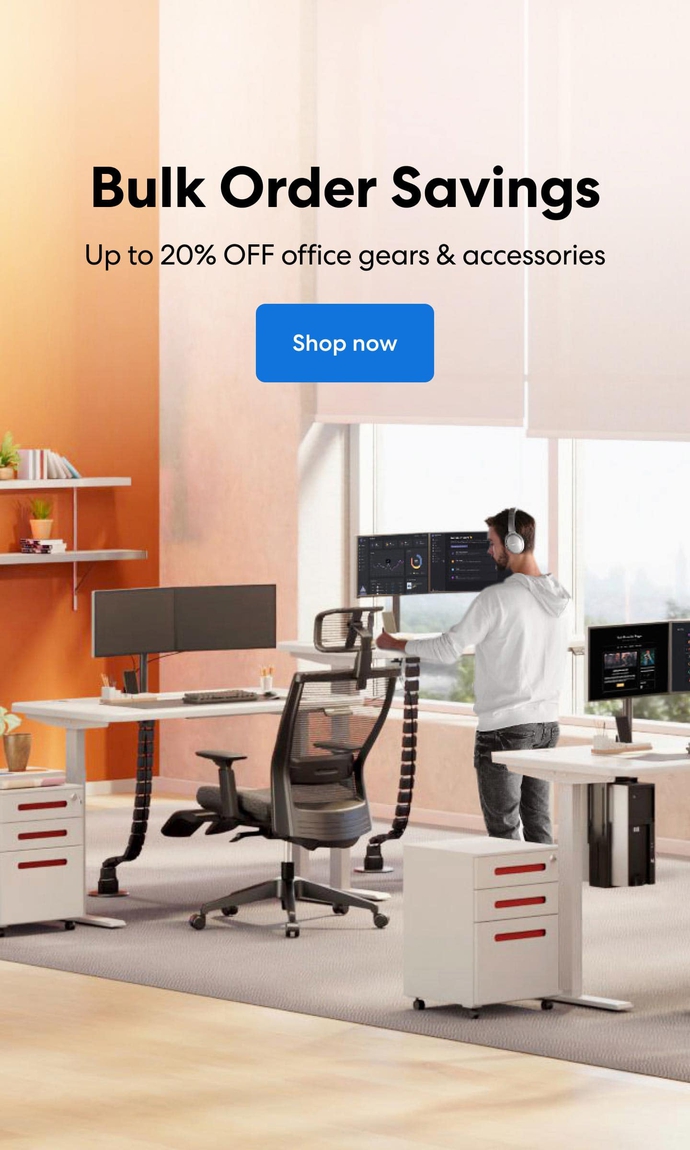 Subcribe newsletter and get $100 OFF.
Receive product updates, special offers, ergo tips, and inspiration form our team.