The days of bland and boxy 4:3 monitors filling libraries, homes, and offices are long gone. In recent years, the introduction of the wide monitor changed how offices work today. As a result, productivity and enjoyment are soaring more than ever. 
An ultrawide monitor setup is an excellent choice for ergonomic reasons that helps relieve the neck and eyes from strains. It also keeps the sides of the display nicely angled for easy viewing. 
Having a widescreen monitor doesn't mean it's an exclusively luxury purchase. Many monitors feature a 1080p or 1440p display; hence they also come at an affordable price.
Top 20 Wide Monitors to Buy in 2022
1. Pixio PX222 Monitor
The Pixio PX222 monitor is smaller than most monitors, making it excellent as a secondary unit for laptops and desktops, and it doesn't cut out on performance.  
The monitor has a 75Hz refresh rate, which lowers eye fatigue and enhances smooth motion whether you're working or gaming. You can give your eyes a little break by using the eye-saver mode to lower the blue light emissions.
5. Pixio Monitor PXC325
The PXC325 curved gaming monitor is highly adaptable for completing work and playing games after hours. This unique display has a 165Hz refresh rate and a 1500R Curved VA Panel, which is excellent for a viewing experience like no other. 
A 1920 x 1080 resolution yields a high pixel density that provides smooth performance, even with weaker GPUs. You can even enjoy artifact-free, smooth image quality with its built-in AMD FreeSync technology.
3. Pixio PX274 Prime Gaming Monitor
The PX274 Prime gaming monitor is ideal for those who work and play hard. It offers a good balance between performance and quality without breaking the bank. 
This 27" monitor has a 75Hz Refresh Rate with a remarkable 1440p WQHD Resolution that's perfect for productivity and gaming. It also has a 108% sRGB Color Gamut that provides a higher range of colors for more vivid images.
4. Pixio Monitor PX275C Prime
The PX275C Prime is a 100Hz monitor that's equipped with a visually astonishing 27-inch WQHD IPS display. You also get a  1440p resolution that gives high pixel density while providing smooth performance. 
Finally, the AMD FreeSync technology ends choppy gameplay and eliminates flickering from brightness levels. This display has more red and green colors, offering a more dynamic picture.  
5. AOC CU34G2X
This AOC wide monitor is an outstanding monitor that's great for gaming since it has G-SYNC and FreeSync compatibility, a 144Hz refresh rate, and low input lag. It has good ergonomics if you ever need to set the screen in an ideal position. 
It's also suitable for content creators and office use thanks to its enormous screen and excellent text clarity, but it has narrow viewing angles. 
6. LG 29WQ600
The LG 29WQ600 offers incredible value for the money with its remarkable 100Hz refresh rate. The monitor has an IPS panel with a 99% sRGB gamut, ensuring precise, consistent, and rich color reproduction suitable for entry-level photographers and designers. 
Its 1080p resolution offers plenty of screen real estate and excellent vivid details thanks to the 96 PPI solid pixel density. 
7. Sceptre C305B
This ultrawide gaming monitor stands on a VA panel, so you get a greater contrast ratio of 3,000:1. As a result, you gain much deeper blacks and a more graphic relation between the brightest and the darkest shades. 
The Sceptre C305B is exceptional with its fast 200Hz refresh rate at such a low price, making the gaming experience more immersive and responsive. 
8. BenQ Mobiuz EX3415R
The BenQ curved and wide monitor is ideal for general use - it can be used for anything you need an ultrawide screen to do. It has perfect ergonomics, excellent build quality, and a completely adjustable stand. 
This curved monitor features a 34-inch IPS panel with 1440p resolution for the ideal balance of detail and fidelity, 1ms response time, a 144Hz refresh rate, and HDR response for a better working and gaming experience. 
9. Samsung CJ791
This 34-inch widescreen monitor is a unique piece of hardware. It supports several uses, providing an HDMI port, two Thunderbolt 3 ports, one DisplayPort, and two USB-A ports. 
The CJ791 has excellent picture quality with rich colored blacks and vibrant, lifelike colors that saturate your vision from every angle. The video content is fluid, thanks to AMD's FreeSync and 100Hz refresh rate. 
10. Alienware AW3420DW
Dell's 34-inch Alienware monitor is an excellent gaming monitor as it has everything a gamer needs. It packs a 1440p resolution and a curved IPS panel that produces wide viewing angles and rich colors. 
The Alienware AW3420DW has Nvidia's G-Sync technology for smoother, tear-free frame rates. It also has a 120Hz refresh rate and a fast response time, so it's no doubt this monitor is a beast for work and gaming.
11. Acer Nitro XV340CK
The Acer Nitro XV340CK is a 34-inch ultrawide gaming monitor. It runs smoothly and is responsive due to its 144Hz refresh rate and low input lag. It looks very well with different computer accessories and produces a great gaming experience.  
Its outstanding response time makes fast-moving content seem crisp, and it has a Black Frame Insertion feature that improves motion clarity further. 
12. Gigabyte G34WQC-A
The Gigabyte G34WQC-A is a 34" ultrawide monitor that provides true blacks with rich details in the highlights and shadows of the image. It's ideal for a 4-monitor setup and includes many gaming features such as MBR and FreeSync. 
It has a resolution of 1440p, which allows great image quality with a wide color gamut, high pixel density, and contrast. It also has a 144Hz refresh rate for a fast and responsive experience. 
13. Gigabyte M34WQ
While the M34WQ is not as fast as the G34WQC-A, its pixel response speed is quick enough to eradicate most ghosting in fast-paced video games. There's also no dark-level smearing with this VA model. 
This gigabyte model is the most affordable option if you want a 34′′ 1440p ultrawide monitor with smooth performance. It even provides consistent VRR performance with no flickering brightness.  
14. Samsung Odyssey G7
The Samsung G70A is excellent for most uses, including a vertical dual monitor setup. It's perfect for gaming because it has superb low input lag, motion handling, 144Hz refresh rate, and HDMI 2.1 inputs.  
It's also fantastic for office use, content creators, or consuming multimedia content; hence its 4k resolution creates sharp text, and the wide viewing angles deliver a precise image when viewed from the sides. 
15. Dell S3222DGM
The Dell S3222DGM is best for media creation or office use and provides a great gaming experience. The 32-inch, 1440p widescreen has incredible screen real estate for a stacked monitor setup.  
It's a fantastic gaming wide monitor with a low input lag, fast response time, and several extra gaming features, such as variable refresh rate technology.  
16. MSI Oculux NXG253R
The MSI Oculux NXG253R wide monitor is ideal as a gaming monitor, with a brilliant refresh rate, excellent response time, and low input lag. Its stand has superb ergonomics and viewing angles, so it's easy to find a relaxing viewing position. 
Its small size may be limiting for some office users, but aside from that, it's an excellent option for productivity, office use, or creating content. The unit has peak brightness and excellent reflection handling, so glare should be minimal in a bright room. 
17. Samsung UR59C
If you're looking for an affordable display with many pixels, the Samsung UR59C is an excellent budget 4K monitor. The VA panel has a high contrast ratio (2590.5:1 after calibration), which improves the appearance of everything from videos to photos to games. 
This is not a high-end gaming wide monitor because it only has a 4ms (GTG) response, a 60Hz refresh rate, and no G-Sync or FreeSync. This Samsung monitor is best for office use to maximize focus and productivity. 
18. Aorus FO48U
Overall, the AORUS FO48U is an outstanding monitor. The big, high-resolution screen is ideal for media creation or multitasking. Because of the near-instantaneous response time and low input lag, it's suitable for gaming in HDR and SDR.  
The perfect black uniformity and nearly infinite contrast ratio are ideal for watching videos in low light. It's even great for the office, though writing in dark rooms might be difficult. 
19. ASUS TUF Gaming VG259QM
The Asus Tuf is an excellent monitor that provides a smooth and responsive gaming experience with its high refresh rate and low input lags. It's also a great monitor for the office, but it might be too small for some. 
This wide monitor has outstanding ergonomics and wide viewing angles to make sharing your content or work easier. Its excellent peak brightness makes it perfect for brightly-lit settings.
20. ASUS PA278CV
The ASUS PA278CV is an exceptional office monitor. It is bright enough to battle glare in most lighting conditions and has excellent reflection handling. It also has great ergonomic adjustment options to set the monitor to your ideal viewing position.  
Its IPS panel has wide viewing angles, making it ideal for content sharing. Finally, the Asus PA278CV's resolution and size are appropriate for the side-by-side window opening, and it's excellent for your wide monitor setup.
Wide Monitor Buying Guide: Choose the Best Monitor for Your Office
Buying a widescreen monitor isn't just a walk in the park. Consider the essentials before purchasing a monitor for your workspaces, such as monitor type, size, resolution, refresh rate, and other features that are going to be helpful to you. 
Monitor type
IPS leads the world of PC monitors. Modern IPS monitors have high refresh rates with fast pixel response times, which is good news for animators and graphic designers. OLED and VA are also suitable if you're looking for something for work, and avoid TN at all costs! 
Screen size
Most monitors have a 24", 27", or 32" screen panel. You might assume that bigger is better, but more important is how the display fits the person's field of view. A 27" monitor is an ideal choice, though you can go for a 32" if you prefer a bigger one. 
Display resolution
Most budget widescreen monitors have a 1080p native resolution, which is suitable for a 24" monitor. However, the lack of sharpness is noticeable on larger displays, and they are better off with a 1440p resolution.
Refresh rate
Having a higher refresh rate on your monitor means it can quickly update the display's image each second. If you're doing regular office work, 60Hz is ideal for your workspace. However, if you're someone who plays video games, animates a lot, or does graphic design, having a 144Hz will provide you with a smooth image display.
Adaptive sync
This is meant more for gamers and people who work with graphics. If you're using a monitor strictly for non-intensive workload, it's not something you must have. Nonetheless, some productivity monitors might have adaptive sync as a bonus feature.
Monitor's stand
Some monitors have fixed plastic stands that offer no adjustments, and some have a stand that you can adjust at any angle or orientation. It's best to look for an adjustable monitor stand with better height and tilt for your neck.
HDR
A high-dynamic range can support a broader range of color and luminance than SDR. If you're looking for a great HDR experience, a monitor that uses Mini-LED or OLED technology will do the trick. Only Mini-Led and OLED provide the color performance and contrast required to make HDR stand out.
Features
Most monitors don't have many features that stand out from their competitors. Some have a USB-C hub and speakers on the monitor as a bonus.
Conclusion
This concludes our list of the 20 best wide monitors in 2022. You can choose from many options, including some expensive, cheap, and fantastic value-for-money monitors. There are plenty of setup options that you can do, such as vertical, horizontal, and stacked monitor setups. 
These monitors are also great if you want to attach them to your wall. However, there's also an option to have a desk that hides the monitor if you want to organize your space better.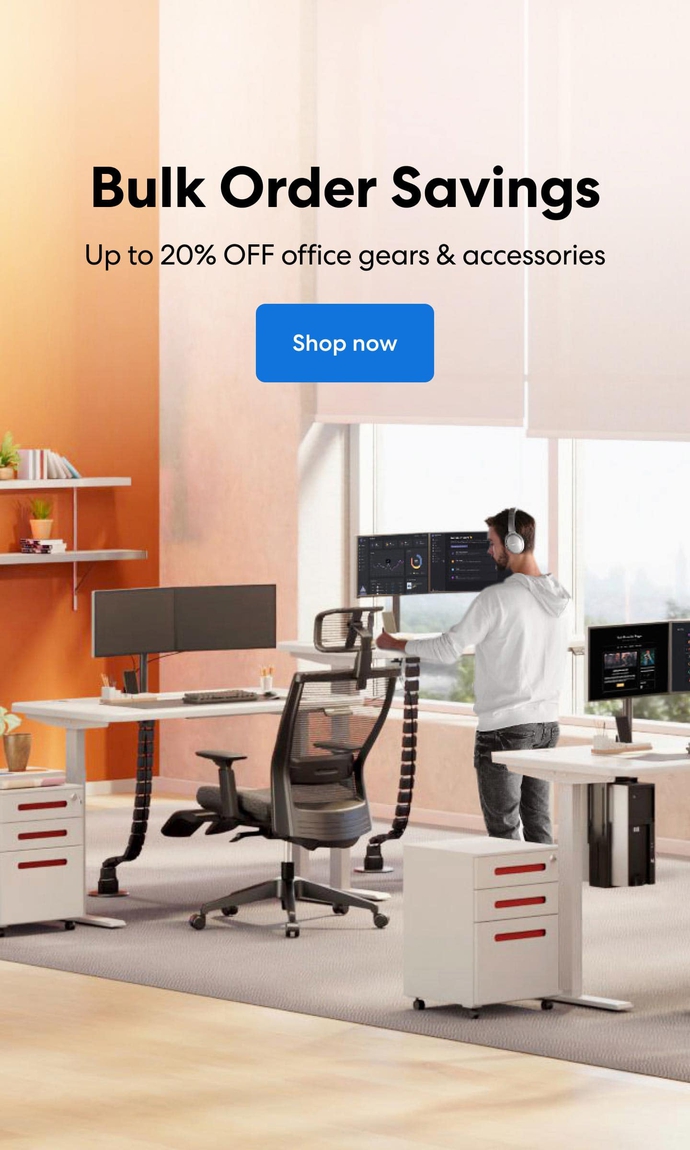 Subcribe newsletter and get $100 OFF.
Receive product updates, special offers, ergo tips, and inspiration form our team.