Latest Updates
The 3 Best Standing Desk for Dad Work from Home 2021

Autonomous
|
Jun 16, 2021
1,755 Views
Are you still looking for a gift for your dad for this Father's day?  Have you not had the time as yet to scout for anything relevant?
Don't worry! We got you covered with a choice of the best gifts that your dad will use every day.  He will remember your love and affection as you show him your love and affection as you say, 'Dad, I love you.
Take care of your dad's health as he sits and works at the office /home office for long hours to manage the needs of all family members. Take care of your dad just as he took care of you when you were young! Get him an office desk for Father's day!
A Standing Office Desk
Gift your dad a Father's day standing desk! Yes, a standing office desk that gives him an option to sit or stand and work. If he gets tired of sitting, he could always stand for some time before he decides to sit down to work again! No need to clear the workspace. You can leave all office stationery and computer systems as they are.
Wondering why he would need to do that? You have missed the research that highlights the importance of breaking the monotony of sitting long hours at work. This makes folks prone to various health concerns, including cervical issues, obesity, changes in blood pressure, and more. Don't miss the health issues that come from stiff body postures or incorrect ones, including stiff back & shoulders, backaches, neck sprains, Carpal Tunnel Syndrome, Repetitive Syndrome Injuries, and more.
You surely don't want this for your dad!
What benefits does the standing desk offer? Well, designed ergonomically, the standing desks for home office give the user the freedom to stand or sit and work. Yes! That's true!  Benefits? Results have shown an increase in blood flow, a break in the monotony of cramped body muscles, a higher amount of calories, and more.
Read on for our recommendations of the top 3 standing desks.
The 3 Best Standing Desk for Dad Work from Home 2021
With a standing desk, you just cannot go wrong with your choice of Father's day gift for your dad! 
1.  SmartDesk Core
Filled with features, this best standing desk for work from home dad is much needed for a home office. Built with elegance, the SmartDesk Core is simple and useful. This standing office desk offers you the freedom to adjust all the settings at the flick of a button. Lower it or raise it between 29.4" to 48", as you find it comfortable, as dual motors power it.
It is available in six different colors that adapt to most home office decors. You also have three color choices for the sturdy solid steel frame. The table can easily take weights up to 265 lbs. This standing desk for dad meets all guidelines for best comfort shared by OSHA, USA.  
What's more, you have two options of sizes, the regular desk (53" W x 29" D) or the XL size.  
2.   SmartDesk Pro
This ergonomic standing desk for dad is the best space-saving unit as you can lower or raise the desk after work for multiple purposes. Installing it wall side saves space too. If two folks need to work on it, you can always pull it to the center or use the smaller side of the stable (the depth side, which is 29 inches in width).
The SmartDesk Pro has a natural wooden top classic finish.  The tabletop is available in six different colors. You have a choice of three colors for the sturdy steel frames. A powered motor gives you the perfect work desk height to stand or sit and work; the choice is yours. 
Get the best standing desk for a fit dad!
3.  SmartDesk Corner
A bestseller that is the choice of most folks, the SmartDesk Corner is an L-shaped standing office desk. It gives you options to seat two folks close to each other.  Both folks can individually lower or raise the table height with the triple motor. These motors of this standing desk for dad are super silent as they go about doing their job when instructed.  Adjust the desk's height between 29.4 inches to 48 inches by merely pressing a button. You have four programmable settings for quick access to a pre-set height.
Hold a meeting, or use the corner workspace to accommodate some work files with the large workspace that you get. If your role requires a large workspace to spread open charts and design boards, this is the table for you.
Some offices have deployed this table in small meeting rooms. Benefits? Two or more folks can use this L-shaped corner standing desk for dad for quick connection meetings. Great idea, isn't it? You just wouldn't be able to take your mind off this one.
If you have decided on the office desk, don't miss the accompanying ErgoChair Pro that offers you the freedom to adjust the seat height, armrests, seat tilt, headrest, and backrest. With the highest degree of comfort, there is little tiredness as you work for long hours. The backrest can be customized for each user's body shape and postures while seated.  Maximize the backrest to a twenty-two-degree recline or lock into any one of the five positions as per your comfort.
While working at the standing desk for dad, the backrest takes in the natural S-shaped spine for firm support. Your upper and lower back is supported firmly as the chair takes the stress, not your back! No more pains and aches.  You must ensure that the lumbar support is adjusted to your lower back for the best support.
Reap out some deals from Autonomous Father's day Promotion: Priced $349 for EverGreen Chair and $449 for Red Apple and Baby Blue version (regular price $499), the ErgoChair Pro is your best gift for your dad's health! 
Here's an irresistible offer – only $699 for the bundled SmartDesk Core + ErgoChair Pro (EverGreen) instead of the regular price of $998 – 30% off! 
Summary
As you scout to give your dad a gift, show him your love and care with a standing office desk and chair that promises good health like no others!
Video ads for product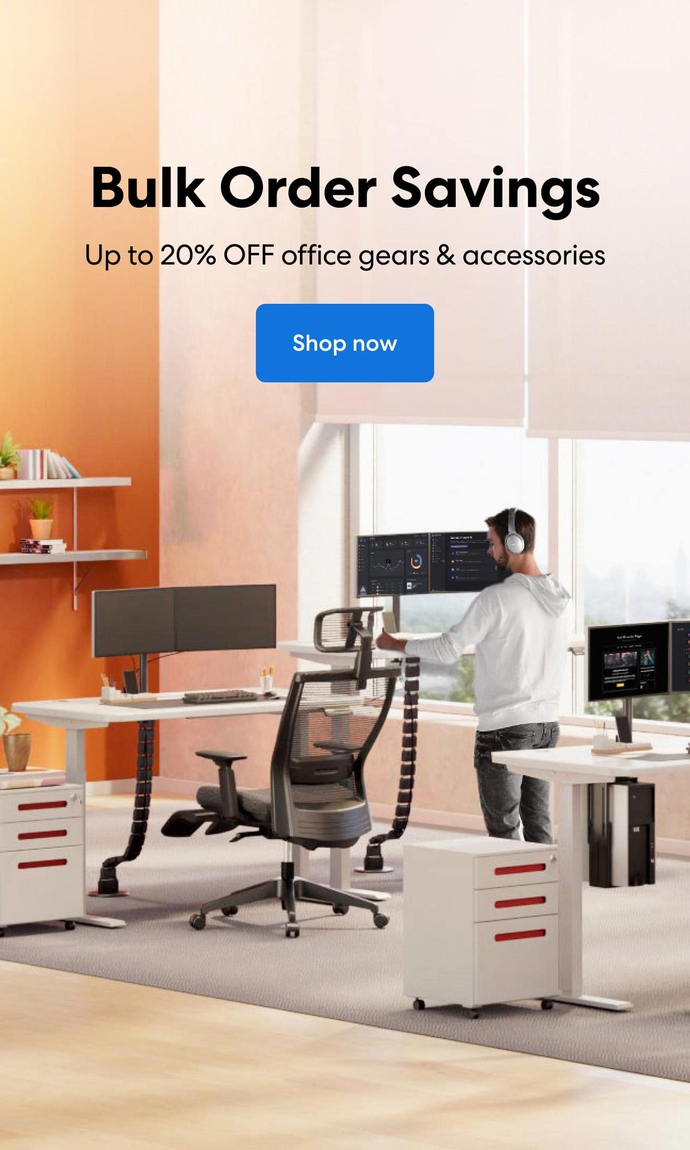 Subcribe newsletter and get $100 OFF.
Receive product updates, special offers, ergo tips, and inspiration form our team.