Smart Products
Unlock Savings and Convenience: The Benefits of Buying in Bulk Online

Autonomous
|
Jul 5, 2023
389 Views
If you need to furnish your entire office, one of the best ways to save yourself a lot of time and money is to buy bulk online from a single trusted supplier or manufacturer. Many reliable furniture stores, such as Autonomous, offer great savings opportunities to customers who buy in bulk. 
Since the Covid-19 pandemic, many furniture stores have been working hard to improve their online shopping experience, making buying in bulk online easier than ever before. These days bulk online shopping is just a matter of a few clicks of your mouse, and your items will be delivered right to your doorstep. 
If you are looking for the best place to buy in bulk, you have come to the right place, because Autonomous has everything you need. Read on to find out why online bulk shopping may be the best option for you in 2023. 
What Are the Benefits of Buying in Bulk Online?
Buying a lot of cool desks for your office all at once has significant benefits compared to purchasing one item at a time. Consider the following: 
You can save a lot of money when you buy in bulk by taking advantage of the discounts and other incentives that suppliers reserve for customers who buy bulk online furniture.

There are a lot of conveniences that come with bulk purchases in terms of logistics because instead of running around from one supplier to the next, you can deal with one shop for all your furniture requirements.

Buying in bulk requires less packaging, which is better for the environment.

You can significantly reduce the total transport miles that need to be covered during delivery when you buy in bulk, which not only saves you money but reduces emissions too.

Uniformity is very important when buying office furniture and buying in bulk online is one of the best ways to ensure that all your furniture looks the same.

Some suppliers offer a lot more customization options for bulk purchases, which allows you to get office furniture that is tailor-made for your brand. 
Five Tips for Buying in Bulk Online
There is an art to buying in bulk online that you will need to learn if you are going to enjoy all the benefits of such a huge purchase. It is not the same as buying a single standing desk. A lot more thought is required so that you do not end up regretting your purchase. 
If you feel it is time to upgrade your office furniture and get each of your employees a brand-new computer desk with a keyboard tray, consider the following useful tips to make your bulk online shopping experience a smooth one: 
Talk to the Manufacturer Directly
Many online outlets are simply suppliers, not manufacturers of the items they sell. This means they may not be able to offer you the kind of discounts you were hoping for when buying in bulk. 
In such a case, it pays to contact the manufacturer directly and explore all your possible options. Chances are, if you approach the company responsible for turning desk materials into state-of-the-art standing desks, they may be able to offer you a much better deal on bulk purchases.
Request a Sample
If you find out that the average desk height of every single desk that you bought for your employees is wrong after accepting the delivery, what will you do? If no returns are accepted on bulk purchases, this may end up being a huge loss for you. 
It is always important to ask for a sample before committing to a bulk purchase. When buying bulk online office furniture, you can request that a single L-shaped standing desk be delivered, for example, so that you and your colleagues can test it out before buying more units. 
Negotiate the Price
Manufacturers and suppliers love dealing with customers that buy in bulk, so you can use this to your advantage. Discuss the cost of a single home standing desk and see what kind of discount the manufacturer is willing to offer you if you buy, for example, 10 or more units. 
Here, you will have to make use of your negotiating skills so that the manufacturer does not take advantage of you. Any reliable outlet usually has discounts and other incentives that encourage customers to buy in bulk. 
Discuss the Shipping Options
One of the biggest costs when it comes to bulk purchases is shipping. Furnishing your entire office is not the same as simply buying a single smart desk for your home office. The logistics are a lot more complicated. 
You need to buy from manufacturers that are willing to assist you in terms of transporting your bulk office furniture. Some places even offer free shipping for bulk orders, which is something that can help cut down your costs.
Prepare Adequate Storage
If you are not going to immediately use the desks and other pieces of furniture you are buying, storage is something you need to think about. You may need to find a very large area to store your desks until you are ready to use them, especially if you buy bigger items, such as a long desk for office use.
10 Places You Can Buy Furniture in Bulk Online Today
There are so many places online where you can buy furniture in bulk. However, you have to be careful when choosing the right supplier or manufacturer. Not all of them will offer good prices for bulk purchases, and some outlets will not have the kind of high-quality furniture you need. 
The following are 10 great options for you to consider: 
1. Autonomous
At the very top of the list is Autonomous. If you are looking for great furniture at awesome prices, this is the number one shop for you to visit. Here you will find everything you need for a modern office. 
What is so great about Autonomous is that it offers massive savings on wholesale office furniture. That means if you plan your purchases well so that you buy everything you need at once, you will enjoy a lot of discounts that will help you stay within your budget. 
On the Autonomous website is a page dedicated exclusively to bulk purchases. You can easily scroll through the available products and compare the price for single units against what you will pay when you buy in bulk. 
Along with flexible shipping and assembly offers on some of the products, Autonomous also offers customers who buy in bulk free gifts to go along with their purchases. You can even make your shopping experience a lot easier by shopping according to the space you want to furnish, for example, a meeting room or office reception.
2. Serena and Lily
If you are looking for a different type of office or home décor that will set your room apart, Serena and Lily is the best place to buy in bulk. The online shop specializes in classical chic furniture that reminds you of coastal homes. 
This is a manufacturer that puts a lot of effort and attention to detail when designing and manufacturing furniture. As such, when you buy from Serena and Lily, you are guaranteed that the furniture is high quality, which will give you peace of mind when buying in bulk online. 
3. Saatva
Saatva is a furniture supplier that specializes in bedroom furniture above all else. If you want to furnish your bedroom with only the best pieces of furniture available, this is a great place to begin your search. 
Hotel owners who are looking for bulk bedroom furniture will find everything they need at Saatva, at great prices too. The furniture will be made according to their order and will not involve the use of toxic chemicals and materials, which is great for those looking to buy bulk online without destroying the environment.
4. Amazon
Amazon needs no introduction when it comes to online shopping. This is easily one of the biggest and most easily recognizable online retailers in the world. The range of furniture items available at Amazon is massive. 
When looking for the best place to buy in bulk, Amazon will always be there on the list. Doing your online bulk shopping means that you are not limited when it comes to choices because you can find whatever designs and styles you want easily. 
5. Maiden Home
Maiden Home is one of the few remaining furniture shops that manage to achieve that special balance between luxury and durability. When buying in bulk online at Maiden Home, you are guaranteed that whatever items you select will last a lifetime. 
This is one of the biggest concerns when furnishing your offices because the last thing you want is to buy a lot of furniture that you will end up replacing again in a few years
6. Nordstrom
Nordstrom is a great place to go when you need all the home and office essentials. Here, you will not find as wide a range of products as you would at other places, such as Autonomous, but you will certainly get all the basic furniture that you need. 
At Nordstrom, bulk online shopping is made very easy. With just a few clicks of the mouse, your purchase will be ready for payment and delivery to your doorstep. 
7. Homary
Although Homary is a massive online furniture store, it is not as well-known as other outlets, such as Amazon and Autonomous. However, once you discover this great furniture supplier, you will be glad you took the time to search for it. 
Homary is the kind of place you visit when you are not yet sure what kind of office décor you are looking for. The online store has a little bit of everything, meaning you can take your time to browse through the extensive catalog until you find what you need. The prices are very reasonable too, which is great for bulk purchases.
8. The Citizenry
The Citizenry has a very impressive selection of furniture items, from modern pieces to those with a more traditional style. If you take the time to browse through the list of available items, you will be sure to find what you are looking for. 
What is great about The Citizenry is that it is a one-stop shop for all your furniture requirements. By getting all your furniture from the same outlet, you will save time, reduce travel, and enjoy massive discounts on your purchases. 
9. Arhaus
Ever since Arhaus opened its doors to its first customers back in 1986, it has manufactured and supplied furniture that is made using sustainable means. This makes it one of the go-to furniture shops for customers who care about the environment. 
Arhaus has had many changes since then, in terms of the designs and types of furniture it sells. However, its commitment to sustainability has remained. When buying in bulk online, you always need to think about the environmental impact of such a huge purchase.
10. AllModern
At AllModern, you can find some of the latest designs in the furniture industry. If you are not interested in antique or traditional office furniture, AllModern is the best place to buy in bulk. 
The furniture at AllModern is manufactured using durable, high-quality materials, meaning you can rest assured that it will last a long time. The online furniture shop also sells contemporary pieces that are a modern twist to designs that you may recognize from traditional décor. 
Enjoy Great Savings When You Buy in Bulk
With so many advantages of buying in bulk online, and so many great online furniture outlets to consider, it's definitely worthwhile purchasing your office essentials in one go. 
Autonomous is one of the best places to go where you can find everything you need under one roof. The store has a great online catalog that is easy to navigate and makes bulk online shopping an absolute pleasure. 
With so many great discounts and massive savings to look forward to, Autonomous should be at the top of your list of great furniture stores to buy bulk online furniture in 2023.
Video ads for product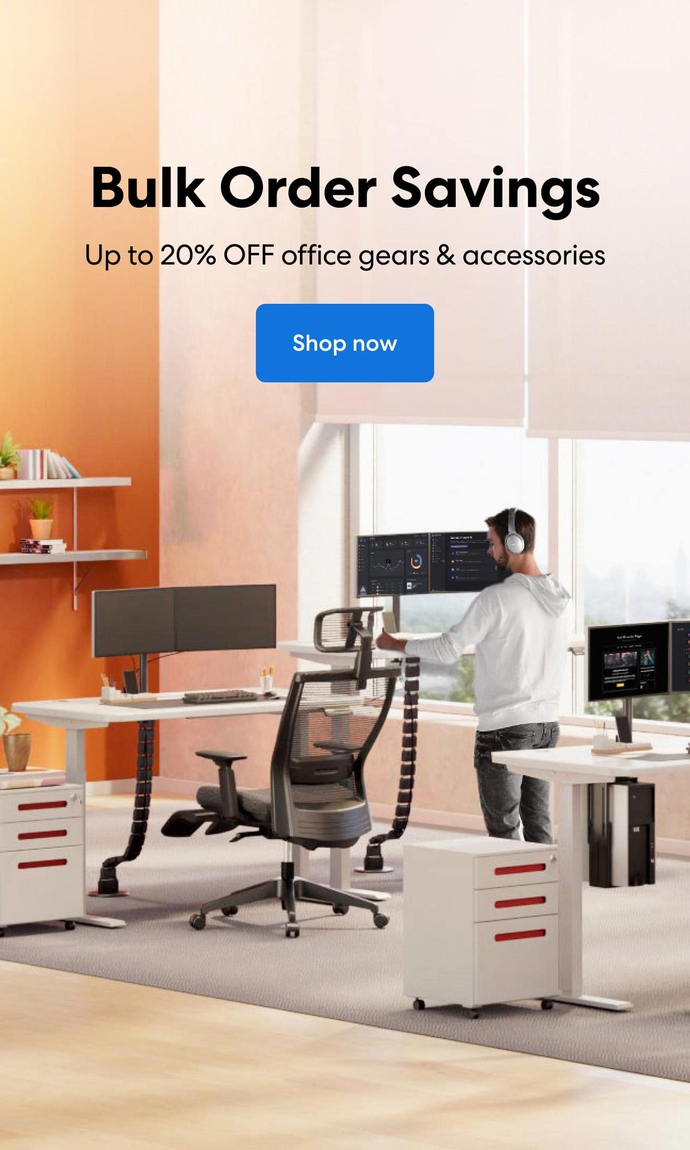 Subcribe newsletter and get $100 OFF.
Receive product updates, special offers, ergo tips, and inspiration form our team.