Smart Products
What Are the Best Ergonomic Chair Brand Options of 2023? A Complete Guide
3,016 Views
It's vital to ensure your comfort, especially with the enhanced adoption of sedentary lifestyles. To offer optimal comfortability, the right ergonomics should be included in your workspace.
One of the best ways of enhancing the ergonomics of a working area is to invest in a supportive and comfortable office chair. However, the market is flooded with renowned brands that provide some of the best ergonomic chairs that money can buy.
The massive range of ergonomic office chairs on the market can make it challenging to find one that best suits your preferences. That's why we have curated this list of the top ergonomic chair brand choices. Continue reading to find these brands' flagship products and more. 
Why Should You Invest in an Ergonomic Chair?
An ergonomic office chair can help boost morale while offering a dedicated workspace that's enticing and comfortable to work in. It's widely known that sitting for extended periods isn't good for your health and can adversely affect your body.
It would be beneficial to buy an ergonomic chair if you commonly experience neck or back pain while working. However, it can be challenging trying to find an office chair that offers the right ergonomics while aligning with your preferences.
Luckily, we have highlighted the best office ergonomic chair brands in the game to ensure you find the right one. Continue reading to find out more.
What Is the Best Ergonomic Chair Brand?
We have found the top six best ergonomic chair brands and the flagship products associated with each manufacturer to help you identify which is the best one for your workspace. Here are the top ergonomic chair brands and flagship products you should consider:
1. Ergonomic Chair - Autonomous
Autonomous is miles ahead of its competitors when it comes to adjustable, ergonomic, and comfortable furniture. From the durable materials used in each product's construction to the Autonomous world-class intuitive designs, every element making up this ergonomic chair for back pain is top-notch. Moreover, the wide array of Autonomous standing desks and ergonomic chairs have eclectic designs equipped to cater to numerous needs.
ErgoChair Pro
The ErgoChair Pro is known as the best office chair under $500 that Autonomous has available for office use. Its fully customizable design and comfortability help to offer enhanced support even after prolonged usage.
One of the most well-liked features that come with the ErgoChair Pro is that it can improve your posture rapidly. This is because it comes with effective lumbar support and comfortable cushioning. Combining this well-built ergonomic chair with one of Autonomous' SmartDesks offers enhanced ergonomic benefits.
Pros and Cons of ErgoChair Pro
It's extremely supportive.
You can have numerous adjustable features to offer customized support.
The design makes it easy to assemble.
There are many handles included in the construction, which can cause confusion.
ErgoChair Plus
Another fantastic piece of ergonomic furniture from Autonomous is the ErgoChair Plus. It's designed with a fully adjustable and customizable system. You can easily adjust the tilt angle, seat height, armrest, and lumbar support for optimal comfort and support.
The intuitive design of this ergonomic chair is equipped to fit your stature and body. Such inclusions ensure this product offers unmatched comfort and adjustability, even if you're taller. Another prominent feature of the ErgoChair Plus is the fishbone design constructed with advanced TPE material.
This unique design offers enhanced airflow, which ensures you remain refreshed even when you're seated for extended periods. One of the most prevalent benefits that come with using the ErgoChair Plus is that you can effortlessly promote back health while correcting posture, making it a must-have in any ergonomic workspace.
Pros and Cons of ErgoChair Plus
It offers a design suitable for any office worker.
The control placement offers a convenient way to make adjustments.
You can move your body freely and comfortably while keeping your spine aligned.
The assembly might be complex for some.
2. Ergonomic Chair – IKEA
IKEA is known for offering affordable ergonomic furniture that makes you feel comfortable and supported throughout your entire working day. The durability of these products is good when you compare it to the price. However, the quality is far below more established ergonomic chair brands like Autonomous and Herman Miller. Nonetheless, this is a suitable brand for individuals who are looking to make their workspace more ergonomic while being on a tight budget.  
Ikea Markus High Back Ergonomic Office Chair
IKEA is more so known for offering office chairs designed with aesthetics over ergonomics. However, this isn't the case when you're looking at the ergonomic chair IKEA Markus. When purchasing this model, you're offered exceptional features that promote proper spinal alignment.
The mesh back is one of the most well-liked elements making up this ergonomic chair. You can remain refreshed and cool even when you're seated for extended periods. This is due to the mesh backing enhancing the airflow, preventing any sweat build-up.
Moreover, this mesh fabric offers tailored support to your back. Its high back also fits with your back's natural curves for optimal support while being the best option for those who run hot.
Pros and Cons of Ikea Markus High Back Ergonomic Office Chair
It's an excellent option for office workers who run hot.
The design is equipped to promote correct spinal alignment.
The price is extremely reasonable.
The chair's performance isn't as good as other models available from more established brands.
3. Ergonomic Chair - Humanscale
Humanscale has been developing top ergonomic furniture for an affordable price for many years. The ergonomic chair brand is well-liked for boosting sleek and professional designs that are durable and affordable. These products offer unmatched comfortability while also ensuring you receive tailored support to your spine, back, hips, and neck. Standing desks and chairs available from Autonomous are equipped to enhance the ergonomics of any workspace.
Freedom Chair
Niels Diffrient is an American industrial designer who has helped construct many ergonomic products that offer top-quality support and comfort. The ergonomic chair Humanscale Freedom is one of these products. One of the nifty features surrounding this design is that it highlights Humanscale's innovative shift between constructing manually adjusting ergonomic chairs and self-adjusting ones.
It's designed to intuitively provide tilt and recline tension functionality that adjusts to your body type and spinal alignment. Additionally, you can make alternative adjustments to ensure your support and comfort are customized. Even though the market is filled with self-adjusting ergonomic chairs, the Humanscale Freedom offers the best performance.  
Pros and Cons of Freedom Chair
Boosts a good build quality.
It's equipped with weight-activated recline functionality.
The pivoting lower lumbar support offers optimal comfort.
The armrests might be too wide for smaller users.
Diffrient World Chair
You might have limited room to work within your office area. If this is the case, the Diffrient World is the right ergonomic office chair for you, as it is equipped with a slimmer width than other models on the market. This allows you to fit it in these limited areas without taking up too much space.
The chair's design includes adjustable armrests that you can lower and lift for optimal spinal support while you're seated in front of your desk. Moreover, this product is equipped with a 10-year guarantee. Nonetheless, it's unlikely that you're going to use this guarantee, as the fabric office chair is equipped with high-quality and durable materials and top-of-the-range adjustability features.
Pros and Cons of Diffrient World Chair
It's environmentally friendly and is shipped almost fully assembled.
Offers good back support and seat comfort.
It's not suitable for people over 6'2''.
The design doesn't offer suitable adjustability.
4. Ergonomic Chair – Costco
Costco is known for offering a wide array of products. One of these is its ergonomic office furniture. Although this furniture isn't as well-designed as other more established ergonomic chair brands, like Autonomous or Herman Miller, you can gain a comfortable and supportive office chair for a decent price. These ergonomic products are available through the 'Office Star' range. Costco is also known for offering exceptional shopping experiences.
Office Star Professional Air Grid SPACE Chair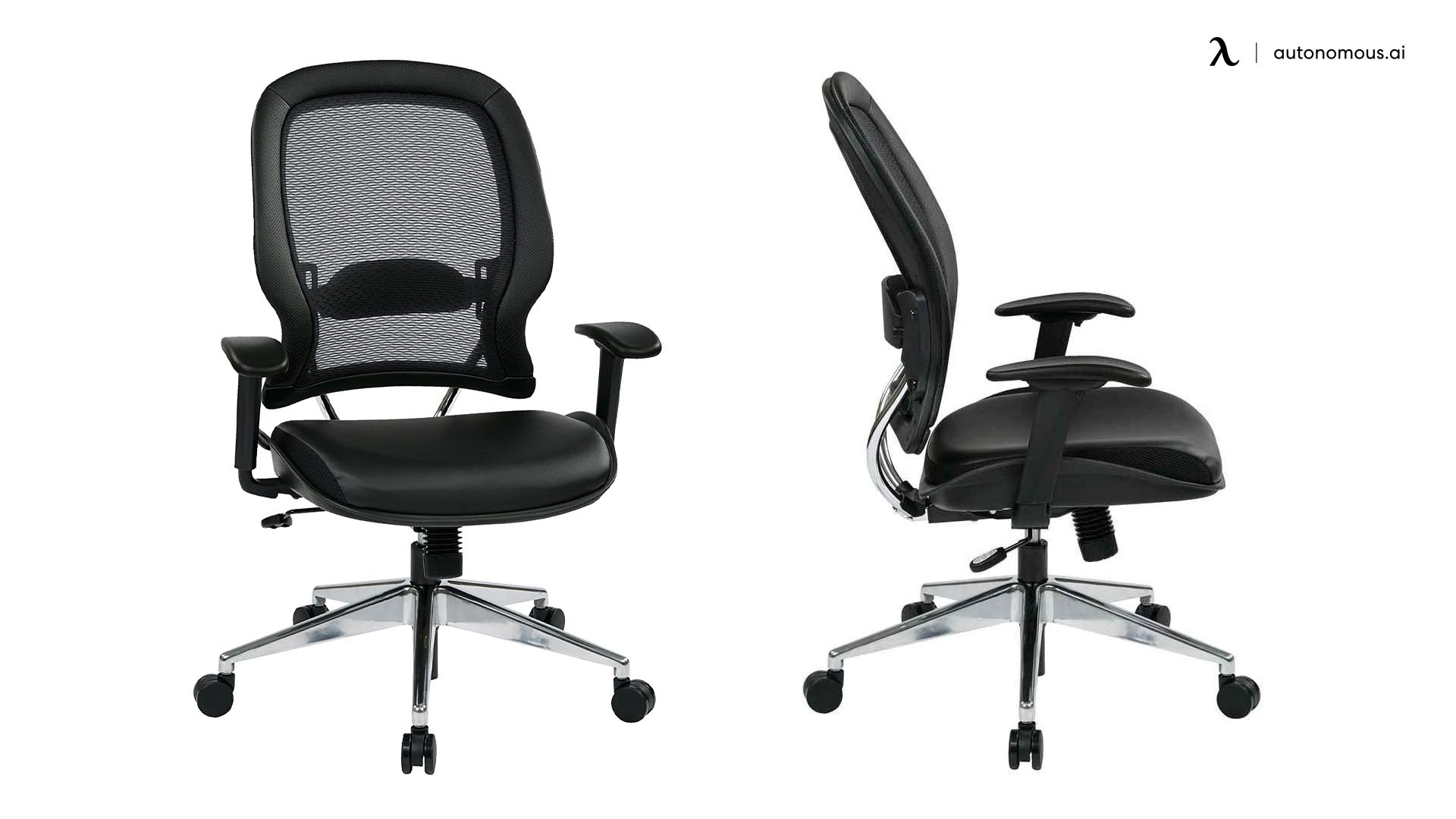 This Air Grid ergonomic office chair provides maximum support and airflow. This is one of the most popular brands in the line of ergonomic chairs Costco. Additionally, quality ergonomic adjustments are incorporated into this design for lasting comfort. It's equipped with luxurious contoured bonded leather seating that offers all-day lasting comfort.
Moreover, the 2-in-1 Synchro-Tilt can adjust to your seat angles and back simultaneously for enhanced relaxation. The adjustable lumbar support allows you to customize the chair to your exact preferences. However, the inclusion of leather can make this chair uncomfortable during long hours at work. This is especially the case for people who run hot.
Pros and Cons of Office Star Professional Air Grid SPACE Chair
You gain excellent support and comfort when using this chair.
The inclusion of adjustable ergonomic features allows you to cater the chair's support to your exact preferences.
The inclusion of leather can reduce airflow and cause discomfort to users who run hot.
5. Ergonomic Chair - Herman Miller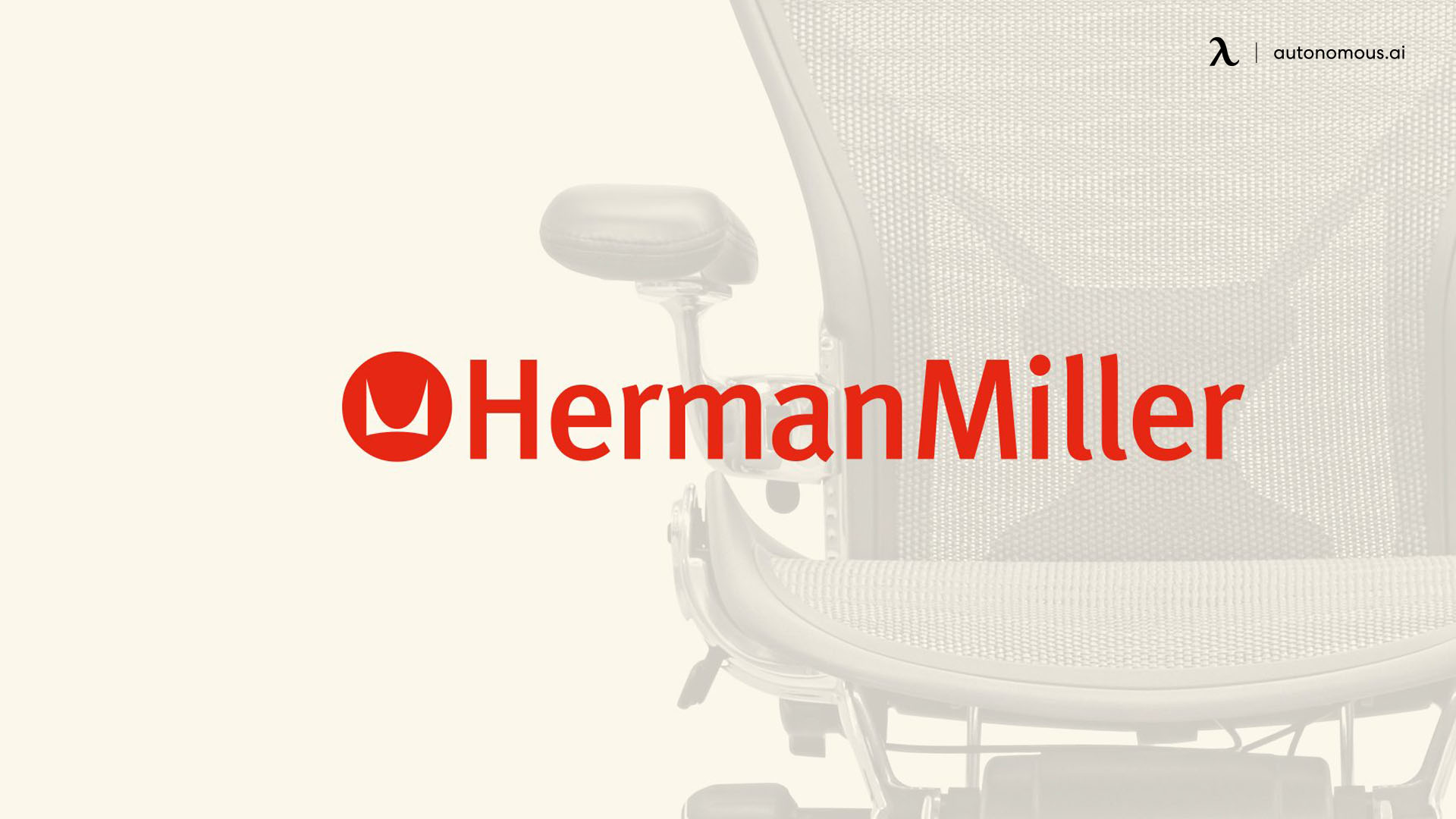 Herman Miller isn't a new entry in the world of ergonomic office furniture. The product ranges offered by this established ergonomic chair brand is carefully designed to ensure you gain optimal support while placing great importance on your health. Additionally, these products are equipped to enhance concentration and relaxation during your working day.
Aeron Chair
This ergonomic chair focuses on your lower back to significantly reduce any discomfort. With an effective cushion and high-back, you gain optimal support and comfort. From these additions, you can rest your back while supporting your lower back and head simultaneously.
Moreover, mesh fabric is included in the back and lumbar support. This makes this ergonomic chair easier to maintain and more breathable. Hence, you can remain refreshed while seated for extended periods.
Pros and Cons of Aeron Chair
The material isn't chunky, which offers enhanced comfort (especially in the back and armrests).
This construction is environmentally sustainable.
You have access to multiple adjustment features.
Other models offer better head and neck support.
Embody Chair
This Embody Chair offered by Herman Miller is well-known for being designed by Bill Stumpf. It's equipped with many features that stimulate blood flow while promoting circulation. The unmatched comfortability included in its design has made this product a favorite among office workers.
Additionally, the exoskeleton incorporated into its construction imitates the human spine. This inclusion aids in retaining good posture, regardless of how long you work. From this addition, slouching is avoided.
Pros and Cons of Embody Chair
This design adjusts to the user's body.
It comes in a wide array of colors to fit your workspace.
Its price range isn't fit for office workers on a budget.
You might have excessive squeaking when you're moving or sitting.
6. Ergonomic Chair - Staples
Staples offers exceptional furniture services with the help of its ergonomic team. This ergonomic chair brand can help you formulate a well-designed ergonomic space. The Staples experts, installation specialists, and interior designers offer unmatched support to make sure you develop the right ergonomic environment.
From here, you can select the Staples ergonomic furniture that would best suit your workspace. The brand offers great quality ergonomic office chairs and desks at an affordable price. One of these products is the ergonomic chairs Staples Carder Mesh Back.
Staples Carder Mesh Back Desk Chair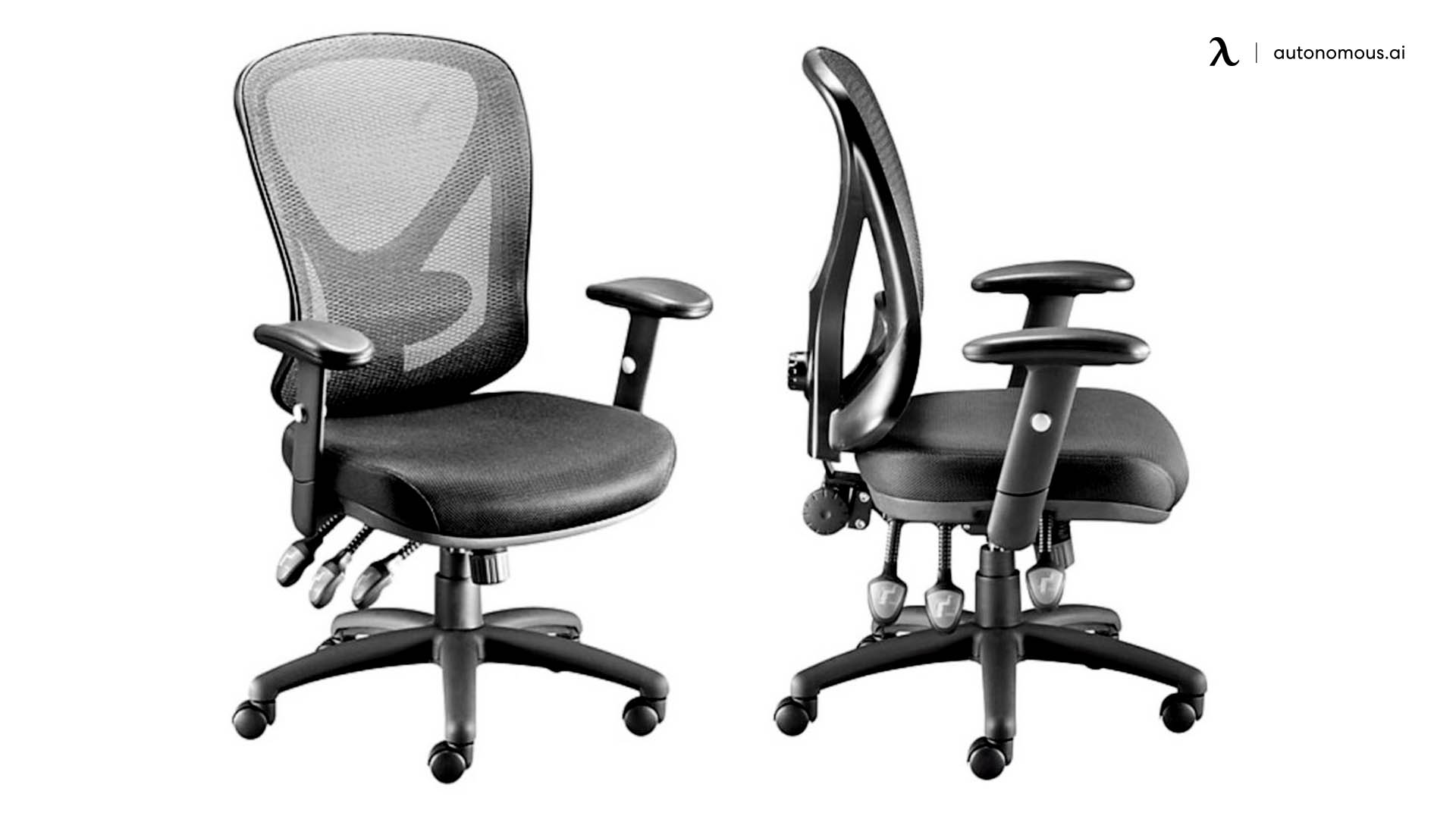 This computer chair is designed with quality features that make it an excellent addition to any workspace. The mesh fabric ensures that you remain cool and refreshed even after extended periods, thanks to the maximized airflow. Moreover, support and comfort are adjustable with this fabric as it intuitively adjusts to your body's natural curvature. Additionally, you gain optimal stability with the five-star base and carpet casters.
Pros and Cons of Staples Carder Mesh Back Desk Chair
The mesh fabric offers enhanced airflow and support to your back and neck.
It comes at an affordable price.
The design isn't as ergonomically beneficial as other models on this list.
Wrapping It Up
It's easy to see that most ergonomic chair brands are aware of office workers' needs and woes. That's primarily these manufacturers construct products to align with these requirements while. Such features included in these designs are pelvic tilt and lumbar support, which work to alleviate the stress placed on your body from sitting for extended periods.
If you carefully choose the right ergonomic chair that aligns with your body type, preferences, and needs, you can work more with enhanced comfortability. This applies to remaining seated for extended periods. However, we always recommend investing in ergonomic furniture from established brands to ensure you receive this comfort, relaxation, and support.
Keep up with Autonomous news
Stay informed, stay inspired with our new blogs.
WRITTEN BYAutonomous
We build office products to help you work smarter.