Workplace Inspiration
The Best Large Sheds for Sale in California | Get Your Hands on Them ASAP!

Robert Johnson
|
Nov 3, 2023
966 Views
Large sheds are the Swiss Army knives of outdoor structures. They offer a world of possibilities to homeowners in California.  
From storing gardening tools to using tiny home kits as makeshift office spaces, there's so much you can do with them. 
You might be on the fence right now, wondering if investing in such a product is right. After all, prefab additions are not the most affordable. This article is just for you if you're constantly searching, "How much do tiny houses cost in California?" 
By the time you're done reading this blog post, you'll know exactly what kind of shed to buy for your needs.  
Why You Should Buy Large Wooden Garden Sheds?
There's nothing more convenient than a prefab studio. It's unique and offers excellent storage for office and garden essentials. Large shed plans provide a variety of uses to adapt to your growing needs:
Convenience 
They can serve as an outdoor home office or creative studio, offering a peaceful and productive environment right in your backyard. You don't have to worry about external noises. Most home office pods have sound-insulated walls to block off unwanted noises.  
Affordability 
Large prefab additions are a budget-friendly solution compared to traditional homes. You get the extra space you need without breaking the bank.
Variety 
The market is flooded with cheap tiny homes offering various designs and features. From large wooden garden sheds to modern, space-efficient designs, there's something for everyone.
What to Look Out for When Buying a Large Storage Shed?
While the idea of large sheds is exciting, it's important to remember that not all products are equal. To ensure you get your money's worth, consider the following: 
1. Size Matters
Determining the right size is crucial. Many people make the mistake of ordering a shed that's either too small or large. Remember that the shed's size isn't the same as its floor size. You also need to measure the length and width of the overhanging roof in both directions. 
2. Different Types of Sheds
There are various shapes and designs to choose from. A wall shed with a pent roof is ideal for modern, minimalist styles, while an apex overlap design is perfect for more traditional looks.
3. Maximum Headroom
Consider the headroom within the shed. It should be spacious enough to accommodate your needs comfortably.  
The size of large shed plans depends on your preferences and intended use. Popular sizes typically range from 6x4 to 8x6. However, some affordable prefab homes can go up to 10 x 6 or even larger. To determine the correct size: 
Define Your Purpose: Decide why you want to use the shed, be it for storage or as a separate home office. Your purpose will guide the size you need.
Measure Carefully: Keep the items you plan to store in the home office on the floor. If the items are too close to each other and make the room messy, you might want to look into a bigger plan. 
Consider Future Needs: Think about your future needs. If you're investing in a large storage shed, it's a long-term solution. Make sure it can adapt to changes in your requirements.
Factors to Consider When Selecting a Shed Supplier
There are a lot of things that determine the quality of the shed you want to buy. However, the most crucial factor to consider is the manufacturer. Reputable brands put in the extra effort to ensure longevity and durability in their products. 
Quality of Materials and Workmanship
Inspect the quality of the materials in their large outdoor sheds. Most prefab units are made of fire and termite-resistant metal. 
Vinyl sheds with wooden frames are also pretty popular in California. Look for a supplier that offers a wide range of shed types, including garden sheds, storage sheds, prefab structures, and custom options. 
You should also check if the supplier offers customization options. The brand should tailor the large, shed designs to your specific needs. 
Delivery and Installation
Consider the supplier's delivery and installation options. Some may offer free delivery only, while others, like Autonomous, can pre-install the shed for you. 
Also, read website reviews and ask for references to gauge the supplier's reputation and customer satisfaction. 
After-sales Support
Find out what kind of after-sales support the manufacturer provides, including assistance with any issues or repairs. You should also ask about payment options, including deposits, installment plans, etc.  
If you're environmentally conscious, ask about eco-friendly materials and sustainable practices in shed construction.
Brands like Autonomous, for example, have a few products made from 100% sustainable materials. You can research different suppliers and check if they offer the same services.
How We Picked and Tested Different Large Shed Plans?
Selecting the best large shed ideas and subjecting them to rigorous testing is critical. It ensures the products meet the needs and expectations of customers. Here's what our R&D session looks like: 
1. Market Research
We begin by conducting extensive market research to find reliable manufacturers. This involves reviewing product listings, customer reviews, and expert opinions. Our team also considers diversity in designs. This includes ticking off suppliers that offer modern, traditional, and customizable plans.  
2. Material Quality
Large sheds can be made from different materials like wood, metal, or plastic. We consider the quality of materials used to ensure durability and resilience to the elements. Afterward, our team tests the installation. You can assemble many of our top picks in under 30 minutes! 
3. Real-world Use
Some of our team members build and use the sheds in real-world settings to assess practicality and functionality. 
This hands-on experience provides valuable insights into the sheds' usability. We also consider long-term performance by assessing how well the sheds hold up over time. This includes checking for wear and tear, rust, rot, or any other structural issues.
Who Is This Detailed Review for?
Are you a homeowner with a vision of expanding your living space? Maybe you need some extra storage room, a workshop, or even a home office? Well, this detailed review is definitely for you.  
On the other hand, DIY enthusiasts will also appreciate our top picks. We'll give you the lowdown on large sheds that can turn your backyard into a DIY wonderland.
Large wooden sheds are also a sanctuary for garden tools. Small business owners, we haven't forgotten you! 
You can transform large sheds into home offices, studios, or even affordable ADUs. Our review is perfect for you if you're considering expanding your workspace without breaking the bank.
The Five Best Large Sheds for California Homeowners
Alright, we've covered the basics properly enough. It's time to finally dive into the product reviews and help you choose the best large storage shed in the market!  
1. Autonomous WorkPod
Are you ready to welcome the future into your property with the Autonomous WorkPod? This easy-to-assemble, affordable backyard ADU is not just a workspace; it's a gateway to endless possibilities. 
The WorkPod's sound-insulated walls create a serene atmosphere, allowing you to focus without disturbances. No more noisy neighbors or distractions from within your home. Thanks to the stunning floor-to-ceiling windows, you can enjoy your garden view while staying productive.  
This Autonomous WorkPod comes with an array of features. You'll find the ErgoChair Plus for ergonomic comfort and a bookshelf for organizing your work essentials.  
There's also an anti-fatigue mat for long hours on your feet and a spacious cabinet to keep your belongings. Use the cable tray on the SmartDesk Connect to prevent messy wires.  
Let your large, shed ideas loose! You can decorate this ADU however you want. Use it as an Airbnb rental, a guest room, or even a cozy studio for your creative endeavors. It's a versatile space that adapts to your needs. 
The WorkPod is designed with industry standards in mind, offering plug-and-play universal ports for your convenience. It's tech-friendly, ensuring you stay connected. The exterior features high-quality vinyl sidings for a polished look.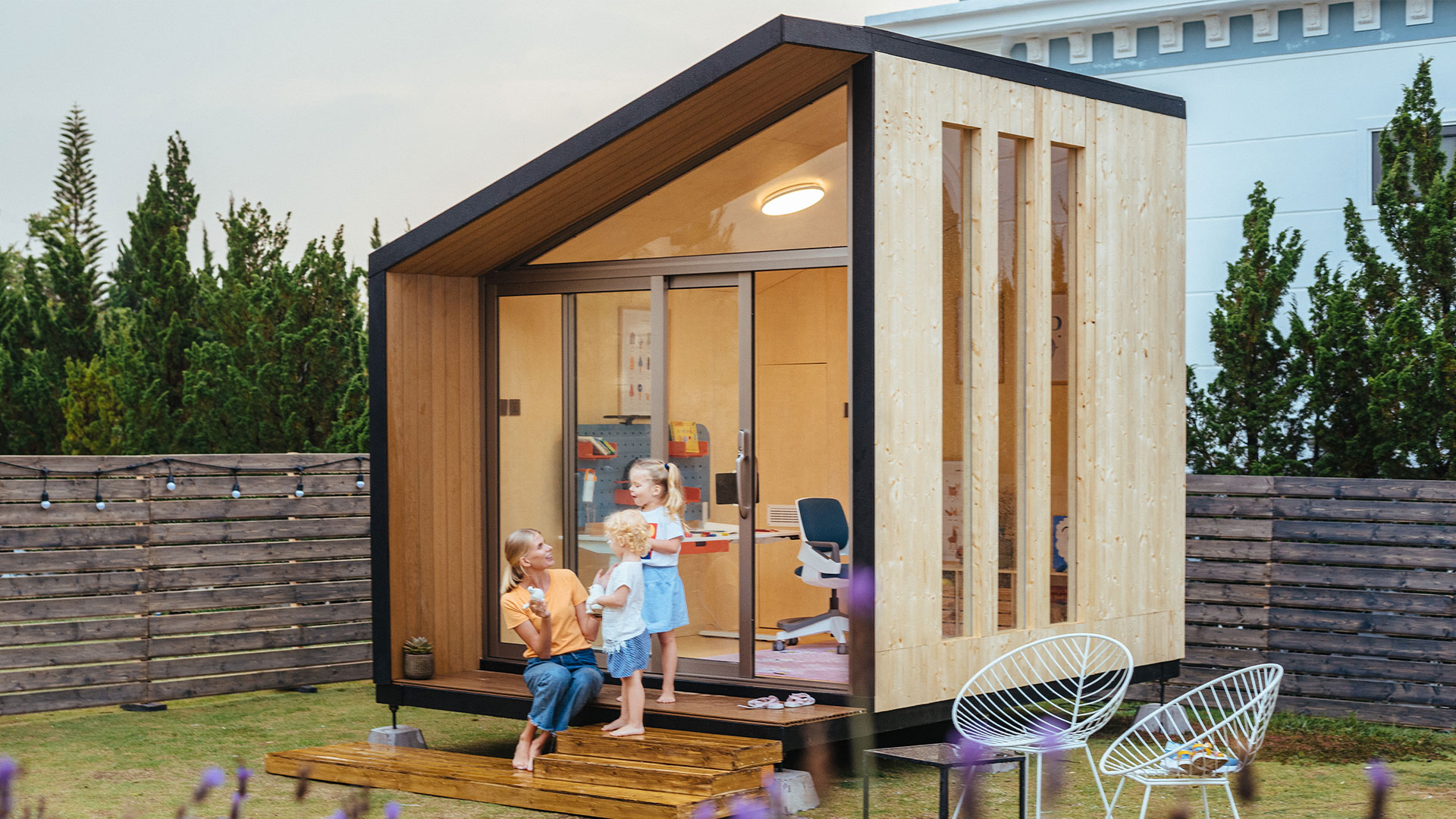 Pros

Cons

Sound-insulated walls
Space limitations
Modern features
Versatile usage
Robust construction
2. Autonomous StudioPod
Say hello to comfortable ADUs with the Autonomous StudioPod. Larger than its predecessor, this model is a versatile haven where you can let your imagination run wild.
You have the flexibility to order the StudioPod with furniture pieces. This includes a cabinet, small shelf, desk, TV shelf, sofa bed, and table. Alternatively, you can choose an empty pod and furnish it to your liking. 
The StudioPod features a central temperature control hub, ensuring that you stay comfortable year-round, regardless of the weather outside. You can also set the ambiance with three distinct lighting modes.  
A sturdy steel frame ensures stability and durability. The all-terrain design evenly distributes weight, so you can be confident in its reliability. 
The StudioPod seamlessly blends into its natural surroundings with its beautiful interior and exterior design. This creates a tranquil and inviting space in your backyard.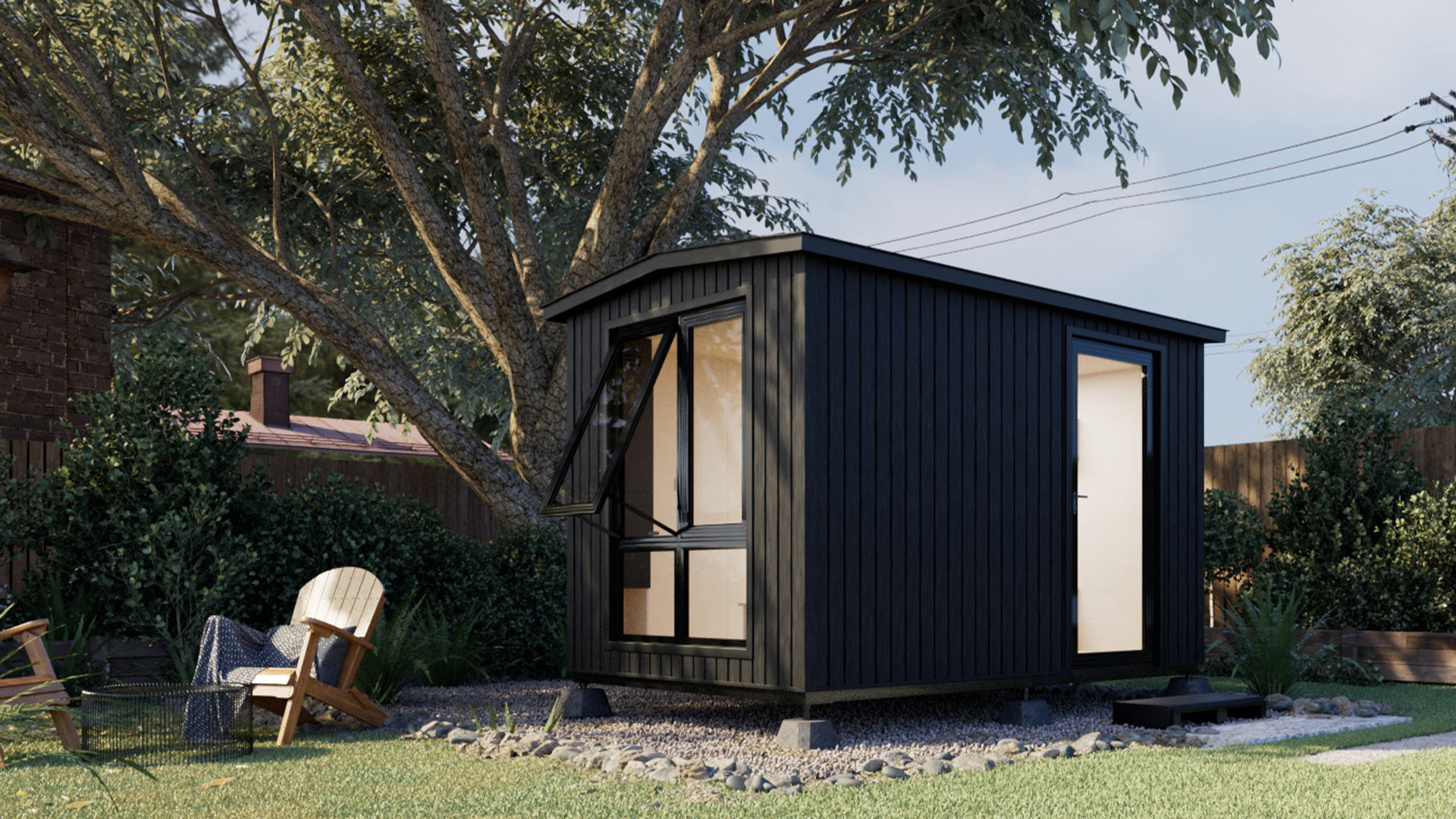 Pros

Cons

Universal sockets
Hefty investment
Large and spacious
Water and weather-resistant
Eco-friendly construction materials
3. Modern-Shed Shed
Are you in search of a modern, spacious, and inviting outdoor space that complements your home and lifestyle? 
Invest in a unique, Modern-Shed shed without breaking the bank. This brand is famous for its expertise in crafting custom-made large sheds tailored to your budget and preferences. Whether you have a specific vision in mind or need guidance, it can make it happen.  
Many Modern-Shed products are made using eco-friendly materials, emphasizing sustainability. Features like Vapro-Shield, ZipWall sheathing, cement board panels, and stainless-steel screws reflect the brands' commitment to the environment. 
The large shed's sleek design with metal siding and corrugated industrial aesthetics provides a modern and eye-catching addition to your outdoor space. You will appreciate the pine ceiling liner and pre-finished birch.  
Also, the strategically placed windows come in different sizes and styles. They ensure you have just the right amount of natural light to enjoy the outdoors while staying sheltered. 
You can choose from various door styles and mats to match your design preferences. Sliding patio doors provide easy access and a seamless transition to the outdoors.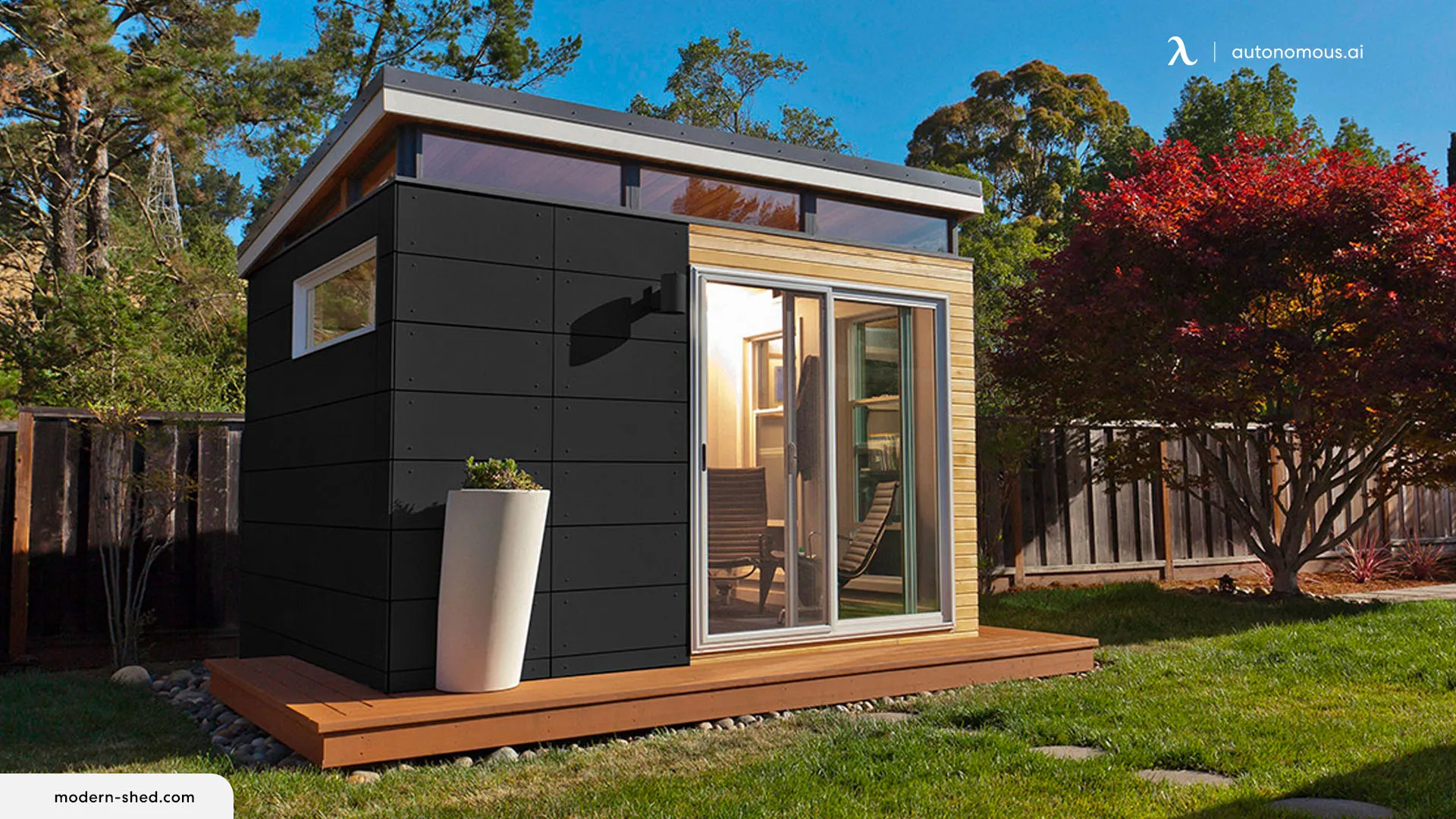 Pros

Cons

Modern aesthetics
Hefty initial cost
Eco-friendly materials
Size variety
Versatile customization options
4. Cerca Homes Evan
If you're ready to elevate your concept of compact living, the Cerca Homes Evan is here to redefine your expectations. It's not just a tiny house; it's a compact palace packed with premium features. 
While it may be the most expensive on the list, the Evan offers an impressive home space that's abundant and well-planned. You'll find plenty of room to move around, making it feel more like a full-fledged house on a smaller scale. 
This large shed is built for productivity, offering a conducive environment for work, relaxation, and everything in between. 
The use of Light Gauge Steel (LGS) framing ensures the product's structure is robust and resilient, promising longevity and safety. You'll find double-toughened glass, branded HOPPE handles, and door locks, adding to the shed's security and aesthetic appeal. 
Glass cotton insulation and drywall ensure that your living space remains cozy and well-insulated. The argon gas-filled tilt windows help regulate indoor temperatures, reduce energy consumption, and provide natural ventilation. 
On top of that, the solid bamboo floor planks are visually appealing and durable, standing up to daily wear and tear. You can expect the metal roof to provide long-lasting protection against the elements, ensuring your tiny palace remains in top condition.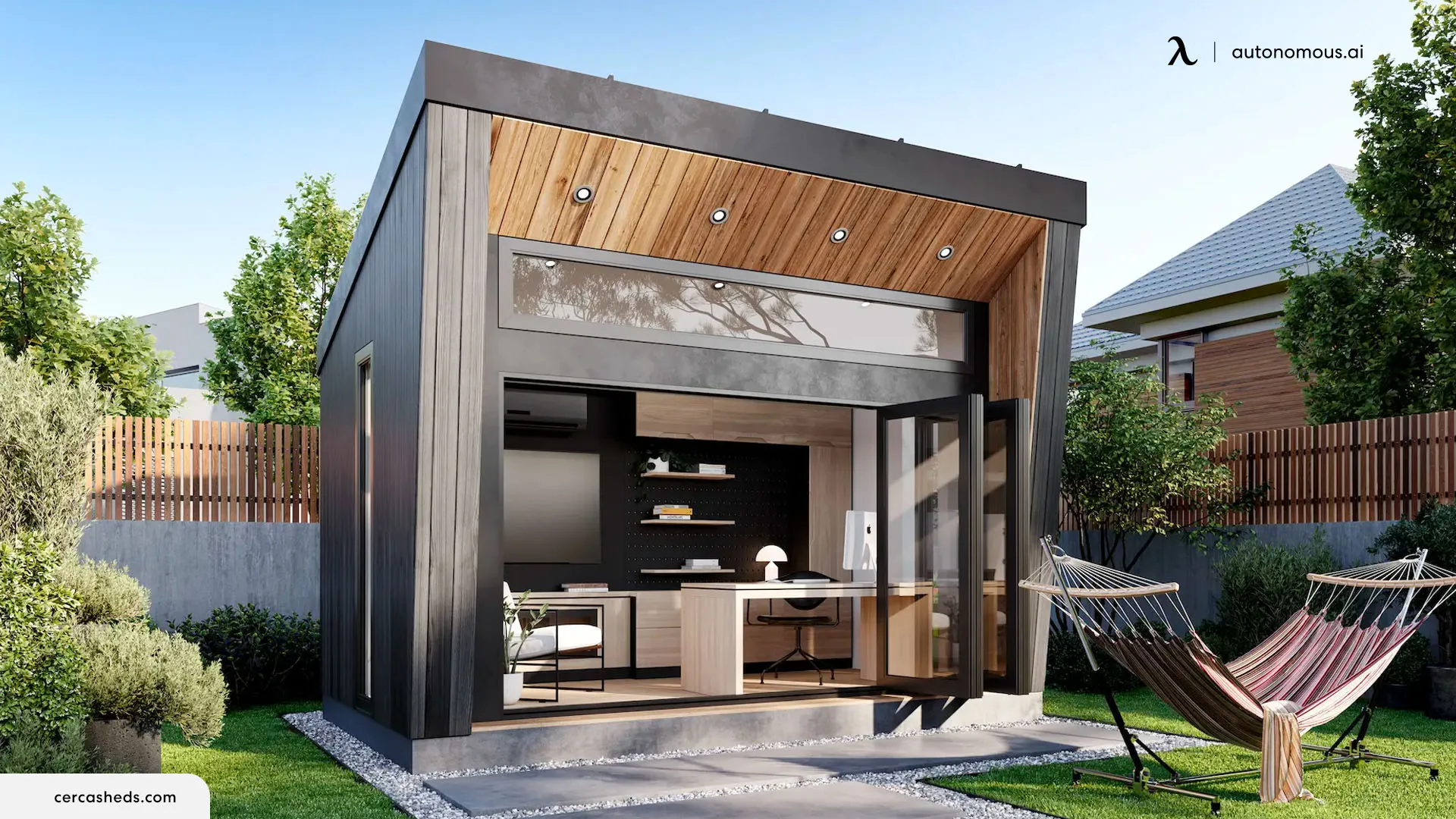 Pros

Cons

High-quality flooring
Pretty expensive
Premium windows and doors
Thermal wood exterior
Energy-efficient cladding
5. Backyard Unlimited Studio Shed
Have you ever wanted a perfect space where you can let your inner artist out? The Backyard Unlimited Studio Shed is here to make your dreams a reality.  
This last large shed boasts a spacious interior with plenty of room to customize for your intended use. The tall front wall and lean-to-roof design create a unique, low-profile structure in the back. It's a perfect blend of modern aesthetics and traditional comfort.
Architectural shingles ensure durability and protection against the elements. You can also choose between wooden or fiberglass single or double doors, allowing you to create an entrance that suits your style and functionality. 
There are plenty of window options. You can select from various styles, including shutters and wooden alternatives. Choices range from vertical sliders to more, enabling you to customize the Studio Shed to your liking.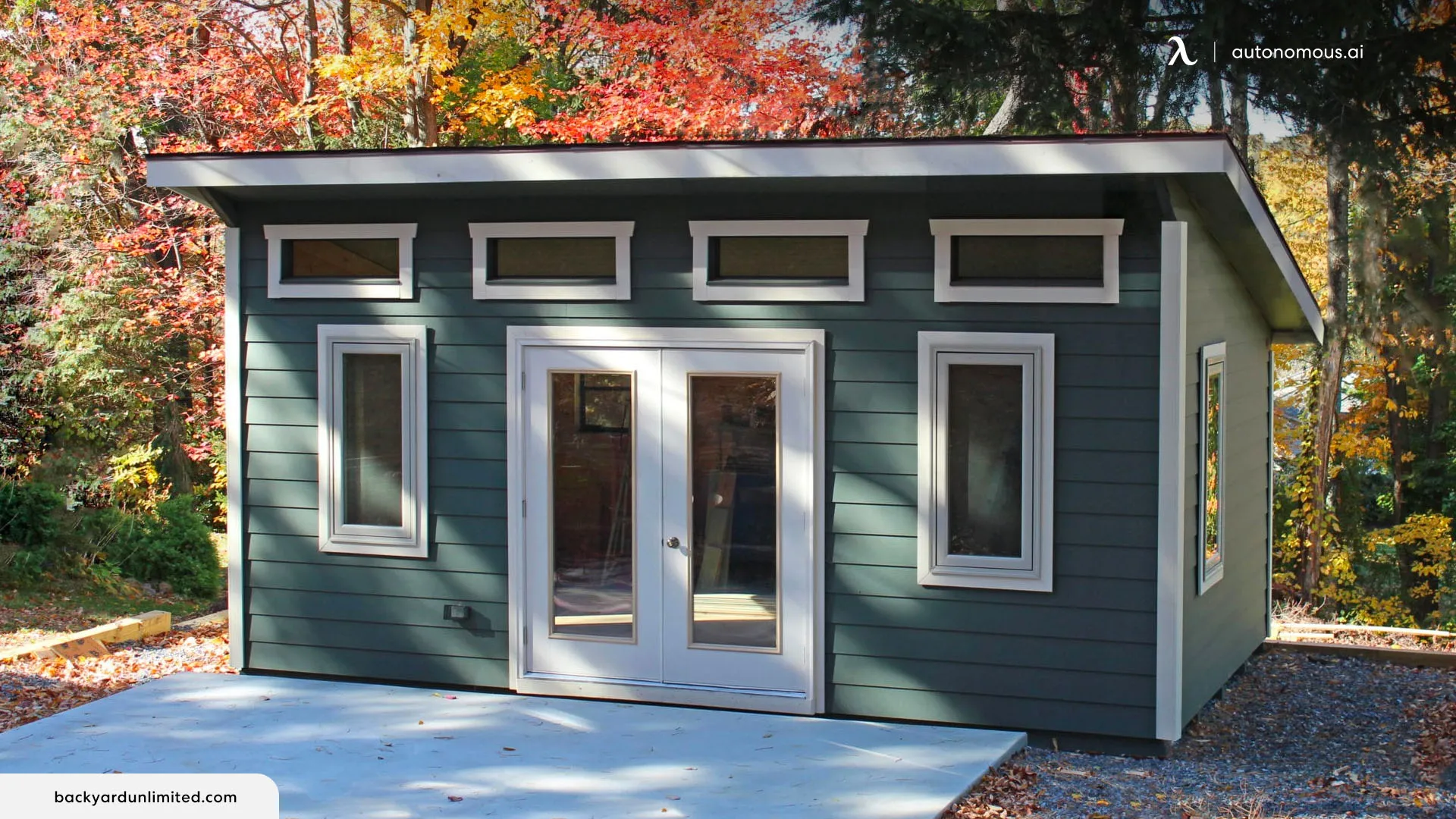 Backyard Unlimited Studio Shed
Pros

Cons

Spacious interior
Mediocre appearance
Abundant natural lighting
Architectural design
Convenient lean-to-roof system
Final Words 
There are way too many large, shed ideas on the internet; you're basically spoiled for choice. Hopefully, this blog post was able to help you narrow down your choices to one or two large outdoor sheds. 
Our top picks are more than just structures. They are versatile spaces that can transform your backyard into a functional and aesthetically pleasing oasis. 
The choices are plentiful, whether you're looking for additional storage, a creative studio, or even a cozy retreat. 
In short, the key is to weigh your requirements, budget, and the unique features of each shed to find the perfect fit for your lifestyle. With the right product, you'll upgrade your outdoor space and create a stylish extension of your home.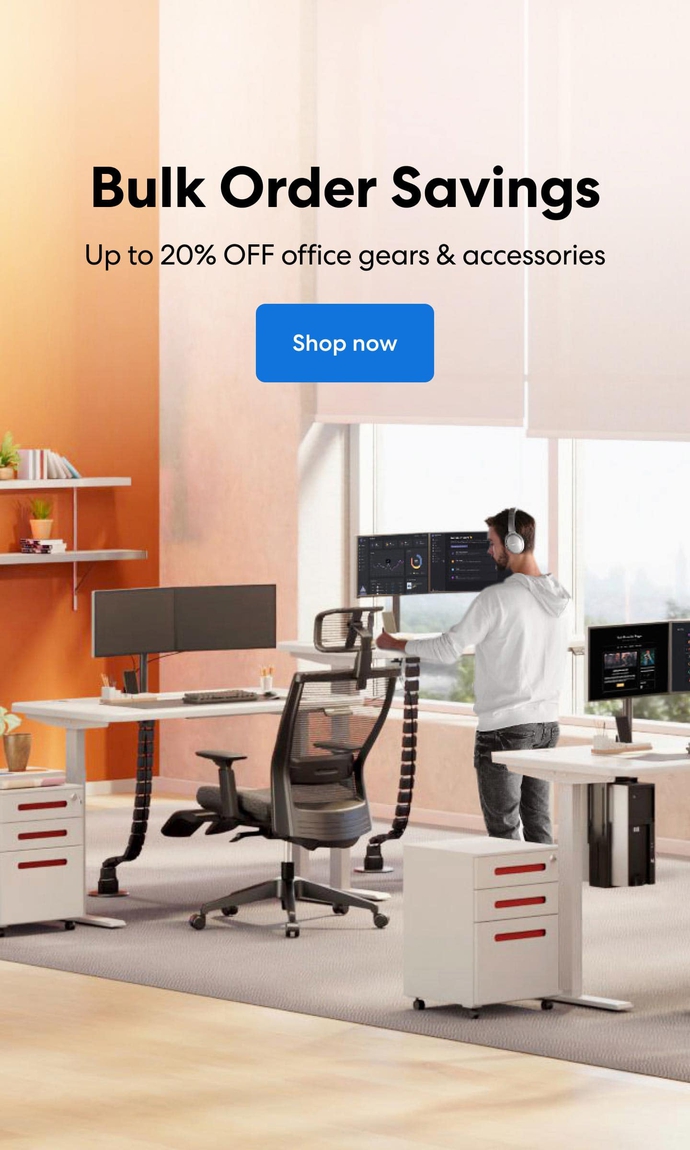 Subcribe newsletter and get $100 OFF.
Receive product updates, special offers, ergo tips, and inspiration form our team.