Workplace Inspiration
How Much Tiny Homes Really Cost? A Complete Guide
226 Views
When young adults get out of college, the first thing they have in mind is starting to work and buying a place of their own. Buying or renting a house is too expensive, though. It's easier for them to pay for a tiny home cost rather than a house. 
You can install ADUs in your parent's backyard, and if they are not that big, you may not even need permission.  
How much does a tiny house cost? This page has all the answers.  
Read on to know the cost to build a tiny house and the best prefab options on the market.  
How Much Does It Cost to Build a Tiny House?
The average cost of a tiny house is between $30,000 and $60,000. Regardless of that, a tiny house cost can get to $8,000 or $150,000, depending on the project.  
How much is a tiny house? The answer also depends on whether you are building it or buying a prefab ADU for your backyard.  
The former is more affordable, but it requires more work. It may be more complex to install it if you don't have experience. We recommend you try the latter. 
Even if it means paying more money, it saves you a lot of time and makes the process easier.  
Several factors can alter a tiny home's cost. Each project is unique, which means it has different needs from others.  
Before browsing options, you need to know the ideal size you want. You can calculate the house size you need by answering the following questions: 
Is the tiny house only for me?

What do I want it for?

What's the budget I have for the house?

How much is a tiny house that big?

How much to build a tiny house by myself?

Do I need permission to install a house of that size?
Once you know that information, you can look for something that matches your needs. However, we recommend keeping it the smallest you can to reduce costs. 
Apart from its size and design, several factors can change the cost of tiny homes, whether it's to make them more affordable or expensive. 
The first of them is the tiny home design. Different homes give you various features depending on the style you are looking for in your workstation.  
Some options include additional benefits, such as ergonomic products, beds, or house furniture. The main appeal of those tiny homes is that you won't have to spend any money on those items, as you'll get them automatically by buying the ADU.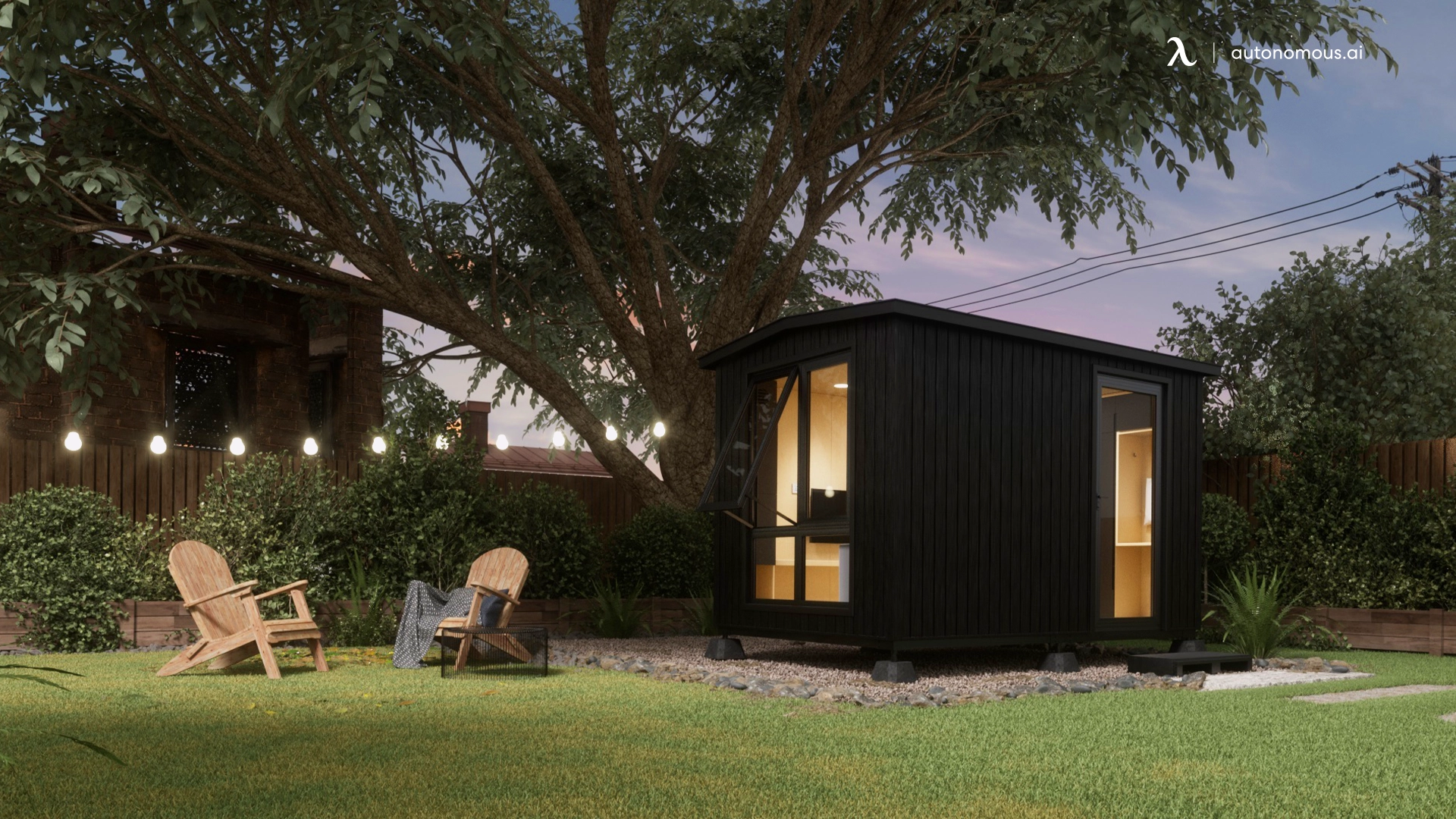 Unforeseen Costs of Tiny Homes
One of the things many people don't tell you about buying tiny houses is there are some unforeseen costs you may have to cover apart from paying for the home.  
You, for example, will have to spend money on utilities such as water or electricity. This can be more or less expensive, depending on the company you hire.  
Even if you handle utilities, you'll have to deal with the zoning laws of your state. It is legal in some parts of the country to install a tiny house on a family member's land for free. If you live in one of those states, you'll have to pay your family to live in their backyard.  
Don't forget the additional products you need for the tiny home, such as home furniture. You won't have to spend additional money on this if you already have the items or if someone can lend them to you. 
Besides that, several options online (like the two first we show on this page) offer affordable ADUs that come with ergonomic products and other things, so you should get them to avoid facing additional expenses after buying the shed. 
If you already have belongings, and they don't fit in the backyard studio you bought, you may need to pay for additional storage space in the future.  
However, you can always give away or sell your stuff if you can't have it.  
We recommend you consider the things you need to store when looking for a new tiny home to make sure they all fit in the alternative you pick.  
Getting insurance for a tiny home can be expensive and complex too. Nonetheless, you don't have to go through that process if you don't want to.  
Tiny homes won't always keep the same value after a few years. Although this is not something you have to pay, it may be a problem for you if you were planning to resell your tiny home in the future.  
It's especially complex to sell customized tiny homes for a high price.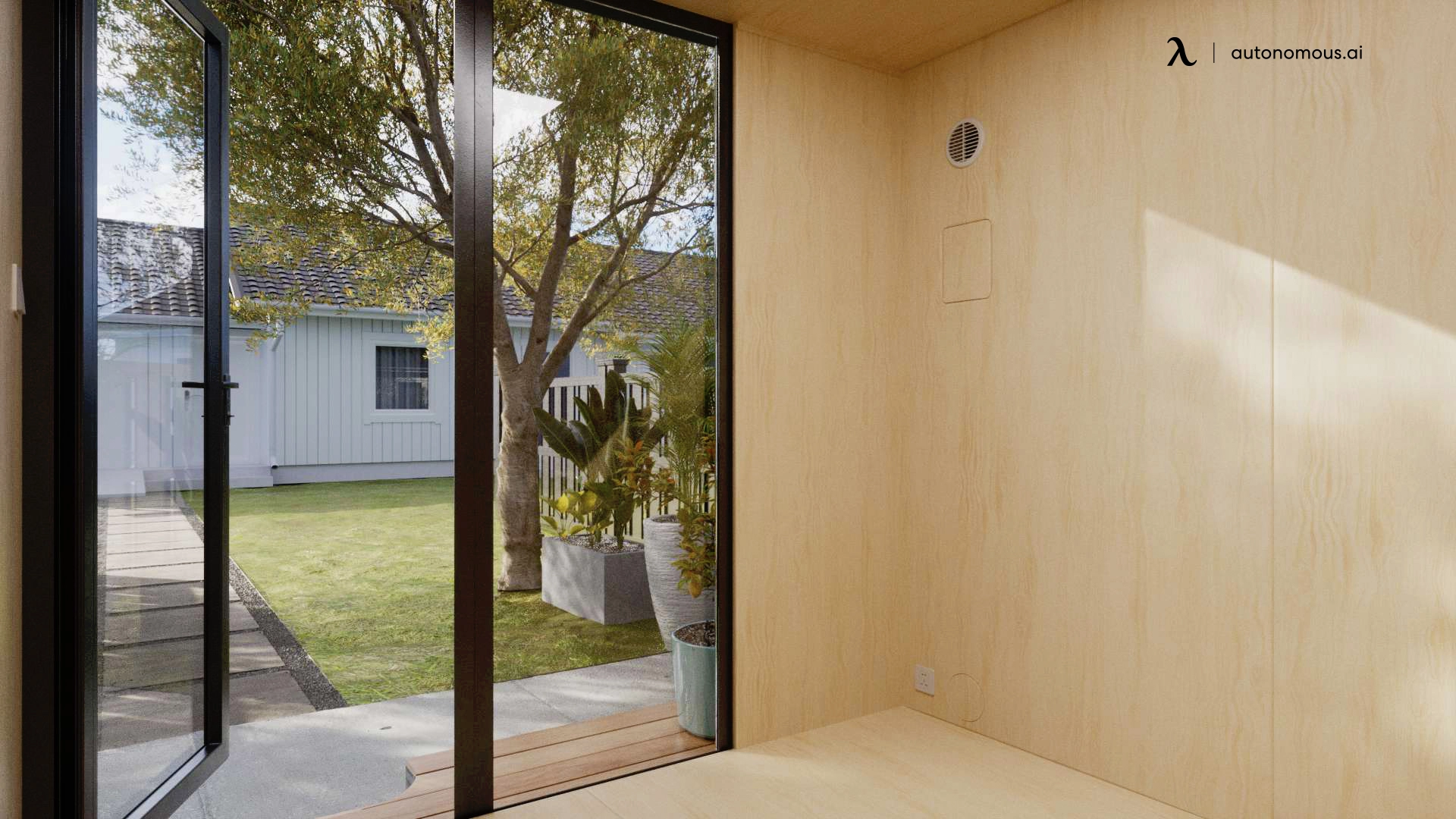 What Are the Best Prefab Tiny Houses in 2023?
Now that you know the average tiny home cost, it's time to take a look at the best tiny houses you can find on the market.  
If you are going to spend your money on a new backyard house, you need to make that money worth it and buy a property you won't regret getting in a few months.  
The options listed below are a few of the best in 2023, so you can safely buy any of them with no problem. However, we recommend most people go for the Autonomous alternatives.  
That being said, these are the best prefab tiny houses in 2023: 
1. Autonomous WorkPod
As a company, Autonomous' priority is to make office workers feel comfortable while working. It does it by offering ergonomic products that can reduce back pain and increase productivity.  
After a time, it decided to take a step further from that and give its clients a new way to work without the distractions of the outside world. That's how the Autonomous WorkPod was born.  
This product, as its name suggests, is an office pod. Hence, it's meant for office workers to use it as their ideal workspace. 
With that in mind, the pod includes ergonomic products such as a standing desk, an ergonomic desk, a cable tray, an anti-fatigue mat, and others.   
Those are not the only benefits this pod offers, though.   
Unlike most options on the market, the Autonomous WorkPod comes pre-wired, which means you only have to plug it in and start working there once you install it. The pod comes with outlets for all your appliances, warm lighting, and other furniture pieces.  
Regardless of all those things, assembling this pod only takes a few days, so you won't have to spend all week trying to stall it. The process to do it is also highly intuitive.  
The pod is sound-insulated too, which means you will be able to work, sleep, or do anything else you want without outside noises bothering you.  
2. Autonomous StudioPod
Getting to another release from Autonomous, we have the Autonomous StudioPod.  
This product has a similar offer to the previous one on the list but tries to focus more on offering a flexible multi-purpose layout rather than being an office.  
Although you can already do this with the WorkPod, you can customize this prefab studio and do anything you want with it. Do you want it to be an art room? It's done. Are you looking forward to making a small gym? You can do it here!  
Since the StudioPod's main purpose is to give you a space to relax and do what you want, it comes with other additional benefits you didn't see in the WorkPod.  
Instead of ergonomic chairs and standing desks, this option comes with a sofa, a TV shelf, an electric cabinet, and others. It's also visually appealing from the outside.  We recommend you get this option if you are looking for prefab homes under $20K. 
You can install this backyard studio in a few days.
3. Autonomous WorkPod Lite
For a more affordable backyard office shed solution available within the state of California, Autonomous also offers their WorkPod Lite. Engineered for users who want the same sleek design lines and high-quality build of the WorkPod and StudioPod, but at a much more accessible price point. The compact design of WorkPod Lite - with 80 square feet of floor space - provides the same flexibility to transform and accommodate any category of living space.
Home gym? Yoga studio? Office? TV room? Guest bedroom? Production studio? WorkPod Lite can handle whatever your work life and personal life throws at it. Clean, minimal, non-fuss, WorkPod Lite is the perfect blank canvas and kinder on the wallet.
4. Allwood Bonaire Cabin Kit
Affordable prefab homes are the best option for young adults who want to move out as soon as they can. However, paying a lower price shouldn't mean giving up much quality. You still need to live in a comfortable place you visually like.  
Fortunately, that's exactly what the Allwood Bonaire Cabin Kit offers.  
This product has one of the most beautiful exterior looks on the list, and having this in a backyard makes you feel luxurious. The only problem is that it's bigger than most people want for their tiny homes.  
It's worth noting the product doesn't come with any furniture or lighting, so you will have to cover all that yourself. Assembling this structure will take five full days. However, it shouldn't take more than that, and you don't need to be an expert on the matter to take care of it.  
The cabin kit comes with two doors and three windows, so you won't have any problem getting sunlight inside your place. We recommend you check the state permissions you need to have a tiny house that big in your backyard.  
This kit has all the parts and materials you need for the installation process, but it doesn't include any roof shingles or foundation materials.   
5. California Modulars Cal 400 Standard
If you have backyard remodel ideas and want a two-bed tiny house for your guests or to live there, the Cal 4 is an excellent option.  
People who love having people over at their place often look for backyard guest cottages. However, they are good to go by installing a tiny home in their yard. The ADU design comes with one bath, but you can customize it to have more than one in the future if you feel like it.  
Since it has a two-bed layout, it's meant for more than one person to live there comfortably. That means it's a bit bigger than most options on the market, so check the state restrictions on tiny houses that big.  
Besides that, this product has a cozy living room, a dining area, and space for a full-sized freezer and wash/dryer machine. 
You won't have any problem with storage if you get this product since it includes additional space in the utility area. If you care about looks, you'll love its flooring finished with white ceramic tiles.   
Final Thoughts
Installing a tiny home in your backyard is one of the most creative and best ideas you can make if you want to save money on rent or big houses.  
That doesn't mean the whole process will be affordable, as you still need savings for it, but it's way easier than buying a house.  
Keep in mind that the sole purpose of the items on this list is to make your backyard office plans or house ideas come true, so spend some time looking for the option that best matches your taste and needs. 
If you want other ergonomic products, you should visit our website now.
Subcribe newsletter and get $100 OFF.
Receive product updates, special offers, ergo tips, and inspiration form our team.
WRITTEN BYAutonomous
We build office products to help you work smarter.