Smart Products
Find The Best Monitor Arm Side of Desk Suiting Your Needs

Autonomous
|
Nov 25, 2021
3,172 Views
It makes a big difference to your workspace if you have one of the best monitor arms. By letting you adjust your screen (or screens) to wherever it is most comfortable for you, a monitor arm side of the desk can make your desk more ergonomic. It could also free up desk space previously taken up by dust-attracting monitor stands.
15 Monitor Arm Side of the Desk
1. Autonomous Single Monitor Arm
You can position the single monitor arm side of the desk in any direction with the 360° arm. Our monitor arms provide a 20" vertical range, ideal for providing an ergonomic work environment. Rotate and height-adjust your single monitor stands throughout the day to reduce neck and back pain, improve blood circulation, and improve your focus.
2. Autonomous Dual Monitor Arm
You can maximize desk space and work more efficiently with a dual monitor desktop stand mount that declutters your workspace. It is easier to multitask with a dual monitor arm. You can completely customize your workstation with our side mount monitor arm, SmartDesk, ErgoChair, and ErgoStool, keeping you focused and productive throughout the day.
3. NB North Bayou Monitor Desk Mount Stand
Your screen is held steadily by a gas spring system, making the side desk monitor stand easy to adjust. As a result, you can't quite go fully portrait, but you can still use it effectively. You can tilt the monitor between +35 and -50 and rotate it between -30 and +85 degrees. You can show your screen to others while swiveling. Neither the desk clamp nor the grommet can be used to mount the arm on the wall.
4. Ergotron LX Desk Mount LCD Arm
There is an adjustment range of 13 inches for the height, with 25 inches of forwarding and backward extension. If you are very tall, you should check out the variant of this model at number 7 on this list. As far as products like this go, the design is fairly intelligent, and with that extra-neat cable routing, it would fit in an aesthetician's office. A desk clamp or grommet must be used to mount this arm - it cannot be wall-mounted. There are a few downsides, but none of them is a problem.
5. 3M Dual-Swivel Monitor Arm
With a weight capacity of up to 30lbs/13.6kg, you won't have any trouble finding one that can handle your monitor. With its adjustable height of 18.5, an extension of up to 19.5, and perfect positioning with angle tweaks and landscape rotation to portrait mode, it's strong and reliable. If your desk is thinner than 2.25 inches, you can use a grommet to attach the clamp to it.
6. Vari Dual-Monitor Arm
A strong contender in terms of weight, the Vari supports monitors up to 19.8 lbs/8.9 kg. Yet it only works with monitors 24 inches or larger, so many creatives might not be able to use it. You can adjust the monitor stand riser with adjustable height to 12 inches and extend it to 29 inches at its maximum extension. You can rotate both monitors from landscape to portrait as needed (as long as you don't accidentally knock them when rotating). It can only be mounted on desks up to two inches thick, and it can only be attached with a clamp - again, this is less flexible than some of the other options. The more complex it is, the harder it is to put together.
7. Ergotron LX Desk Mount
If you're extra-tall, the seats may not go high enough for you, so you'll either have to hunch over (don't do that) or adjust it to the lowest position. This LX Desk Mount LCD Monitor Arm Tall Pole will enable you to position your monitor at a higher level, which will suit your needs. In addition to its 13-inch range, it has an extra 6.25in / 15.8cm of height adjustment range over the LX Desk Mount LCD Arm (number 3 on our list).
8. AmazonBasics Premium Single Monitor Stand
Your monitor's position is easily adjusted with a light touch, and it will stay in place once you've found the sweet spot. This is one of the best monitor arm sides of desk in the market. Its articulation ranges from 13 inches to 25 inches (33cm) in height, and its tilt ranges from 70 degrees to 5 degrees. Only the basic cable management system is a bit weak, but that still works fine.
9. Fully Jarvis Monitor Arm
In addition to supporting monitors up to 32 inches and about 20 pounds, this monitor arm offers a large range of motion and strong build quality. We found the Fully Jarvis arm to be easier to set up, sturdier, and smoother to operate than similar monitor arms available at a lower price, such as the Monoprice Workstream 15526 arm. 
10. Kanto DMS2000 Dual-Monitor Mount
Kanto's dual-monitor monitor arm side of the desk lets you mount two 32-inch screens on one pole and takes things to the next level. A grommet screw can be used to mount it through a hole in any table. A 360-degree rotation is possible for both screens, making them perfect for landscape viewing as well as portrait viewing. For tall sitters or standing setups, you can also get an additional 9.5 inches of height.
11. 3M Dual-Swivel Monitor Arm
It has two VESA compatible screens up to 27 inches and can hold up to 20 pounds each. It is made from durable aluminum and metal alloy. Each screen can be rotated 360 degrees, adjusted in height, and twisted around to fit in any situation. The greatest dual monitor monitor arm side of desks solution is out there.
12. VIVO V102AM
It can accommodate two screens of up to 38 inches each, making it one of the few options to accommodate two ultra-wide screens! It is therefore ideal for a cinematic movie-watching experience or to take part in immersive gaming. In addition, both screens can be adjusted 180 degrees for both the Vivo dual monitor stand's portrait and landscape modes. It's our favorite mount for ultra-wide monitors.
13. Duronic DM352
In terms of cost, the Duronic DM352 Desk Mountable Arm is the most affordable option on our list, but that doesn't mean it's feature-poor. A VESA-compliant monitor can be swiveled 360 degrees to either landscape or portrait. For open-plan environments or to demonstrate your screen to colleagues, you can turn the arms on the 3 monitor standing desk mount around on the pole.
14. VideoSecu ML12B
This mounting desk accessory for men supports VESA patterns measuring 75x75 millimeters and 100x100 millimeters. There are five-degree front and back tilt settings, as well as 180-degree swivel and 360-degree rotation. It can be installed as a wall installation, or more space can be gained by moving it 15 inches away from the wall. Your monitor can be set up exactly how you want it to be. A 44 lb weight capacity and great flexibility options make it an excellent choice.
15. Chief Kontour K1D Dynamic Desk Clamp
Their side desk monitor stand designs are always innovating and evolving, so Chief Kontour is not just in the mountable desk monitor arm business to make quick money. A quick slide-in-out release at the VESA mount lets you easily release the K1D's gas-spring and locking mechanisms. Additionally, this monitor arm is scalable to four screens, making it one of the best monitor arms on the market.
Video ads for product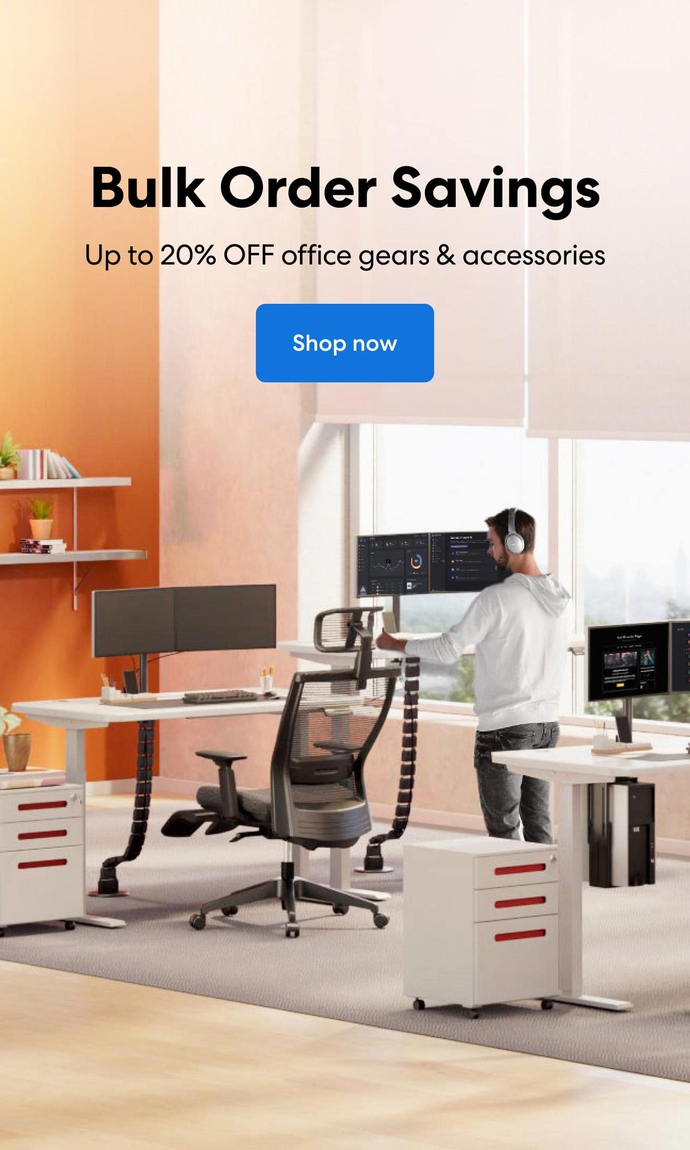 Subcribe newsletter and get $100 OFF.
Receive product updates, special offers, ergo tips, and inspiration form our team.