Latest Updates
The Best Stores to Get 2023 Cyber Monday Online Deals This November

Autonomous
|
Nov 4, 2023
1,010 Views
A good shopper should always be on the lookout for great deals, discounts, and promotions that will allow them to save some money on their purchases. That is why you should be getting ready to cash in on a great Cyber Monday online deal this November. 
If you have been waiting for the perfect time to buy a standing desk and ergonomic chair combo for your home office, why not try some Cyber Monday online shopping? You will be hard-pressed to find better prices at any other time during the year. 
The Black Friday/Cyber Monday weekend is fast approaching, so you need to start hunting for the perfect store to get your money's worth. 
When Is Cyber Monday 2023?
Cyber Monday always falls immediately after the Black Friday Sale. In fact, for most people, the weekend from Black Friday to Cyber Monday is just one big shopping frenzy. No sooner have people begun to recover from the Black Friday mayhem than they are confronted with irresistible online Cyber Monday deals. 
This year, Cyber Monday will fall on the 27th of November, 2023. If you are reading this article, it means some of the biggest retailers in the country have already started promoting their Cyber Monday sales, so you need to get in on the act as soon as possible.
Are Cyber Monday Deals Better Than Black Friday?
Black Friday usually gets the lion's share of the attention both in the U.S. and abroad, with Cyber Monday almost being included as an after-thought. However, Cyber Monday shopping deserves a lot more credit than it often receives. 
In the battle between Cyber Monday and Black Friday, the former has a lot of benefits that shoppers sometimes overlook. Unlike the mad and sometimes violent shopping frenzy that is Black Friday, Cyber Monday allows a more relaxed way of shopping. 
You can browse the best online Cyber Monday deals from the comfort of your home, and have your purchase delivered to you. 
What this all means is that if you have your eye on that awesome office chair for sale, you can get your hands on it without stepping a foot outside your door. Such convenience is what makes Cyber Monday, in some aspects, better than Black Friday. 
Is Cyber Monday Too Late to Get a Good Deal?
Many people worry that due to the frenzy of the Black Friday sale (which comes hot on the heels of the Thanksgiving sale), waiting for a good Cyber Monday online deal may be too late for some of the things they want. 
While it is common for some stores to run out of stock after Black Friday, the biggest retailers plan well in advance for the huge volume of customers that come that weekend. As such, there are always many products to choose from when Cyber Monday comes around. 
Also, some products are reserved solely for the Cyber Monday shopping spree. If you are wondering where to buy office supplies online this Cyber Monday, consider some of the stores mentioned in this article.
How to Get the Best Cyber Monday Online Deals in 2023?
The trick to making the best of this once-a-year opportunity is to know how to get your hands on the best Cyber Monday online sales in 2023. Here, some research will be required. 
If, for example, you are looking for a Cyber Monday standing desk, you will have many options to choose from. However, not all these "deals" will be genuine. You need to do some research to ensure that the store is reliable and that the deal translates to real value for your money. 
Which Stores Have the Best Cyber Monday Online Deals?
With some patience, you can go online and find the best stores that are promoting worthwhile Cyber Monday online deals, such as: 
1. Autonomous - Up to 70% OFF!
Autonomous is widely regarded as the best store for ergonomic office furniture and accessories in the U.S. Many of the chairs used at Microsoft, Google, and other big companies come from this supplier, which is a sign of the quality of goods you can expect. 
However, ergonomic furniture is often more expensive than your generic office desks and chairs. This is what makes the Autonomous online Cyber Monday deals so special. The 27th of November will kick off with a bang at Autonomous, with the furniture store offering up to 70% in discounts! 
If you visit the website now, you will see some of the awesome products being advertised already in preparation for Cyber Monday. 
As an online store, Autonomous places great emphasis on the importance of Cyber Monday sales and promotions. This is the one time of the year when you can enjoy ridiculously low prices without having to compromise on quality.
Which Products and Categories Have the Best Offers?
Autonomous has a wide selection of high-quality furniture and accessories to choose from. Many of them will be available for sale on Cyber Monday. 
Two product ranges that have become best-sellers recently are the standing desks and ergonomic chairs. Many customers prefer buying the two as a combo to make sure that they say goodbye to lower back pain caused by long office hours. 
If you want to upgrade your home office, some great chairs and desks will be discounted on Cyber Monday. One promotion that is catching the eye of many customers is the Autonomous Cyber Monday gaming chair sale. You can get your hands on a sleek gaming chair for a fraction of the cost! 
What You Can Expect From This Store?
Whether you are targeting the Black Friday L-shaped desk sale, or you would rather save your money for Cyber Monday, one thing you can expect from Autonomous is massive discounts. This is an online store that you need to check out for yourself before spending your money elsewhere. 
Autonomous Bulk Order Program
If you happen to miss out on the Cyber Monday online shopping spree at Autonomous, do not worry! The Autonomous Bulk Order Program is another way for you to get some great discounts. It is an excellent option when buying furniture in bulk, and the promotions are available all year round. 
2. Amazon
Amazon is the most popular online retail store in the world, and it has some of the best online Cyber Monday deals ever. The shop is already well known for having daily deals on technology items, kitchenware, clothing, and so much more. However, on Cyber Monday it pulls out all the stops. 
Many people spend months waiting to buy the items they need on Cyber Monday at Amazon, which goes to show how awesome some of those deals are. This is an online store that has mastered the art of convenient shopping, so you are guaranteed that what you see on the website is what you get. 
Which Products and Categories Have the Best Offers?
If you visit the Amazon website right now, you will see that there are some great deals on tech products and clothing. However, you should expect even better deals on these items when Cyber ​​Monday rolls around, so these are categories worth keeping an eye on. 
What You Can Expect From This Store
The great thing about shopping on Amazon is its wide product range. This is one of the few online stores where you can browse and find almost any ordinary household furniture or appliance you can think of. As always, you should expect nothing but top-tier service from Amazon, even during the frenzy of Cyber Monday.
3. Best Buy
With such an awesome shopping experience and an unbelievable product range, it is no wonder that many people have their hearts set on getting a great Cyber Monday online deal from Best Buy. 
The moment you log in to the Best Buy online shop, you will be greeted with awesome deals on various products. Some of the prices are so low that you have to look twice before you believe it. You have to wonder what the Cyber Monday sale will be like with daily sales such as this. 
If you want to cash in on great Best Buy discounts this year, you can subscribe for the Best Buy membership. With free shipping and exclusive access to some of the biggest sales of the year, this could be your best Cyber Monday experience yet. 
Which Products and Categories Have the Best Offers?
It is difficult to limit yourself to just a few products when browsing the Best Buy website because of all the great offers available. However, some of the top deals are in the computer and appliances departments. This means if you are waiting for Cyber Monday, either of these would be a great place to start. 
What You Can Expect From This Store?
The one thing you can always count on at Best Buy is low prices. The website has some of the lowest prices online, and on Cyber Monday, they're set to drop even further.
4. Dell
This year, Dell seems determined to go toe-to-toe with some of the biggest online retail stores by offering awesome deals on its original Dell products. From laptop computers to gaming stations, you will find any Dell product you want on this website. 
However, if you already have the money saved up, you may want to wait for the Dell online Cyber Monday deals that are just around the corner. This way, you can get your money's worth by buying your items at their lowest prices of the year. 
Which Products and Categories Have the Best Offers?
This is a website dedicated to exclusively marketing original Dell products. As such, you will get great offers on a wide range of items, such as desktops, laptops, monitors, and other accessories. To make the most of your Cyber Monday shopping, take the time to go through each category and find what great sales are on offer. 
What You Can Expect From This Store
At Dell, you can expect nothing but the best quality products for your Cyber Monday online shopping. As both the manufacturer and supplier, Dell can offer you great deals on warranties that will make Cyber Monday even sweeter.
5. Apple
The two things that Apple products are known for are high quality and expensive prices. However, the low prices offered on this year's Cyber Monday online sales at Apple may be your way of finally getting your hands on that Apple phone or watch you always wanted. 
It's very rare to find low-priced original Apple products in the U.S. This is why it's no surprise that millions of people worldwide have been eagerly waiting for the arrival of Cyber Monday.
Unlike Black Friday, you will not have to spend the night waiting in line for your Apple products. Simply log in and see what's on offer. 
Which Product and Categories Have the Best Offers?
Apple is the home of the iPhone, iPad, iPod, and MacBook, so there is no limit to the number of products that will have great offers this year.
However, if you want to enjoy the best discounts, you may want to choose a product from a couple of years back, rather than going for the latest iPhone. It is unlikely that you will get a good deal on the iPhone 15, for example. 
If you settle for the iPhone 13, on the other hand, you may be surprised at the Cyber Monday deal you will get. 
What You Can Expect From This Store 
As with all its products, expect top-of-the-line items to be available for sale on Cyber Monday at Apple. However, if you want to avoid disappointment, try to start shopping the moment the sale begins because Apple products are very popular in the U.S.
The Top Pick for 2023 
If your mission was to find the best store offering a great Cyber Monday online deal, you should be all set by now. Out of the five stores in this article, the one that stands out has to be Autonomous. Anyone thinking of buying furniture online on Cyber Monday will find some mouth-watering deals on the Autonomous website.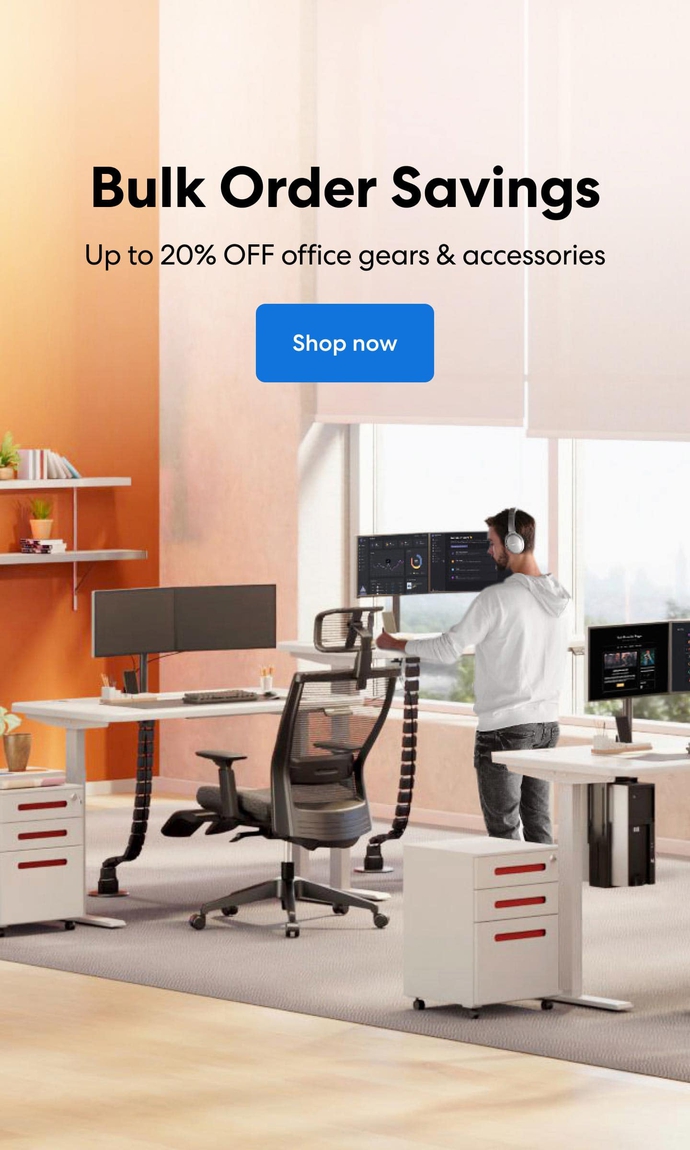 Subcribe newsletter and get $100 OFF.
Receive product updates, special offers, ergo tips, and inspiration form our team.