Smart Products
Where to Buy Office Supplies Online? 10 Best Stores in the USA

Autonomous
|
Sep 6, 2023
1,028 Views
With so many furniture stores in the USA, the question of where to buy office supplies online is not an easy one to answer. There are many things to consider before you can settle on a particular store for your furniture shopping. 
If you are looking for standing desk accessories, for example, one supplier may have a wider range of the items you need, but the items may be of poor quality. Another supplier may have a reputation for selling high-quality accessories, but the items you want are not in stock. 
Such things make buying online office supplies a lot more complicated than it should be. If only there was a single supplier who could cater to all your office needs. How about Autonomous? With a wide range of high-quality furniture and accessories, this is one of the best online shops for office supplies in the USA. 
What Should Be Considered When Buying Office Supplies?
The biggest problem when it comes to deciding where to buy office accessories is that many people do not know what the important things to consider are. If you are looking for the best accessories for computer desks, how do you decide between one seemingly great supplier and another reputable option?
It helps to have a checklist of all the things a good online office supplier must have. This checklist should address all your needs as a customer and help you to decide where to buy office supplies online. 
Consider the following six important qualities of an online office accessory supplier:
Quality
One thing you can never overlook is quality. As a business owner, the quality of furniture and accessories you buy speaks volumes about the standards you try to maintain. If a potential client sees your office full of shabby, cheap, poor-quality accessories, their confidence in you will drop. 
This is why the first step to achieving a perfect desk setup is to find a supplier that only sells high-quality items. A big clue to the quality of merchandise being sold online is the length of warranty that the supplier is willing to offer you. If the product is of good quality, the supplier will be confident enough to offer you many years of warranty.
Function
Rarely will you find an office supplier such as Autonomous that offers such a wide range of products that you are guaranteed to find whatever accessories you need. Usually, a retailer will focus on a few specific online office supplies, so you will have to consider the function that you are looking for. 
Once you narrow down the office accessories that you need, you will be able to eliminate all the suppliers that do not have those items in stock and focus on only a handful of options.
Price
If you are working on a tight budget, knowing where to buy cheap office supplies is essential. Regardless of how much you may want to buy particular kinds of furniture, in the end, you will be limited to what you can afford. 
The difficulty with focusing on the price is that it often leads to unreliable manufacturers that sell poor-quality items. However, this is not always the case. If, for example, you find a supplier offering a discount, you can get high-quality items at low prices. 
Maintenance Costs
When deciding where to buy office supplies online, take time to consider the maintenance costs. If you do not have a particularly long warranty to rely on, maintenance and repairs can easily end up costing you a lot of money. 
Some suppliers offer to help their customers with maintenance and repairs on certain products, which is something you may want to consider when buying online office supplies. Any savings you can make on maintenance and repairs are worth considering. 
Customer Reviews
Rather than simply relying on the marketing content provided by the online office supply stores you are considering, a better way to get accurate feedback about each supplier is to consider what other customers are saying. 
Many platforms offer reliable customer reviews on all reputable online office suppliers. You can log on to Business Consumer Alliance, Yelp, or Better Business Bureau, and take a look at what other customers have to say. 
However, if you come across a negative review, do not be too quick to dismiss the supplier entirely. Consider how the issue was handled and whether the complaining customer was left satisfied. Not finding any reviews at all should be the biggest red flag.
Perks
One thing that is often overlooked when deciding where to buy office accessories is whether the supplier offers any perks. In a bid to attract more customers, suppliers often offer a wide range of incentives that you can benefit greatly from. 
Take Autonomous, for example. Besides the many holiday sales and discount promotions, there is also free shipping and assembly offered on certain products. Some items even come with free gifts, which is a great way to cut costs when furnishing your office. 
10 Best Places to Buy Office Supplies
Choosing where to buy office supplies online requires narrowing down the long list of US office suppliers to just a manageable handful of options. To help you find the best place to buy all the items on your office supplies list, here are 10 awesome suppliers for you to consider: 
1. Autonomous
The first supplier on our list of where to buy cheap office supplies is a supplier that is well-known for providing high-quality furniture and cool desk accessories. With many years of experience in this industry, Autonomous has grown into a one-stop shop for all your office requirements. 
When you visit the Autonomous website, one of the first things you will notice is the wide range of available products. From huge standing desks to the smallest office accessories, you will find it all in one place, conveniently displayed to make your shopping experience pleasurable. 
Another thing you will notice is that many of the items sold at Autonomous come with excellent warranties. This is a huge clue to the quality of products you can buy from this supplier. Only the best environmentally-friendly materials are used to sustainably manufacture the products this supplier has to offer. 
If you are worried about the pricing, you will be happy to know that Autonomous has regular holiday sales and other types of discount promotions many times during the year. If you get your timing right, you can find the best quality furniture at affordable prices. 
It is these things combined that make Autonomous one of the best places to visit when looking for affordable, high-quality office supplies. The website is easy to use, allowing you to do all your shopping from the comfort of your home.
2. Amazon
Amazon is one of the most well-known destinations for online office supplies. The company has built a reputation based on convenience and stocking a wide range of products. As one of the pioneers of this type of shopping, Amazon is one of the few places online where you can find virtually any office accessories you can think of. 
3. Office Furniture 2Go
When considering reputable online office supply stores, Office Furniture 2Go is always close to the top of the list. This supplier is proud to offer its clients a lifetime warranty and free shipping on all the office furniture on the website. When it is time to upgrade your office furniture, Office Furniture 2Go is a great place to start.
4. Officesupply.com
One of the most popular considerations when deciding where to buy office supplies online is Officesupply.com. This supplier has built a reputation for having one of the most affordable furniture selections online. It also has a very impressive range of products, meaning you can save both time and money when you do all your shopping on this single site. 
5. The Green Office
If your search for where to buy office accessories is mainly focused on computer hardware and paper, one of the best places to consider is The Green Office. Here, you can rest assured that the products you are buying are of the highest quality, guaranteed to last you a long time. 
6. Best Buy
There is a reason why Best Buy is one of the most well-known online office supply stores in the country. It has a wide range of products that cater to all your office supply needs. Besides the electronics that this supplier is known for, you can also buy other supplies, such as inks and printers.
7. Mead
If you are looking for cheap online office supplies, visit Mead and you will not be disappointed. The online store has many affordable school and office supplies for you to choose from. 
8. National Pen
As the name suggests, National Pen is one of the country's leading suppliers of all kinds of pens for office use. If you are thinking of stocking up on your stationery, National Pen can provide you with many different options that all come designed with your business logo. 
9. Poppin
With reputable suppliers such as Poppin around, there is no need to waste time wondering where to buy office supplies online. This is the best place to go when you are looking for something a little more special than just ordinary office accessories. 
The products from Poppin are designed to be functional, beautiful, and a reflection of your personality. If you want to add a personal touch to your office, this is a good place to start your search.
10. Quill
The last online US-based shop on this list of where to buy office accessories is Quill. It is one of the largest suppliers in the country, meaning every type of office furniture or accessory can be found on this website. Visit Quill if you want your shopping experience to be quick and easy. 
Buy Office Supplies at Best Price With Autonomous Bulk Order Program
Deciding where to buy cheap office supplies is not just about visiting a website and taking a look at the prices of various items. In some cases, products may be expensive but also available for much lower prices under the right conditions. 
This is the case when you decide to buy wholesale office furniture from Autonomous. There is a Bulk Order Program specifically designed for customers who want to buy office supplies in bulk. With this program, you can furnish your entire office for much less than you ever thought would be possible. 
To take a look at what kind of office supplies are available under the Bulk Order Program, simply visit the Autonomous page and select "Bulk Order." You will find a wide range of products to consider, such as desks, chairs, cabinets, and much more. 
If you are not sure about what you need, the selection process has been simplified to allow you to shop for important items based on the place you want to furnish. When you shop by space, Autonomous will give you suggestions of the kind of office furniture and accessories you should be considering.
There are many advantages of buying your office furniture using the Bulk Order Program, such as: 
You can get furniture at much cheaper prices.
Everything you need is always in stock.
There is flexible shipping for all bulk purchases.
Some items come with free gifts, such as the SmartDesk Corner which comes with a free cable tray.
Autonomous offers free assembly on SmartDesks and ErgoChairs bought within California. 
Final Word 
If you are having trouble deciding where to buy office supplies online, these 10 options are great places to consider. You can start by visiting Autonomous, an online supplier of the best desk accessories in the country, and taking a look at what is available. Thanks to its Bulk Order Program, Autonomous is a must-visit for anyone thinking of buying wholesale office furniture.
Video ads for product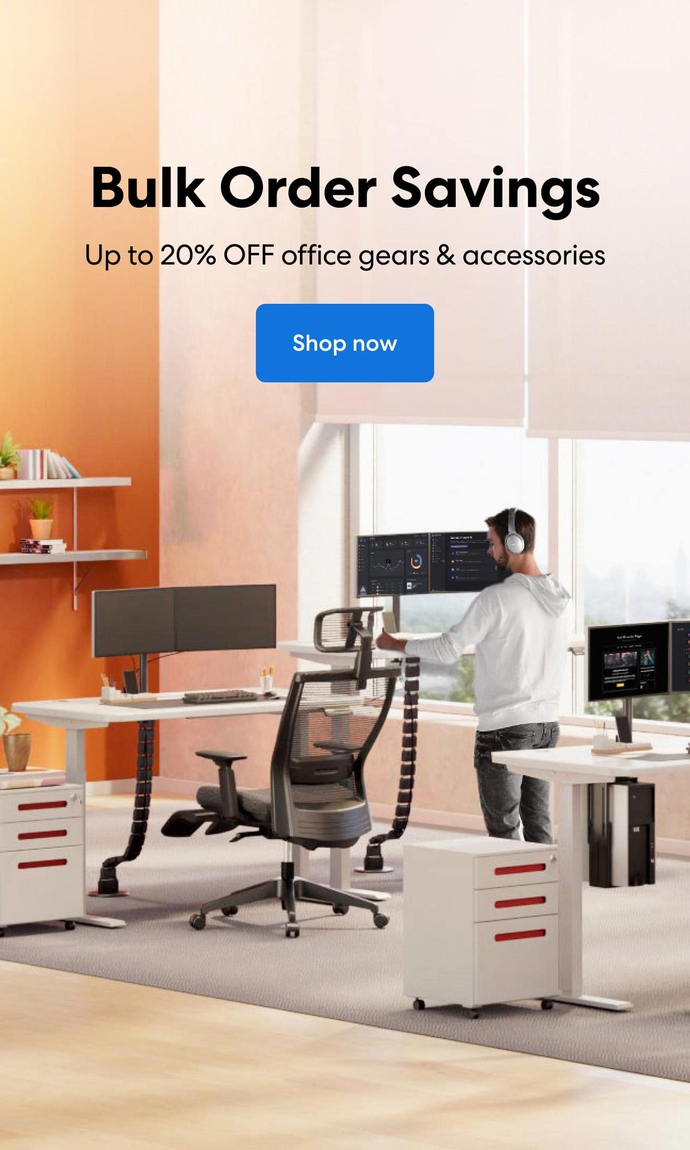 Subcribe newsletter and get $100 OFF.
Receive product updates, special offers, ergo tips, and inspiration form our team.