If you play a lot of video games for hours or are a professional player, you know how vital it is to build a good gaming setup. Online gaming has changed over the years, high-speed internet, and interacting with other players have changed too. Gamers now prefer the traditional desk layout over consoles. Of course, they also prioritize desk ergonomics too with a special focus on gaming desk height for comfort.
You probably already know what a good gaming desk is just by looking at it. What isn't easy to spot is the style or type of desk that suits the gamer. There are thousands of desks one can get today, so it becomes tougher to find one that's specific to you. You can purchase a desk of your choice and then adjust the height of the standing desk or add gaming desk accessories to it.  
The ergonomics that PC gamers have to focus on are those changes that help them adapt to the environments that they game in. Altering your gaming world isn't rocket science and is as easy as adjusting the gaming desk height. For gamers, specific improvements can lower stress on their bodies, as shown below.
Tilt & height of your gaming monitor
Always sit upright at your gaming desk, and when you do, ensure that your eyes are horizontal. The ideal eye level should meet at the upper areas of the screen and gaming desk height. Never keep the screen completely straight, as this would push your head backward to view it. Instead, leave it slightly tilted, so you can view it as you sit straight.
Keeping the screen tilted prevents unnecessary neck movements as you strain to look at the screen. It also limits the upward movement of the upper neck. Our eyes manage our neck movements, and by ensuring the best monitor height for gaming, that is just below the horizontal eye levels and tilted, it prevents using your neck too much.
The optimal angle of viewing should be around 20 to 50 degrees. This makes most of the areas of the screen less visually straining. Computer screens that are too low will result in forward head posture. If it's too high, you tilt your neck upwards. In some cases, getting a standing gaming desk ensures more significant movement. However, if you have the correct gaming table dimensions, you can place the PC screen in the desk's center.
As for the distance, the further away the screen is from your eyes, the better. Adjust it by pushing the screen back, but not too far away. You should be able to read what's on the screen without squinting.
Adjusting your gaming chair
No gaming rig is complete without an ergonomic gaming chair. To ensure maximum comfort, adjust the levers on the chair so that your knees and hips are in level. This prevents back pain and circulation issues when you're seated. Your feet need to be flat on the floor, and you can use the footrest if necessary.
The angle of the backrest depends on how far you'd like to recline and your gaming desk height. Begin with a smaller tilt angle, and then adjust the recline till you are comfortable. The armrests should support your elbows at a 90-degree angle as you use the keyboard and mouse. The desk height for gaming must permit the same elbow position, whether you play sitting or standing up.
When your elbows are like this, you can reach the keyboard and mouse without straining your body. Your wrists mustn't bend either; they need to be level, and the hand must not bend upward or backward.
Gaming desk
Good gaming ergonomics also means making the most of the surface desk area. The amount of space on the desk and the area where it will be located will help you determine your desk size. Before choosing a suitable desk, you need to ensure that you have room for it, along with the controllers, mouse, keyboard, and everything else.
This might lead you to an L-shaped gaming desk; these desks can hold all you need without occupying too much room. If you prefer regular desks, then you can add monitor arms to get more surface area.
How tall should the desk be?
How tall should a gaming desk be? The answer to the question depends on whether extra gaming desk height will benefit your gaming rig. Some gamers find it easier to play on a lower desk. Other gamers need the extra room under the desk for their CPU, GPU, and other game PC accessories.
An adjustable standing desk is popular only because it offers more options for storage and player height. This kind of desk lets you adjust your gaming setup based on your needs. You can keep it at the height of a regular office desk, or you can readjust the height, making it taller.
If you invest in an adjustable desk, then think of all the things, add-ons that you store on them. A desk with varying gaming desk height options might improve ergonomics but may not hold all you want. Sometimes, you need to remove heavier items in order to adjust the height.
Storage
Storage is a big plus point on a gaming desk for cables, DVDs, games, etc. Regular desks with drawers give you the storage but occupy the under-desk area. This could impact how you play when seated down. Sit-stand desks usually don't have drawers attached, as this affects how they can rise.
The result is that you need to find some other space for all those cables, DVDs, games, etc. One option is to extend the desk's surface area with cupboards, drawers, and file cabinets on either side. This may work in limited areas, and if you're using a standing desk, fill in the empty space underneath with lidded storage boxes.    
Tossing in all your accessories and peripherals in a bookcase or cupboard could free up more space for you. You can play comfortably when you have more room for your arms, legs, and so on.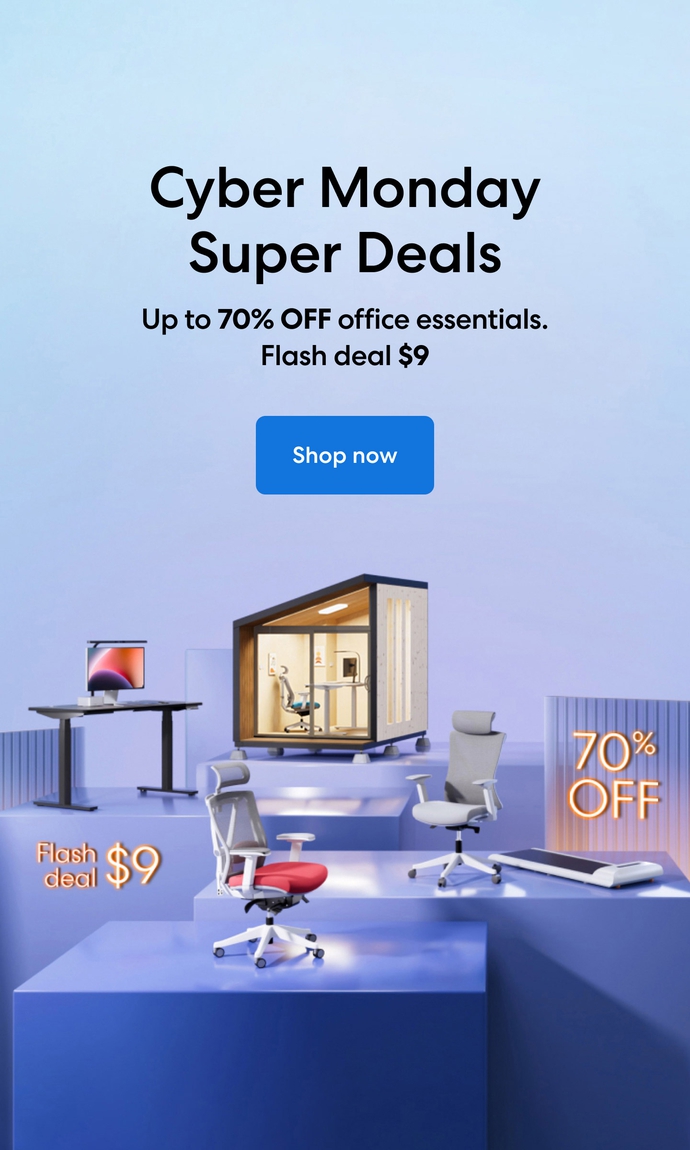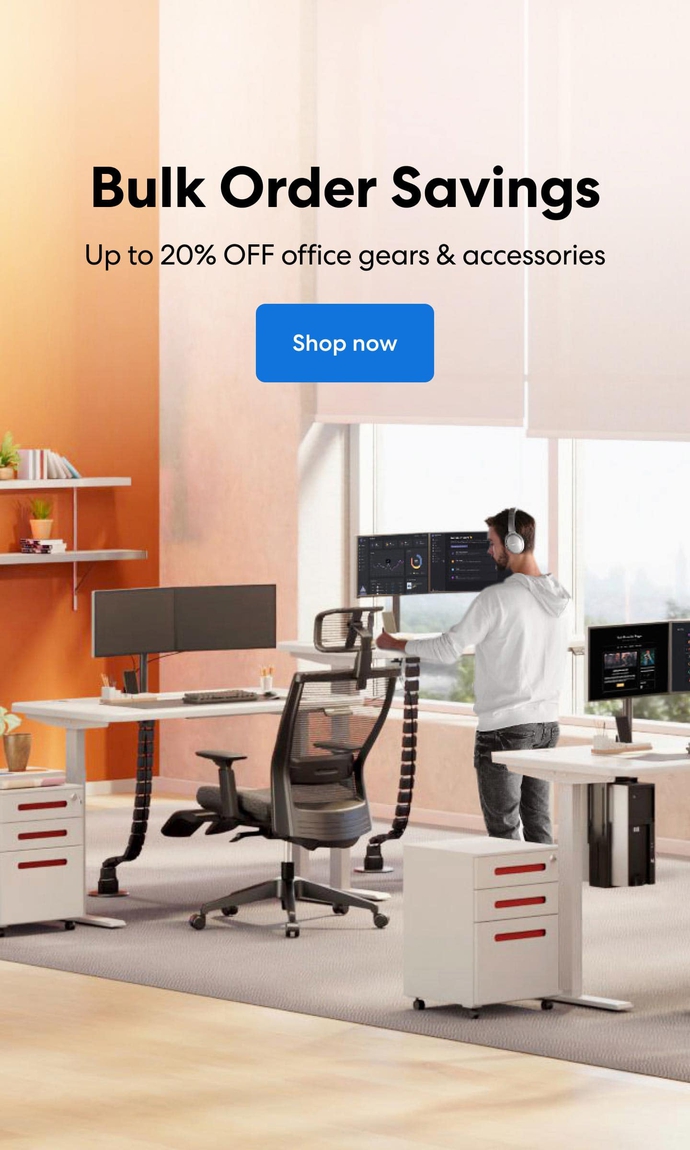 Subcribe newsletter and get $100 OFF.
Receive product updates, special offers, ergo tips, and inspiration form our team.