An electric sit-stand desk can help you overcome the drawbacks of working from home and ensure you reap the many benefits of maintaining a healthy posture. Experts advise against the common practice of sitting behind desks for long hours. According to a leading professor at the University of Waterloo, workers should be standing for approximately 30 minutes per hour. The sitting posture is also crucial.
These facts reveal that working from home comes with unique challenges that people should know. 
Read on to learn more about the pros and cons of working from home to be able to make the right decision whenever faced with the option to work remotely.
Pro 1: You can take care of almost anything
When you commit to a 9-to-5 desk job, you have almost no flexibility to attend to different needs depending on their priority. If you want to attend to your doctor's appointment or take a sick person to the hospital, for example, you must seek permission from the supervisor. Unfortunately, there is no guarantee that you can take care of many of such appointments and errands without losing your money or job.
When you work remotely from the comfort of your home, however, you have 24-working hours per day. Besides, you decide how you use this time. As such, you have the opportunity to tend to all the other vital responsibilities without putting your career at risk.
Pro 2: Easier to stay focused
For individuals who know how to create a distinction-free work environment in the right way, they are happy to work from home due to the lack of interruptions from unnecessary meetings and teasing. Remember, your colleagues are not around you, so they are not able to keep dropping by when you are at work. The same applies to your supervisor. This way, all you need to do to maintain a cordial working relationship is dial in when necessary for crucial meetings.
Pro 3: Adequate time for workouts
As we have established, when people work from home, they have more opportunities to exercise than those who commute to work every day. They have enough time to engage in several activities, which ensures that they remain physically and mentally healthy.
Other than that, when these individuals are at home for several hours, they have a stronger urge to move around. Some of them choose to walk their dogs for a while. Others take time running or enjoying yoga. Due to this, these people can be healthier, especially if they have an electric sit-stand desk or electric standing desk to make their life incredibly easier.
Studies have also shown that remote workers hardly fall ill since they are not exposed to numerous viruses and bacteria, such as the COVID-19.
Pro 4: An electric sit stand desk offers more secure time with family
One of the main criticisms against 9-to-5 jobs is that it denies parents that opportunity to take care of their families. The working from home model solves this problem. Of course, this is correct if you have the best electric standing desk or any other great alternative. Parents spend most of their time at home with their families and can monitor their progress in life. This way, many parents use the opportunity to guide their children to develop in the best way possible. 
Working from home has many benefits, but there's no perfect situation. Understanding the benefits of working from home – as well as the cons – can help you learn how to work from home successfully. Let's explore some of the drawbacks of working from home.
Con 1: Lack of leisure time
If you work from home, you likely have limited leisure time. Since you have unlimited time but cannot take care of all the errands and appointments that come your way, you have to sacrifice your leisure time to be able to cope with the difficulties of managing an incredibly flexible working mode of working.
Many freelancers, for that matter, may not be productive unless they learn to manage time properly and work without supervision.
Con 2: Loneliness
Many people who work remotely are also concerned that they often feel lonely. While some do not think this is relevant, the truth is that the inability to communicate via both body language and words limits the efficiency of communication. As such, when people fail to make the extra effort to maintain positive communication, different parties begin to fear the worst, which often leads to several avoidable relationship problems.
Moreover, loneliness can cause a lack of a competitive spirit. When colleagues work together, they spur each other to work hard to be highly productive. As such, working from home can have a negative impact on people who are not self-motivated or lack the skills to do a particular task without the physical presence of some or all of their colleagues.
Con 3: Unhealthy lifestyle without an electric sit stand desk
Although people who work from home have adequate time to exercise and not get exposed to countless germs, it can be extremely harmful to the life of other people. Most companies know the demerits of working in the office and provide high-quality furniture to mitigate health problems. If your employer offers you an electric sit-stand desk or ergonomic chair, you have no problem working in the office.
The problem is real if you have to work from home but have not invested in an efficient electric standing desk or other proper office equipment.
Some people think they can work at home while lying on the couch for as many hours as they wish without any problem. But, from experience, this is the leading cause of horrible back pain. In other words, you must invest a substantial amount of money on furniture such as an electric standing desk for you to be able to mitigate the risk of back pain and other severe health conditions.
Con 4: Family distraction
When families are passing through certain hard times, a parent may get emotionally disturbed and stop to work efficiently from home. The 5-to-9 model protects you from such types of stress. You can hire households and trust them with the duty of safeguarding the welfare of every member of the family while you are away.
Conclusion
The number of people who are working from home is on a steady increase as tech advances make collaboration and communication over long distances easier than before. Besides, many people want to be safe from pandemics such as the COVID-19 and other problems. Given that this decision comes with many disadvantages, the best strategy is to follow simple tips, buy the right electric standing desk, and maintain a high discipline to overshadow the demerits and let as many people as possible reap the incredible fruits that come with working from home.
Video ads for product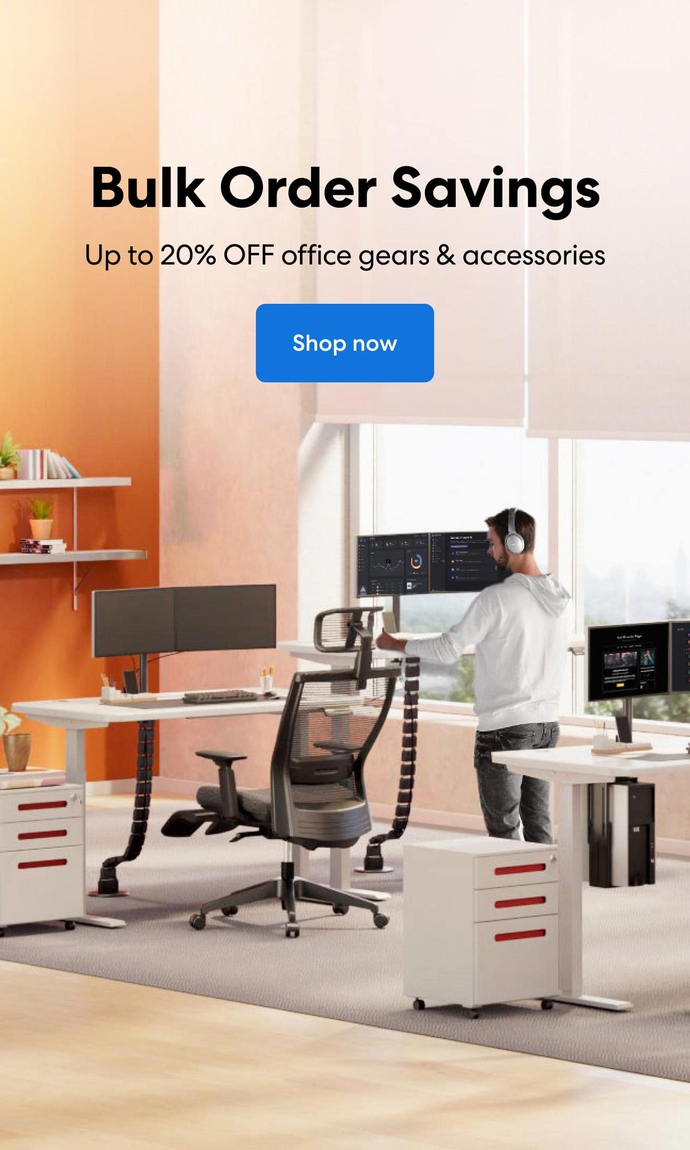 Subcribe newsletter and get $100 OFF.
Receive product updates, special offers, ergo tips, and inspiration form our team.