Smart Products
Transform The Meeting Room With These 3 Red Conference Chairs

Autonomous
|
Jun 26, 2021
1,849 Views
There are many ways in which you can make your meeting room more stylish, such as using red conference chairs.
 Ergonomic office chairs are required in most workplaces, especially offices. As office workers spend more than fifteen hours sitting daily, it is hugely important for them to look after their spine health with more care than those not obligated to spend such a long time sitting at their workplaces.
Including red conference room chairs in your workplace will add a nice "touch" to the room and help everyone in the room feel comfortable throughout the whole duration of the meeting. Plus, it will be a nice thing to do after learning that office workers spend seventy-five percent of their waking hours sitting.
We all know the bad effects of a sedentary lifestyle. Sitting for prolonged periods can leave us feeling discomfort, backache, and even more tired than we were before. Thus, it is hugely important for you to use red conference chairs in your meeting room so that people can be appropriately comfortable while they're in the room.
Without further ado, here you have the three best red conference chairs you can add to your meeting room.
Best red conference room chairs – Three Options
There are multiple choices in red meeting room chairs you can select. However, not all of them are suitable or will provide you with the most comfort possible. So, to help you in the hard task of selecting a good conference room chair for your meeting room, here you have three options for the best ergonomic chair that will excel in its purpose.
1. ErgoChair Pro
Do you want to enjoy everything that a red executive office chair has to offer for an affordable price? Perhaps the ErgoChair Pro is what you're looking for. This chair is the "little sister" of the ErgoChair Plus from the same brand (Autonomous), which means both models have certain similarities.
The ErgoChair Pro makes emphasis on the lower back area, making sure the user remains comfortable and supported during the whole duration of the meeting. You won't feel discomfort as you get up from the chair.
However, although this red conference chair model, in particular, can be considered a "standard" version of the ErgoChair Plus alternative, you should know that it has certain restrictions in regard to adjustability and adaptability. Despite that, it's a nice chair capable of complying with all that an ergonomic chair has to offer.
This mesh conference chair will make it possible for you and the other attendees to feel comfortable throughout the whole duration of the meeting.
2. Herman Miller Aeron
If you want an office chair for long hours, the Herman Miller Aeron is your call. This chair has been cataloged as one of the best mesh office chairs available in the market, and the best part is that it has been providing comfort to hundreds of users since 1994.
As the upholstery is made of mesh, you can be sure that your body will remain as fresh as it was before the meeting started. Furthermore, this red conference chair is also hugely durable and resistant, making sure you're making a safe investment.
The Herman Miller Aeron's reclining function is also noteworthy, but every one of its aspects is exceptionally good.
However, one of the main drawbacks of this red conference chair is the presence of metal frames, which can make the seat a bit uncomfortable for certain users.
3. Nightingale CXO
If you're looking for a good red executive office chair, the Nightingale CXO is one of the best options you can choose.
It can be a bit costly, but this chair will provide you with enough comfort and adjustability so that you can go on with your workday with no problems. You will be able to go through the whole meeting comfortably as it will easily adapt to your unique body proportions.
Of course, you will be able to enjoy the standard version, but it is also possible to enjoy extra features, such as a footrest and a headrest if you want to make sure you've acquired the best red executive office chair.
It can be a bit expensive, but you can trust that it contains full ergonomic adjustments, making sure you get the best deal in a single product. It is one of the best high-back office chairs you can purchase.
Main characteristics of ergonomic chairs
Besides the characteristics, a good red conference chair needs to comply with other factors so that you can enjoy everything it has to offer as you should. Here we mention the most crucial factors of an ergonomic chair so that you can take them into account while purchasing an ergonomic chair.
Adaptability – All ergonomic chairs should be able to adapt to your body shape easily. Although some models are better in this aspect than others, it should be possible for you to adjust it if the default settings don't seem to suit your proportions. The goal of an ergonomic chair is to enhance the relationship you have with your environment as you continue sitting at your ergonomic workstation.

Resistance

– If you've seen an ergonomic chair at a high price, that's probably because it is hugely durable. Regular office chairs are often vulnerable to damages, obligating you to purchase a new chair in little time. However, an appropriate ergonomic chair is durable and resistant, making sure you've purchased a product that will last for several journeys.

Comfort

– Last but not least, you should pay attention to how comfortable the chair is. Some chairs have strange backrest shapes, which can be an immediate turn-off, but that doesn't mean the overall product is not comfortable. Remember that these chairs are meant to help you correct your posture while sitting.
There are tons of characteristics that make an ergonomic chair so special. However, if you pay attention to the above factors, you'll be able to purchase a good chair for your meeting room with no problems. By the end of the day, you'll have acquired an excellent device that will last for several years.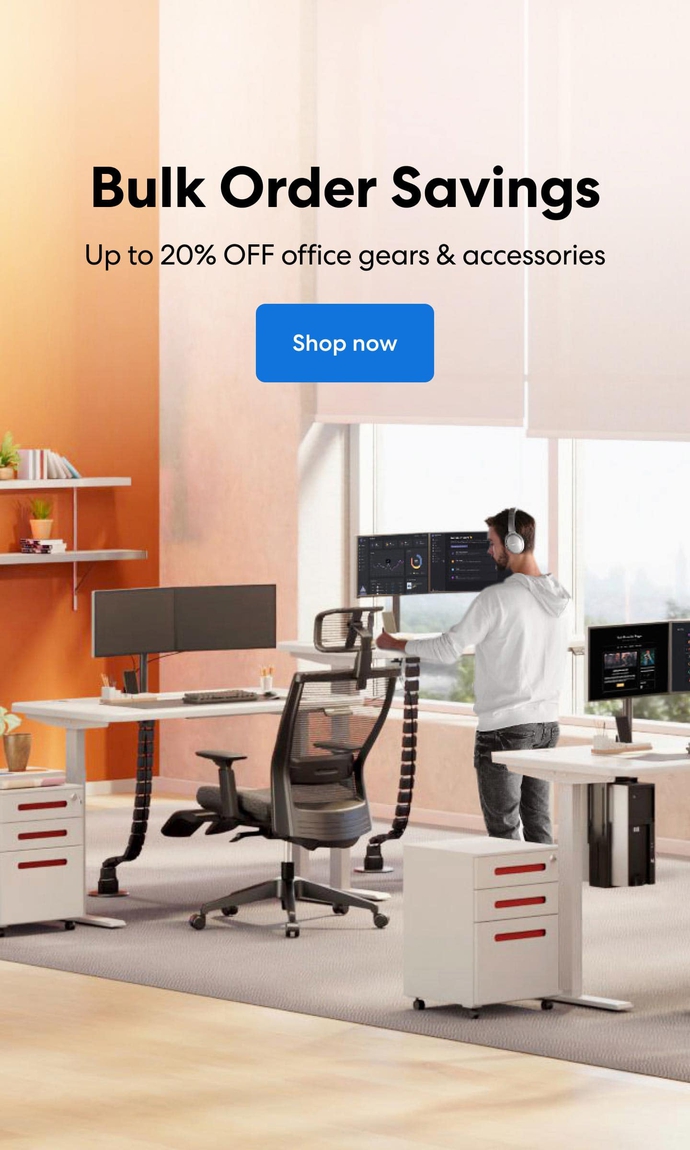 Subcribe newsletter and get $100 OFF.
Receive product updates, special offers, ergo tips, and inspiration form our team.