Workplace Inspiration
Top 10 Backyard Airbnb Rental Ideas to Earn Passive Income
374 Views
According to a solid study by All the Rooms, Airbnb listings with around 100 reviews make 21,000 US dollars annually. Because of this opportunity to make some solid passive income, many people are considering options to revamp their backyards to convert them into backyard Airbnb.
As a homeowner, you can turn your backyard into a profitable rental by implementing a few creative and converted ideas. In this blog post, we'll explore ten converted ideas for your Airbnb backyard rental that can attract guests and increase your rental income.
Why Go for Airbnb Backyard Ideas?
The number of Airbnb's available in the United States of America has been surging recently. To stand out from the competition, you must think on your feet and bring creativity and value to your Airbnb. It's not about implementing crazy ideas; what matters is creating a pleasing and comfortable environment for your guests. Your focus should be to provide the best living experience to your guests.
Top 10 Airbnb Backyard Ideas for 2023
Invest in a Backyard Studio
Backyard studios have become quite popular lately, and they are easy to implement and an excellent value for money when it comes to using them as an Airbnb. If your backyard has spare space, use it to your benefit by investing in a modular ADU.
Consider pods from Autonomous to receive the best value for your money. These pods are highly durable and very easy to assemble.
Comfort is Key
Comfort is the number one thing guests look for when accepting an offer for an Airbnb. A garden house Airbnb needs to provide the ideal level of comfort to the residents. A backyard guest house can be adorned with comfortable and plush pillows, breathable mattresses, and much more. These small changes will not cost you a fortune. But they will elevate the living experience for your guests.
Aesthetically Pleasing Walls
Your attitude towards a place matters significantly in correlation with its surroundings. In most cases, simply painting the wall with a fresh coat can make your backyard studio stand out from most listings. Play along with the color combinations and choose something that looks spot on.
You can also invest in designer wallpapers to add a further aesthetical element to your Airbnb. Don't overdo it, and make it a creepy place to live.
Add a Modern Prefab Cabin
Prefab shed kits are the perfect spot to chill and focus on something. They provide residents with the ideal atmosphere and feeling. A prefab cabin can be transformed into anything you like. Whether you customize it into a gym or make it a small movie theater, the choice is yours.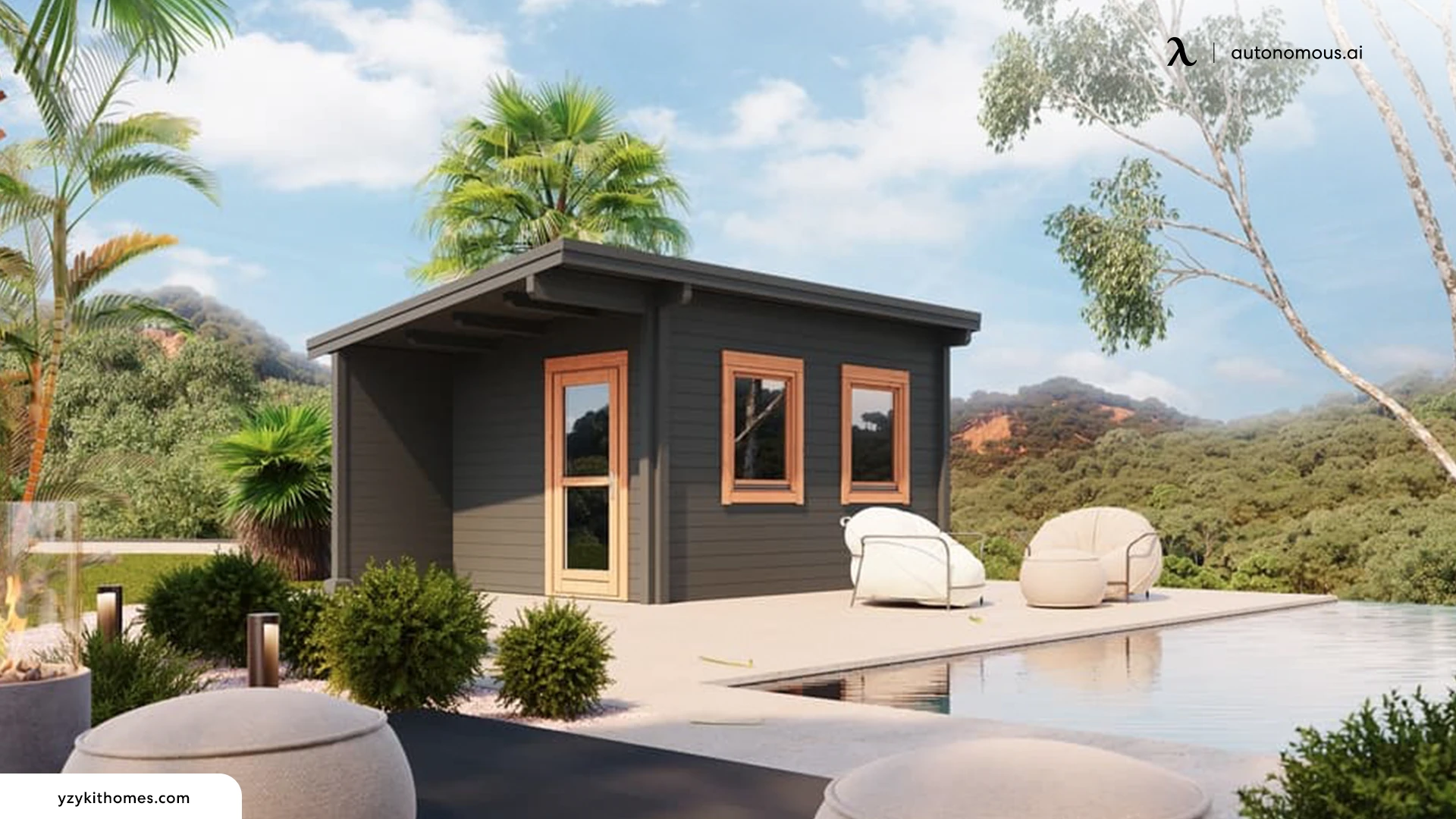 Outdoor Dining Space
Make the most of your Airbnb outdoor space by adding an outdoor dining space. Eating dinner in the backyard looks pretty pleasing and soothing, and all you have to do is invest in a good-sized table and some comfortable chairs. An outdoor dining experience proves to be worth it when it comes to backyard Airbnb rentals.
Outdoor Kitchen
Create a fully-equipped outdoor kitchen in your backyard with a grill, fridge, and dining area for guests who enjoy cooking and eating outside. This is perfect for having a great time. These added amenities and features skyrocket and capitalize on the demand for your Airbnb listing.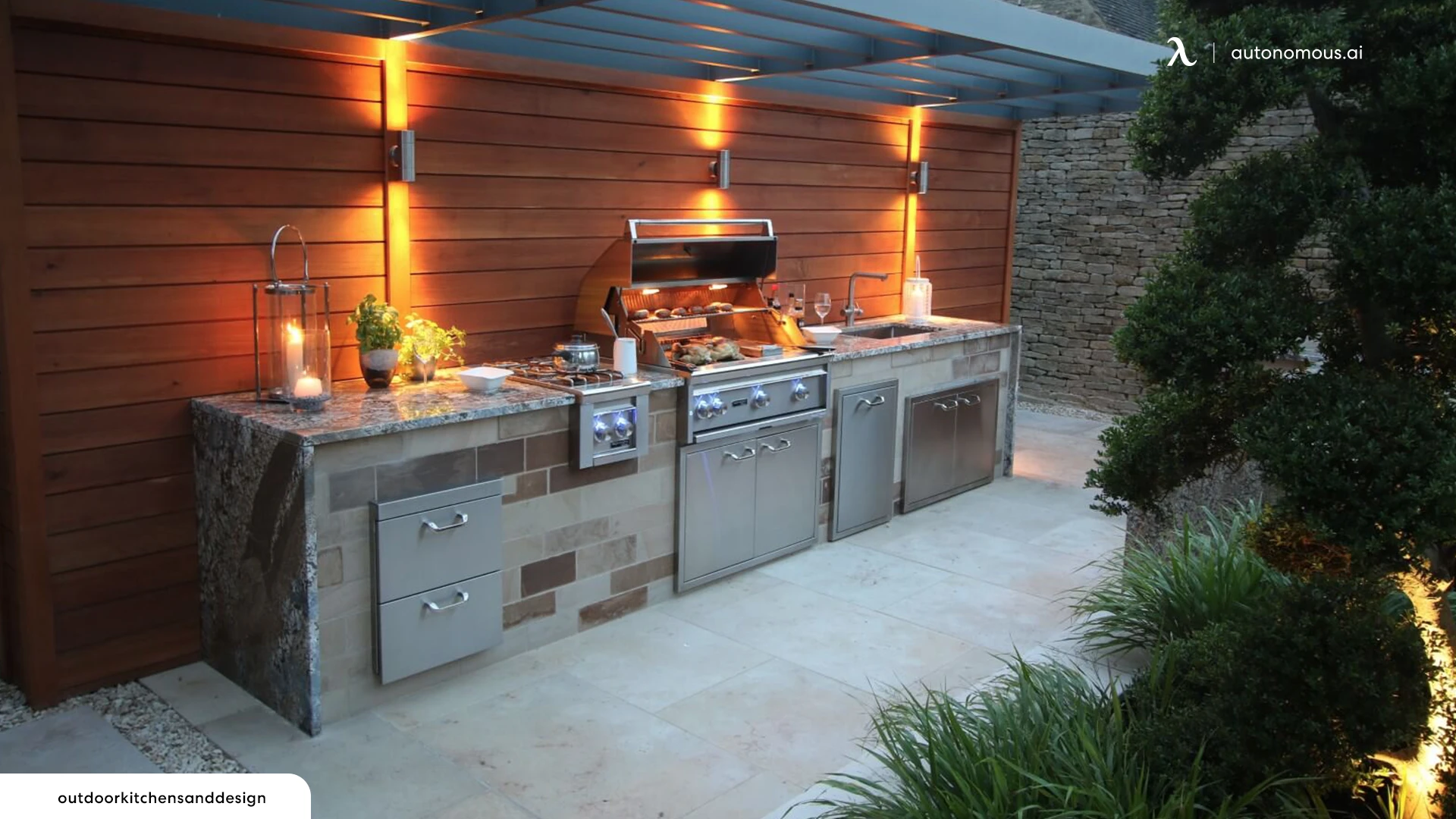 Backyard Seating
Modern backyard ideas don't need to be expensive; it all comes down to what makes the experience worth it. You can invest in inexpensive chairs for a pleasing backyard sitting environment. An outdoor table can also be used for a patio to allow guests to enjoy the sunset tea.
Outdoor Lighting
Apart from outdoor bedrooms, outdoor lighting plays a vital role in elevating the value of your Airbnb outdoor space. You can let the creativity kick in and try out some new stuff. Wrap a tree with lights or place a luminous centerpiece in the backyard to improve the environment. These outdoor lights are great for outdoor events and parties.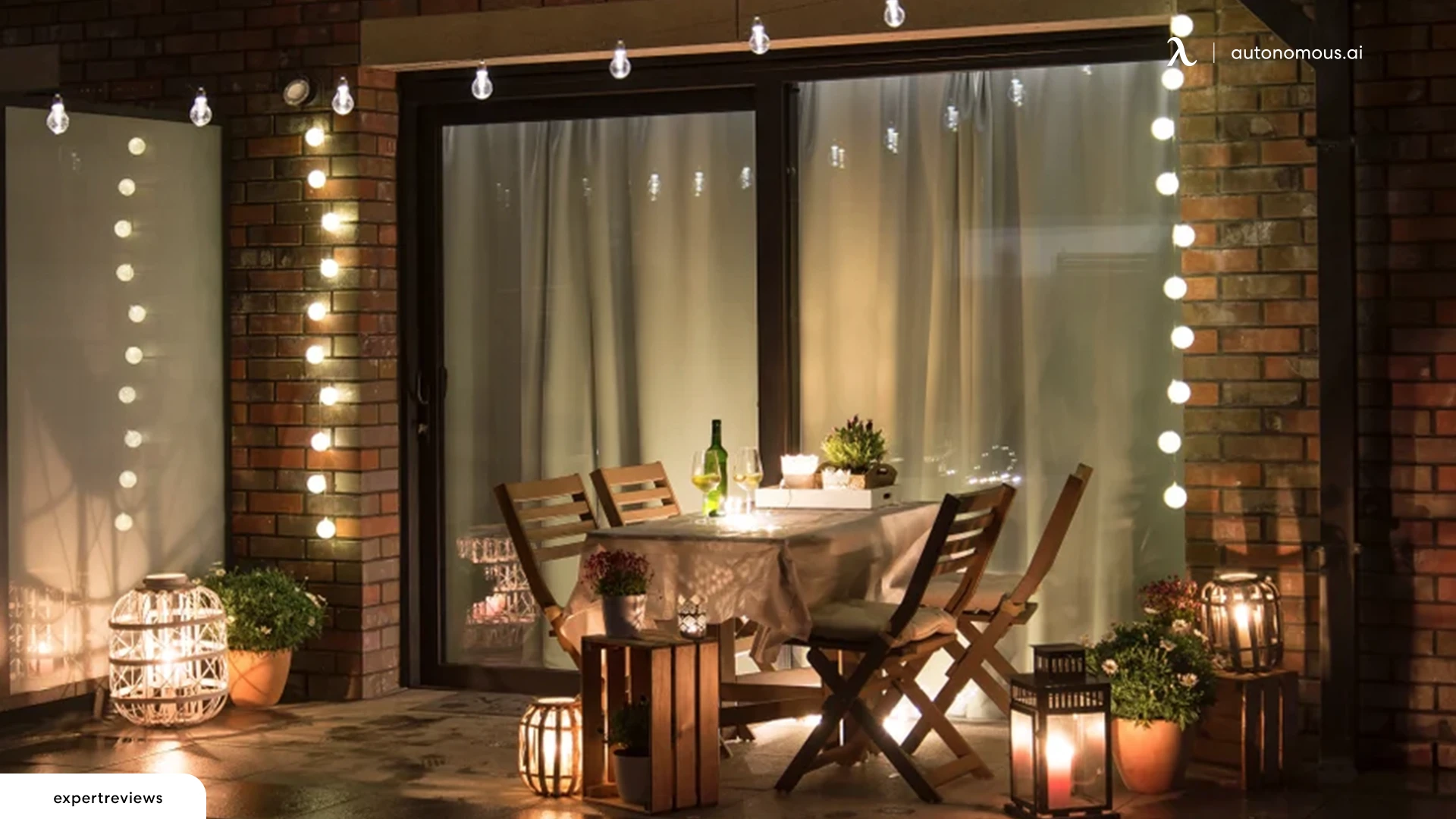 Vintage Outdoor Look
An Airbnb backyard rental with a vintage look will most likely go for a much higher rate than a simple modern one. The reason? People love nostalgia.
Implement a vintage look in your backyard Airbnb by adding traditional furniture, including tables and chairs. Your vintage collections will come in great handy for this. Experiment and let your creative self explore new ways to make a vintage outdoor look stand out from the competition.
Infinity Pool
Take things to a new level by setting up an infinity pool in your backyard Airbnb. This is undoubtedly a costly idea to implement, and however, it adds tremendous value to your rental that you cannot even calculate. It allows your residents to swim the bloodsucking sun rays.
Why Investing in a Studio Shed is Worth It?
Before concluding this post, let's discuss why a backyard studio is the best option for Airbnb. Backyard studios allow you to easily set up an Airbnb business without the hassle of setting up a separate property in another area.
Backyard studios can be assembled in less than 3 days.
Furthermore, you can customize these studio sheds according to your needs. Also, these sheds are easy to disassemble. It is a convenient setup for living that can incorporate all the necessary amenities and essentials for living.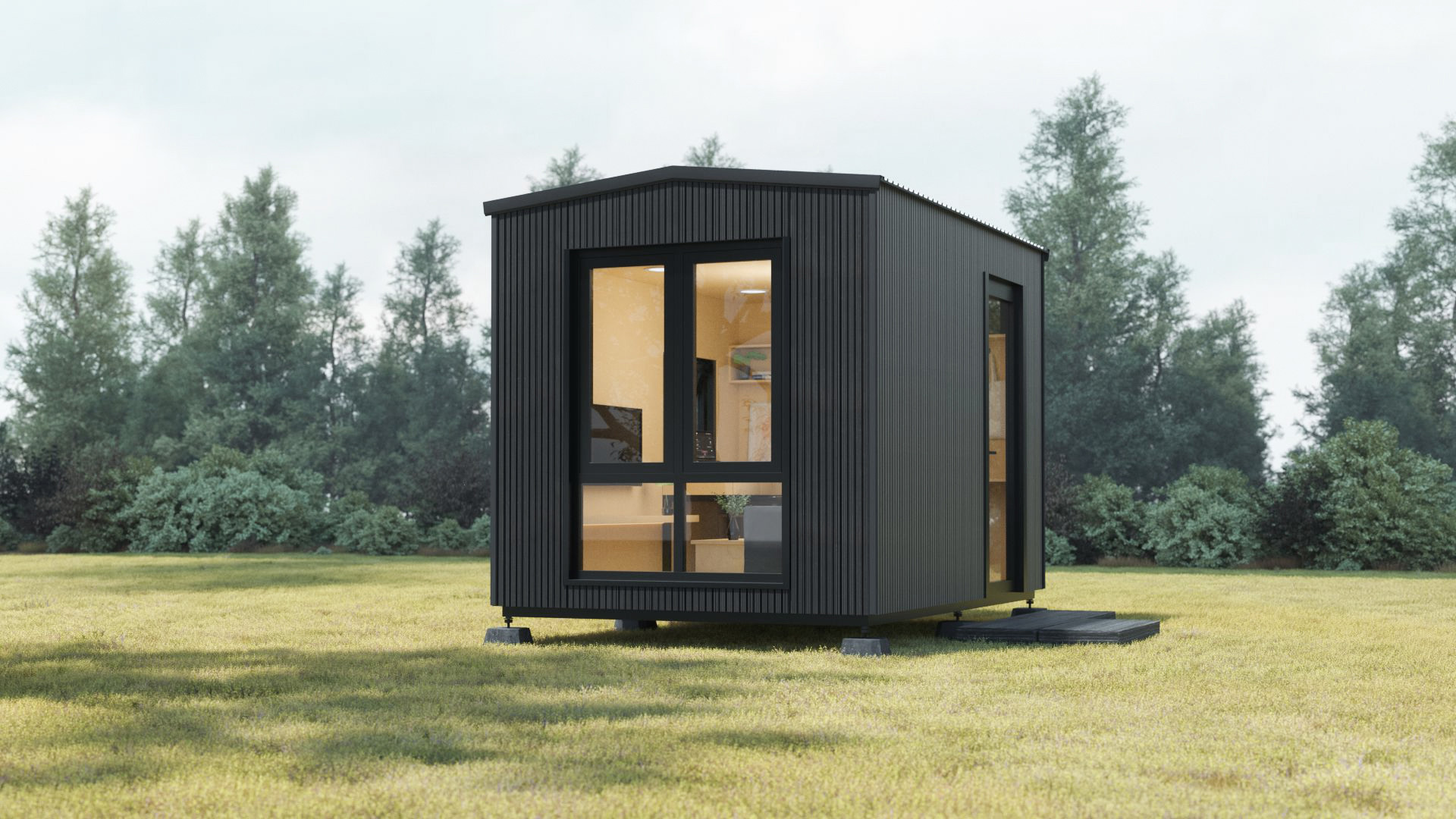 Dimension
8'4"W x 12'6"L x 9'10"H
Floorspace
105 square feet
Ceiling height
7'3"
Weight capacity
2.9 tons
Pedestal
18"W x 43"L x 7"
Window & door material
Powder-coated aluminum,  5/16" tempered glass
Material
Siding: plywood 1/2", steel frame, honeycomb paper, plywood 3/8", bitume, housewrap, vinyl siding
Roof: roof shingles
Floor: plywood
Pedestal: steel frame & wood plastic composite
Electrical devices
RCB, Wall outlet, Ceiling light switch, Ceiling light, Ventilator switch, Ventilator, Ethernet wall port, 66ft power cable with 2 connectors
Include
Optional: Cabinet, Desk, Small & Big Bookshelf, TV Shelf, Foldable Sofa Table, Convertible Sofa Bed. Always included: Electrical Cabinet
Power input
Maximum voltage : 110V AC (US standard)
Maximum current : 25A
Maximum power dissipation : 2750W
Conclusion
Setting up an Airbnb business is not that difficult after all. You can build a wildly profitable Airbnb business with a couple of ideas. Consider investing in modular ADUs to experience a seamless and effortless Airbnb setup experience. Also, consider all the design ideas mentioned above to give your Airbnb a well-needed edge over the competition.
There are many more ideas and options to implement. Creativity has no limit. However, we decided to stick to the most popular options out there. Share this post with your loved ones. Thanks for reading.
Subcribe newsletter and get $100 OFF.
Receive product updates, special offers, ergo tips, and inspiration form our team.
WRITTEN BYAutonomous
We build office products to help you work smarter.