Smart Products
Top 10 Individual Office Pods for Maximum Privacy & Better Workplace

Autonomous
|
Dec 27, 2021
2,781 Views
After 2020 the whole working environment got shifted upside down, and for some people, it has been hard making limits between their work and regular lives. Office pods are a fantastic solution to this problem since they allow you to create a specifically dedicated space for work. You can even place them outside of your house, so you get that feeling of commuting every morning. 
They provide a clean and private space that maximizes your productivity and creates a work-friendly environment. Use them to prevent any annoying distractions that might damage your workflow. If you want to learn about the best 10 office pods of 2021, keep reading and find out more in this handy guide.
What Are Office Pods?
Office pods are what you would call a room within a room. These self-contained spaces give you the privacy you need to focus and get in the zone during working hours. 
There are two types. The first one you can place in a regular office to create a sense of privacy and comfort, and the other one is an actual structure that you put in yards. 
All office workers should get the option of working however they feel more comfortable, and office pods allow you to do that. They are perfect for any private call or virtual meetings that only you should be aware of, and they also boost your solo productivity that a noisy environment could threaten. 
Where Should You Use Office Pods?
These devices are suitable for all kinds of spaces. However, certain situations might benefit from the use of individual office pods; some of them are: 
Offices that want to promote social distancing
Working environments that need a private space for their employees
Homes without a proper home-office space
Places that look for diversity in their work areas
Offices with a lot of noise 
You can see that the list of places where you can use individual office pods is quite diverse, and that's because they're an investment in your comfort and productivity that everyone needs to try at least once. 
What to Look For in an Office Pod?
In order to make your experience in the pod better, you need to make sure it has a list of features that are sure to provide high-quality performance. Some of them are: 
Space efficient. Individual office pods tend to be smaller than your regular room, and you should look for one that knows how to maximize that space while also being able to be moved around without problems.
Quiet. There's nothing worse than noise during your working hours. That's why you should look for an individual workstation pod that's 100% soundproof and allows you to concentrate and remain in privacy throughout the whole day.
Easy. You must look for an office pod that's easy to assemble and dismantle whenever you want. Otherwise, it would be too much of a hassle to maintain.
Affordable. Office pods aren't usually cheap; however, we don't want you to break your bank when investing in one. That's why it's important to compare prices and quality when you're looking for the right pod for you.
Versatile. These prefab office pods shouldn't be only suitable for working; you should be able to do all kinds of things in them if you desire. That's why you must make sure it features all the gadgets you need to make your experience the best.
Glass. Having an open glass setup is extremely important to avoid feeling trapped and claustrophobic during working hours. 
Top 10 Best Individual Office Pods
Now that we know the basics about private office pods, it's time to learn about the different ones we can acquire for ourselves or our office. That's why we collected the best 10 office pods we could find on the market and showed them to you down below. 
1. Autonomous ADUs
If we could define this private office pod in one word, it would be excellence. It gives you an incredible 100% soundproof experience. When looking for a home office solution that is going to provide you with guaranteed comfort and stunning looks, this Autonomous pod is the best for you. 
All of its parts come with a three-year warranty and are manufactured with top-tier quality. It is quite simple to set up due to its easy-to-follow instructions, and it pairs fantastically with all the other Autonomous office pods on our website. 
Dimension
8'6''W x  11'9''L x 11'H
Ceiling height
6'10'' to 9'4''
Window material
Wooden frame, 5/16" tempered glass
Door material
Anodized aluminum frame,  5/16" tempered glass
Material
Siding: bitumen, housewrap, vinyl silding
Roof: bitumen, housewrap, shingles roof
Floor: plywood
Balcony: composite wood
Include
Optional: SmartDesk Connect, ErgoChair Pro+, Dual Monitor Arm, Cable Tray, Steel Cabinet, Anti-Fatigue Mat. Always included: Electrical Cabinet & Bookshelf
Floorspace
98 square feet
Capacity
2.9 tons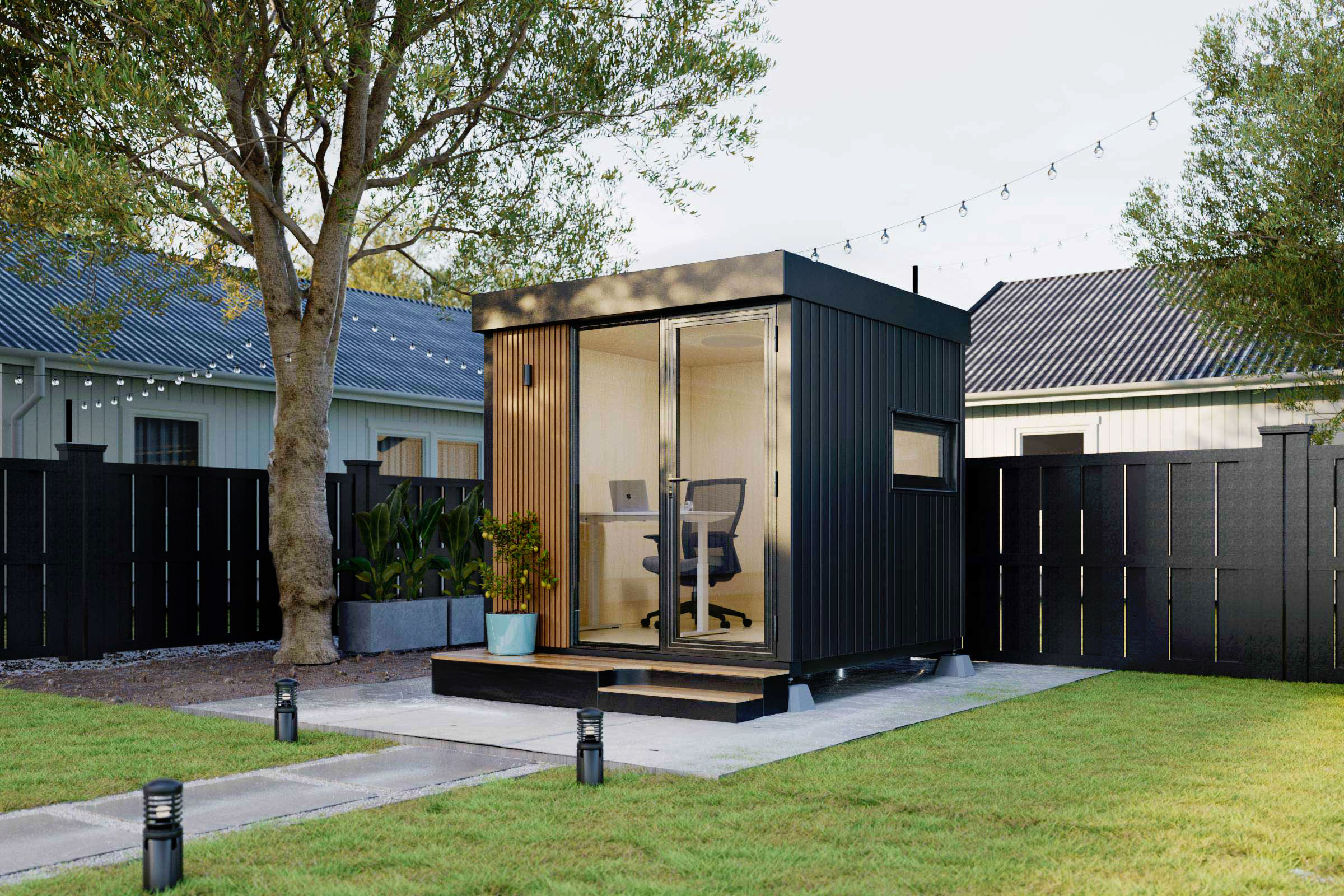 Dimension
8.7 W x 8.12 L x 9.3 H inches
Material
Window and door: powder-coated aluminum, 5/16-inch tempered glass
Siding: plywood 1/2-inch, steel frame, honeycomb paper, plywood 3/8-inch, bitume, housewrap, vinyl siding
Roof: metal roofing
Floor: plywood
Balcony and Pedestal: steel frame and wood plastic composite
Pedestal
24 W x 103 L x 9 H inches
Electrical devices
RCB, Wall outlet, Ceiling light switch, Ceiling light, Wall light, Ethernet wall port, 66ft power cable with 2 connectors
Weight capacity
2.3 tons (including Pod body)
Floorspace
80 square feet
Ceiling height
7.3-inch
2. The Bunkie Premium Deluxe
One of the most resalting things about this soundproof office pod is its design, as it's created to be a piece of architecture that may blend in nicely with the rest of your yard. Its versatility is also admirable, as it was made at first to be used as a living space; however, loads of people use it as a fancy personal work pod nowadays.
The Bunkie was built to help you eliminate fatigue from too much screen time in your individual workstation. It does this by having the specific right amount of light needed at any time. You can also enjoy the back-to-back windows that give it a sense of style that not many pods out there have. 
Don't worry about needing any permits, as you can own one of these and place it anywhere you need. 
3. Quality Shed Studio
These prefab office pod models are sold for quite less money than you would expect for their high-end and luxurious design. It comes in sizes that range from 8 x 10 to 12 x 24 inches, which makes them as diverse as you need for any yard of a plot of land you may own. 
You can find them between $12,000 and $5,600, which makes these pods as expensive or as affordable as you might need. However, you need to add up the cost of their installation and delivery, which is about $6,000. Still, it continues to be an excellent deal for anyone looking to set up an office pod of this type. 
4. Yard Pods
These modern office sheds are directly made from the San Francisco Bay Area, and they come in plenty of customizable pods that are meant to suit your every need. Their minimalistic look is why they are so searched for; however, you need to plan out the placement very well; otherwise, its looks might get affected. Pick the best model that you think might suit your yard's aesthetic better. 
Nonetheless, these Yard Pods are quite expensive, as they tend to cost around $28,000 per pod. 
5. Office POD
This individual office pod gives you the perfect work and home life balance you've been searching for. However, one of the best parts of buying them is the company's customer service, which makes everything as comfortable as possible, from installation to satisfaction surveys. This helps you feel more tranquil while buying your pod. You can even call their relocation service if you're planning to move anytime soon. 
The Office POD is a beautiful and small option, perfect for any small yards or spaces that aren't as ample. This individual office pod also helps you avoid any unnecessary planning, as you can just place it there and begin working on it. Thanks to its modular design, it is suitable even for tricky areas like gardens. 
It provides optimal protection for anyone that may use it. Additionally, it is designed to give the user a great overall experience and fantastic looks both inside and outside.
Almost 100% of its materials are sustainable, recycled, or recyclable, only using manufactured parts when strictly needed. This office privacy pod ensures high performance and insulation resistance due to its high-tech cooling system and low energy costs.  
6. ArchiPod
The ArchiPod exhibits a style that's both modern and traditional at the same time. It looks like something taken out of a fairy tale, which can give your home a creative and a bit eccentric look that can become a huge shocking factor for guests. 
We all love working from home and all the benefits it includes, such as saving on expenses, having more family time, and not having to commute every morning. In most cases, setting up a good private office pod would take you way too much money and space, but with the ArchiPod, it becomes easier to do. 
You can set up the ArchiPod individual office pod at the back of the garden or home. However, due to its trendy design, you can use it for any room you desire, playrooms, meditation rooms, anything is possible with this personal home office pod. 
This outdoor office pod is constructed from insulated timber and is appropriate to current building regulations. It is also easy to fit in any backyard because of its prefabricated sections that you can carry around with ease. 
Even though it looks small from the outside, its roof's natural light and unique shape make it look more spacious inside than out, which helps with the feeling of claustrophobia you would get with other pods. 
7. Leggo Pods
These Leggo prefab personal home office pods were specifically made to easily suit your home and provide a warm feel to anyone who uses it. It has smooth laminated floors that turn into an elegant and natural workspace. You can also find Garapa hardwood clad covering the outside of the pod.
This privacy work pod is suitable for all seasons as it is temperature-regulated to prevent extremely hot and cold weather. In addition, it allows plenty of natural light in through its wide and clear windows. There is also enough room for as many elements you wish to put inside and decorate it with. It is a perfect choice for your individual workstation.
You can enjoy its charcoal mesh blinds that help stop the sun from hitting your eyes and its LED lighting that helps you see better even in the dimmest of conditions. Now you only need to connect it to WiFi and electricity, and you're all set to enjoy your individual office pod. 
8. Kanga Room Systems
This well-known company is based in Texas, and it has been building backyard offices for more than 10 years for all of the United Estates. This office pod was created as a professional office for today's remote workers. 
The 8 x 10-inch individual office pod installment can cost between $11,000 to $15,000. It is a handy solution equipped with flooring, lighting, and electrics, which usually costs $6,500 to $8,000 more than the actual price. 
Unfortunately, this specific option is only available in Texas at the moment, but this company also builds home-office kits for the other states of America. Those kits are equipped with pre-cut timber that is segmented into panels, making them super easy to assemble at home. 
9. Woodtex
This company is situated in Franklin, with a couple of sales offices in New York, South Carolina, and Tennessee. It also supplies its products to third-party retail stores across Canada and the United States. 
When looking for an accessible personal work pod, you can easily buy one from this company. It also has multiple financing options, one of them being a rent-to-own plan. 
The outside of this individual office pod is designed smoothly, and you can customize it from a handful of options on the company's website. Everyone loves this privacy work pod due to its convenient size and straightforward assembly. 
10. Calmo Two Person Pod
This two-person office pod is designed to boost your focus and concentration throughout your working hours. It is extremely well built with toughened laminated glass and grade one locksets. 
The Calmo Pod isn't as fancy as the other ones on this list, as its design is simply a white outside and black doors, but the experience inside cannot be compared to any other. It features data points, USB outlets, LED lights, and ventilation fans. This pod is an experience out of this world and can upgrade any boring office. 
Bottom Line
After going through all of these fantastic individual office pods, you're more than ready to jump into and decide which one you are taking home with you. Make the best out of your home office experience with an office pod that's out of this world. 
If this article was useful for you and you desire to check out the rest of our products, don't hesitate to go to our catalog, happy shopping!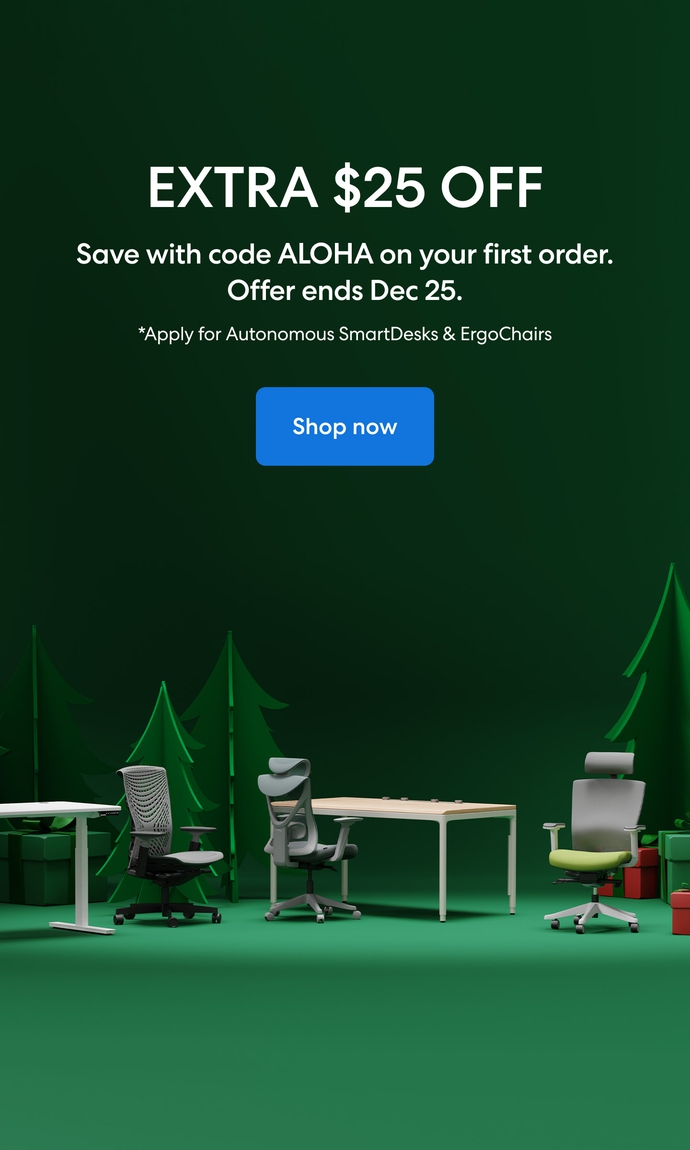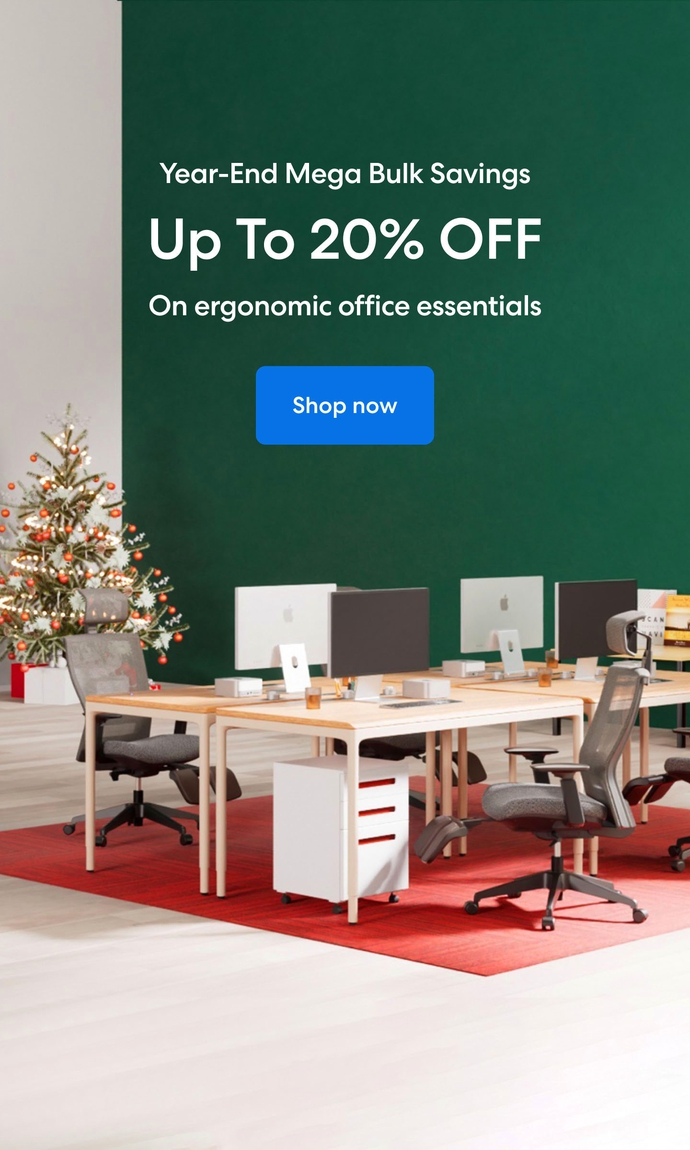 Subcribe newsletter and get $100 OFF.
Receive product updates, special offers, ergo tips, and inspiration form our team.