Smart Products
25+ Best Office Chairs Under 150 Dollars - 2023 Ratings

Autonomous
|
Nov 23, 2022
4,019 Views
Are you tired of sitting and working in your old and uncomfortable office chair? Are you also looking for comfortable and affordable office chairs that will allow you to relax while you work? You are in luck, for today we bring our top office chairs under 150 dollars, handpicked especially for you.
20+ Best Office Chairs Under 150 Dollars
1. FM FURNITURE Albury Office Chair: Medium Back Rev. Chair
This best office chair under 150 has medium back revolving and fixed armrests that allow you to have a healthy and comfortable position for your back. Because of the mesh back and the fabric seat, you can't imagine the coziness, and you won't be tired of your back after long hours of sitting. Also, because its adjustable height allows adjusting the chair's height, anyone can put their feet flat on the floor to have a better lumbar position and avoid any back problems.
2. Skyline Decor Chrome Swivel Task Office Chair
You may quickly modify the seat's height using the pneumatic adjustment lever of this best office chair under 150. Moving objects around the room is made simple by the dual wheel casters. If working in a tiny place, this chair's compact structure won't take up much room.
3. Skyline Decor Mid-Back Mesh Swivel: Task Office Chair
The mesh material used in the cooling designer back provides great ventilation and softly curved lumbar support. The fixed nylon arms give adequate upper body support. Its cutting-edge design will leave a lasting impression in your workplace.
Leaning back comfortably while pivoting backward is possible with the innovative back. Utilize the pneumatic adjustment lever on your office chair to change the seat's height. Swivel the chair 360 degrees to efficiently change jobs.
4. Skyline Decor Mid-back Mesh Swivel Task : Office Chair
The cooling designer back features mesh material for exceptional airflow combined with gentle curved lumbar support. This chair will make an impressive footprint in your office with its cutting edge structure. The innovate back pivots backward while leaning back for a comfortable resting period.
Adjust your office desk chair with the pneumatic adjustment lever that controls the height of your seat. Effectively switch between tasks with 360 degrees of swivel motion. Providing exceptional value for today's modern office, our Fundamental Seating will afford you the opportunity to purchase seating for students and small businesses.
5. KERDOM Vertical Mesh Task Chair: Flip-up Arms
The armrest of the adjustable middle back chair can be flipped up and down. You can flip the armrest up and place the chair under the table to save space. This home office chair under $150 is a perfect match for any space.
Heavy-duty nylon base provides better stability and mobility. Nylon flexible casters can reduce the noise when sliding and will not scratch the floor, realizing a quiet and comfortable office environment.
6. KERDOM Vertical Mesh Task Chair: Flip-up Arms
The 360°swivel seat can be raised and lowered using the pneumatic seat height adjustment lever, conveniently located under the seat.
7. Techni Mobili Mid Back Office Chair
This office chair under $150 has removable fabric back cover that matches the seat cushion fabric and designed to give two distinctive looks. The chair has solid white frame.
8. KERDOM Primy PR-934 Office Chair: Flip-up Arms
The backrest design matches the spine line, fully supports the back, adjusts the sitting posture, helps release the pressure on the spine and shoulders, and makes sitting and reclining more comfortable. Whether you are working, studying or serving, you can use it in various scenarios as you wish.
9. Techni Mobili Medium Back Mesh Office Chair
The breathable mesh back keeps you cool during those long hours of work, as well as providing sleek look with its chrome base and molded arms.
10. KERDOM Office Chair: Flip-up Arms
Classic color and simple design give the office a sense of fashion. This desk chair under $150 is suitable for any places.
11. US OFFICE ELEMENTS Conference Chair: Lumbar Support
This US Office Elements conference room chair comes in two colors: black and gray. It is a small, lightweight office chair that can be the perfect space-efficient addition to your office. It comes with a lumbar support that fits the natural shape of your spine, and the curved armrests prevent your arms from getting tired. The back is made from a breathable mesh that helps provide a comfortable and cool working experience.
12. US OFFICE ELEMENTS Ergonomic Office Chair: Head Rest
This is one of the best ergonomic office chairs. It comes with a high back and an adjustable headrest which helps you maintain your posture while also helping you find a comfortable position to sit while working. It has good lumbar support, and the back is made from breathable mesh. This ergonomic chair under 150 dollars also comes with a 1-year warranty.
13. KERDOM Office Chair: Waterfall Seat Edge
This office chair from KERDOM also comes in two colors: that are black and white. It has a waterfall seat edge that helps take pressure off the legs and improves circulation. The height is adjustable, and it has a 25-degree rocking style. It is 360 degrees rotatable, and the arms can be flipped up to 90 degrees. Lastly, the breathable mesh back and foam cushion seat make you feel comfortable while working.
14. US OFFICE ELEMENTS High Back Big & Tall Office Chair: Headrest
This chair is extremely easy to assemble. It can be ready to use in under 25 minutes! It is made while keeping the comfort of tall people in mind. It has a high back and comes with an adjustable headrest. It is of excellent quality and is extremely reliable, and has a high weight capacity. Its ergonomic design helps support your lower back. This chair is the perfect addition to your office and doesn't require you to step out of your budget.
15. Techni Mobili Mid-Back Mesh Task Office Chair
This reclining office chair from Techni Mobili comes in brown and black. The height of the seat is adjustable between 19" and 23.5". Its features, especially the reclining back and the adjustable padded armrests, are made to ensure your comfort.
It is made using the perfect combination of fabric and mesh to cater to the different needs of your body while working. The breathable mesh helps reduce sweat while working, and the upholstered seat helps you to not be sore from sitting all day.
16. Uncaged Ergonomics Wobble Stool Air Balance Chair
This unique and space-efficient chair is among the best office chairs under 150 dollars. This is because of its easy use and the fact that it takes up minimal office space. Furthermore, it helps you maintain your posture. Its height is adjustable, and the seat swivels 360 degrees. The wheels ensure easy movement.
17. KERDOM Office Chair: Adjustable Armrests
Another office chair under $150 is the KERDOM Office Chair: Adjustable Armrests which is available in black and white. It comes with flip-up arms, which enable easy storage. Its high-resilience foam cushion seat has a waterfall edge which enhances comfort. You can adjust its armrests and headrest according to your preference. It is very easy to assemble, and the 30-degree recline adjustment range allows you to take breaks and rest during work.
18. KERDOM Office Chair: Elastic Mesh & Adjustable Backrest
This chair comes with an ergonomic design, and its breathable elastic backrest will help you correct your posture and gradually reduce back pain. It also has a rocking feature that allows you to slightly rock the chair during work to shake off the fatigue you could feel from working nonstop for long hours. On the other hand, you can turn off this feature to keep the back of your chair stable and unmoving during work. It has detachable feet, which makes it easy to store and disassemble.
19. KERDOM Comfy Swivel Task Chair
Another office chair under $150 is the KERDOM Comfy Swivel Task Chair. This chair comes in various colors: purple, pink, orange, white, and black. The back is flexible and breathable. It won't deform easily and will provide you with a cool and comfortable working experience. The chair's modern design and its huge variety of colors make it easy to fit into the aesthetic of most offices. The foldable armrests make it easy to be stored under the desk when not in use.
20. US OFFICE ELEMENTS Ergonomic Office Chair Mid-Back: Lumbar Support
This office chair under 150 dollars focuses on helping you maintain a good sitting posture. According to research, a good sitting posture has many benefits. These include better confidence, reduced headache and back pains, easier breathing, and higher energy levels. The ergonomic style of this chair supports the curve of your back and promotes a good sitting posture. It has smooth castors, which make it easy to move without scratching the floors or creating too much noise. It has an adjustable height and comes with a 360-degree swivel. The easy installation and multi-functionality are added bonuses.
21. Techni Mobili Medium Back Executive Office Chair
22. Trio Supply House Down Low Office Chair Red: steel frame
23. Skyline Decor Low Back Mesh Swivel Task: Office Chair
24. Trio Supply House Loft Office Chair Red
25. KERDOM Office Chair: Adjustable Armrests & Headrest
26. FM FURNITURE Brisbane Office Chair: Medium back rev chair
27. Skyline Decor Low Back Mesh Swivel Task Office Chair: With Arms
28. Uncaged Ergonomics Wobble Stool Standing Desk Balance
Conclusion
Even though ergonomic chairs these days don't have to be extremely expensive, it might still be difficult to choose the perfect one. The above-listed chairs are the best office chairs under 150. Whenever you feel like you need to upgrade to a better chair without it making a dent in your savings, just consult this list and choose the one most compatible with your needs.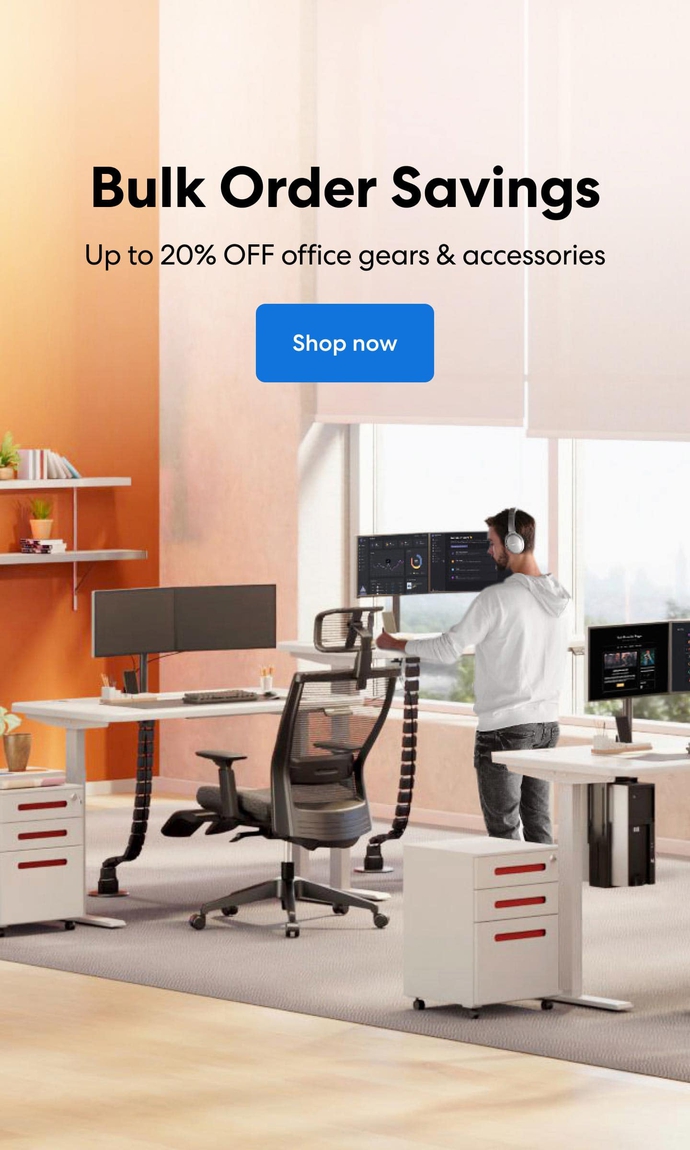 Subcribe newsletter and get $100 OFF.
Receive product updates, special offers, ergo tips, and inspiration form our team.