The need for a standing desk has been made evident, with studies pointing to the benefits. While there is ample debate on the benefits, there are no potential downfalls. However, some folks prefer not to change over to a standing desk. Instead, they prefer to use a standing desk converter at a normal desk. 
What is a standing desk converter? Another piece of furniture is like a desktop standing desk. While it has its pros and cons, would you rather not consider an electric standing desk? 
Top 10 Standing Desk Converters 2022
What are a few important things that you must consider when buying a desk converter?
1. Winston-E Desk Converter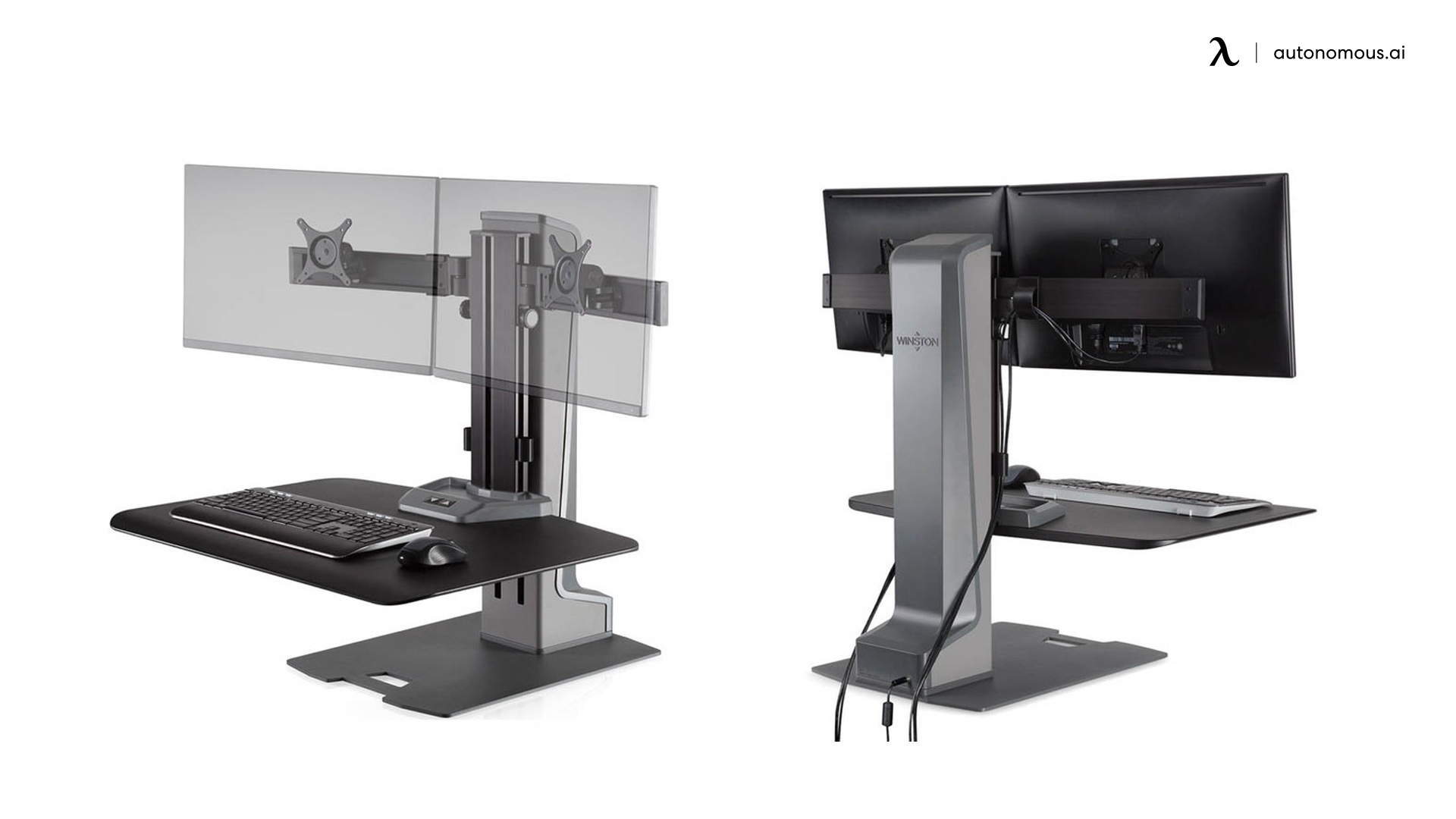 The Winston E is a tabletop stand-up desk. Easy to assemble and install, it is an easy-to-use converter. The electric height adjustment buttons offer you memory presets for your convenience. The low whirring noise of the motor could be a cause for folks around you to look up. It can hold up to three monitors simultaneously. The black and grey design converter offers the best stability as you lower/raise the desk. The Winston-E's monitor arms move back and forth to manage a distinct focal depth.
2. Ergotech's One-Touch Free Stand
Ergotech, produces multi-monitor configurations for complex operations in command control centers, medical control centers, and more. It can accommodate up to four monitors at once. It has an aluminum construction which may suit some office decors well, but not most.  It has two platforms with a 28"X10" keyboard tray and a 28"X13" working surface. It is offered with a motor that covers 1.25 inches per second; it emits a low humming sound at 46 to 49 dB.
3. FLEXISPOT Standing Desk Converter
The model, M732, is a 32" desktop converter. You have five more choices for height varying between 28" to 42".  This height-adjustable stand-up desk riser is available in a black finish. To raise or lower it, you have high-powered gas springs. They offer a smooth rise up and down, offering a range of height between 4.7" to 19.7". Its standard surface area is 31.5"x16.3", or opt for a large one with 28.4"x12.1" dimensions. The sturdy heavy-duty steel frame takes a weight payload of thirty-three pounds on the desktop.
4. OFM 5100 Stand Up Desk Converter
Offering you great advantages with high stability, a big task space area, a large keyboard area, a grommet for a monitor arms use, and a warranty, this gas lift desk converter is a good choice. It offers you fifteen different height adjustments. You can add a maximum of two monitors with this two-tier design converter. It has been made with a 3 MM PVC wrapped and treated to a heat process for strong bonding. This gives it stability and durability. You can't miss the five-year manufacturer warranty.
5. HUANUO Adjustable Laptop Stand for Desk
Made from engineered wood and alloy steel, this product is adjustable between 3.5" to 16.5" in height. You have nine different adjustable angles to manage your desktop surface. In addition, it is designed to have a non-slip padding bar, an MDF platform & heavy-duty steel materials. This increases its stability and prevents damages to your computer systems.
6. VIVO Adjustable 32-Inch Desk Riser
Available in different colors, this wooden desk converter is available in light or dark wood. It has a 32" variable height and weighs only 12.8 kilograms. With the top surface measuring 31.5" x 15.7" you get a massive workspace area. , which maximizes space while still providing room for dual monitors. The easy-to-operate touch height locking mechanism allows you to go from 4.5" to 20". It is quite sturdy, and the high-grade steel material has a backing with a three-year manufacturer warranty.
7. TechOrbits Standing Desk Converter
This 32-inch adjustable height converter is made from MDF wood. It is also available in 37 inches height.  This model weighs only 16.7 pounds with a two-tier model. In addition, this stand-up desk converter comes with a keyboard tray that can hold up to 35 pounds of weight. Amazing.
8. Seville Classics Airlift Height Adjustable Sit Converter
This 35 inches walnut-colored wooden desk converter is a fine choice for you. It weighs only 26.31 pounds as its gas springs raise or lower the desk for your ease. You can go from 6.2" to 19.1" working height space easily. All you need to do is squeeze airlift levers.
9. Rocelco 46" Height Desk Converter
This product is available in many combinations, including a riser, converter, USB ports, and more. You have a choice of colors, black, teal and white. This is a riser-styled converter with a working surface of 23.1" (L) x 46" (W) x 5" (H). Made from engineered wood and metal, it has a keyboard tray that retracts easily. It has a sturdy metal frame with easy-grip side handles. The gas piston assist raises or lowers the height between 5" to 20" above the desktop height. You also have grommet holes for cable management,
10. Crew & Axel Standing Desk Converter Bamboo
This desk converter is made from 100% natural bamboo material and has two shelves. The working surface is 19" (H) x 26" (W) x 19.6" (D), and it includes a mobile phone stand. Equipped with cutouts in the wood, it helps you manage your cables. The strong anti-grip and anti-slip pads give you great stability. The table edges are finished smoothly so that you don't cut yourself accidentally. Offering a manual adjustment is one of the best choices.
A Desk Converter or a Standing Desk?
As you decide what you should invest in, don't miss reading our review of desk converter problems. While many folks have their reason, the primary is to save on investing in another piece of furniture. Sure sounds good, but is it worth the trouble where you save a few dollars for the inconvenience?
SmartDesk: Better than a Desk Converter
Read through our reviews on the benefits of a desk converter vs standing desk. You will realize that you have much at stake that could slip or fall when you have a separate desktop converter placed on top of your normal table.
It always helps to have single-piece equipment rather than two different pieces for your safety, comfort, and convenience. The SmartDesk series of standing desks are the best choice for you.
Wrap-up
While you do have a desktop converter, our recommendation is to go with a single-piece unit like the SmartDesk Core and SmartDesk Pro for all your standing desk needs. They have the best offers and features. With the SmartDesk with you, you can maintain your overall health and well-being. Bring it on!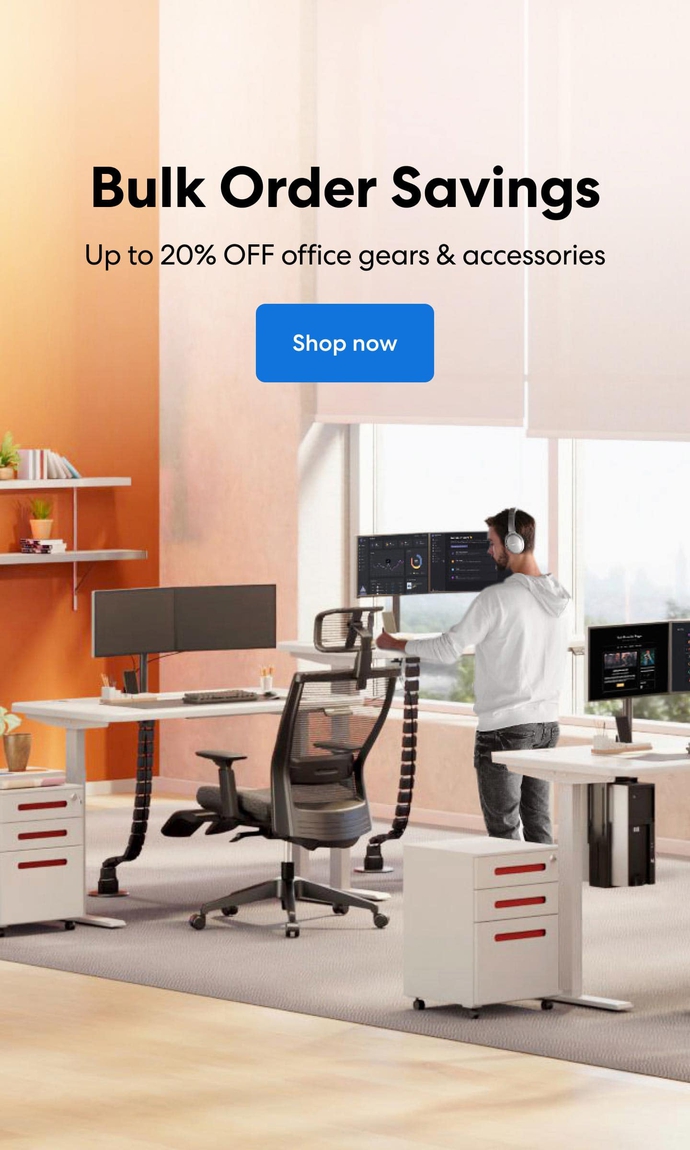 Subcribe newsletter and get $100 OFF.
Receive product updates, special offers, ergo tips, and inspiration form our team.