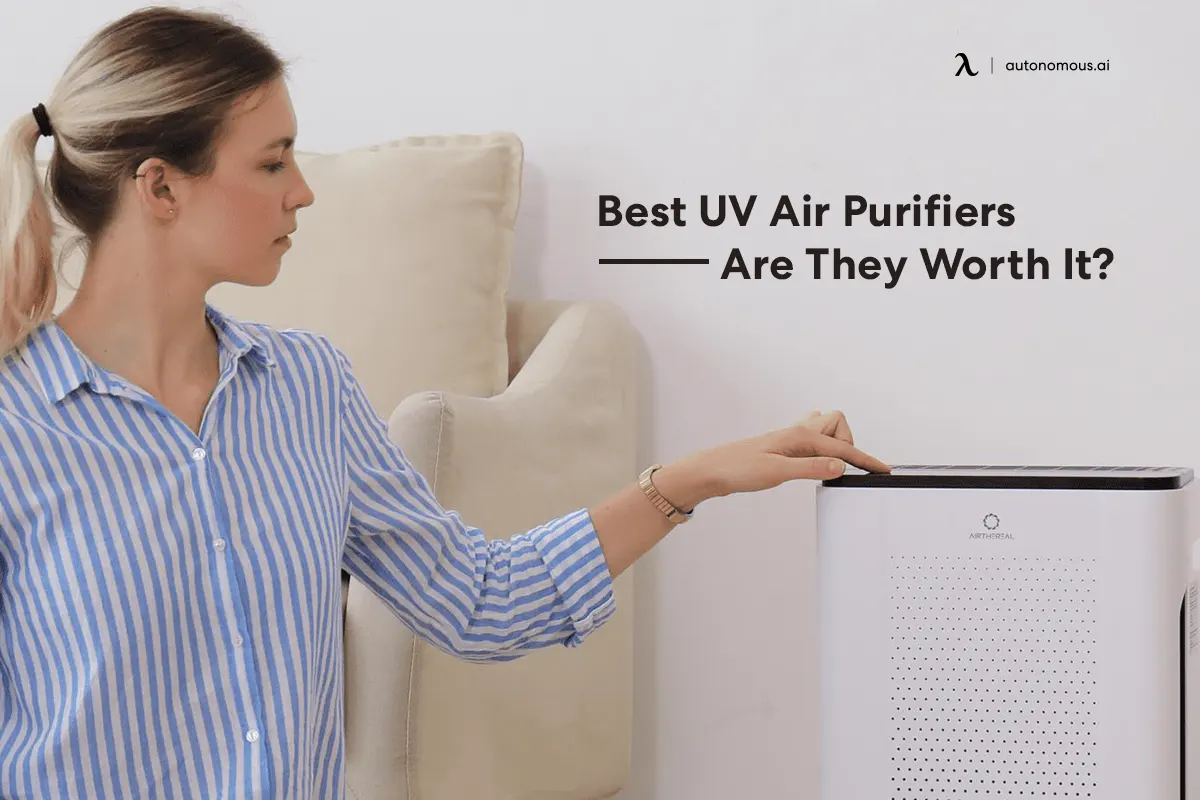 Smart Products
Top 15 Best UV Air Purifiers in 2023 - Are They Worth It?

Autonomous
|
Nov 30, 2022
2,949 Views
Winter has arrived, and we're settling into our homes, but if you struggle with allergies, you may dread the time spent indoors. Dust mites and other allergens infest many homes, causing allergy sufferers to wheeze, sneeze, and anything in between. 
Purchasing an air purifier, on the other hand, can aid those suffering from allergies or other breathing problems. Even though none of the above relate to you, owning an air purifier in your house can provide you with the comfort of knowing that you're inhaling the purest air possible in your living conditions. 
Air purifiers for household uses are small equipment that employs one or more of several methods to filter particulate matter from the air, such as dust, allergies, and viruses, and recirculate clean air back into your home interior. 
The most common and highly regarded form of air purifier uses HEPA filters, which the USA Energy Department classifies as high-efficiency particle air filters capable of eliminating at least 99.97% of particles in the air with a diameter of 0.3 microns. Usually, air purifiers can clean between one or two rooms, and few other models claim to improve the air quality in an entire place. 
Top 15 Best UV Air Purifiers
Dehumidifier vs. air purifier, which is better? A dehumidifier controls the humidity level in any room, and an air purifier cleanses the space of bacteria and viruses. Today, we will not talk about dehumidifiers but only about air humidifiers. Here are the 15 best UV light air purifiers: 
1. Airthereal APH260 Air Purifier: 355 sq. ft
Airthereal APH260 has adequate power to clean and recycle the airflow in a 335 ft2 area. It includes three stages of filtration that remove 99.97% of particles in the air as little as 0.3 microns. 
To auto-measure air quality, use Airthereal's intelligent control. The unit will choose the best air purifying mode for your environment. 
Nobody enjoys dealing with germs. When bacteria knock, please turn on the UV lights and anion capability to assist in eliminating them from the air. 
| | |
| --- | --- |
| Dimensions | 13"L x 6.7"W x 21.2"H |
| Item weight | 10.4 lbs |
| Applicable area | 235 - 355 sq ft |
| Power supply | AC 120V 60Hz |
| Rated power | 50W |
| Warranty | 2 years |
2. Hugo Compact Air Purifier 3-in-1 with Insect Catcher & PCO Filter
Hugo has the superior purifying tech for half the price, with 3-in-1 functionality, a high-quality active carbon filter, a photocatalytic (PCO) filter, and a UV sterilizing light. Everyone can now benefit from elite air purifier blue light cleansing!
Hugo attracts and kills mosquitoes and other insects by emitting a 354 nm violet light wavelength and warmth that matches human body temperatures. Capture insects and mosquitos outside in a dry environment, covering an area of around 1000 square feet. 
Removable trays and vents make it simple to replace and dispose of the insect catcher and carbon filter. Filters with activated carbon last 3-6 months and are more effective and less expensive than HEPA filters. 
| | |
| --- | --- |
| Dimensions | 9.5" H x 5" D |
| Item weight | 2 lbs |
| Color | Black, White |
| Include | 1 Hugo 3-in-1 Purifier 1 DC Power Cable 1 PCO (Photocatalytic) Activated Carbon Filter |
| Warranty | 1 year |
3. Stadler Form Roger Air Purifier
The Dual Filter, the air purifier's heart, comprises a HEPA and active carbon filters. Furthermore, the highly efficient H12 HEPA filter eliminates pollutants such as fine dust, allergies, viruses, pollens, and germs, while the active carbon filter absorbs gasses. 
Roger's remarkable features include WiFi, which allows you to track the air quality in actual time and control all of your activities via an app on your phone - so you can even ensure clean air at the house while you're away.
| | |
| --- | --- |
| Dimensions | 16.5" L x 19.7" H x 7.9"W |
| Item weight | 12.1 lbs |
| Bactericidal filter | Dual Filter™ (HEPA H12 & activated carbon), 2 textile pre-filters |
| Applicable area | Up to 104 m² |
| Power consumption | 4 – 90 W |
| Output levels | 5 |
| Warranty | 1 year |
4. TREBLAB Turonic PH950 Hepa Air Purifier: with Humidifier
A PH950 HEPA purifier for your house can establish a fresh and clean ambiance in any large room. This powerful air purifier can clean up to 2500 sq ft in 2 hours, 1875 sq ft in 1.5 hours, and 1250 sq ft in 1 hour. 
The Treblab Air purifier captures pet dander, dust, smoke, smells, and allergies from your environment. A mesh prefilter, cotton filtering, genuine HEPA filter air cleaner, cold catalyst filter, humidifier, activated carbon, UV light, and air ionizer are all included in the PH950.
Dimensions
24.6" x 15.7" x 9.1"
Item weight
23.6 lbs
Applicable area
Up to 1250 sq ft every hour
Clean up to 2500 sq ft in two hours
Bactericidal filter
8 stage Purification System
Power consumption
95W
Speed modes
8
Warranty
1 year
5. Airdog X5 Purifier
TPA technology from the Airdog X5 air purifier actively kills 99.99% of bacteria, virus particles, molds, and COVID-19, in the air. In addition, it eliminates air contaminants down to 0.0146 m, compared to 0.3 m for a standard HEPA. 
The X5 uses reusable collecting plates by hand washing and reusing them. Its high-volume airflow of the X5 has a 220 CFM CADR and can cycle a 450 sq. ft. space three times per hour. Changing air filters can quickly add up to hundreds of dollars annually. This X5 is as silent as a faint hum, thanks to its low noise production. 
Airdog purifier automatically switches between settings depending on the room's air quality. Activate your device on the way back to your house, or if you frequently need to remember to turn things off, don't worry! You may also use an app to manage your X5 from anywhere.
6. Germ Guardian 1000
This electric air purifier with UV light is among the most cost-effective ways to eliminate microorganisms using UV rays. 
The 7-inch design powers with a wall socket and may remove bacteria, odors, pet allergens, and culinary scents from your home. 
This purifier claims that its UV purification technology can remove airborne viruses such as influenza and staph, with Titanium Dioxide assisting in reducing volatile chemicals. Remember that you must replace the UB bulb about once a year.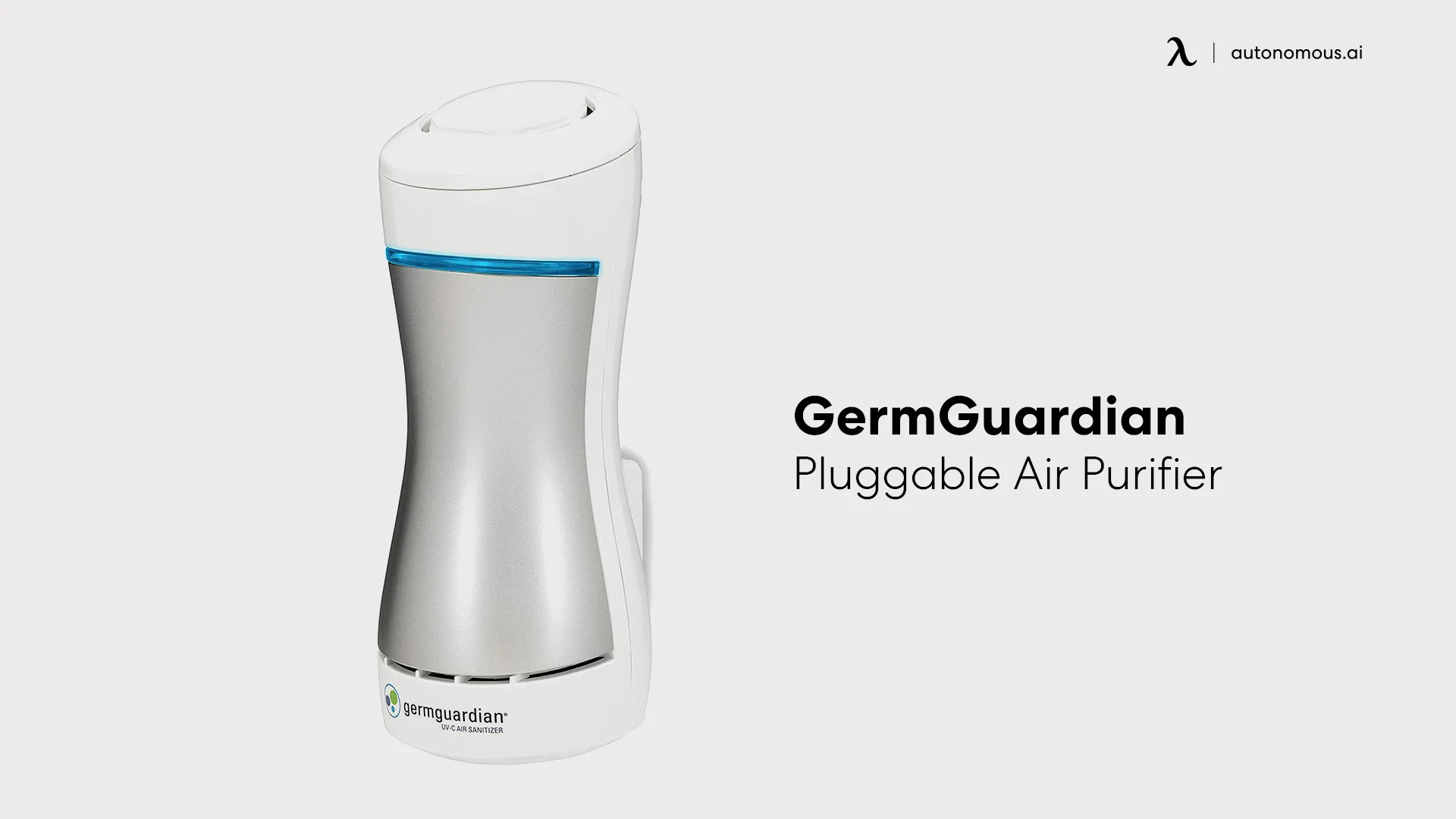 7. Airdog X3 Purifier
Airdog is the best portable air purifier, designed with TPA technology, and uses approximately 30,000 volts to kill 99.99% of all airborne bacteria, virus particles, and mold. This air purifier not only gathers but also destroys pollutants in the air. 
Reduce the need for costly replacement filters using a clean, eco-friendly reusable solution. The air purifier for a small room has the globe's first washable filter, which is simple to clean and fast to dry. 
Because of its powder-coated steel construction, cold-rolled SPCC, and homogeneous, evenly-sprayed glossy surface, this cabinet is durable and built to resist everyday wear and tear. 
8. Airdog X8 Purifier
The Airdog X8 is the best air purifier for a large room. It eliminates molecules as little as 14.6 nanometers and destroys 99.99% of airborne germs. Save money and assist the environment by using non-disposable, reusable filters instead of pricey replacements. Simply hand wash it and reuse it. 
With CADR speeds up to 470 CFM, the X8 increases the power and effectiveness of the Airdog X5. It is sufficient to disinfect a 1000-square-foot space in 20 minutes. The X8's brilliant AQI display shows the air quality in real-time. You can put a detachable laser detector for air quality anywhere within the room.
9. Eureka NEA120 Purifier
The mid-level air purifier blue light NEA120 from Eureka is a fantastic example of how to kill most household pollutants without costing a fortune. 
It's one of the most excellent value-for-money options available. It has a Filtration system to battle allergens, charcoal filtration to combat odors, and UV light paired with TiO2 to eliminate viruses and germs. 
You'll have to deal with the 26" height, which isn't ideal for every household, but its three fan modes ensure that this is one air purifier that is visible but not audible.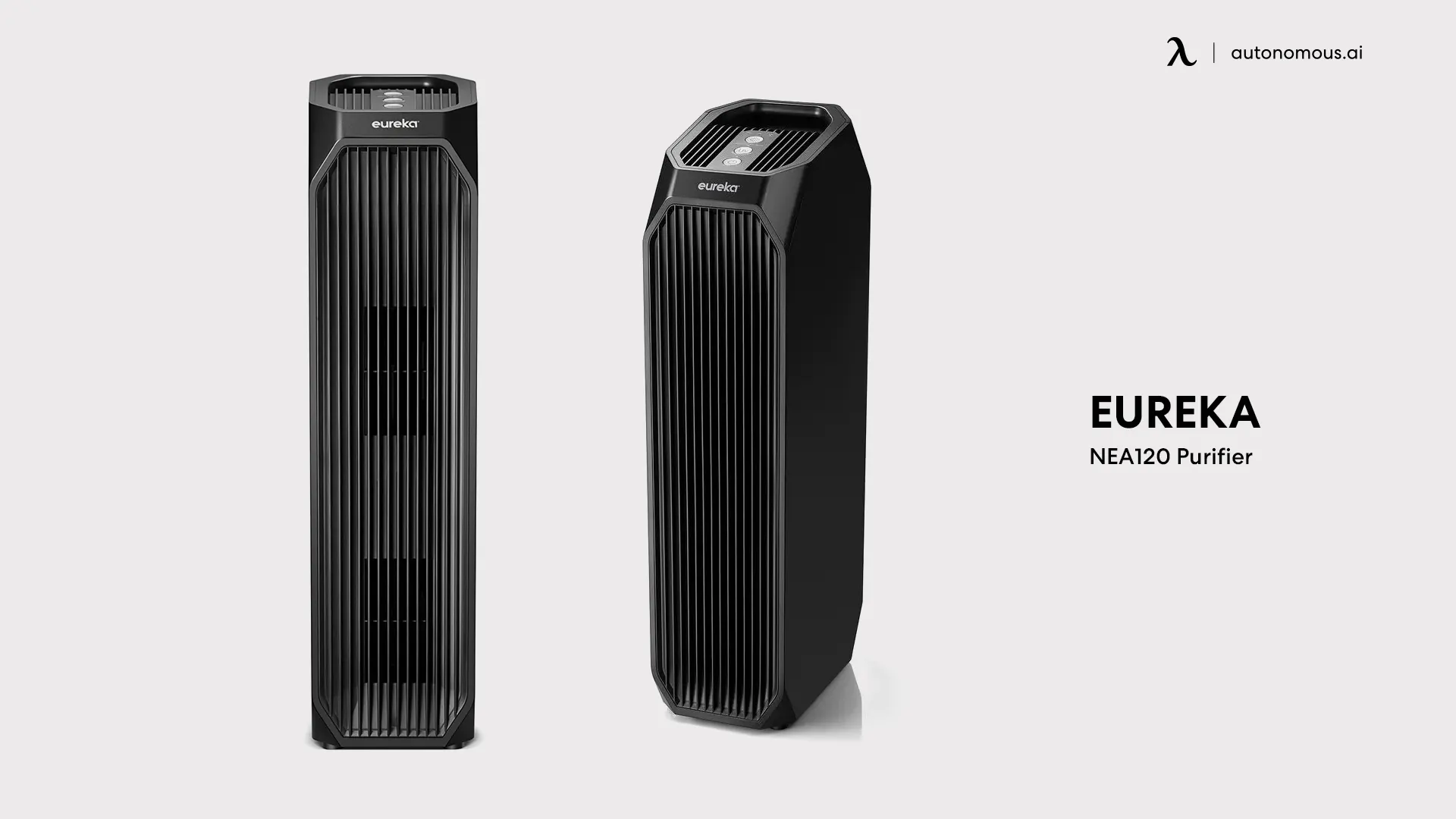 10. Oxion Air Purifier: Ultra Quiet
With a noise level of 20.4 decibels, this is the quietest air purifier blue light cleaner on the market. Every hour, it can clean approximately 700 square feet of air. 
Defend yourself and others from bacterial viruses. You can check the air condition in the room with the Smart Sensor. It's so quiet that you scarcely notice it's active. 
Speed settings to clear odors and smoke in less than an hour. Set a timer for up to 12 hours. Switch on the UV sterilizer to minimize pollen allergies, asthma, and respiratory problems.
11. Pure Enrichment PureZone 3-in-1 Air Purifier
PureZone UV is an air purifier with UV light that might not be the most affordable in the industry. Nonetheless, the technology inside will remind you that it's constantly cleaning the oxygen you breathe. 
Using a three-stage filtration process, PureZone can remove 99.97% of pollen, pet dander, dust, and other aromas from the air. Moreover, the air passes through the prefilter first, then the carbon, and finally, the HEPA filter. 
Throughout this process, the constructed UV-C light can neutralize microorganisms that cause illnesses, and there are three fan speeds to choose from to filter the room.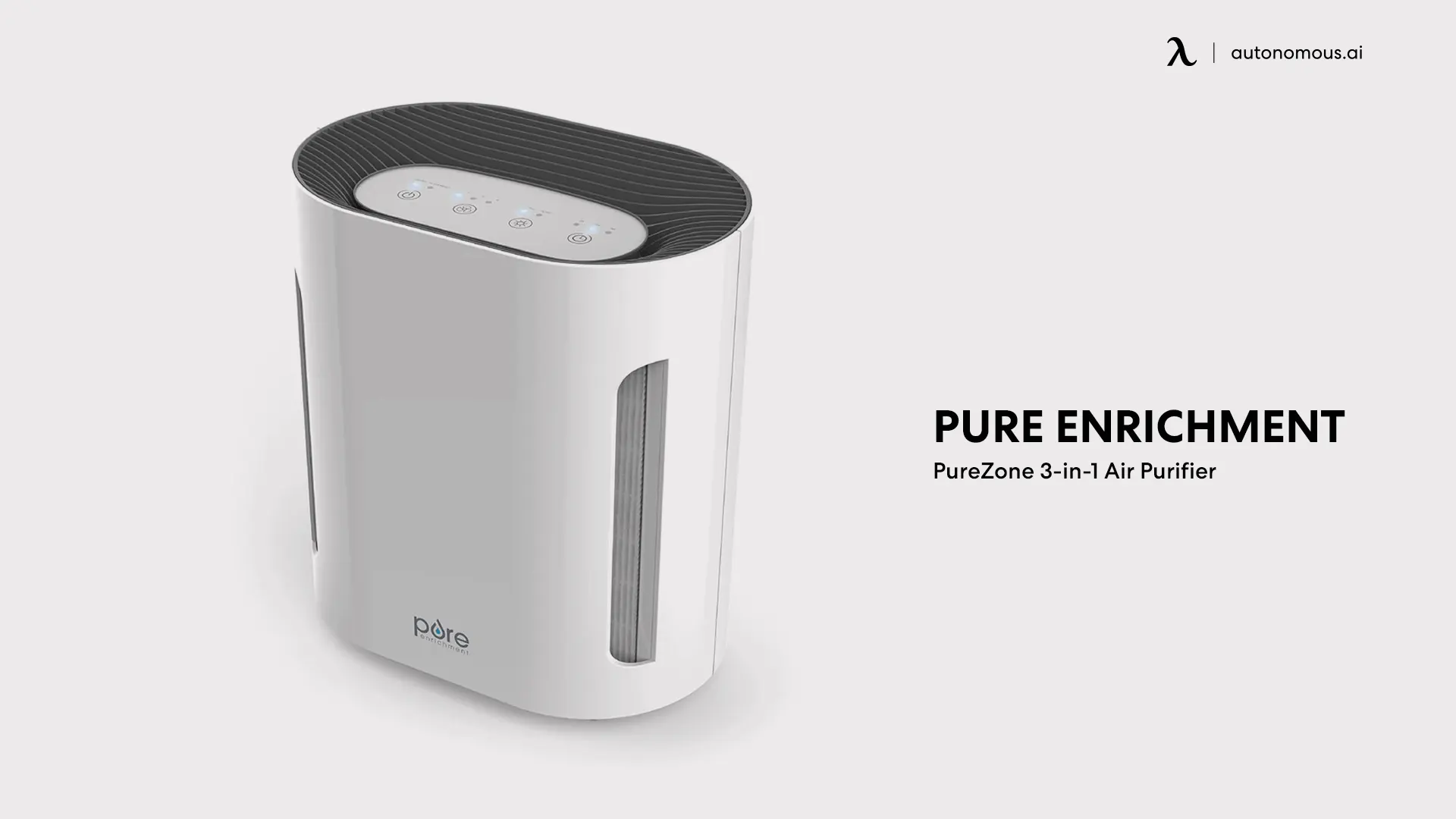 12. HoMedics Air Purifier
HoMedics' tiny model filters the air in your house with three different approaches and teeters on the border of mid-range UV air purifiers. The HEPA filter removes allergies, while the carbon filtering and UV-C light eliminate viruses, germs, and odor. 
With three speeds and a night mode for filtering while you rest, it can be positioned almost anywhere in the house for 360-degree cleaning. Furthermore, HoMedics also sells larger versions of the same type, but this compact version is ideal for individuals who appreciate discretion and silent purification. 
13. GermGuardian 5-in-1 Air Purifier
This Germ Guardian is one of the best UV air purifiers on the market today. Though it may be excessive for some people, it includes a variety of cleaning methods. 
The HEPA filter removes 99.97% of allergens. At the same time, the UV-C light catches viruses such as staph and influenza, titanium dioxide manages harsh chemical molecules, and the activated charcoal filter eliminates odors. Its sleep mode is also an excellent option for individuals who prefer to clean the air while sleeping, with three different speeds.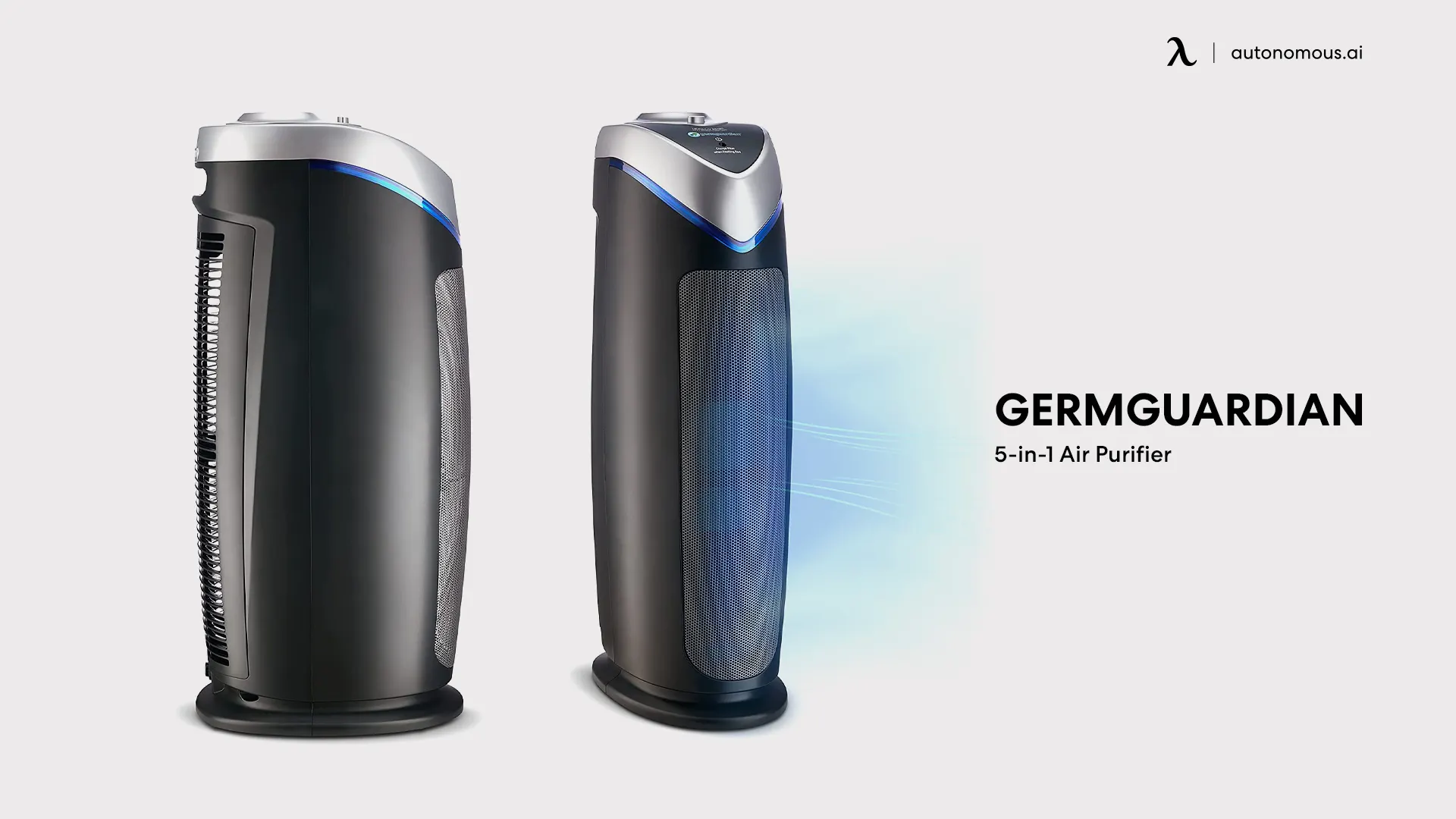 14. Bionaire BAP001 Air Purifier
Although it is not cheap, Bionaire's 4-in-1 air purifier is among the best ways to clear your home of harmful allergens and bacteria. While the HEPA Filtration system primarily handles allergies, it can also handle viruses and bacteria via Ti02 and UV-C filtration. 
It includes a timer feature that may last up to eight hours and five distinct speed settings. When the HEPA filter is nearing the end of its life, the internal indicator will alert you. 
15. PureMate 510
The PureMate 510 is an air purifier with UV light that isn't for everyone's taste, as it transmits some strong early-noughties speaker feelings, but it's one of your best options.  
It includes a HEPA filter to protect against airborne allergens. On the other hand, UV light, active carbon filter, and negative ionization work together to combat bacteria, viruses and smells. 
Five-speed settings, a timer, an LCD, and a filter change indicator offer total control over your air purification.
How Does a UV Air Purifier Work?
Drawing air into the device and forcing it through a filter, such as a HEPA filter, is how a UV air purifier functions. After that, the air travels through a chamber inside the body, and the UV-C rays filter it. The air purifier operates to kill germs and diseases in this environment. 
UV-C lamps are quiet and undetectable to the naked eye. However, some air purifier makers place color filters over the light to generate a blue glow - this is primarily for looks than for functionality. 
You must also change UV light bulbs after a set period. When used 24 hours a day, most UV lamps have a lifespan of 10,000 hours or little more than a year.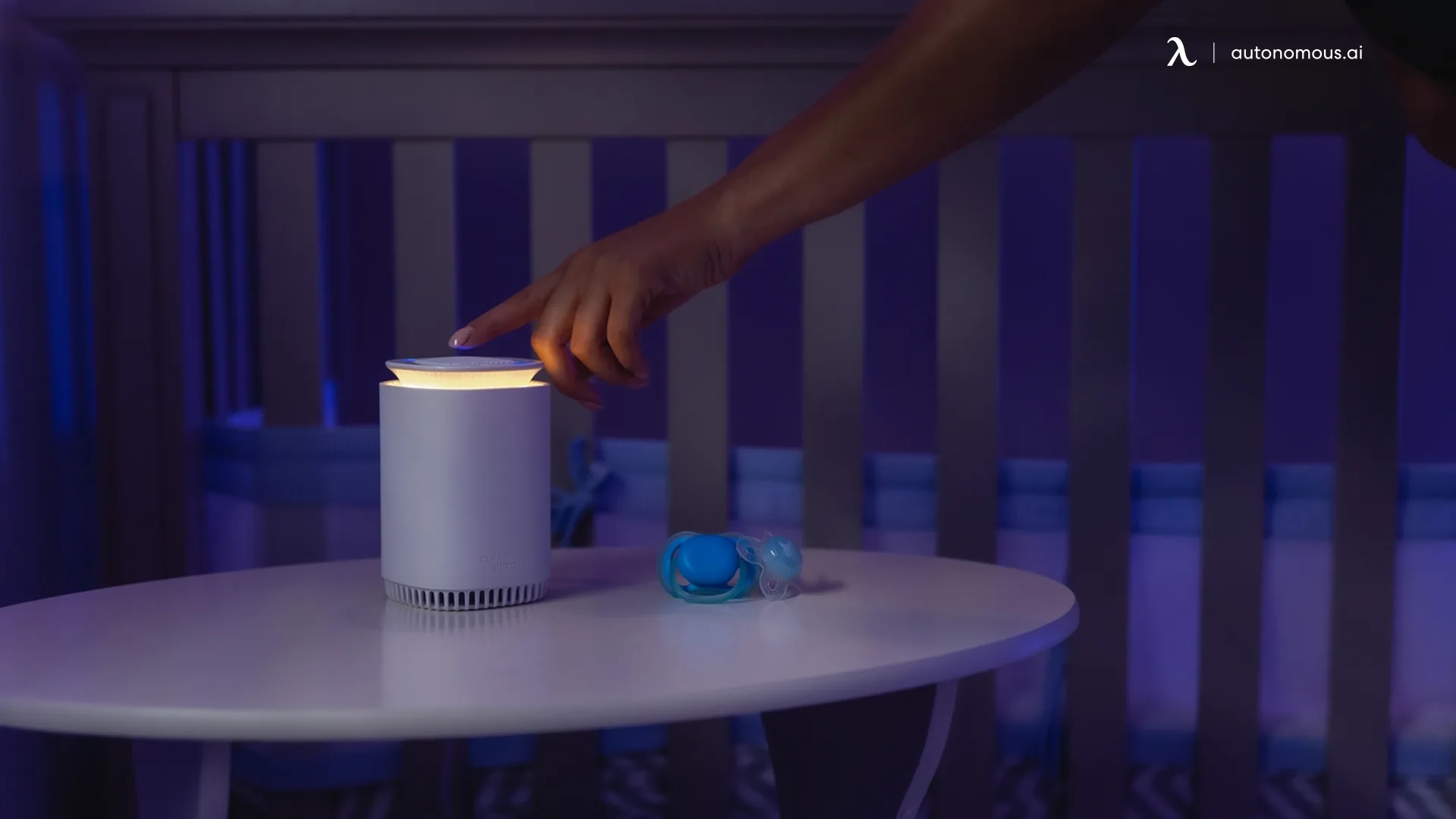 Effectiveness of UV Air Purifiers
Multiple health studies have demonstrated that UV-C radiation at a precise wavelength and time inactivates bacteria, viruses, mildew, fungus, and mold by melting down their RNA or DNA, making them powerless to perform essential functions or reproduce.
UV light can also help prevent secondary allergies caused by airborne allergens. Only a few UV air purifiers are the same; however, they are all functional. Many people make inflated or inaccurate statements. RXAir® is among the few companies that can support its claims with detailed statistics. 
Independent studies and thorough testing in EPA and FDA-certified labs confirm that RxAir's ViraTech UV germicidal irradiation technology kills germs, bacteria, and viruses while reducing volatile organic compounds (VOCs) and smells. 
Independent laboratory testing has shown that RxAir sanitizes the air and deactivates various viral and bacterial infections.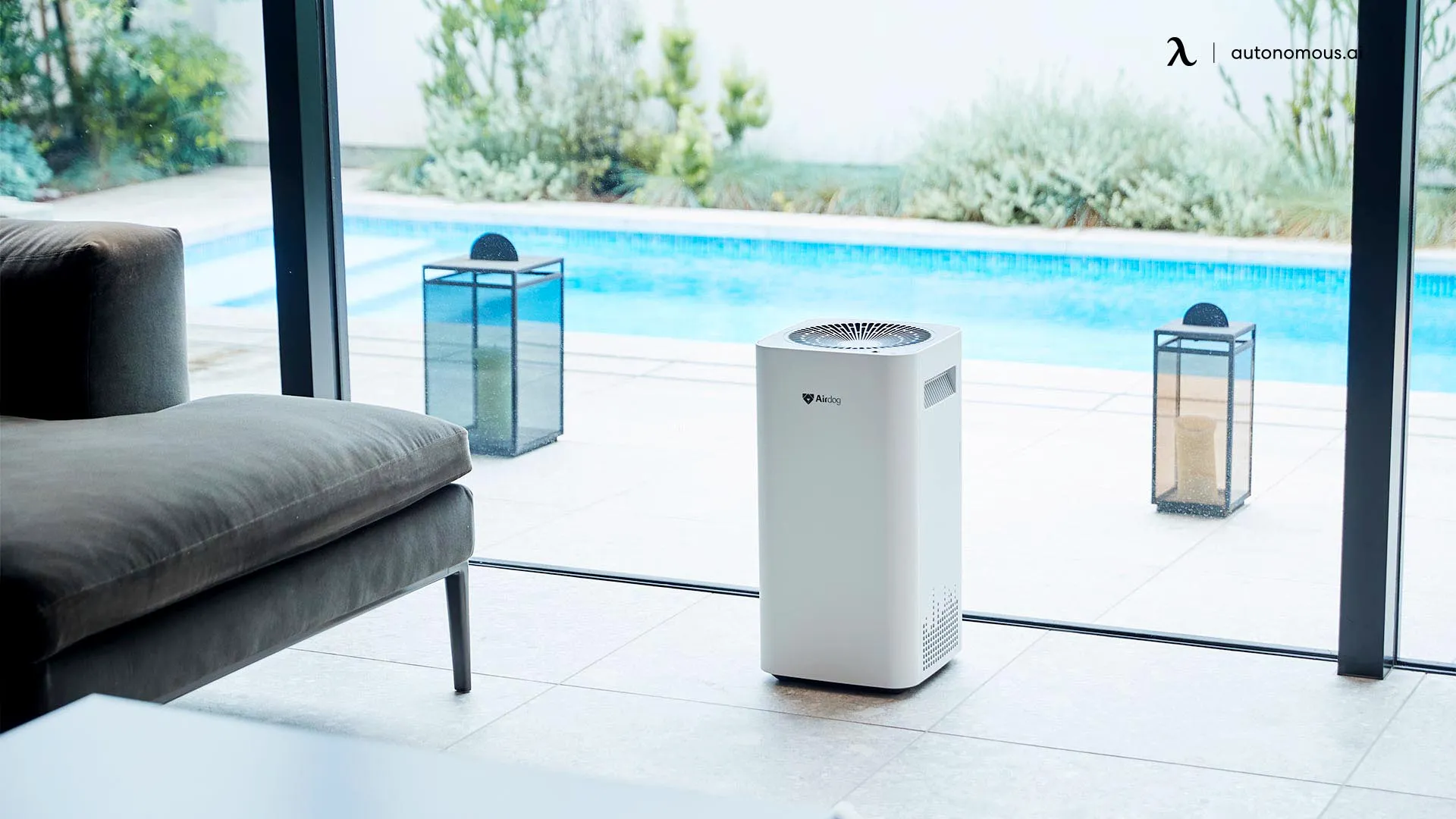 Conclusion
Air purifiers are smart home devices that eliminate allergies in the home by passing oxygen through a filter and returning it to people in a much cleaner state. 
However, a new generation of UV air purifiers is taking things further by destroying bacteria and viruses as they pass through the filter using germicidal irradiation and UV light. 
Because there are numerous methods for treating air contaminants, these 15 UV air purifiers will keep indoor air refreshing and bacteria-free. 
Click here to read our air purifier vs. air conditioner blog to learn more about what they do.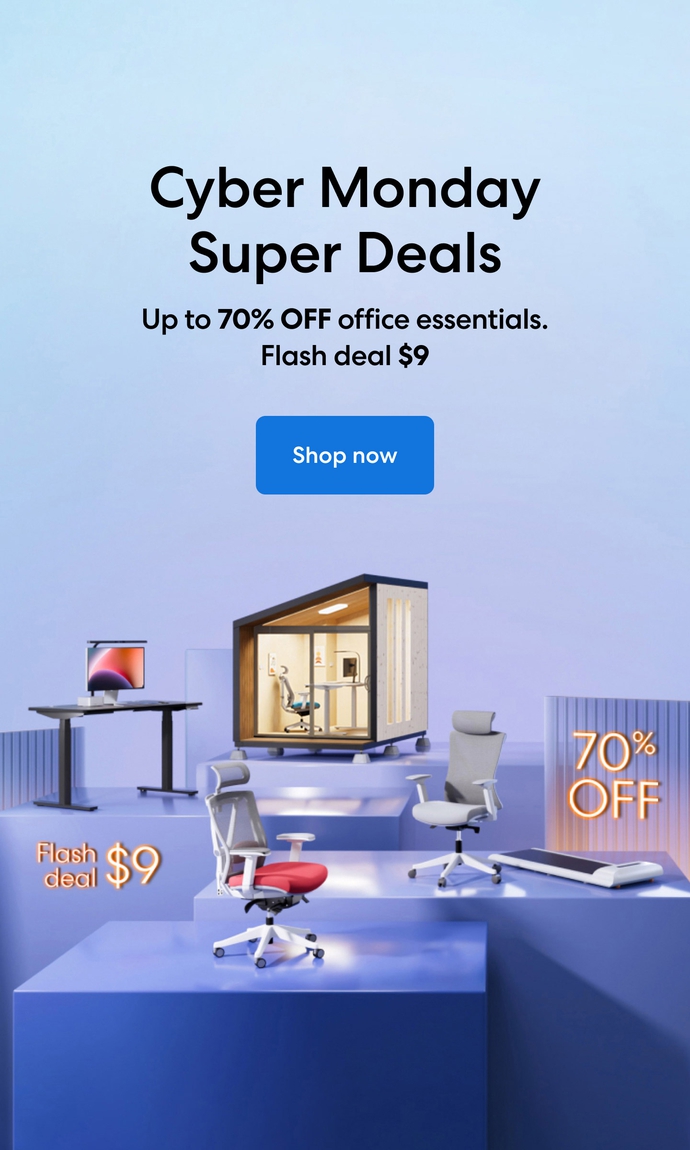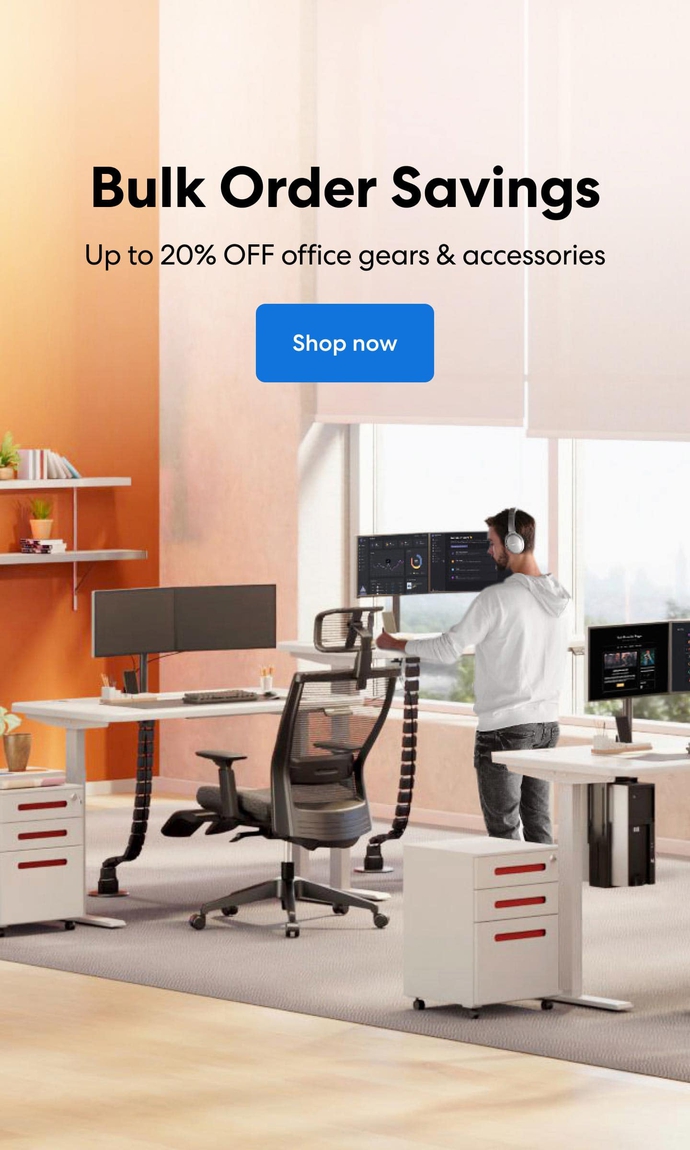 Subcribe newsletter and get $100 OFF.
Receive product updates, special offers, ergo tips, and inspiration form our team.