Smart Products
Top 15 Black Ergonomic Chairs That You Need for Your Office

Autonomous
|
Nov 18, 2020
3,739 Views
What is an Ergonomic Chair?
Ergonomic office chairs are chairs that are designed with back health in mind. What we've realized in the last few years just how bad excessive hours of sitting down are for you.  
Unfortunately, a lot of us have full-time jobs that require us to be at a desk for eight-plus hours per day, so we don't have a choice. An ergonomic office chair helps to minimize the damage that this sitting does.  
That's the basic idea behind ergonomic chairs, but why a black chair? It's a simple answer. Black chairs look really nice. It's a clean and sleek color that turns a mediocre office into an immaculate working space.  
As well, though, black is hard to get dirty. There's nothing worse than having to scrub a white chair because you got some coffee on it. You can't put a chair in the washing machine, after all.  
If you're reading this, it means that you're interested in getting yourself a black ergonomic chair. Luckily for you, we've put together a top 15 list of all the best chairs on the market right now. We've separated the list into five chairs without wheels, and 10 with wheels, so there's bound to be something for you.  
The 5 Best Black Ergonomic Chairs Without Wheels for Your Office
Using an black office chair without wheels is a very nice way to assemble your office. If you don't know which type of chair you'd prefer, do yourself a favor and go with wheels automatically.  
For those adamant that they want a chair without wheels, though, here are our top five.  
1. Hartleys White and Grey Swivel Chair
Starting off with a chair type that's even more niche than not having wheels, the Hartleys Swivel Chair is a stool that can work wonders in smaller office spaces.  
It's incredibly affordable and looks cleaner than any other kind of stool office chair you're going to find.  
Of course, this means that you forgo any sort of ergonomic support. If that isn't important to you, though, then give this option a look. 
2. Mina Chair
The majority of office chairs without wheels are going to be of the boardroom style. The Mina Chair is the cheapest of this bunch. Coming in under $100, this is a great low budget black chair option for those in need of a no-wheels black office chair.  
Like most of the chairs in this section of the list, it's pretty low-rise, and there's no way to adjust the height.  
Put bluntly, if the chair isn't the right size for your desk, then you're out of luck.  
If the sizes do work out, though, this is the best budget chair you're going to find out there.  
3. Office Hippo Visitor Chair
Office Hippo has a reputation for making quality affordable chairs, and the visitor is no different.  
It's the cheapest option on the list without wheels, but the quality of the chair really doesn't reflect that. It suffers from the universal problems of not having wheels, including no ergonomics and a lack of adjustability; however, it's a great looking chair that you can buy on a budget.  
4. Harley Boardroom and Visitor Chair
The Harley is a better and slightly more expensive version of the Mina chair.  
Simply put, it's taller and is made from more comfortable materials. Aside from that, the two chairs are identical, so go with whichever price point you prefer.  
5. HOMCOM Ergonomic Office Recliner
The HOMCOM Ergonomic Recliner is the pinnacle of office chairs with no wheels. Think of a comfortable recliner, except one that's built for the office.  
It's got ergonomic back support, a leg and headrest, and is tall enough to work with most modern desks.  
There are three distinct negatives that this black ergonomic chair carries with it, though. First, it's much pricier than the other four we've talked about. Secondly, it's incredibly big. You're not going to fit this chair into a cubby office.  
Lastly, the chair is so comfortable that you might actually fall asleep on the job. This can be positive or negative, depending on your point of view. Either way, this is the best black office chair without wheels you can get from this list.  
10 Black Ergonomic Office Chairs on Wheels
You get a plethora of advantages with black ergonomic chairs with wheels. Most obviously, you have a lot more maneuverability. You can wheel yourself in and out of position in your office, rather than standing up every time you need to adjust yourself.
These chairs also tend to be much more ergonomic. If you're looking for the best black office chair that you can get, it's going to be one with wheels.  
1. The AvoChair
The AvoChair is a black ergonomic chair that meshes the styles of chairs with wheels and those without.  
It looks like you attached a set of wheels to a lounge chair and made it more ergonomic. Don't get us wrong; this is a good thing.  
Its price tag is phenomenal for the level of customization and comfort that the AvoChair provides. It's sleek, it's minimal, and it's incredibly easy to keep clean.  
The lumbar support system on the AvoChair isn't as good as the ones found on other Autonomous chairs, but it's still much better than most of the chairs on this list.  
The style is similar to that of the flex operator. It has a soft mesh backing that molds to your back shape. The difference here is that AvoChair implements this feature much better.  
It's the bottom of the four Autonomous ergonomic chairs that we've included on the list, but it's still better than 99% of ergonomic chairs out there, which says a lot about the entries to come.
2. The MyoChair
The MyoChair is priced at the same point as the AvoChair, meaning both of them are about the same in terms of ergonomic functionality.  
The MyoChair, though, is a traditional alternative to the style and lumbar system offered up by the AvoChair.  
It's got a wide range of customization options, which is integral to a top-quality ergonomic chair. Particularly, though, it gives you the ability to purchase an optional head and leg rest.  
Just having the option of whether or not you want this makes the MyoChair one of the most versatile black ergonomic office chairs out there. 
3. The ErgoChair 2
These next two options are similar to the MyoChair and AvoChair in that the price point is the same, but the style and design of the two are not.  
Unlike the last two chairs, though, these two are the cream of the crop when it comes to ergonomic office chairs.  
This black ergonomic office chair has every single kind of customization you would want in a chair, and then some.
You can fully adjust ErgoChair 2 by changing the highest, the tilt of the back, the tilt of the seat, and even the tension of the lumbar support system on the back.
If you're looking for a black and white office chair, ErgoChair 2 also has this version for you to choose.
On the topic of the lumbar support system, the ErgoChair 2 takes the usual lower back system that you see in other chairs and cranks it up to 11.  
You're not going to find a chair that gives you better support than this one. You're going to notice the difference in your back pain and posture very quickly when you switch to the ErgoChair 2.  
4. The Kinn Chair
The Kinn Chair is the alternative to the ErgoChair 2. It offers a level of support and comfort similar to the other chair, but the way in which it delivers these is different. 
The Kinn Chair, rather than using a traditional lumbar system, utilizes a fishbone design using an advanced TPE material.  
This material allows the Kinn Chair to adjust to your sitting position and back shape, similar to other ergonomic chairs of this style.  
Unlike those other chairs, the Kinn Chair does it flawlessly. It's the opus magnum of black ergonomic chairs, even though it's priced significantly lower than other chairs on the market.  
Like the ErgoChair, you can adjust pretty much everything you could ever want with this chair. 
Which one of the two you end up purchasing ultimately depends on your personal preference.  
As the final cherry on the cake, all of the Autonomous chairs have the option of buying them with a monthly installation payment plan. You might not even need to use this on account of the price, but having the option is a major boon over other chair manufacturers. 
5. RayGar Supreme Racing Gaming Chair
If you're not a fan of gaming chair designs, then this entry is going to disappoint you.  
For those that don't mind, though, this is an affordable option that looks clean and comes with basic ergonomic features that make a massive difference on your back.  
It's on the lower end of the gaming chair spectrum, but that's expected given the price.  
You're still getting a black office chair on wheels that gives you good lower back support, though. At the end of the day, that's all you really need from your office chair.  
6. Vinsetto Gaming Office Chair
There are three Vinsetto chairs on this list. This version is the first. It's a run of the mill gaming chair that comes with the same features as every other, including a high-back and a headrest.  
What this chair has that others don't, though, is a vibrating lower back lumbar cushion. This is completely unique to this chair and something that we haven't seen replicated anywhere.  
It's not for everyone, but if you like vibrating chairs, then this is easily the option that you should be going for. 
7. Vinsetto PU Leather Ergonomic Chair
The Vinsetto PU Leather is essentially the last entry with better materials minus the vibration feature.  
If you're completely indifferent to vibrations, then this is the superior of the two. It costs a slight bit more than the last entry, but the increased comfort that you get from the leather upgrade is more than worth it.  
8. Vinsetto Black Mesh Computer Chair
The last Vinsetto on the list is much more akin to a traditional office chair than the other two. Therefore, if you don't like gaming chairs, this is the best Vinsetto option that you have.  
The mesh back makes this chair incredibly breathable, which takes care of one of the gaming chair's biggest drawbacks.  
It's got a good headrest and lower back lumbar support, all for a very modest price tag. If you're looking for a low budget regular ergonomic chair, then the Vinsetto Mesh is right up your alley.  
9. GT Omega Pro Series
The GT Omega Pro line is the pinnacle of gaming chairs, so this is your best gaming chair alternative to the Vinsetto mesh model.  
Its full back design is incredibly comfortable, and the material that the chair is made from is perfect for double-digit working days.  
It comes in a number of different black color combinations, too, making it the best gaming style chair you're going to find.  
This is especially true considering the exceptionally reasonable price tag that this chair comes with.  
10. Flex Task Operator Office Chair
Now, we're getting into the really ergonomically designed black ergonomic office computer chair.  
The lumbar supported back of the Flex Task changes to suit your sitting position, making it one of the most supportive chairs you're going to find.  
The style of it is unique, so you're either going to love it or hate it. If you are a fan, though, then the Flex Task Operator should be a serious contender for your black ergonomic chair.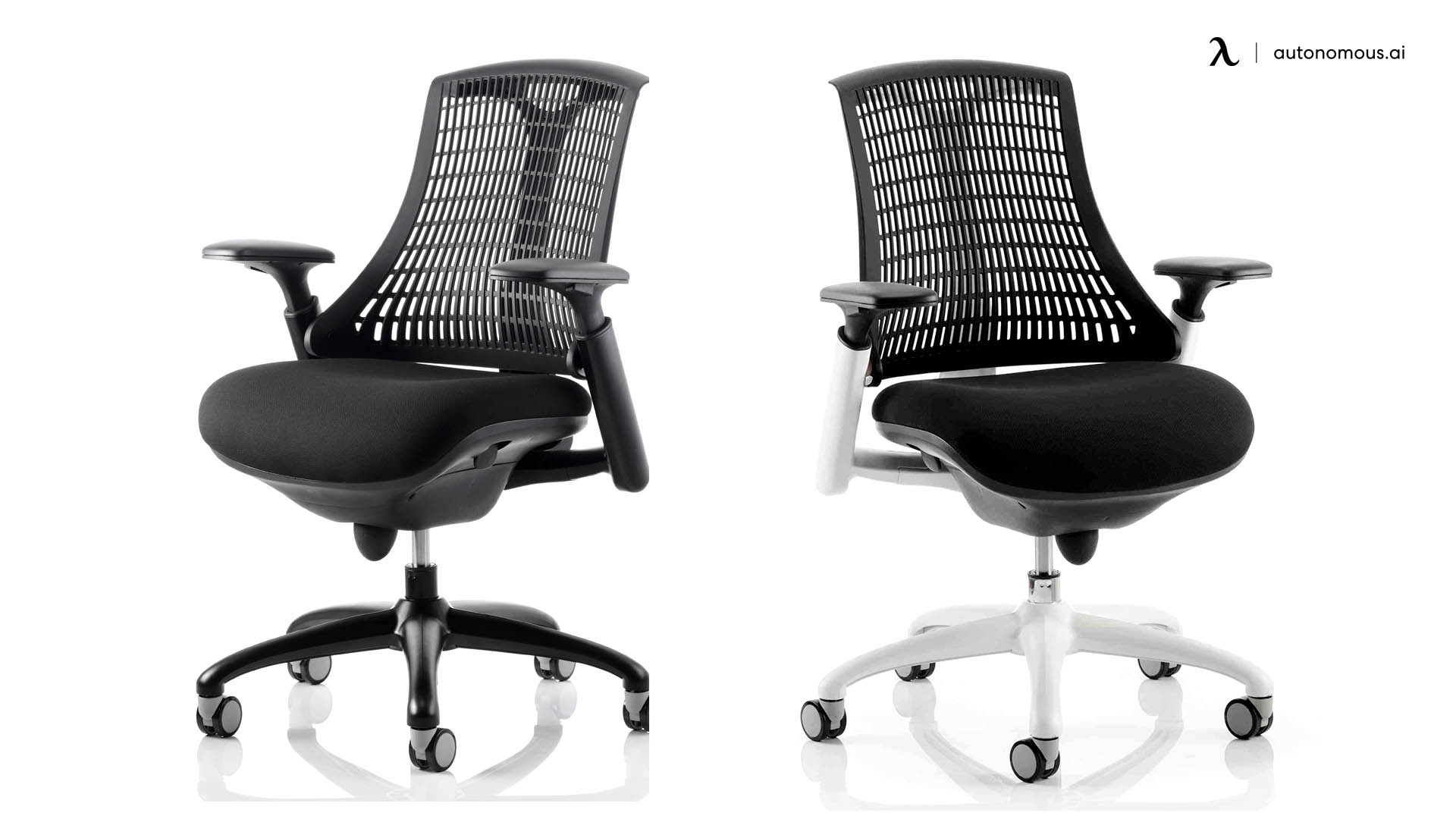 Pros and Cons of a Black Ergonomic Chair
Black Ergonomic Chair
You're getting unrivaled back support
Black chairs are much easier to keep clean
The color style helps your office look sleek and modern
You're limiting your options
Ergonomic chairs tend to cost more than traditional office chairs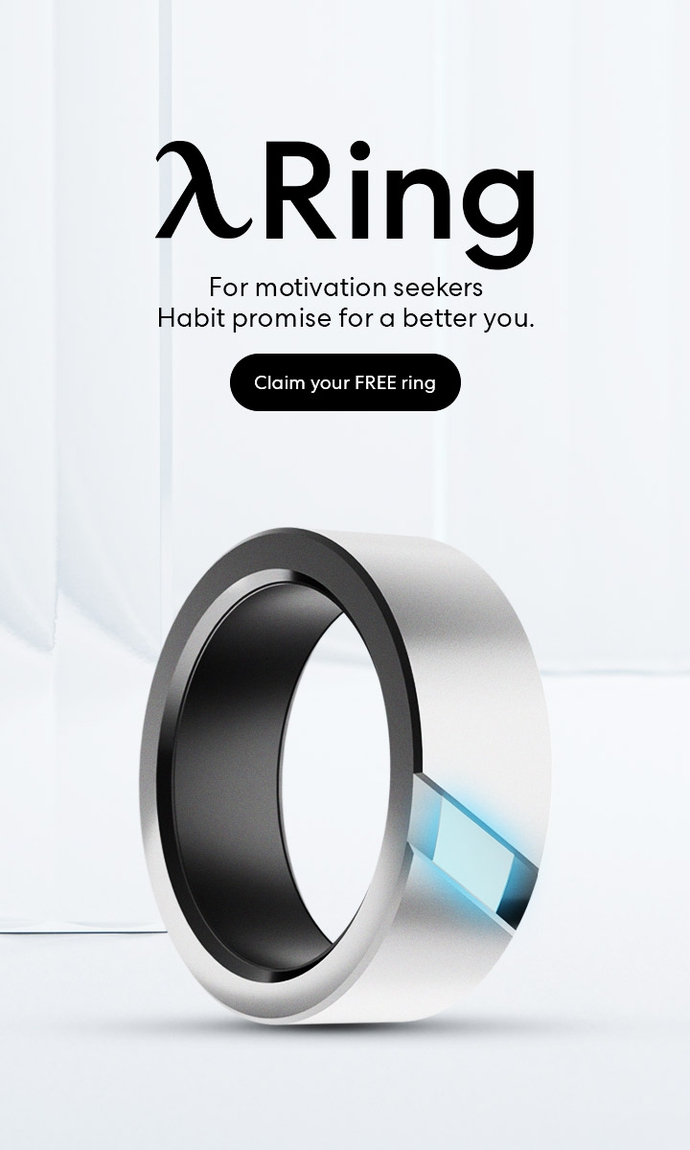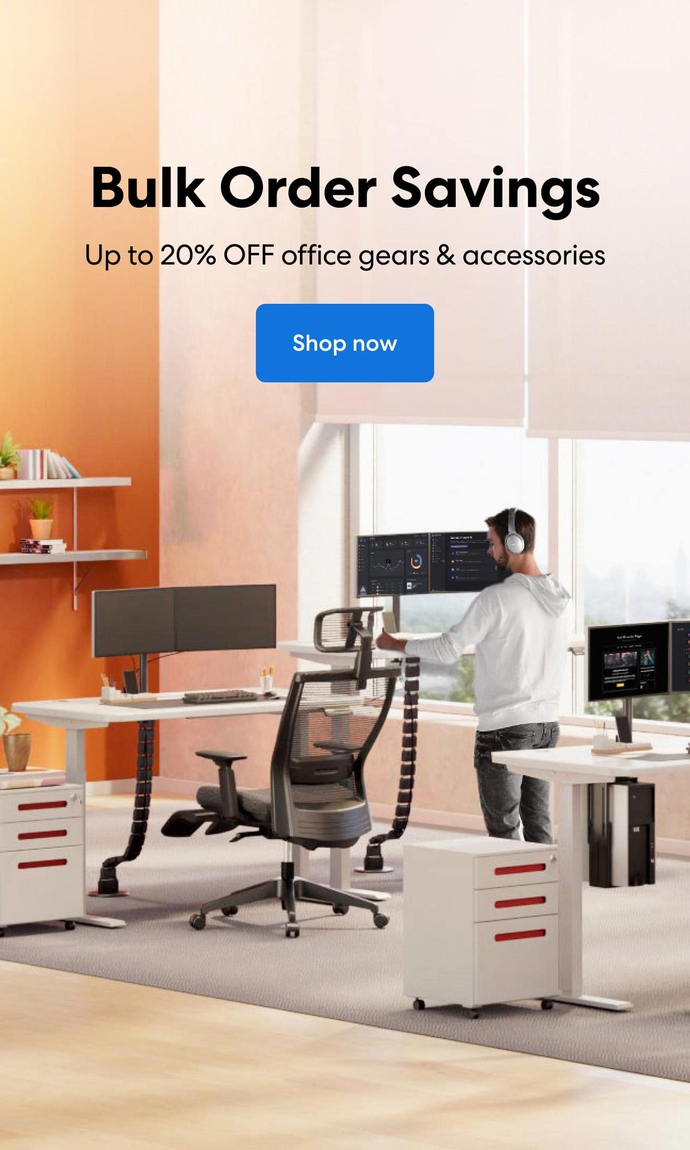 Subcribe newsletter and get $100 OFF.
Receive product updates, special offers, ergo tips, and inspiration form our team.