Investing in one of the finest portable standing desk converters would be a great idea if you would like to work at your desktop while standing up. You can easily transform your regular desk into a standing desk by placing the converter on top of it. The advantages of utilizing your feet to enhance your health and comfort can finally be achieved.
When you work while standing up, your muscles get strengthened, your back discomfort goes away, your blood pressure goes down, and your spirits and energy output eventually go up. This is why it is important to get desktop risers, commonly referred to as tabletop standing desk converters. They come in various dimensions, designs, and price points and often have a desktop platform with a separate mounting bracket for you to put your keyboard on.
Since they are frequently the lowest priced and the simplest way to start standing, standing desk adapters are an option to consider if you want to keep your current workstation. The appropriate standing desk convertible for you will depend on your height, computer setup, available space, and margin requirement. We have listed a few stand-up desk converters for laptop or computer options here that enhance classic styles yet have now become more inexpensive than ever.
List of the 15 Best Standing Workstation Converters
Our specialists have analyzed and examined products varying from the ideal office chairs for your workspaces to top-rated, inexpensive computer desks. When determining the top standing desk converters, our specialists, experts, and interior designers examined various aspects, including dimensions, simplicity of construction, flexibility, and design.
1. Mount-It! Sit-Stand Desk Converter with Dual Monitor Mount
This converter encourages you to continue moving more throughout the day. The standing desk converter with dual monitor mount has hydraulic lift handlebars, which speedily lift your workstation from 4.3 inches to 19.9 inches in seconds.
2. Northread Triple Monitor Electric Sit-Stand Workstation
This triple monitor standing desk converter is among our favorite items because it is structurally sound, low key, and well crafted. It is the finest electronically controlled raiser. Even though it lacks the tactile flexibility of much more expensive alternatives, it does make up for its overall quality.
3. FENGE Standing Desk Converter: 32" Height-adjustable
This is a luxurious two-tier standing desk transformer with a layout of 32 inches wide workpiece surface offering more than enough room for a single monitor, a double monitor, as well as a laptop + desktop monitor configurations. This customizable, the FENGE standing desk converter 32 inches, makes it possible to find that necessary, proper balance among both sitting up straight or standing across the day.
4. Mount-It! Sit-Stand Desk Converter with Dual Monitor Mount
With dimensions of 26.7 inches wide by 11.5 inches, this standing desk converter with dual monitor mount seems to have plenty of space for your inputs, including a physical keyboard and a mouse. Additionally, a 15.6-inch laptop may fit the desk perfectly.
5. Mount-It! Extra Wide Height Adjustable Standing Desk Converter
By switching between sitting and standing positions while working, you can perform more healthfully with this computer desk converter. For those who already own a workstation, one of the greatest perks of this extra wide standing desk converter is that finding such a reasonably priced converter is not hard.
6. SmartDesk Compact WorkStation Riser
After all, a lot of the best physical computer desk converters—which still make up 99percent of the market's bigger lift capacities—have more contact area, arrive fully assembled, are substantially stiffer, and therefore are consequently more likely to be much more reliable over the long haul.
7. Desktop Riser by Winston-E
This riser's first iteration was well-liked by sit-stand desktop adapters' customers. This one can join the territory that no other desktop converter has been through the highest-rated risers—with the help of a quick electrical suspension system, exceptional comfort, and a sophisticated design.
8. Desktop Kangaroo Ergo Pro
This portable standing desk converter is a wonderful conveyor that occupies much less space on your workstation and is typically easy to adjust. But reliability varies significantly from product to product. Your keyboard tray is the only thing that will fit on your higher desktop. Although there are several other display models, the majority are solitary.
9. WorkFit-Z Mini by Ergotron
The model provides approximately 13" more lift than your present table, and it's 30" + broad desktop. Our testing shows that mechanically raising the desk using the pneumatic cylinder grips is a breeze, even though it is primarily intended to support laptops and lightweight devices.
10. VariDesk Pro Plus
We like that this computer desk converter comes completely assembled and is, therefore, quite simple to use. The brand provides its tabletop converter in several sizes to fit a range of workstations.
11. Laptop 30 by VariDesk
For individuals with limited room, who enjoy working remotely when traveling, or who want to test out a standing desk before adopting a larger solution, this laptop-friendly computer desk adapter is a perfect choice.
12. 36 VariDesk Essential
This one includes a heavy base to provide stability, can easily handle up to twenty pounds, and can carry a display and a MacBook. To try and make utilizing it more practical and pleasant, it also boasts a two-tier structure with an incorporated keyboard & mouse pad.
13. VICTOR-DCX610
This portable standing desk converter is much smaller than you may imagine. It is ideal for everybody who wants to work from a monitor by using a laptop but doesn't require nearly as big of a version as some other larger-sized items on our list.
14. Flexispot M Series
Finding the perfect ergonomic stance is simple, with the large keyboard tray's beveled edges and 12 elevation adjustments accessible. It has a hardwood tabletop for the same cost and a modern look with a great finish.
15. Gaming Desk Riser by Eureka 46
This one has a 20" elevation and can support very heighted people up to 6'6" and boasts outstanding ergonomics with a distinctively designed keyboard tray that provides a few alternatives for relaxing your elbows and enough space for a keyboard mat.
Bottom Up
A stand-up desk converter for 2 monitors enables you to turn your regular working space into one where you can sit and stand without stopping your tasks. Suppose you feel restless sitting at your workstation for the entire day, or perhaps you've started noticing some recurring back pain and therefore need to change your sedentary lifestyle. In that case, you must invest in a standing desk converter. Now, let's get one in this list and start your shopping!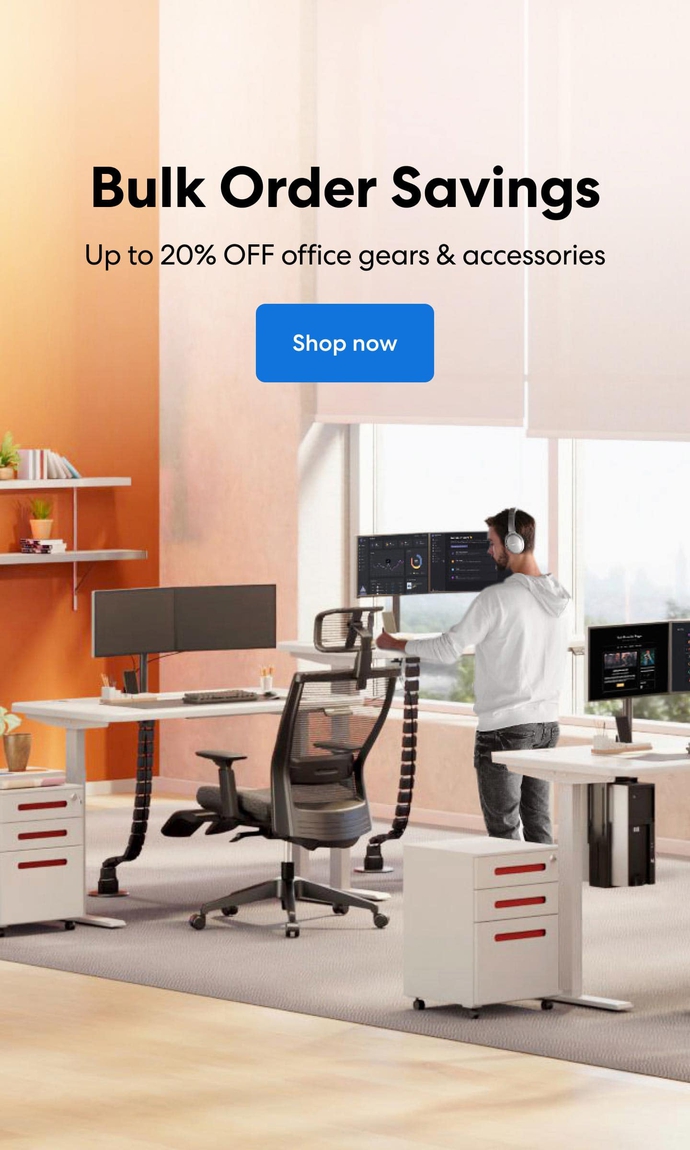 Subcribe newsletter and get $100 OFF.
Receive product updates, special offers, ergo tips, and inspiration form our team.