Do you exercise at home? Are you planning to enrich your home gym equipment and start exercising regularly? Will exercising at home or in your office encourage consistency in your workout regime? A small treadmill might be just what you need. 
Why Buy a Mini Treadmill?
The beginning of the year is the right time to start some new healthy habits. We all set some goals for the year ahead. Some of us will decide to eat healthily, others to exercise more. We live in a time when we have the option to choose from many types of activities. 
Walking has gained a lot of popularity recently, and as a result, treadmills are in greater demand. 
We all like a big home or office with space for everything, but not everyone can afford the space for large treadmills and other sports equipment. If you want to buy a small treadmill for your home that will fit into your living room or office, you have come to the right place. 
Apart from taking up little space, these treadmills are cheaper than others. Some are foldable, so you wouldn't have to fill your home or workspace with large iron machines that don't fit into the interior. 
What to Look for in a Small Treadmill
Here are a few things to look out for when choosing the right mini treadmill for your office or home: 
Affordability.

You shouldn't have to spend hundreds of dollars on your gym equipment. However, you don't want something that's going to fall apart after a few uses, so make sure you don't choose the cheapest option.

Customer ratings.

Ideally, you want to choose a product that has excellent customer ratings.

Size.

Small treadmills are designed to be space-saving, so it's important to choose one that will work best for the room. You also want to make sure that it is compact enough to be stored easily.

Color.

It's also important to match the treadmill to your room décor, so if this is important to you, be sure to check the color before making your purchase. 
15 Small Treadmills for Your Home or Office
We have selected the best 15 compact treadmills for your home or office. Let's take a look at their features. 
1. WalkingPad Foldable Treadmill C2
Small treadmills are very practical because they don't take up much space, and you can move them from one place to another. This walking treadmill is compact, small, and easily fits into any space. The best thing is that you can take it with you and work out wherever you are. 
Moreover, it has a patented folding technology and a modern design. This foldable, compact treadmill for home has a four-layer structure and a speed control sensor. This small space treadmill comes in two colors, black and white. You can choose which one fits best in your space. 
Dimensions
Unfolded: 56.9'' L x 20.4'' W x 4.9'' H
Folded: 32.5'' L x 20.4'' W x 5.4'' H
Item weight
48.5 lbs
Color
White / Black
Materials
Panel: ABS plastics
Power
1 HP
Speed range
0.3 - 3.7mph
Weight capacity
220 lbs
Warranty
1 year
2. WalkingPad Foldable Walk-run Treadmill R2
This folding portable treadmill is very easy to assemble, so it adapts to any space. If it is important to you that this small treadmill for home does not take up space and can be stored anywhere with ease, this is the right product for you. You can watch TV or talk on your phone from your office while walking. 
The treadmill has a smart connection and a speed sensor that adjusts the speed according to your steps. Moreover, the patented folding system is what makes this treadmill the most attractive.
Dimensions
Unfolded: 57.2" L x 28.3" W x 40.6" H
Folded: 39.4" L x 28.3" W x 6.4" H
Walking area: 47.2" L x 17.3" W
Item weight
79 lbs
Color
Silver
Materials
Running board: HDF
Shell cover: IML injection
Layer: EVA cushion
Body build: Aluminum Alloy
Power
918W
Speed range
0.3 - 6.2mph
Weight capacity
240 lbs
App
Available for both IOS & Android
Warranty
1 year
3. InMovement Unsit Under Desk Treadmill
This office treadmill is a machine completely designed to be used in your office, not in the gym. On one hand, it takes up very little space, and on the other hand, it has a large walking space. It comes with a built-in app to help you track your progress.
Dimensions
Overall: 56"L x 39"W
Walk surface: 30"W x 40"L
Item weight
162 lbs
Power
120VAC - 60Hz - 6amp - 600 watt
Speed range
0.3 - 2.0 mph
Weight capacity
400 lbs
App
Unsit App
Warranty
Labor: 1 year
Parts: 3 years
Frame: Lifetime
4. LifeSpan Fitness TR1200-Classic Manual Height Adjust Treadmill Desk
This treadmill will make a great addition to your work desk or as a stand-alone piece of exercise equipment. LifeSpan Fitness Treadmill Desk gives you everything you need to start walking while you work. An internal built-in cable routing system makes this treadmill secure and gives it a refined look. 
You have a built-in step-counting system and fully adjustable height, making this standing desk with a treadmill very easy to use and practical. The treadmill comes with a 10-year warranty, giving you extra security.
Dimensions
Treadmill: 68.5"L x 28.5"W x 4.6"H
Desk: 38" - 48"L x 29"W
Walking surface: 20"W x 50"L
Item weight
Treadmill: 114 lbs
Desk: 60 lbs
Colors
Black, Gray, White
Speed range
0.4 - 4.0 mph
Weight capacity
350 lbs
Power
115V NEMA 5-15 Non GFI Circuit
Warranty
Frame: 10 years
Parts: 2 years
Labor: 1 year
5. LifeSpan Fitness TR1200-Omni Electric Height Adjust Treadmill Desk
TR1200 treadmill is the perfect treadmill for your home office. The simple, space-saving design was meant for this treadmill to fit into any workspace. Moreover, the fact that the height of this machine can be changed and adjusted makes it even more attractive. 
The motor runs very quietly, and the display comes with the option to adjust the frame and colors. With just one touch, you can change speed, incline, stop or start walking, which makes it very easy to use. 
Dimensions
Treadmill: 68.5"L x 28.5"W x 4.6"H
Desk: 38" - 48"L x 29"W x 40" - 53"H
Walking surface: 20"W x 50"L
Item weight
Desk: 86 lbs
Treadmill: 114 lbs
Console: 1.87 lbs
Colors
White, Silver, Charcoal
Speed range
0.4 - 4.0 mph
Weight capacity
350 lbs
Power
115V NEMA 5-15 Non GFI Circuit
Warranty
Frame: 10 years
Parts: 2 years
Labor: 1 year
6. Urevo Foldable Treadmill
Another mini treadmill that fits and adapts to any space is the foldable treadmill from Urevo. It fits everywhere very easily and you can store it under your couch. No more thinking about which room to put your gym equipment in because this treadmill is foldable. This means that it fits just about anywhere. 
Moreover, the strong motor makes this treadmill attractive because it picks up speed fast, so you won't have to wait around for it to gain momentum.  
7. Xterra Fitness TR Folding Treadmill
Xterra's Fitness TR Folding Treadmill boasts a sizable walking or running surface that is sufficient for users of different sizes. 
The five-inch display is easy to read and informs you of distance, elevation, calories burned, etc. You have a choice of 15 preset programs and three manual incline settings so you can choose the perfect level for you. 
An easy-to-pull handle makes this treadmill easy to fold, so it can be easily stored when not in use. 
8. SF-T1407M Foldable Treadmill
This treadmill is a superb choice for ultra-small spaces. It is particularly good for those who want to save space and save money. 
The setting is manual, which means that you do not have pre-prepared walking programs, but you determine the speed at which you move. This treadmill is very affordable and has performances that are more than satisfactory. 
9. Goplus Two-In-One Folding Treadmill
Why not have fun while working out? With built-in Bluetooth and high-quality speakers, this treadmill provides you with a unique musical experience. The machine itself is very quiet, which is another good feature. 
If you want, you can fold the upper part and turn it into an under-the-desk treadmill, thus saving even more space.
10. Best Choice Folding Electric Treadmill
Not only does it fit anywhere, but this small space treadmill has built-in handles, making it even easier to carry. This allows you to exercise anywhere around your house or office. 
You can choose a beginner, intermediate or advanced level and find your perfect walking pace and pair it with the perfect standing desk to take your work routine to the next level.  
11. Rhythm Fun Treadmill
If you want a really quiet machine, this is the right choice for you. It comes with a shock absorption system and a very quiet motor, making this treadmill the quietest on the market at present. The display is large enough to fit a laptop, and the treadmill itself is small and compact, so it doesn't take up much space when you're not using it. 
12. Echelon Stride Treadmill
This compact treadmill comes with an auto-fold feature which makes it super easy to store. You can choose from the eight pre-programmed workouts which go from beginner to advanced level.
13. NordicTrack T Series Treadmill
Apart from being collapsible, the cool thing about this exercise equipment is that it has a built-in music port and speakers to keep you entertained while you exercise. 
The strap gives enough space for the legs and ankles while running or walking. It automatically adjusts itself to your walking speed via a smart Bluetooth connection. 
14. NordicTrack Commercial Series 1750
If you run regularly, and you want to bring that activity to your home or office, this is the perfect equipment for you. With a maximum space-saving design, this treadmill reaches a speed of 12 mph and a gradient of 12%. It also has built-in pre-made exercise programs, and with just one tap you can choose the perfect program. 
15. Treadly 2
Talking about small treadmills, the most important thing we think about is space. If space is the thing that is most important to you when choosing a treadmill, this is the right treadmill for you. The only disadvantage is that it cannot reach the kind of high speeds that are commonplace with other options on this list. 
Manual vs. Electric Treadmills
After looking at the best 15 small-space treadmills, let's compare manual and electric treadmills and consider their advantages. If you choose a manual treadmill you will have to work harder, but most new electric treadmills have better construction and features. 
What Are Manual Treadmills?
With manual treadmills, your foot movement also moves the belt. On these treadmills, both walking and running will require more effort, but that means that you will achieve a faster heart rate at a slower speed. 
One of the advantages of these treadmills is that they do not depend on electricity, so they are more mobile. Also, these treadmills stop when you stop, making them safer to use. 
The negative aspect of these treadmills is that they cause more pressure on the joints. 
What Are Electric Treadmills?
With these treadmills, you have help when you walk or run, because the motor moves the belt. When buying such a treadmill, you should pay attention to the strength of the motor because it is one of the key factors in the quality of the equipment. 
The most substantial advantage of these treadmills is that you don't have to exert yourself for the treadmill to start working, and you can adjust the speed and incline as you exercise. Also, these are suitable for both walking and running. Since the motor is heavy, these treadmills are more stable than manual ones. 
They are also more dangerous than manual ones because you can easily get carried away, and the machine throws you backward. The price is another drawback of these treadmills, they are much more expensive than manual ones. 
If you still have doubts about whether to buy a manual or electric treadmill, read this article about manual vs electric treadmill. It will surely help you decide. 
Garage Gym
Have you considered turning your garage into a workout space? The first advantage of having exercise equipment in your garage is that you will save time traveling to the gym. You also won't have to wait in line for an exercise machine, which is also quite convenient. 
You can explore our garage gym ideas if you decide to equip your garage with a gym. 
FAQs
1. Can I run on a small treadmill?
Yes, you can run on a small treadmill. If you want to use the treadmill for running, you should choose one with enough room to move. Look for small treadmills designed so that you can both walk and run on them.
2. Are small treadmills sturdy?
Small treadmills are less sturdy than their bigger counterparts because they have less powerful motors. Heavy people and people planning to walk or run long distances should choose larger treadmills. 
3. Who should not use a treadmill?
People with problems with their joints and ankles should not use a treadmill since walking or running on a treadmill puts a lot of pressure on those parts of the body. 
4. Is walking on a treadmill as good as walking outside?
It depends on you and your preferences. When the weather is bad, or if the air is polluted outside, walking on a treadmill can be a better option. 
Final Thoughts
We hope our list of the top 15 small treadmills for your home and office gym helps you choose the equipment that will suit your needs.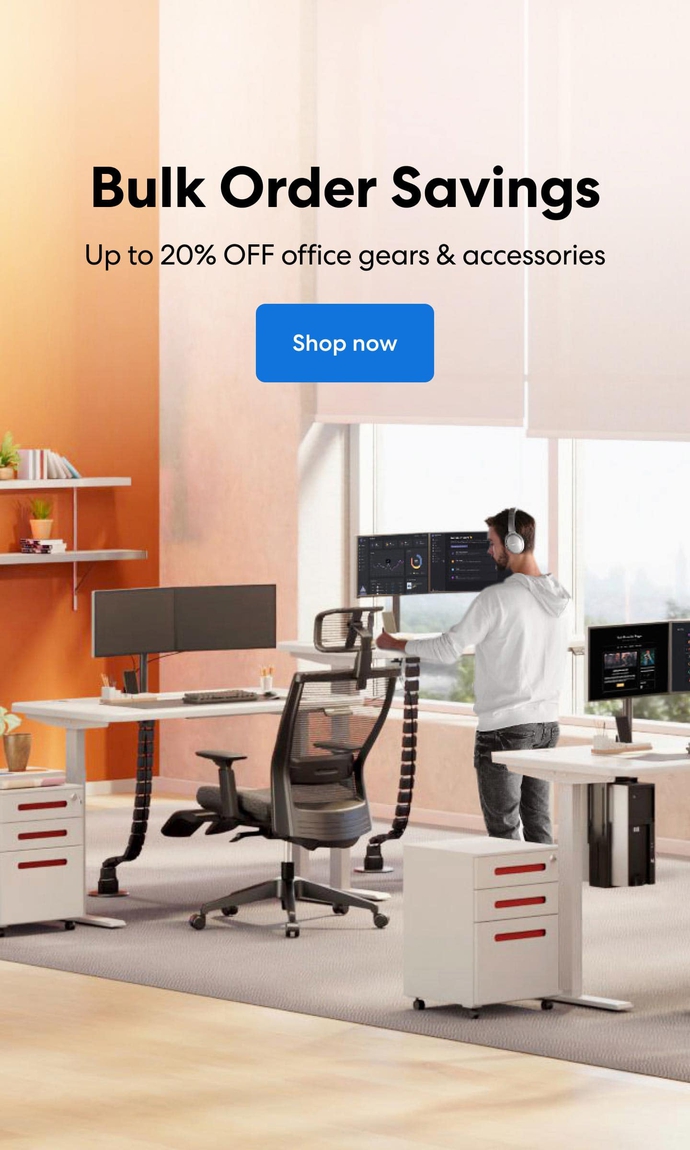 Subcribe newsletter and get $100 OFF.
Receive product updates, special offers, ergo tips, and inspiration form our team.