Over half of US homeowners have boosted their home repair project activity since the start of the COVID-19 pandemic. Why not make the most of a situation where people are stranded at home? 
Now, with that kind of drive, why not try to improve yourself along the way? With the pandemic set to begin in 2022 and no end in sight, now is the time to establish that home garage gym.
Read on to learn about the best garage gym ideas that can improve both your home and your health. 
Is a Garage Gym Setup Worth It?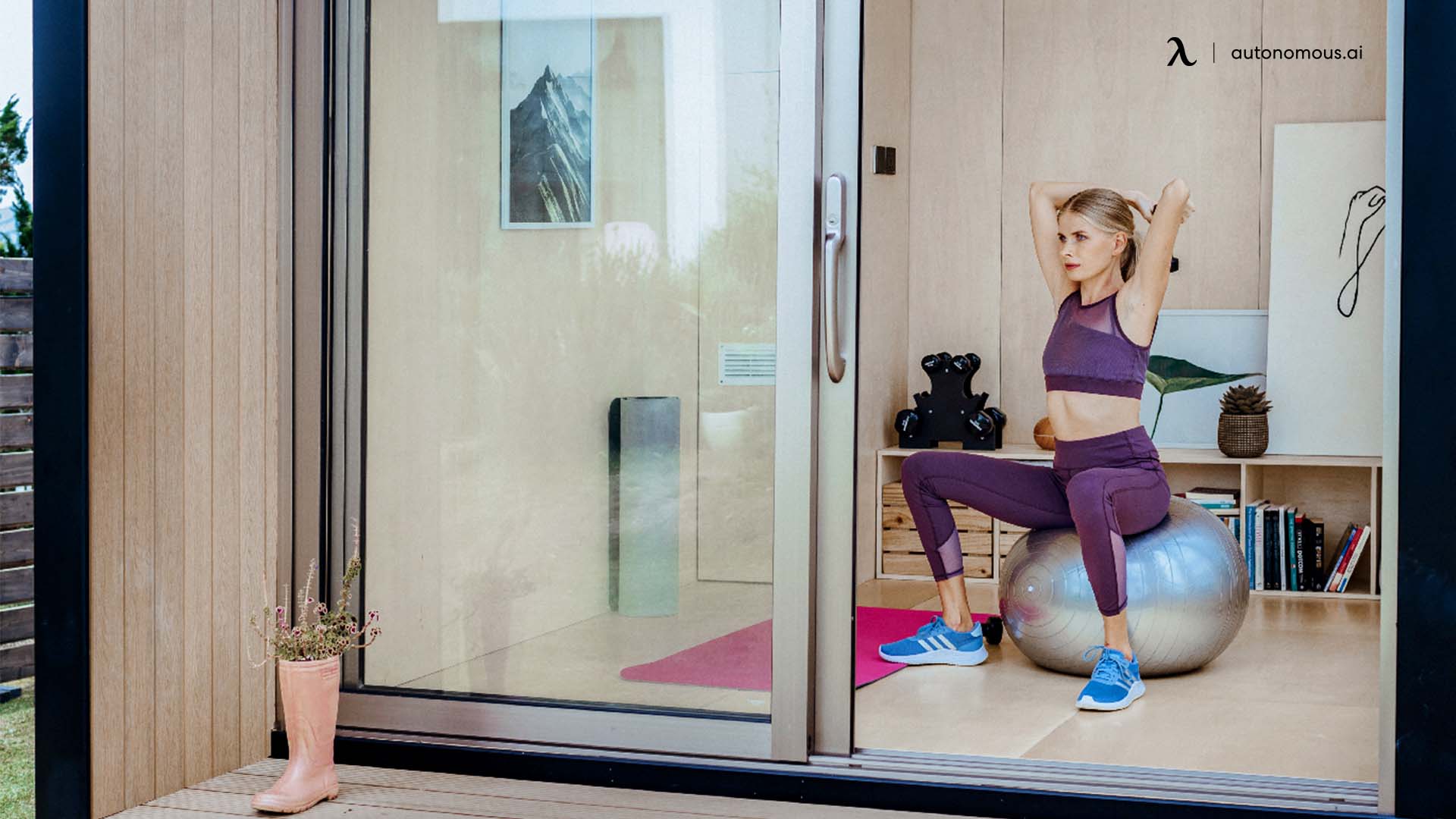 In one word: YES! A small home gym design may provide you with most of the benefits of a commercial gym while also allowing you to work out whenever you want and in the comfort of your own home. 
There are well over 25 distinct workouts that you can do with most multipurpose home gym equipment. Also, there are a lot of different exercises that you can do to tone different parts of your body. 
How to Make Your Own Home Gym
The first question that many people have is whether a home gym is truly superior to a gym membership. Now, if that's the case, when will you be able to see the results? 
Several factors must be in place for a commercial gym to make sense. Such as the location, the timing, your goal, and, finally, the cost. When you compare the cost of a typical gym membership to the cost of a home gym, it will pay for itself before the end of the year. There are also the obvious benefits of having more time to yourself because you are not forced to travel to the gym. When you work out at home, you can wear anything you want. 
Essentially, there are a variety of reasons why most people believe it isn't worth it. One, they believe they have too much work to do to devote themselves to fitness, which is wrong. Because you don't have to waste time going to and from the gym when you have your own garage gym setup, a 15-minute exercise blast first thing in the morning is also doable. 
Many homeowners are integrating their gyms into their homes rather than keeping them in the basement. Instead of going into the gloomy confines of a basement, a bright environment will help motivate you to spend more time with your health. Even better, you can personalize your gym with colors, posters, and contemporary décor garage gym ideas that will get you excited from the moment you walk in. 
1. The Shared-Garage Setup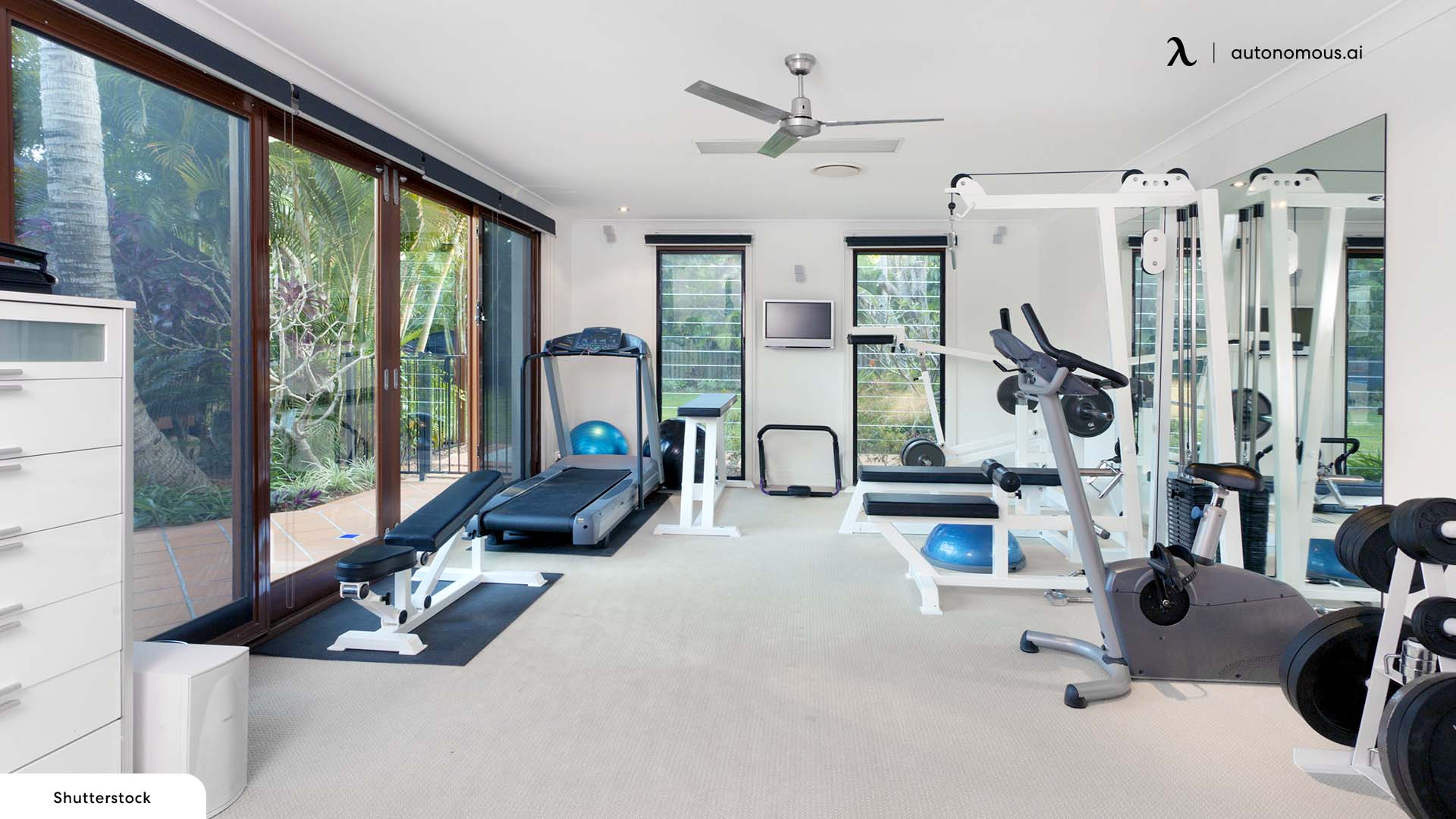 Because of the COVID-19 outbreak, approximately 20% of gyms have shut their doors. Just because you have a small space doesn't mean your home garage gym can't fulfill your needs. 
It's essential to maximize the versatility of your equipment when assessing a small space. Further, it's important to have a versatile rack that can be used in a range of positions, whether you're sitting, standing, or laying down. 
If you have the space, investing in a set of free weights and a jump rope will suffice. 
2. The Single-Car Layout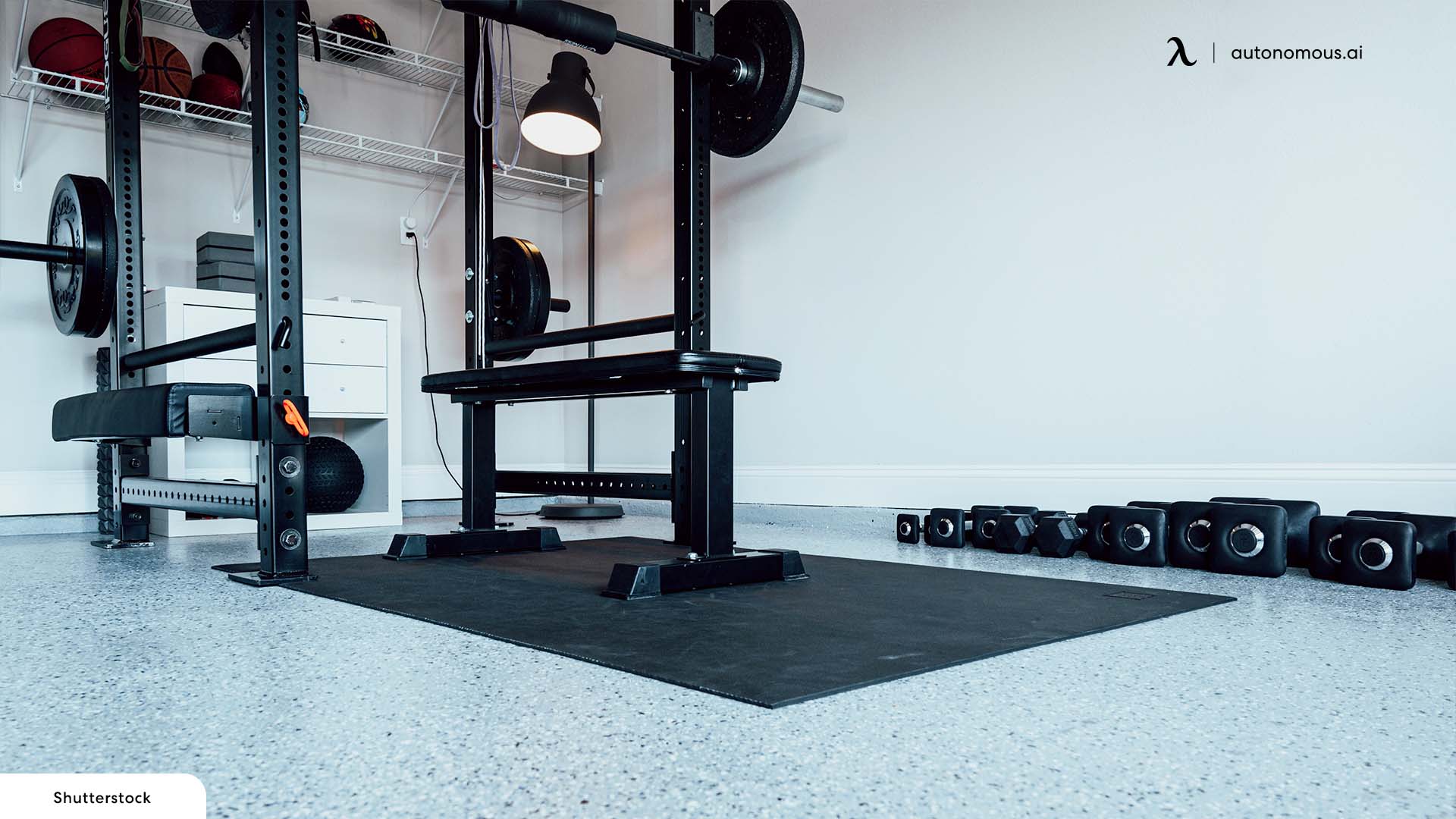 Perhaps you have a two-car garage but only one car, or perhaps you live in a climate where you don't need to cover your vehicle. In any case, a single-vehicle garage provides adequate space for some small garage gym ideas. 
Do you enjoy doing cardio? A treadmill or a bike can easily be accommodated in this space. If you really want to go all out, you can get a Peloton. 
To protect the floor, we recommend getting some home gym mats. It will keep the garage warmer throughout the winter months and make conducting core exercises far more comfortable. 
If your garage isn't heated or cooled, and your area has extreme temperature swings, invest in some inexpensive gym equipment that you won't mind wearing out. 
3. A Two-Car Combo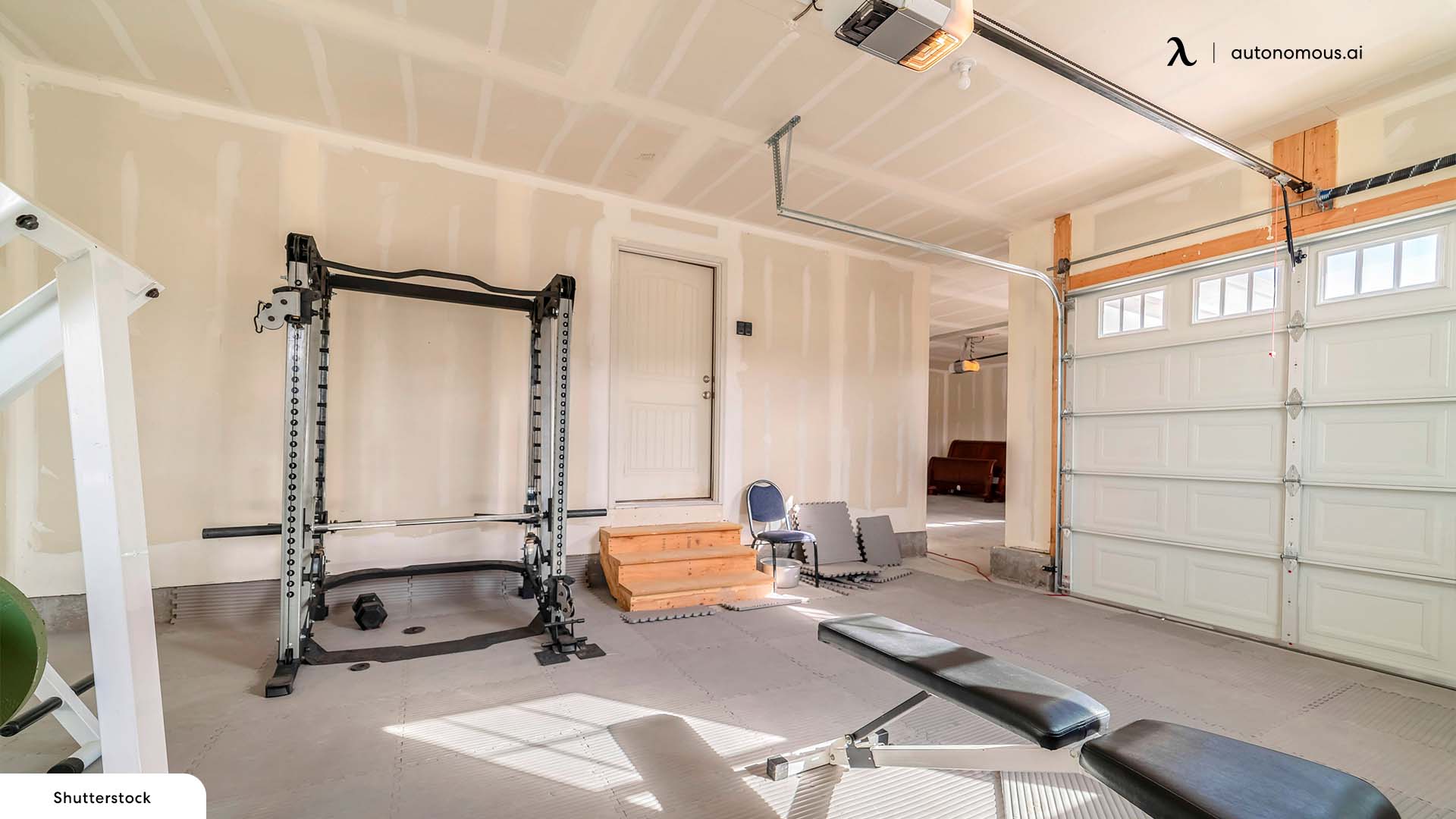 Others enjoy getting in shape by building woodworking stations. If you're serious about toning, the extra room will come in handy. 
Getting a good set of dumbbells, an adjustable bench, and a weight rack for your home gym will make the space feel more comfortable and cohesive. Are you always running out of water? To stay hydrated, you can include a sink. 
4. The Full-Gym Experience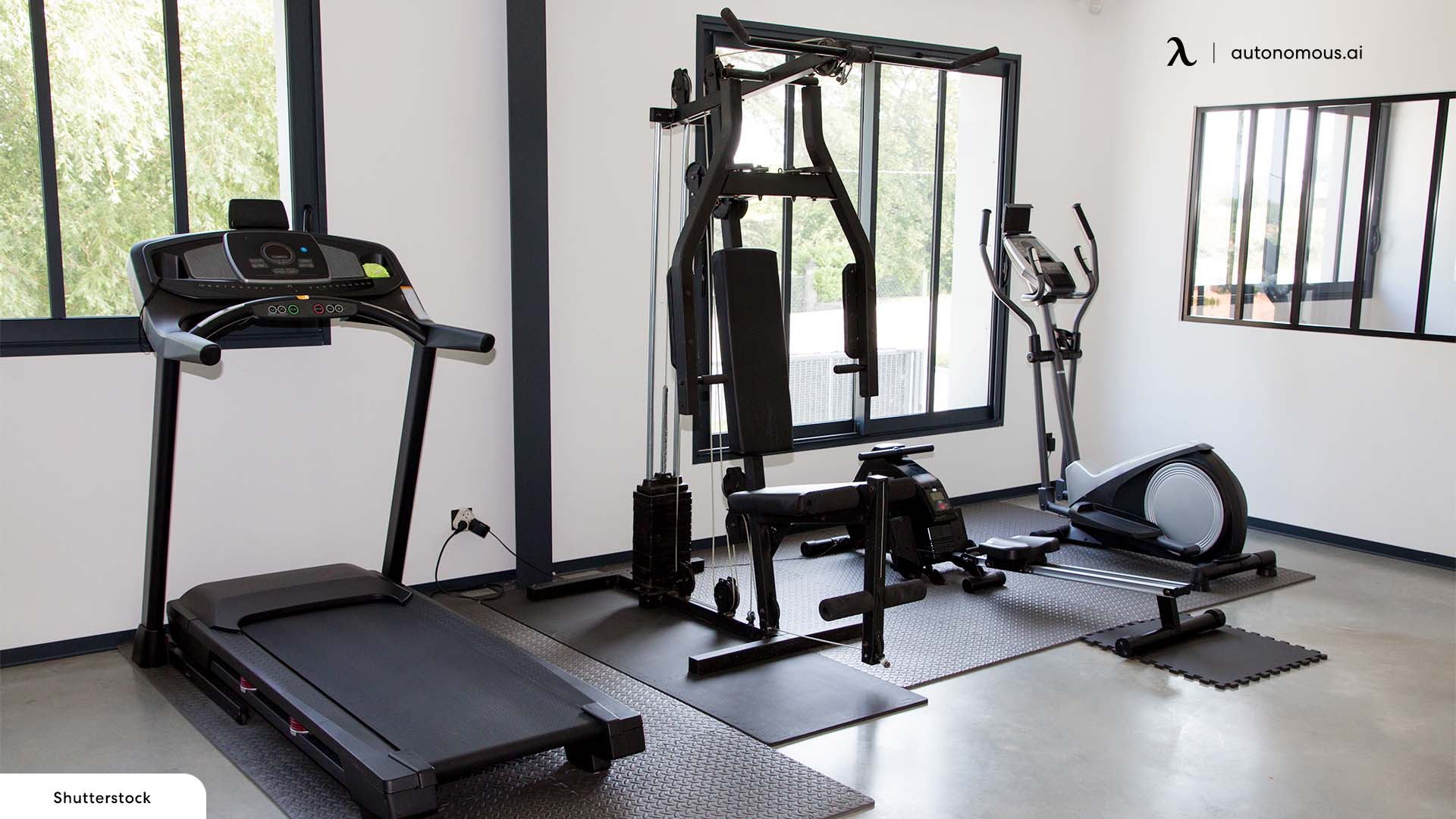 Listen up if you've got the garage gym equipment nailed and want to turn your garage into a gym-Mecca for your neighbors and friends. 
As for your garage gym ideas, invest in high-quality flooring, air conditioning, and heating. This means you'll have to get some HVAC work done. It's also a good idea to treat the floor in epoxy resin to help maintain it and prevent it from being damaged if heavy objects fall on it. 
5. The Portable Home Garage Gym
Have a garage that's already in use or amazing garage man cave ideas in mind? It's no problem. 
When you need to run, bring along portable weights, mats, towels, and water bottles. There are some fantastic adjustable free weights that can be packed tightly for easy transport yet can be used for a variety of activities. 
6. Garden Gym Pod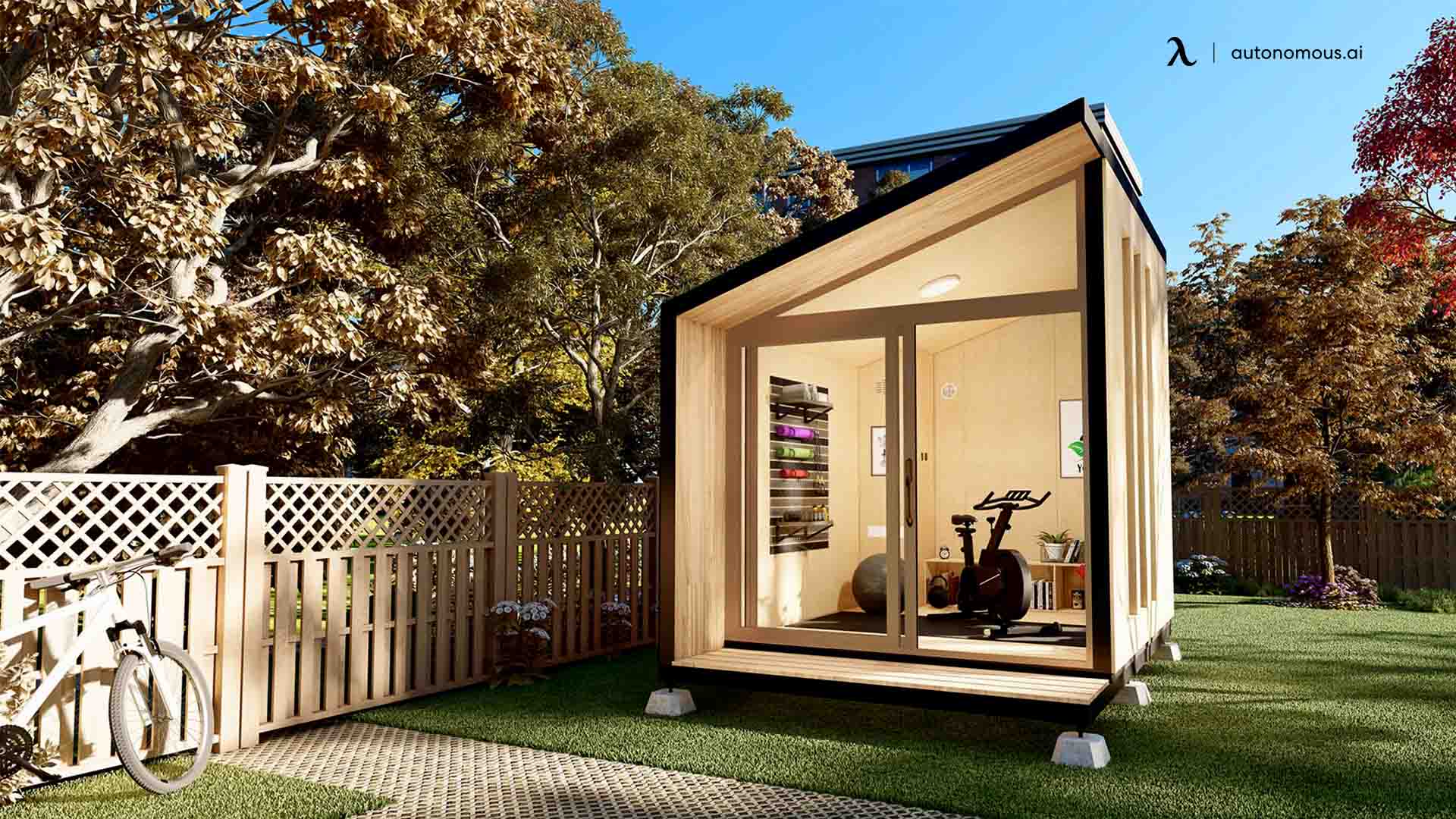 The Autonomous Gym Pod is made of a variety of tough materials. Its sound-proofing foam layer is also heat and fire-resistant. All the glass is 0.3 inches thick and tempered, ensuring that your workout is as quiet as possible. 
Hiring contractors and acquiring building permits for home renovations or extensions is a time-consuming and costly procedure that can take years to complete. The Autonomous Garden Gym Pod comes with easy-to-follow assembly instructions and takes only a few hours to build. 
7. Insulate Your Home Garage Gym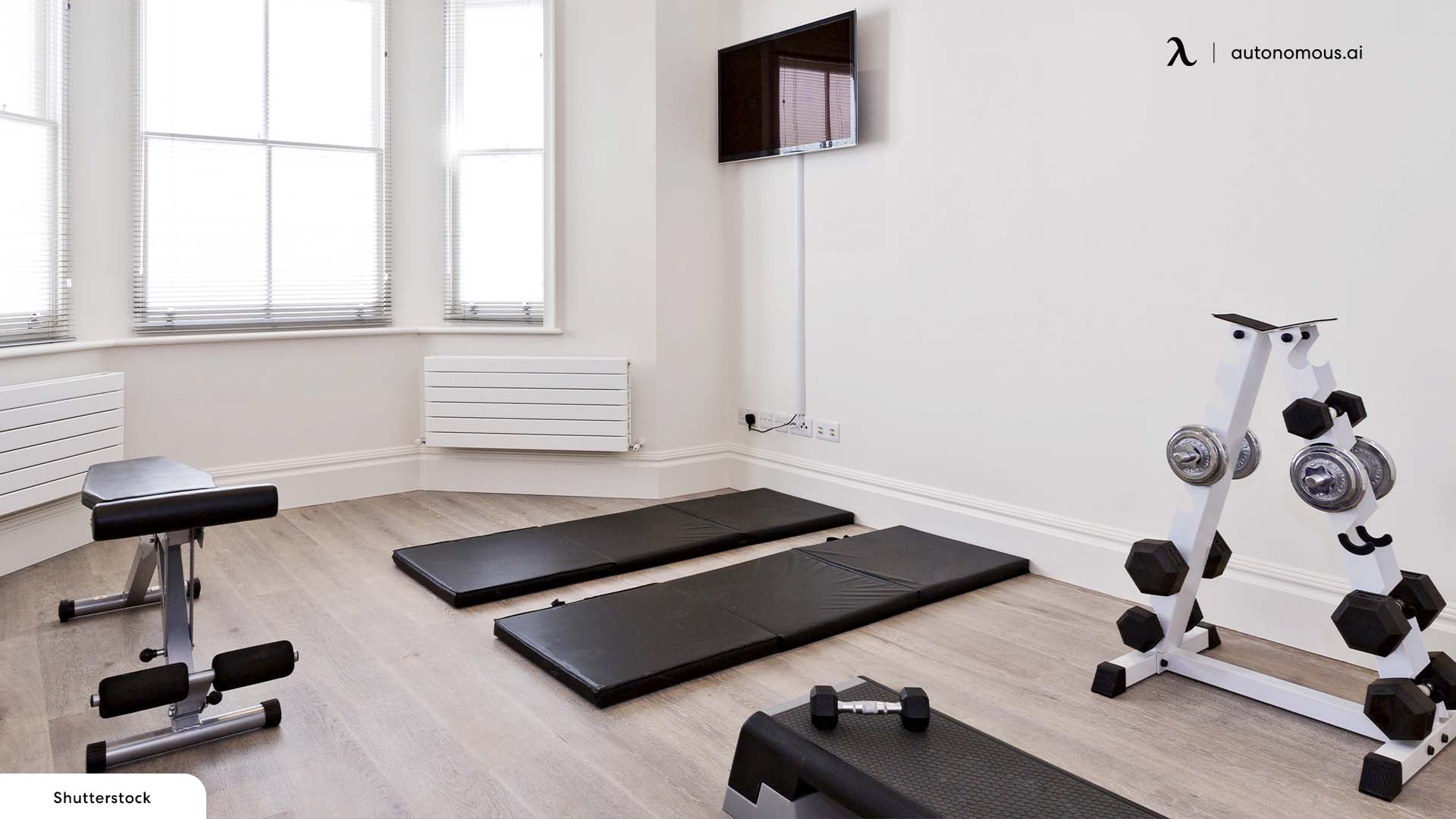 Because your garage has the largest door in your house, it's almost likely a source of substantial heat loss. Insulate your garage to keep it warmer in the winter and cooler in the summer (while also lowering your electric and gas bills). 
You may make your garage home gym usable all year long by putting insulation between the studs where air leaks go through. Insulation will also help to reduce noise, allowing you to play your motivational workout music as loud as you want. 
8. Garage Heating and Cooling
Depending on where you live, your home garage gym may become unusually hot in the summer and chillier in the winter, even if it is insulated. You can get an air conditioning system for your garage gym to help. 
Consider your budget and the size of your space when choosing a heating and cooling system. A portable option may be the best option for a smaller garage gym. If you have a larger space, consider investing in a temperature control system. 
9. Cover the Concrete Flooring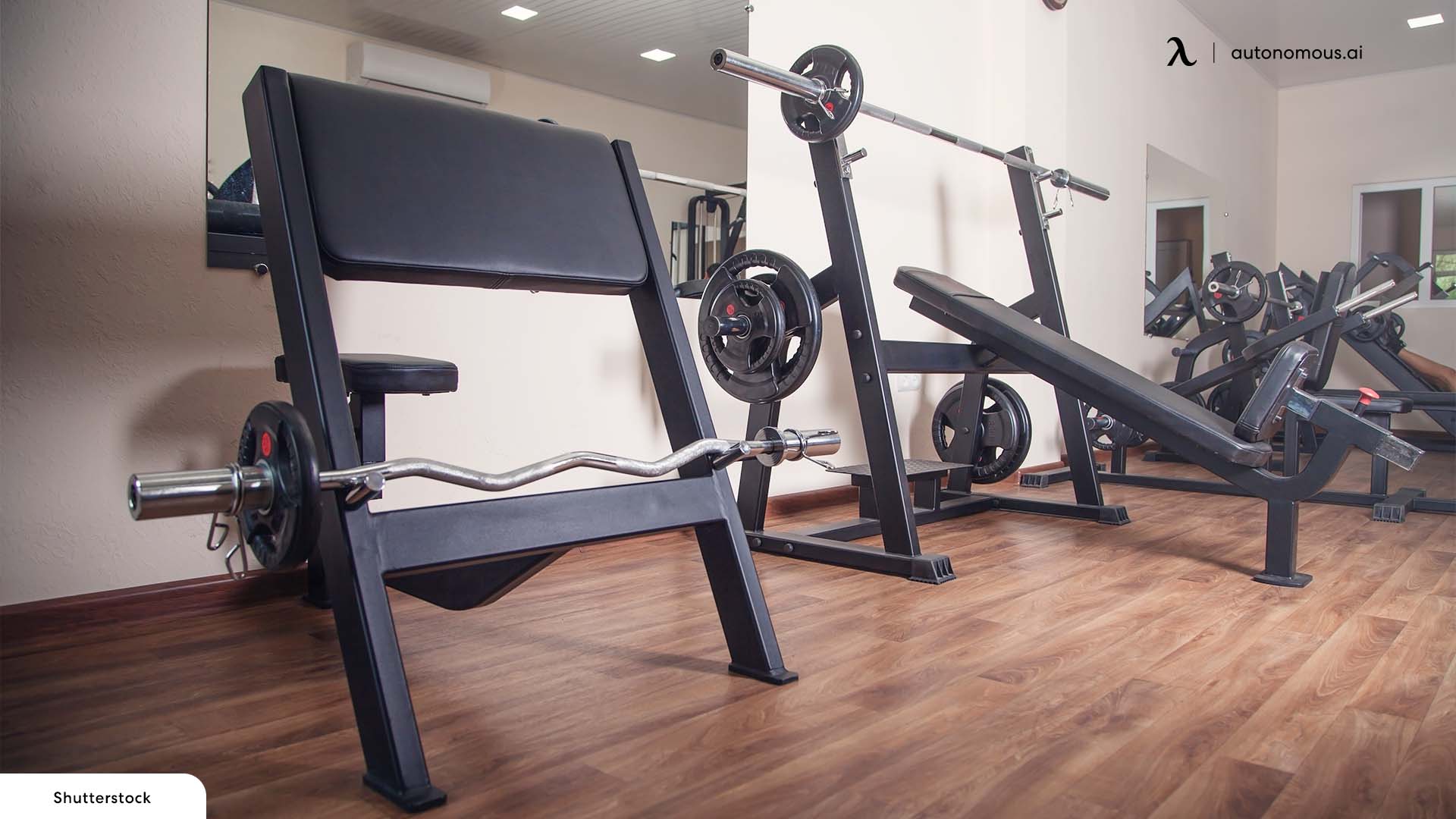 Although your concrete garage floor may appear to be the ideal flooring for your garage home gym, it can be difficult on both your gym equipment and your body. 
Rubber is a good alternative if you want something that's simple to use, absorbs impact, and isn't too pricey. You can cover the entire garage floor with a rubber mat, use a few rubber tiles that you can move around, or place individual mats under each piece of portable exercise equipment. 
10. Brighten Your Garage with Lighting
It's important to note that you might not be able to get the most out of your garage home gym if you don't have enough lighting. While installing new lights may appear to be a difficult task, it is relatively simple if you plan ahead of time. To start, measure the length of your room, consider how much light you want, and draw out a layout plan. 
When looking for lights, consider the style, size, brightness, power supply, and method of installation. LEDs are commonly used in garages because they are long-lasting. Remember to look for alternatives with a high lumen (brightness) and kelvin (temperature) value (color temperature). 
How Much Space Do You Have Available?
Most machines would fit into a small home gym design. However, if you're considering a machine that extends outward or upwards, you should make sure you measure it first. Because of the size of your garage, you don't want to be stuck with a machine that has a limited range of motion. 
What Is Your Budget?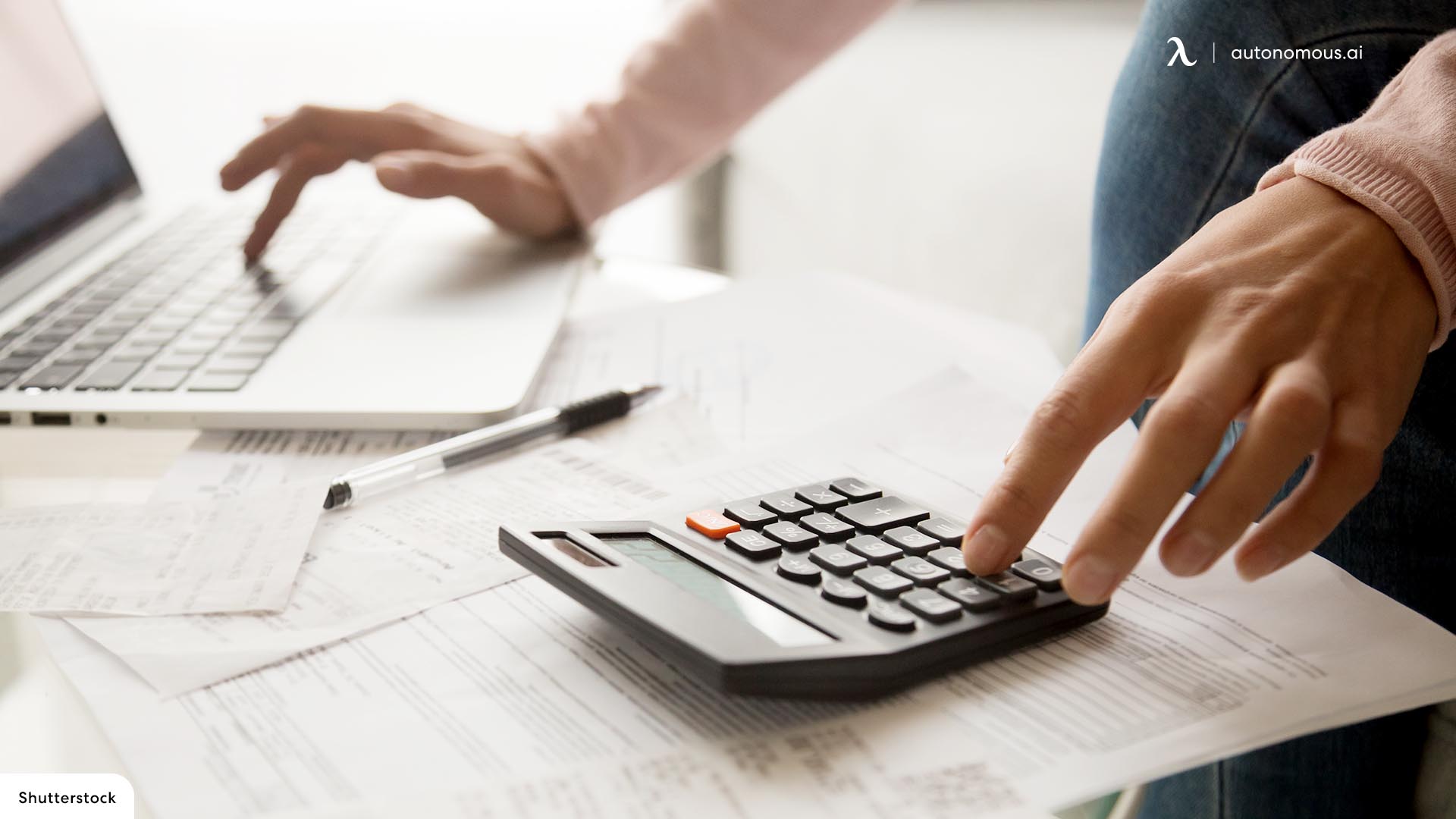 Simply put, you must set aside a significant amount of money for home gym equipment and garage gym ideas. When it comes to most purchases, this is usually the deciding factor. However, if you shop wisely, you can save money that you can use toward other accessories for your setup. 
Why Should I Get a Home Gym?
Personal Goals and Fitness Objectives
The most crucial question you'll ask yourself is this one. Do you want to grow muscle and strength? Do you want to slim down and tone up? If you were to be honest with yourself, where would you like to see yourself in a year or two? Now is the moment to decide if you haven't already. 
If you're just starting out, you're probably only going to need one multi-purpose machine to meet your demands. To balance out the cost, the best thing to do is invest in something that will serve your goal for at least two years. We understand that it can be a substantial financial investment, but trust us when we say that the right machine will pay for itself over time. 
Increased Strength
The Ocvix indoor cycling bike is a terrific fitness machine for a garage gym idea. It is small enough to fit in most garages and can offer you a good workout. This bike offers a wide range of workouts to choose from, and it may help you keep your routines fresh and your body healthy for a long time. We are a big admirer and would recommend it above a lot of other models on the market. 
How Experienced Are You?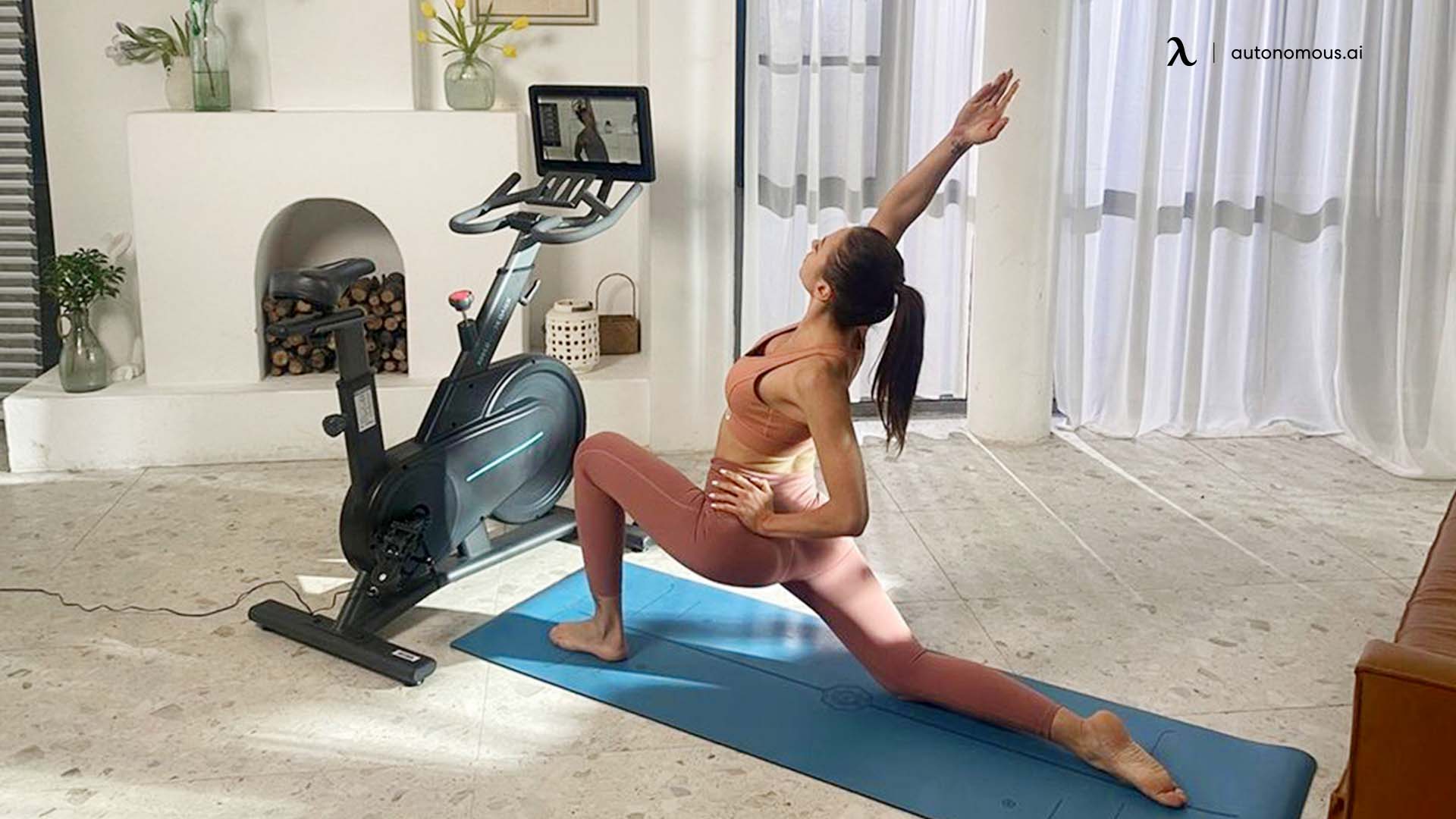 Different levels often have different garage gym ideas for themselves. To put it another way, how long have you been weightlifting? Do you simply want to lose weight, or are you a powerlifter who despises having to wait in line for bench presses? 
Beginners
You've come to the perfect place if you're new to home gyms or want to lose some weight on your body. As first-timers, the BODYGYM 2.0 resistance band will be an excellent addition to your home fitness tools and accessories. It may be used in a variety of ways and is quite easy to add into your home gym routine. This band has a wide range of resistance training options and is an excellent tool for beginners. 
The Revbalance FIT Balance Board is also a great piece of workout equipment to have if you're a beginner. Balance boards can also help people of all ages prevent sports-related injuries and falls. Using a balancing board might help you improve your balance and coordination. 
Additionally, the rocker, air cushion, and roller are three interchangeable bases that give a wide range of difficulty and stimulate several muscle groups. The FIT system is made of gym-duty material and has a 450-pound weight capacity. 
Lifters with Prior Experience
If you're used to lifting weights and performing various exercises, you'll notice that this exercise equipment falls short when it comes to giving a difficult workout. As a result, professionals have access to a variety of specialized machines. 
The HF-2 PRO Squat Stand 1000lb comes to mind right away. It's tough and offers adequate resistance for even the most experienced lifters. There are a few exercises in a small home gym layout that one can perform to target specific body regions on this squat stand. 
The Best Home Gym Equipment in 2022
If we talk about home gym ideas and a home setup, the first thing that pops in mind is the limited space. Some of us have homes that only suffice the living standard, and having extra space for a home gym layout seems impossible. But as we have established above, that small garage home gym is sufficient for your daily dose of workout. It can also provide you with a dedicated space for exercise; the problem of placing hefty gym equipment remains in the equation.
Other than the right home gym ideas, a smart home gym setup, and the motivation to work out at home, it would help if you also had proper home gym equipment to ensure maximum benefits from your workout routine. Although the best home gym decor plan is the one that takes important equipment and its placement into serious consideration, you also need to purchase your equipment with the right approach and space constraints in mind.
This means that the home gym design and equipment should be chosen based on your interest and the type of workout you wish to add to your life. While home gym layouts are already very expensive and heavy on the budget, you can create an investment worth the money with the right selection of home gym décor and equipment.
Below we have listed the best home gym equipment that goes well with all home gym ideas and garage home gym
1. Foldable Treadmill
You have heard about treadmills and all the wonders to bring to your health. But a foldable treadmill burns those stubborn calories but also helps with a compact placement option for one of the heaviest and most bulky gym equipment.
For garage gym ideas, there is always a limitation with the space. But nothing provides focus and dedication to workout like a garage gym setup because the secluded place gives you complete focus on burning some calories. Hence, we recommend a folding walking treadmill that offers numerous benefits for the limited space problem.
A foldable walking treadmill like the WalkingPad C2 comes with the doubled benefits of an effective workout while utilizing the minimum space. You get features like speed control, incline, smooth running, and walking action, all with an option for compact storage. These foldable treadmills fold to 180 degrees to form a compact structure and can be stored behind a cupboard or under a sofa.
This WalkingPad A1 PRO foldable walking treadmill is designed with patented foldable technology. You get a 4 layered structure that guarantees durability and the ability to withstand greater load. The best feature about this treadmill (besides being foldable and easy to store) is that it allows for a smart connection. You can connect it to your walkingpad KS Fit app and enjoy a completely curated workout routine at home.
2. WalkingPad R2
WalkingPad R2 has a 180 degrees foldable design. Like the a1 folding treadmill, it is also designed with a 4-layer treadmill belt and supports a smart app connection. Moreover, you also get foot sensing speed control, so when you lose control on the platform or risk serious injuries, the treadmill slows down itself to match your pace. The application allows you to set up your workout routine at home and achieves your targets just as you would with a professional gym setting.
3. WalkingPad X21
One of the best walking pads for fitness at home, we love the WalkingPad X21 as affordable, compact, and result-oriented home gym equipment. This treadmill has innovative foldable technology and works with the idea of a digital display. The one-touch operation, along with NFC pairing, makes it useful for your daily routine; hence, you don't have to worry about planning your entire workout.
Moreover, enjoy the perks of digital monitoring smart apps because the application tracks your workout from start to achieving the goals perfectly.
4. Bellabeat Yoga Mat
Even though the market is saturated with tons of yoga mat options you can find only a few ones with reliable features and high-quality performance. And the Gaiam yoga mat is one of those. The Bellabeat yoga mat is inexpensive, readily accessible in various colors and styles, and simple to clean.
Both cushiony and grippy enough for floor-based stretching and fast-paced yoga poses, this Bellabeat yoga mat also serves as an ideal pilates mat. However, work on your behalf could take some time before you get the aforementioned grip. It is comfortable against the toes and provides a wonderful interface between the floor and the user. Moreover, this mat will keep your weak spots comfortable and as flexible as possible if you are someone with joint pain.
To keep you safe and secure while you sweat, it also has a textured non-slip surface. Additionally, the mat's extra thick 6 mm cushioning and light weight of 3 pounds (1.4 kg) will keep you comfortable on practically any surface.
5. Resistance Bands
Have a set of resistance bands and tone your body once and for all. Resistance bands are great workout equipment for beginners and professionals who need inexpensive, useful solutions to tone their muscles. Remember that most resistance bands are color-coded according to their degree of strain when you're shopping for them. To ensure optimum adaptability, it is therefore recommended to get a set.
Many bands also come with add-ons like handles and door anchors to increase your range of motion and enable more exercises.
6. WalkingPad R1 Pro
WalkingPads are similar to a foldable walking treadmill, plus the features of better durability and even more compact design. Some popular and top recommended picks for a foldable WalkingPad include the Double-Fold Treadmill X21 by WalkingPad and Foldable Walk-Run Treadmill R1 Pro by WalkingPad. These treadmills for WalkingPad ensure a safe and effective home workout and are designed with advanced technology. Though these are a bit expensive compared to the previous foldable or conventional treadmills, you can earn a decent price through the Autonomous employee purchase program.
Use it with a smart app connection and make the most of foot sensing speed control which is an ideal feature for beginners. Besides functionality, this treadmill is also a wonderful pick for someone eager to get good looks at a product. The sleek and silky shades of chrome and black deliver a mesmerizing look to your entire home gym setup.
7. TRX Suspension Training Setup
This system can be anchored to rafters, trees, or exterior posts in addition to any door. It is a perfect option for your garage gym ideas. The seven basic moves which are ideal for the core strengthening such as pulling, pushing, squatting, rotating, planking and lunging along with hinging can be performed with this useful setup.  It allows you to have a proper target core and resistance training so that you may utilize it anywhere you set it up.
8. DYLN Water Bottle
Not exactly home gym equipment but is your workout even complete without water? Hence an important candidate on our list, the DYLN Water bottle is available in more than 7 colors so that each member can have one for themselves. It has a patented diffuser system, and the double-walled vacuum insulation keeps your drinks at the right temperature.
9. OVICX Massage Gun
Sore muscles and aching shoulders are common after a good workout. But not taking these seriously or ignoring the pain for too long can have many adverse effects on health. Hence a deep tissue massage gun is all you need. This Ovicx deep tissue massage gun is a must-have accessory for people who work out at home or even go to a professional gym.
Whether you are a beginner out to the perfect home workout routine or someone on this fitness journey for years, muscle spasms and pain when working out are common. Sometimes the pain can exceed and become a tear which leads to long-term or, in some cases, permanent damage. Hence this OVICX deep tissue massage gun is a must-have accessory for your home gym.
It is portable, tiny, compact, and fits into a drawer. You can use it to relax your muscles, get rid of the strain, and prevent serious injuries. The 4 massage heads and 4 intensity levels give you wonderful control over the product. Moreover, the fast charging ensures it is always ready to work along with the 7-hour battery after a single charge.
You can take this portable gun with you on all workout adventures and enjoy a treatment for your sore muscles at the end of the day. Highly recommended for athletes and professionals, the massage gun has four different massage heads that operate with varying intensity.
10. Indoor Cycling Bike
One of the best cardio workouts after the treadmill is the indoor cycle. Especially for people who complain about joint and leg pain, an indoor cycle can be a great change to their workout routines. This Ovicx indoor cycle is compact, has a smart design, and is highly suitable for your indoor workouts. Goes well with a modern home gym setup or even garage setup ideas; the indoor cycle offers Bluetooth connectivity and a free workout app to remain in charge of your workout routine.
The reasonably priced exercise bike from Sunny Health & Fitness can support up to 275 pounds. The leather band resistance mechanism resembles how a genuine road would feel. The caged pedals have clips to hold your feet in place, and the seat has four different settings. Unlike other indoor cycles, this one offers various adjustment options, including a smooth drive system, an adjustable seat, and a multi-grip handlebar. The cycle also has an easy assembly process and a 1-year warranty.
The bike doesn't have a screen, but a bottle holder, and assembling only takes a few minutes. The cycling bike is a wonderful accessory for your home gym setup and is great for warm-up before a tough workout or something that keeps you on a great calorie burn rate. And this one has a pretty compact design too.
11. Weight Scale
Without progress in your weight, you cannot improve your workout routine; hence for any and every home gym setup, despite the size, a weighing scale is crucial. This mykronoz weighing scale is a top-quality modern technology scale with smart features. It works great but also looks great with three color options, one of them being gradient.
The large LED color display gives an accurate and clear reading, and you also get various body composition analyses other than the weight. The weight scale also monitors your heart rate and is Wi-Fi synchronized for more accurate readings.
How to Choose the Best Home Gym Equipment for You?
Choosing the best home gym equipment involves a series of considerations because home gyms have limited space and a limited budget. And what's the point of investing in equipment when you are not using it? Here are some basic factors to consider when picking the best home gym equipment.
Purpose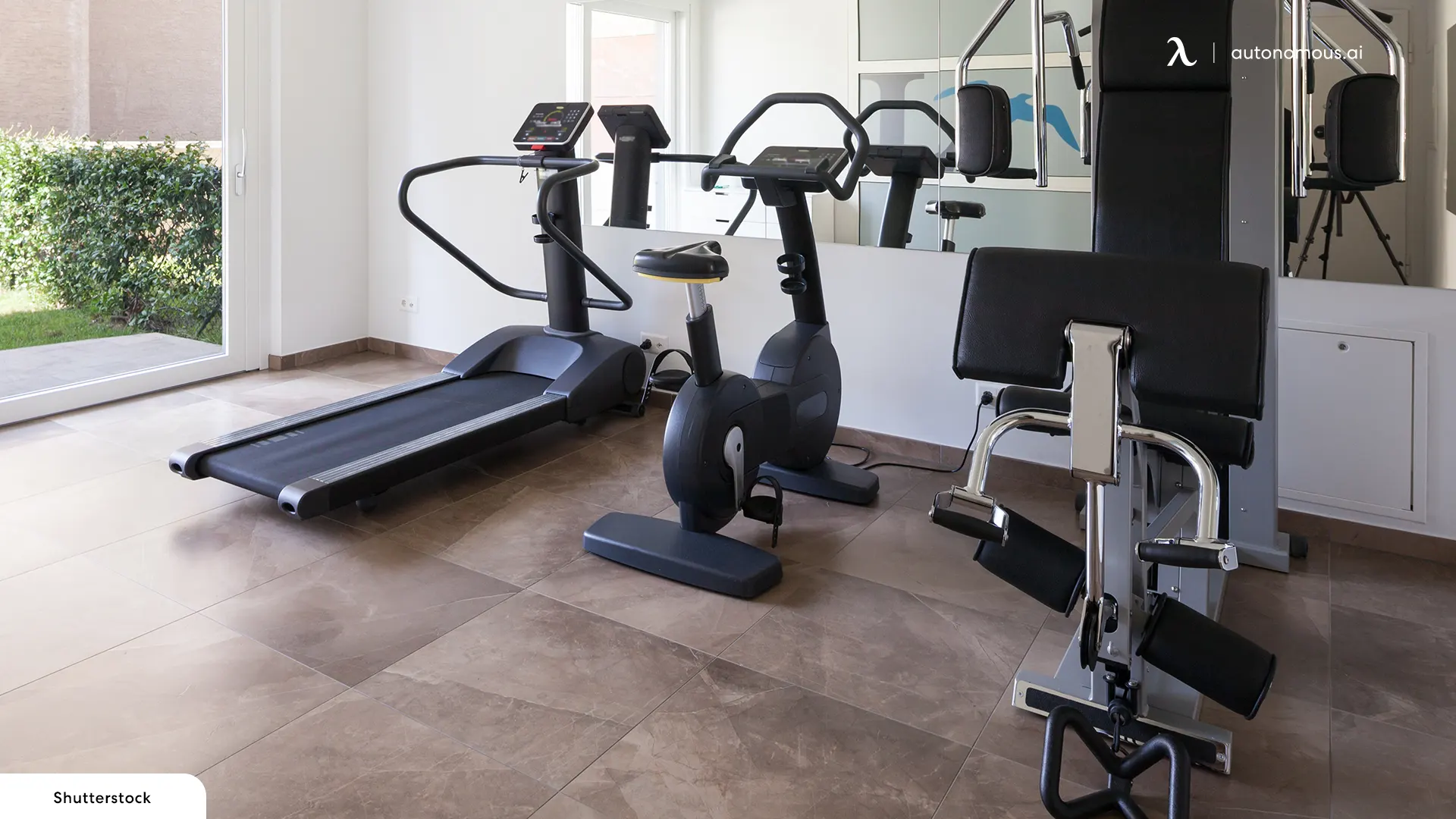 What is the intended purpose behind your home workout routine and setup? Do you want to lose weight, tone your body or gain extra muscle strength? If you don't have the space or money for many pieces of equipment, you should prioritize products that fulfill your present fitness needs.
Price
Gym equipment can be as low as $10 and as high as thousands of dollars hence it is important to pick items that match your needs and meet the budget requirements as well. However, one thing that should not be compromised is the safety but still you may save money by selecting goods that lack high-tech features like touch screens and Bluetooth functionality.
Warranties
It's crucial to pay attention to the guarantee the manufacturer or store offers because even high-quality gym equipment might break.
Customer Testimonials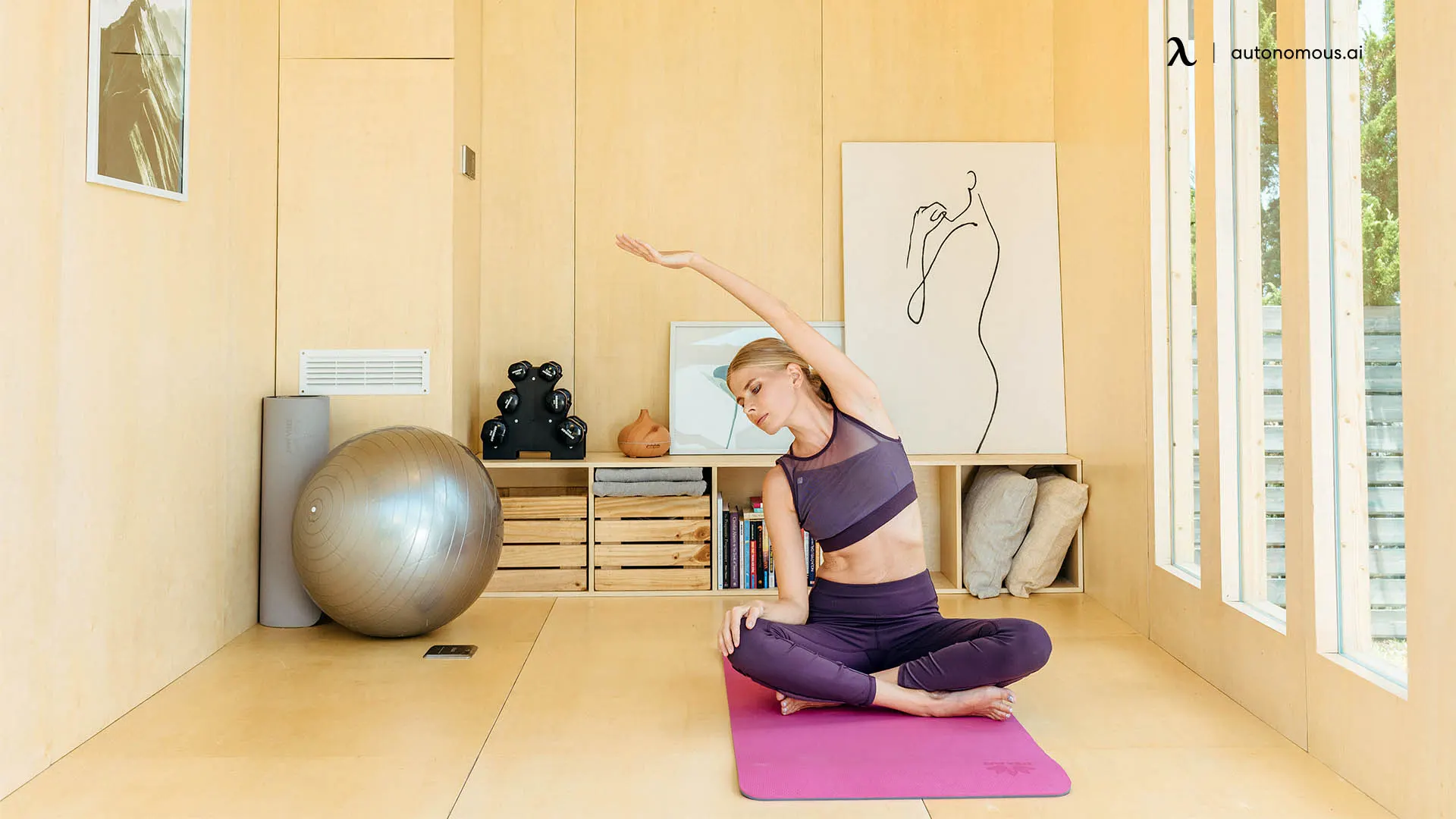 Review numerous customer evaluations because they frequently offer frank commentary on functionality, design, and durability.
Final Thoughts
You'll not only be able to cancel your monthly gym membership, but you'll also be able to work out whenever you choose. Because of their large size and resilient floors, garages are ideal for strength, functional, and bodyweight training. You can personalize your shed gym ideas with music, lighting, and any other design features you can think of to create an inspiring setting.
Video ads for product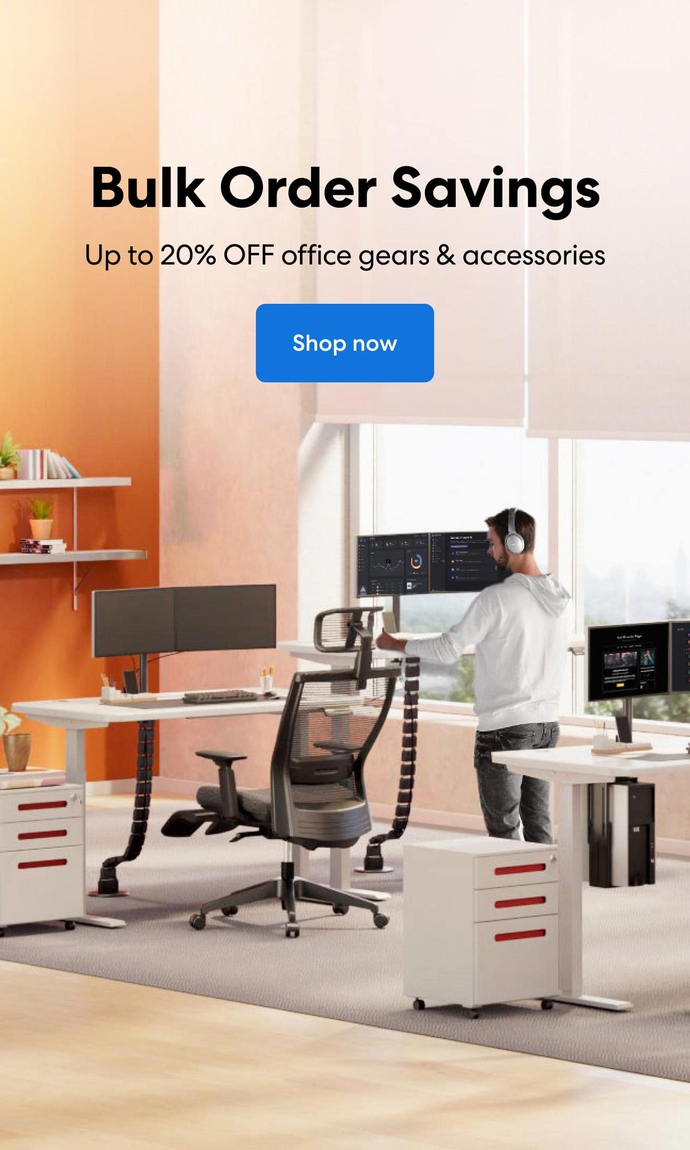 Subcribe newsletter and get $100 OFF.
Receive product updates, special offers, ergo tips, and inspiration form our team.