Workplace Inspiration
Creative Ways to Transform Your Shed into a Perfect Shed Gym
4,835 Views
Gaining some extra stubborn pounds during the quarantine and work-from-home routine is a story common with every other household. With gyms being closed, people restricted to stay indoors, the work-related stress of uncertainty and everything else led to many people becoming obese and unhealthy. Many studies prove obesity as one of the overtaking problems of people limited to their homes.
Even though things are now returning to normal, it may take a while for everyone to get out of the traumatic episode of the fear of the pandemic. While some might have resumed their workout routines, some people aren't just comfortable with the idea of gym anymore. That being known, many people are now finding ways to build their home workout setup; a backyard gym shed is a safe idea for people who need to get back on crushing those pounds.
An outdoor gym shed might not be the first thought that popped in your mind, but it is the one that makes you all excited. And buying home gym equipment, allocating a place for a gym shed in the backyard isn't that hard a job if you read and follow our instructions carefully. Hence keep reading.
Garden Gym Shed Ideas
Many people are content with having a yoga mat, a youtube tutorial, or even a resistance band bar to crush those love handles or indoor cycling bikes. Still, some might be habitual of elaborate gym settings to get their workout passion-fueled up. Most of us also want to work out with our entire families and might feel the need to create a backyard gym shed.
Consider making use of your shed as an additional gym area if you find yourself in need of some extra room. Your garden shed can serve as a wonderful home gym, perfect for everything from a yoga studio to a weightlifting center. And there's no finer location to work up a sweat than out in the fresh air.
A garden gym is simply a great idea because there are many ways to utilize the space and enjoy breathing in the fresh air while working out. Consult our manual below as a starting point, and you can turn your garden shed into the best shed gym ever. Here are a few things to keep in mind when building a garden outdoor shed gym.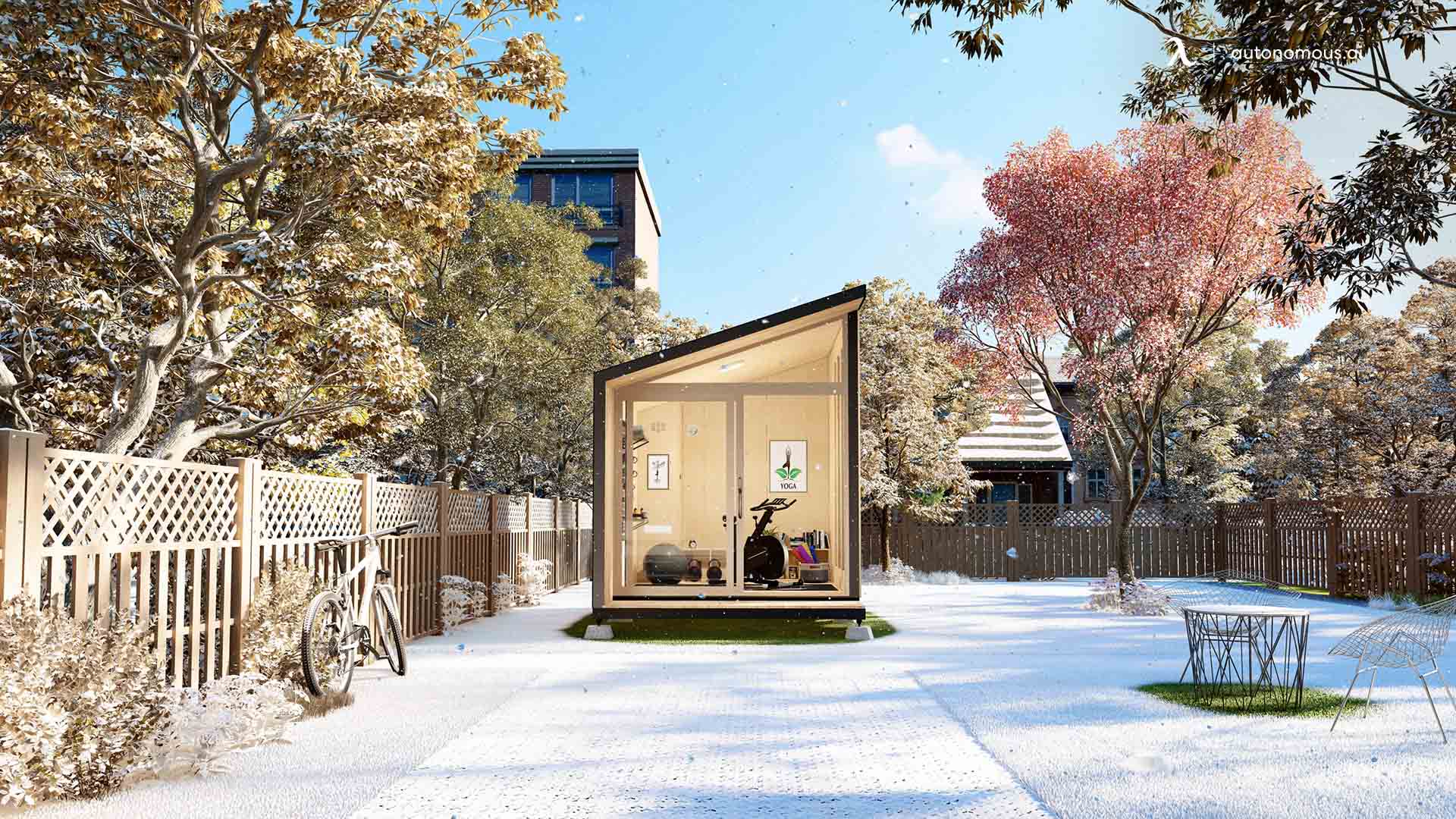 Analyze The Amount of Space You Need
Think about the amount of horizontal and vertical area you'll need while planning the dimensions of your backyard gym. What you plan to do in there should ultimately determine the size you select. The great idea is to keep at least 60% of the space free for movement and allocate the rest of 40% for gym equipment.
The size of your garden shed must be sufficient enough to hold all the gym equipment safely. You should be able to keep the machines, use them, and have enough space, so none of the stuff feels coming to get you. Even though gyms are huge, your home gym can be tiny with only the equipment you need. This also means you can decide how to design the gym.
A garden gym should also allow the fresh air to come in. If you have an open garden with no shed over it or a separate place to keep the equipment, getting a work wood pod could also be your gym room hack. The space requirements for a stationary bike, paddling machine, cross trainer, and some dumbbells can be met by a structure that is 18 feet by 10 feet.
You won't have to worry about feeling claustrophobic or constrained while you go through various cardio programs or yoga postures because this is plenty spacious. Many wooden pods serve both as a place to work and work out. Wooden pods for the garden also provide a fresh cool vibe.
Select the Right Flooring
Given that you want to use your backyard gym shed mostly for physical activity, you should consider adding sturdy flooring better suited for regular exercise. Be sure the base is strong if you wish to use heavy weightlifting equipment in your garden gym. The finest solution is a concrete slab. A reinforced timber floor is sufficient for some lighter weights and cardio equipment.
The floor is something you might not consider when designing your garden home gym. Gym equipment, in general, but especially weightlifting equipment, is hefty. If you're not careful, your shed floor may start to protest a little. Plus, with cycling and the treadmill, your gym floor is going to face a lot of vibration and constant movements. It is important to consider those factors and choose the floor strength accordingly.
Concrete is the greatest choice for a gym shed floor. It's sturdy, long-lasting, and capable of carrying a lot of weight. If you want your shed to have a concrete floor, you'll need a foundation, a flat surface, and an expert to inspect it. Also, using materials like rubber is the best home gym idea as they have a strong resistance impact, so you won't have to worry about denting or damaging the floor from dropping free weights. Foam is another option because it can offer extra cushioning when practicing yoga or pilates.
Ceiling
Garden shed ceilings are usually lower in height since they didn't know you had a different plan in mind. It is important to pay close attention to the ceiling height as most gym equipment is tall enough and requires extra space.
Consider getting a backyard gym shed height of a minimum of 7 feet if you need the freedom to place any equipment you want. After all, who knows what your plans related to the gym might become.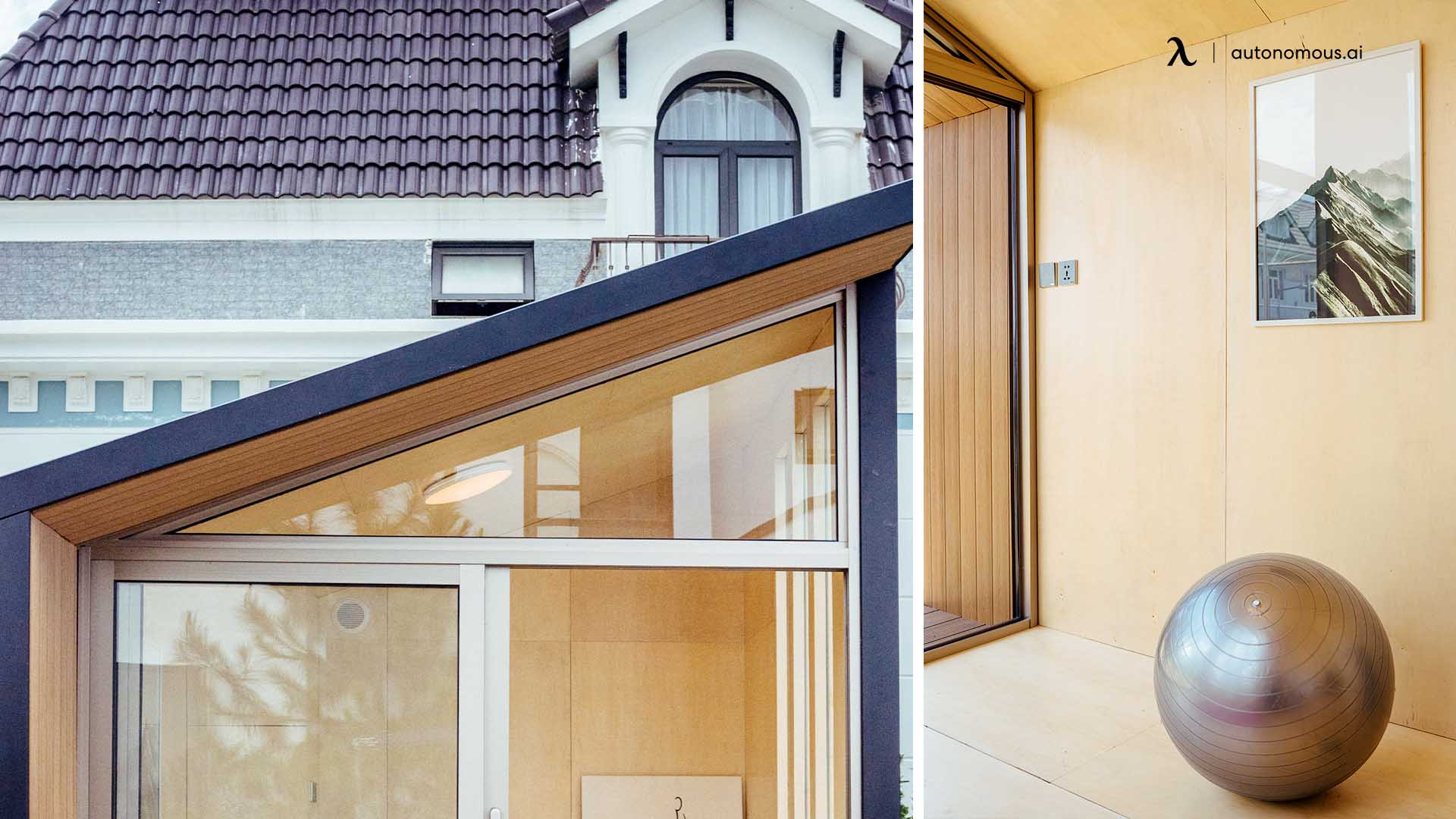 Ensure Proper Ventilation
The backyard gym shed's primary function is to keep gardening equipment, not to perform exercises. Some garden shelters have such poor ventilation that even standing still can be unpleasant.
You'll benefit from increased airflow and ventilation as you sweat and breathe more heavily during exercise.
If your gym shed is well-ventilated and has plenty of comfy seating, you'll be more likely to work out for longer and get faster results.
Consider The Changing Weather
The next step is to consider the weather and durability. Ensure your gym shed will survive the elements if you use it throughout the year.
Putting up protective coverings for the sheds outside is the greatest approach to ensure this doesn't happen. You can take various approaches here based on your available resources and level of interest in doing the legwork yourself.
Learn About the Legal Implications
It's critical to learn about the legal ramifications of your proposed structure. There are often limitations on how large, tall, and massive a construction in your yard can be. The rules may vary depending on where you build it in your garden. Different restrictions apply in some areas to constructions that are attached to the house.
Structures that are near the property border are subject to particular rules in some areas. You don't want to spend a lot of money making a home gym only to get it claimed and destroyed for violating legal rights.
Plan Your Pieces of Gym Equipment
Once you've decided how you want your backyard gym shed to look, you can decide which gym equipment to purchase. Home gyms typically have compact, lightweight exercise machines that can be easily relocated or folded out of the way.
Planning for the addition of heavy garage gym equipment like benches or treadmills can allow for extra padding to be placed around susceptible areas, ensuring that the equipment can be utilized safely.
Though you need what kind of gym equipment would be best for you if you have been working out for a while, some home exercise equipment serves a great job in making a gym friendly for everyone. Here are some common gym equipment found in a basic gym for your backyard gym shed.
Power Rack

Barbell

Weights

Bench

Weight Plates

Rack

Dumbbell

A Cycle

Treadmill or any other cardio equipment
Add Storage
You'd be foolish to assume that you won't need a weight storage unit because you're the only one utilizing the shed gym. Keeping the gym equipment dispersed would cause further problems when you are already short on room. The storage containers provide a place to stack the weight plates neatly and easily access them all.
Install shelves, racks, and cabinets to keep dumbbells, drink bottles, workout clothes, towels, skipping ropes, and other items organized in your home and backyard gym shed. This will help to free the floor space. This is especially true if you don't have a lot of space and want to build a modest home gym shed.
You may locate new or secondhand purpose-built storage units online to find what you need. However, you may save money by repurposing old bookshelves and cabinets from your home or even upcycling metal lockers to give your garden gym an authentic look and feel.
Make It Comfortable
You want to be in better shape and be healthier. This necessitates a trip to the gym. If you don't like working out in your gym, you'll go less often, and as a result, you won't achieve the body you want.
Before building your outdoor gym or backyard gym shed, think about the ventilation, heating, insulation, and lighting. Those details are difficult to add after everything else has been completed, but they have a significant impact on the level of comfort in your garden gym. Also, making your gym soundproof will block any outdoor noise if you live nearby a populated street.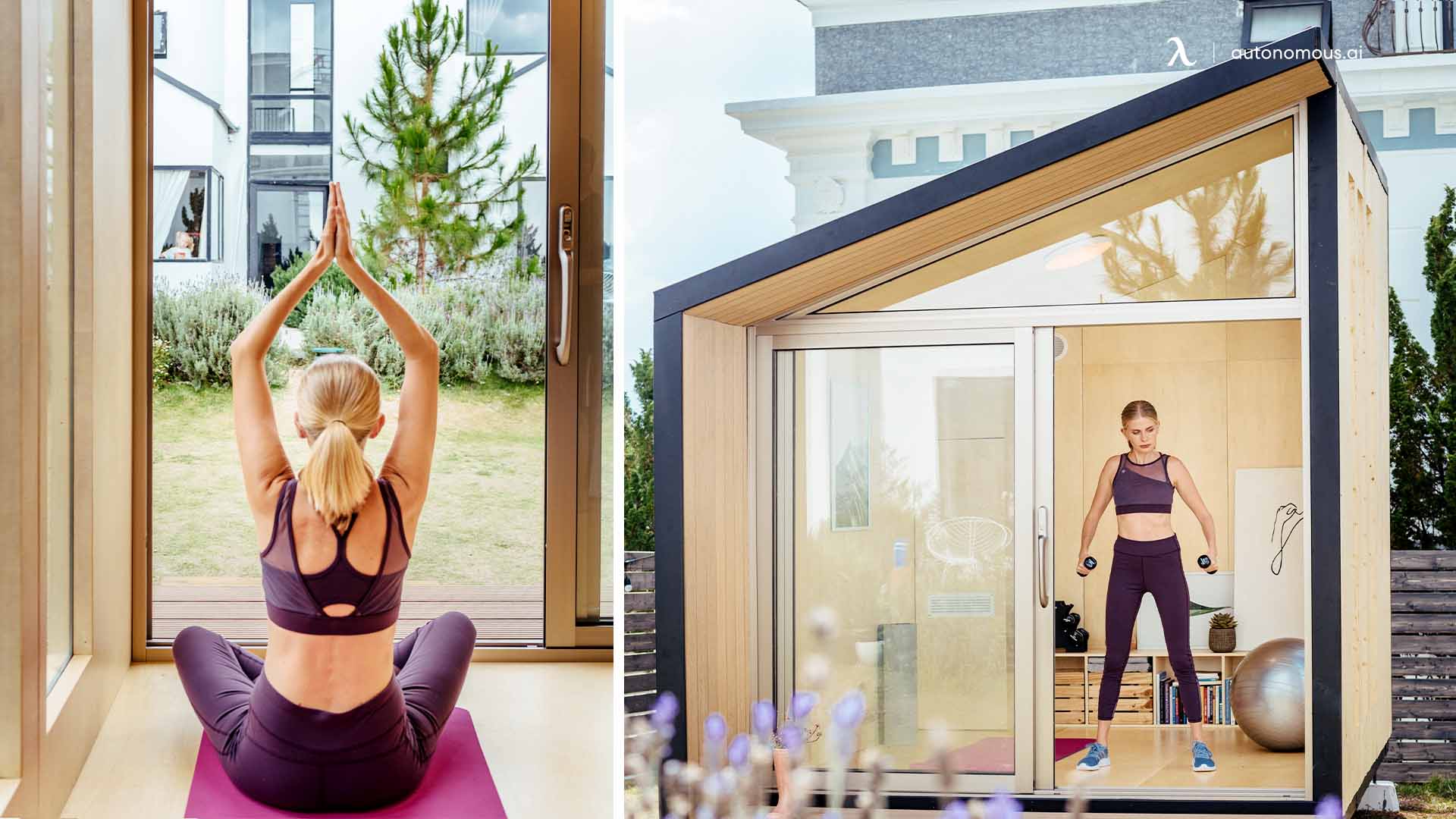 Power up Your Outdoor Gym Shed Using Electricity
No electricity equipment can function without access to electricity. Hence, if the backyard shed doesn't already have electricity, you'll have to install one.
Since you'll need outlets for permanent and temporary gym setups, it's a good idea to put a few extras in the electrical power boxes in your gym shed.
Light up Your Shed
Getting in a workout at any hour of the day is a major motivator for many people who opt to construct a backyard gym shed. Inadequate lighting will prevent you from getting the workout in.
If you want your shed to be adequately illuminated during the day, you can install windows that let in sunshine.
Gym Equipment Perfect for Your Shed Gym
Walkingpad Foldable Walking Treadmill C2
The Walkingpad folding treadmill is a compact, smart, and easily-stored walking treadmill that makes it one of the best small home gym ideas as you can easily fold and put it away.
MyKronoz Body Scale: App Control
The MyKronoz Body Scale is an advanced fitness tracker with multi-user functionality and precise software controls. It was honored with a Red Dot Design Award in 2021.
Revbalance FIT Balance Board
Workouts on the FIT BalanceBoard are meant to be challenging and unique. Using your own body weight as resistance, the FIT will increase your metabolic rate and keep you interested in working out.
Ovicx Indoor Cycle
The Ovicx stationary bike may be used in various postures, and its resistance can be adjusted from 0% to 100% without changing gears. This cycle can also be used for half-garage gym ideas.
Hulkfit Product HULKFIT Adjustable Bench
This Heavy Duty Adjustable Weight Bench is the perfect first piece of equipment for your home gym. It's the ideal back supporter for a wide variety of strength-training routines.
Where Is It Ideal for Putting a Gym Shed?
One of the first things to consider after converting a shed into a gym is where to put it. You'll have to keep in mind these factors before deciding where to put your gym shed.
Purpose
The ideal location for a backyard gym shed would be close to your yard and not too far from a water supply. If the shed's main purpose is to store your home gym and associated equipment, it makes sense to locate it where it can be easily accessed from your house.
Light
When deciding where to put a backyard gym, it is crucial to consider how much light will be getting to the area. Too much direct sunlight can cause damage to the shed.
Land
It's essential to avoid low points that become a swamp when it pours down. Preferably, there should be a slight incline to facilitate water drainage.
Community regulations
When deciding where to put a backyard gym shed on your property, it's a good idea to find out whether there are any restrictions from the local planning and zoning office.
Final Thoughts
Having an outdoor home gym eliminates the need to find transportation to and from an outside facility, allowing you to devote your full attention to your workouts and speeding up your progress toward your fitness goals.
Subcribe newsletter and get $100 OFF.
Receive product updates, special offers, ergo tips, and inspiration form our team.
WRITTEN BYAutonomous
We build office products to help you work smarter.